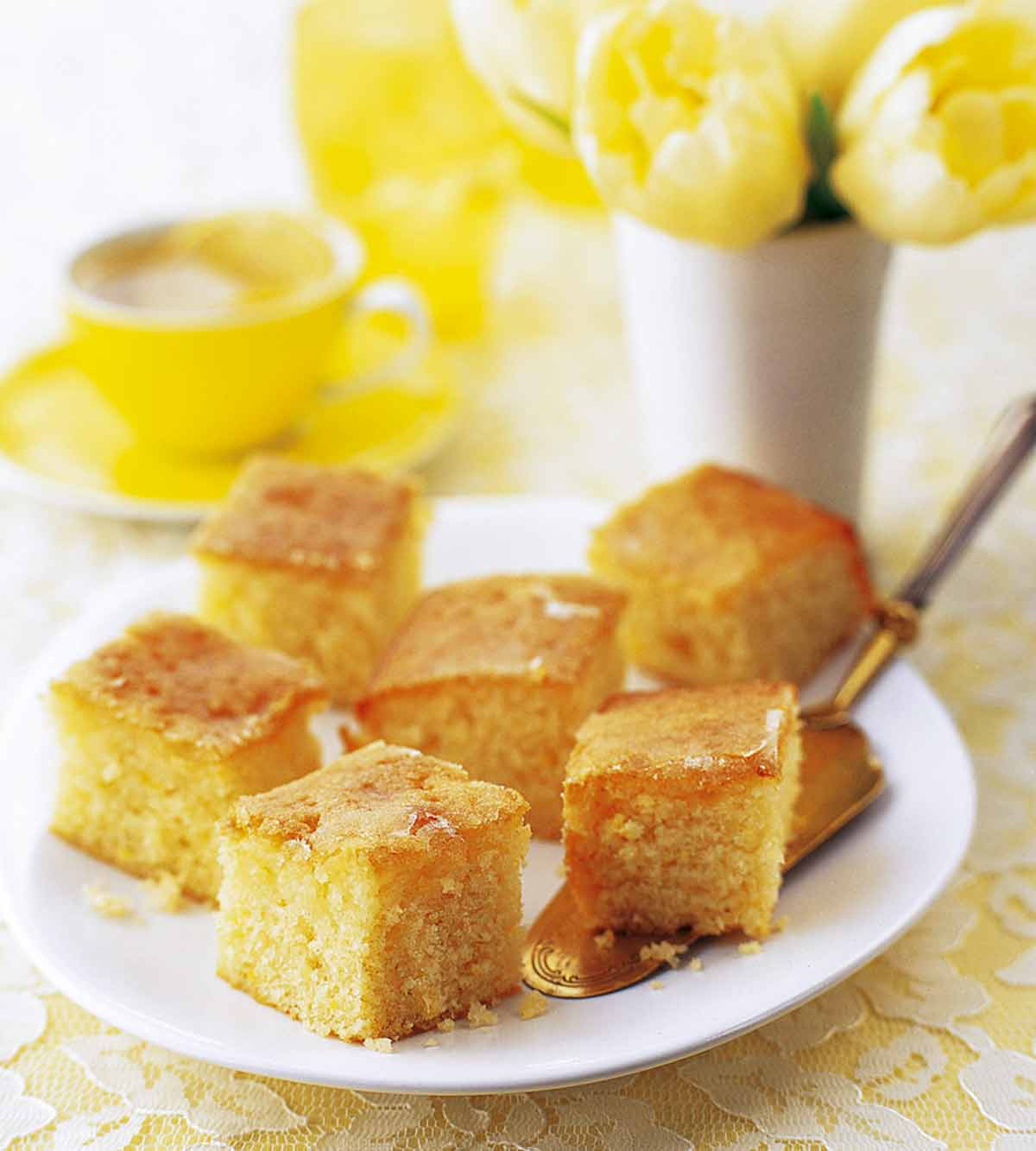 LC Self-Rising (Or Not) Note
If you don't happen to have self-rising flour, just make your own, DIY style. We stir 2 level teaspoons baking powder into 1 cup all-purpose flour for every cup of self-rising flour a recipe demands. Although this made-from-scratch shortcut won't create quite the lofty lift as self-rising flour, it'll suit the demands of most recipes–including this simple, satiating cake–just fine.
Lemon Drizzle Cake
Quick Glance

(2)

20 M
45 M

Makes 12 squares
Print Recipe
Special Equipment: 8-inch square cake pan, preferably with a removable bottom.
Ingredients
For the cake
For the lemony topping
Directions
Make the cake
Preheat oven to 350°F (175°C). Butter an 8-inch square cake pan, preferably with a removable bottom, and line it with parchment paper.
Beat the butter and sugar together in a large bowl until pale and creamy. Beat in the eggs, one at a time, then stir in the lemon zest. Fold the flour into the mixture until well combined.
Spoon the batter into the prepared pan and level the surface. Bake for about 20 minutes, until well risen and golden and a skewer inserted in the center comes out clean.
Add the lemony topping
Transfer the cake pan to a wire rack and prick the top of the cake all over with a skewer. Sprinkle the top of the warm cake with 1 tablespoon of the sugar. Quickly combine the remaining sugar and lemon juice in a small bowl and immediately pour it over the top of the cake. Let it cool in the pan. Cut into small squares to serve. (Store the cake in an airtight container in a cool cupboard or the refrigerator for up to 3 days.)
Print Recipe
Recipe Testers Reviews

Mmm…a lemon desert that isn't the ubiquitous, albeit delicious, lemon bar. This will be a useable and user-friendly addition to my dessert repertoire, in part because it isn't complicated to make, in part because it has a lovely lemon flavor and a fine and unexpected texture, in part because it's a dessert that will play well throughout the year with many different cuisines, and because it keeps well and can therefore be made in advance — a lovely advantage for meal planning in the lives of busy people. I tried it two ways and both worked. First, I stored it in the fridge after completing it, and it was fine when brought out to serve. Second, which I liked even better, was Renee's suggestion in the comments to bake, then freeze, then drizzle the cake after thawing and right before serving. This preserved the crisp sugary crust on top that's such a perfect counterpoint to the clean, uber-lemony flavor of this cake. My friend Douglas commented that his favorite part of the cake was the sugary crunch on top, though he also noted that he loved its light and refreshing taste. I liked the simplicity and elegance of its presentation. Another friend thought it would be enhanced by whipped cream; he suggested a light sprinkle of cinnamon atop the whipped cream, tying it back to the flavors of the appetizer, sides, and entrée I served it with. Note that I baked it just a few minutes beyond the 20 minutes noted in the instructions before my toothpick tested clean. I did get extra-large eggs to make this recipe, but I would try it in the future with large ones, and I believe it would be just fine. No need to make a special trip out for the extra-large ones if you don't have them on hand!
Lemon Drizzle Cake Recipe © 2010 Linda Collister. © 2010 All rights reserved. All materials used with permission.
If you make this recipe, snap a photo and hashtag it #LeitesCulinaria. We'd love to see your creations on Instagram, Facebook, and Twitter.