To learn how to grill salmon so that it's flaky and tender yet doesn't fall through the grill, David Leite turned to grilling guru Jamie Purviance for simple, accessible, foolproof tips and tricks that you can take to your backyard.
The third and final installment of my great afternoon of grilling with Jamie Purviance triptych, which began with me learning how to grill steak and continued with how to make rotisserie chicken, was the one I was looking forward to the least.
Not because I was tired of Jamie. But, boy, was I tired—just look at what 10 hours of shooting can do to a guy's hair and the bags under his eyes. [Editor's Note: That's David begging for you to tell him how dashing he still looks. Don't encourage this behavior.] No, I was dreading it because the subject matter is the bane of almost every skilled griller I know: fish.
Historically, whenever I've grilled fish, most of it ended up dropping through the grates and getting incinerated, each piece slowly shriveling as it turned a darker shade of charred.
After these moments grew too numerous—I mean how many backyard autos-da-fé must a man witness before he gets the hint as to his lack of affinity to fire and fish?—I simply walked away from anything aquatic. I figured if I were to singe anything, at least let it be something solid that I could chase around the grill with a pair of tongs, like grilled steak or rotisserie chicken.

Read more

"How To Grill Salmon"
These Spanish salt cod fritters, called buñuelos de bacalao, are light, crunchy, and just the right amount of salty. They're the perfect starter or cocktail party bite.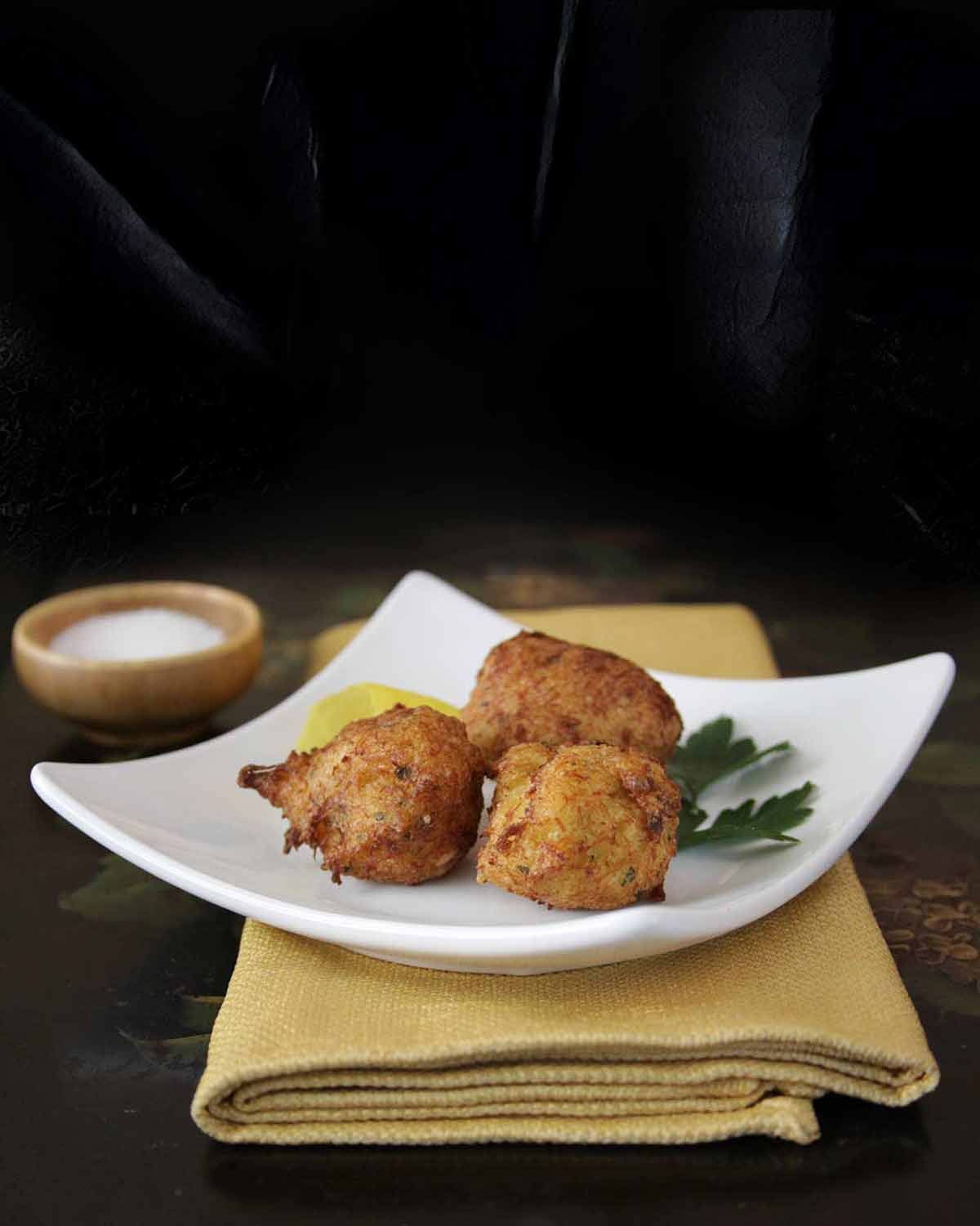 As you know, I'm a thoroughbred Portuguese, both sides of the family are from the Azores for as way back as anyone can remember.
And one of the things I adore are bolinhos de bacalhau, or salt cod fritters. It would be considered cultural treason if I didn't love those little fried nuggets of salt cod and potato goldenness. What's not to love? We Portuguese have been marrying the two ingredients for centuries: bacalhau à Gomes de Sá (casserole of cod, sliced potatoes, onions, hard-boiled eggs, and olives), bacalhau à Brás (scrambled eggs encasing shoestring potatoes and flakes of cod), bacalhau cozido com todos (basically, boiled cod, potatoes, and vegetables), and—well, you get the idea.
So when The One and I recently went to a sweet little restaurant in Great Barrington, MA, and I took a look at the menu, for a moment everything around me went pleasantly fuzzy. Kind of like looking at the world through the wrong end of a smudgy telescope. There, at the top of the appetizer list, was simply, innocently the phrase "salt cod fritter" with harrisa aïoli. So what if harrisa was a North African condiment? The real balls of the dish (pun intended) were the fritters. It was my national duty, being a citizen of Portugal, to order them.
Read more

"Spanish Cod Fritters ~ Buñuelos de Bacalao"
Hostess Sno Balls always remind me of Cheryl Swanson, our high school pep-squad leader who was fond of tight, hot-pink Angora sweaters.
It was the late '70s and the retro '50s look was in, so all of us were desperate to resemble someone from Happy Days or Grease. I think she was going for one of Richie's perky, pearl-draped girlfriends. And although these coconut-covered Sno Balls never reached the apotheosis of Proust's ridiculously over-referenced, and undoubtedly overrated, madeleines, they've been a favorite since the Truman era.
"Sno Balls were invented in 1947," says Mike Redd, vice-president of cake marketing at Interstate Bakeries, the company that bought Hostess in 1995. Accustomed to rationing flour and sugar during World World War II, Americans were now devouring manufactured sweets, and the Sno Ball was an instant hit. Even though there never has been a TV ad budget for Sno Balls, Redd says they continue to sell, though not quite as well as their heavily advertised — and in my opinion less telegenic — siblings, Hostess Twinkies and Hostess Cupcakes.
Read more

"Some Like It Pink: Classic Sno Balls"