Honestly, I'm at a loss for words–hard for me, the kid who was nicknamed "Chatty Cathy" through all 12 years of school. How can I begin to tell you how phenomenally easy it is to make your own homemade bacon? Or how incalculably better it is than that flaccid, wet, store-bought mush they have the nerve to manufacture and market? Homemade bacon is as different from Oscar Mayer as Grace Kelly is from Kim Kardashian. There's true smoked flavor, and in this particular recipe, there are sweet maple high notes and a hint of earthiness from the espresso. And the texture. Homemade bacon has an exquisite chew–even thin slices do. That means you don't have to cut a honking 1/4-inch-thick piece just to sink your teeth into it. Of course, if you're a Baconite—a true bacon lover—you know there's no end to what you can do with it. Like bacon and egg sandwiches (below), my breakfast every morning for a week. And there are the baked goods–bacon and Parmigiano-Reggiano bread, anyone?–the stews, soups, casseroles, desserts, candies. The list never ends. And every day, Baconites all over the world come up with more and more ways to use this food of the gods.
Read more "Homemade Maple-Espresso Bacon" »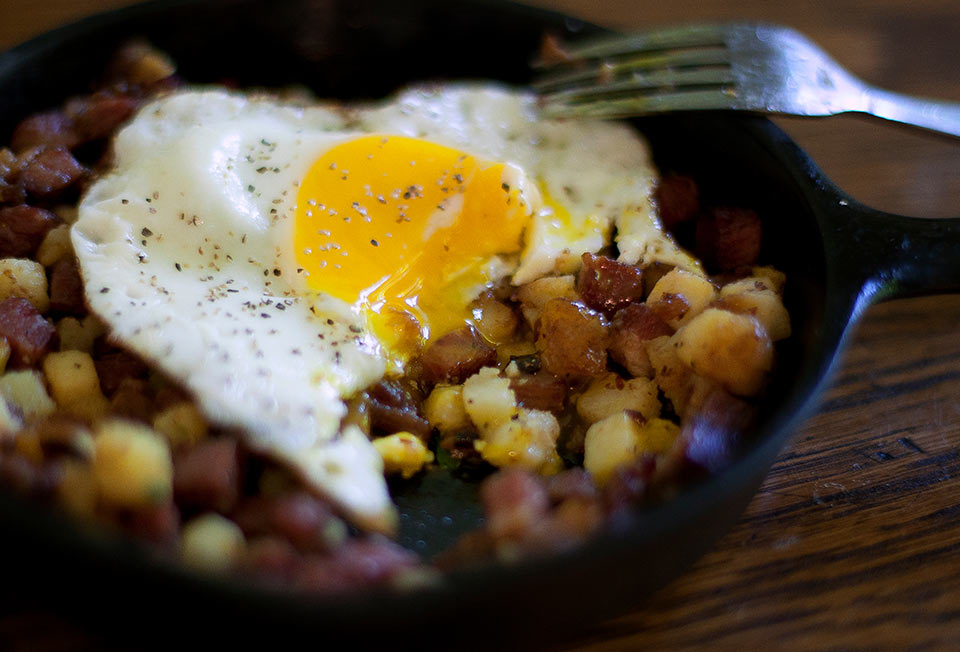 Originally published  
As part of his wooing ritual way back in 1994, The One lured me up to his country house, in Barryville, New York, one weekend. The blush was very much on the rose back then. It was a time when I learned something new about my inamorato almost daily—such as how, on Saturdays, he would sun himself until he was the color of a number-two eraser (a practice cut short by skin cancer); how he's constitutionally unable to lie; and how he simply must drive whenever he's in a car, no matter whose it is. (Control issues, anyone?)
One Sunday morning, as I sat cross-legged at the kitchen table, all moony-eyed as he prepared breakfast, The One rifled through the cupboard and pulled out a can. He cranked open the lid, wrapped both hands around the inverted can, and pumped it up and down over the skillet as if he were pile driving a wooden post into the ground. On the third try, it happened—the long, slow can fart as the contents loosened and plopped into the pan. There it sat, a giant plug of gelatinous substance, the tin can's bands embossed around its middle. Read more "Corned Beef Hash-It-Out" »
Originally published February 14, 2013
Just about everyone who cooks has a Julia Child story. How she inspired them, how she entertained them, even how she got them pregnant! When it comes to Julia worship, people practically fainted in her presence with religious fervor. My own Julia story, yet to be revealed, talks about how she gave me great comfort in a time of great pain. But who—all these years after Julia first flickered on TV, instructing us with that warbly hoot-owl voice of hers—is her logical successor?
I'll tell you who: Ina Garten.
Ina has touched, thrilled, even titillated (not that way!) legions of cooks for the past 14 years with her approachable recipes and her "How easy is that?" commentaries. And while I cook (fabulously, I might add) from a few of her many cookbooks—Barefoot Contessa Parties, Barefoot Contessa in Paris, and Barefoot Contessa at Home—what I hold most dear is a short conversation I had with her years ago, one I'm sure she forgot the next moment. But I replay it in my mind over and over again, like an old bootleg Betamax tape of Star Wars. Read more "Someone's in the Kitchen with Ina" »