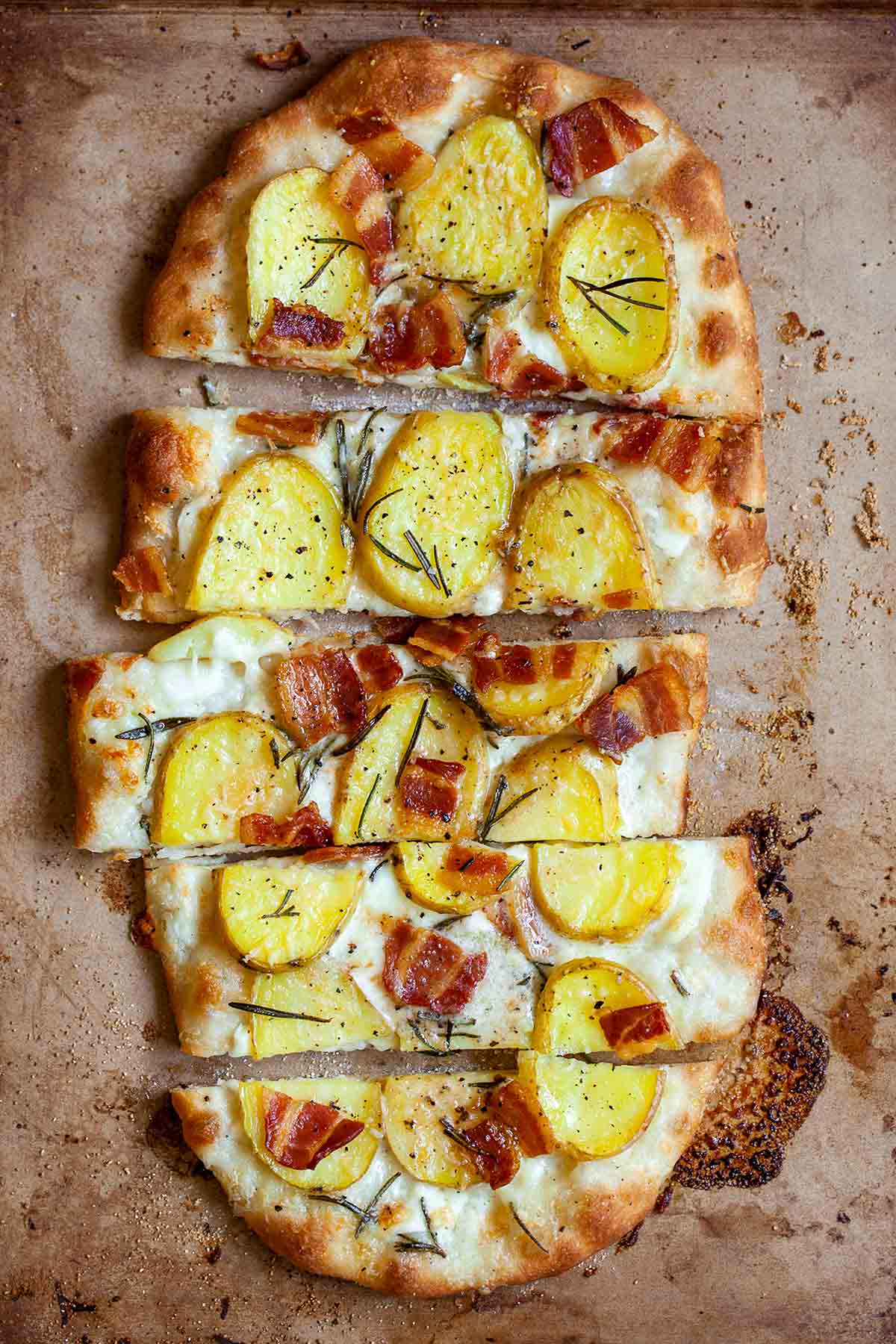 I am not ashamed to admit it publicly: I'm a Solanum tuberosum freak. Yep. Lock me up and throw away the key to the pantry. In other words, I'm a potato fanatic. I wave my freak flag high and proud. I worship all sizes and shapes of this seductive tuber. In fact, so deep goes my freakiness for the starchy little fellows that I have, on many occasions, eaten for dinner nothing but a big-ass bowl of mashed potatoes. (And, yes, I'm well aware of all the big-ass references you're probably thinking of that can be inserted here, but I'd happily risk your sniggers than be less than my true, unadulterated self.)
Sometimes I do make a concession to dietary diversity and add other food stuffs for a well-rounded meal, such as sour cream (dairy) and chives (vegetables) to baked potatoes or eggs (dairy and protein) to sauteed potato slices for a potato frittata. I've even gone all leafy-green vegetarian on myself and stirred sauteed spinach or Swiss Chard into my bowl of sexy, tuberous goodness.
My latest obsession is potato bacon pizza. The recette du moment that I'm hooked on contains no tomato sauce (one less nutritional source, I know) but makes up for that with bacon. And, as I'm sure you know, add bacon—a food group unto itself—to anything, and it suddenly catapults the dish up the slippery slope of the food pyramid, besting fruits, vegetables, and lean meats. Just ask Dr. Regina M. Benjamin, President Obama's Surgeon General nominee. (One look at ole 'Gina, and you know she worships at the altar of bacon, bless her heart.)
I've been serving this plato bacon pizza since summer, when it made its debut at a casual dinner hosted by our friend artist Gary Komarin in Roxbury, CT. I brought along a few pies, and they were gone in no time. Everyone weighed in with their comments (apparently, when it comes to pizza, everyone's a critic), but I got the greatest idea from Gary's neighbor Candace Busnell, of Sex in the City, Lipstick Jungle, and One Fifth Avenue fame. "Top it with a fried egg and you have breakfast."
Needless to say, with my number one desire always being to round out my diet and eat as healthfully as possible, I did just that the next morning. Of course, I added a drizzle of white truffle oil. You can never have enough vegetables.

Potato Bacon Pizza
This potato bacon pizza is quite perfectly delicious on its own, but top it with a fried egg and it becomes a satisfying supper or an unexpected breakfast.
Ingredients
For the pizza dough
1

package

active dry yeast

1

teaspoon

sugar

1 1/3

cups

warm water

,

(110°F/45°C)

3 1/2

cups

all-purpose flour

,

plus more, if needed

1

tablespoon

olive oil

,

plus more for greasing

1

tablespoon

kosher salt

Coarse cornmeal

,

for dusting
For the potato bacon toppings
1 1/4

pounds (about 6 to 8)

egg-size yellow potatoes

,

cut lengthwise into 1/4-inch (6-mm) slices (I like Carola)

1

tablespoon

olive oil

1/3

pound

slab bacon

,

cut crosswise into 1/2-inch pieces

3/4

pound

fresh mozzarella

,

thinly sliced

1

cup

freshly grated Parmigiano-Reggiano cheese

2

s

chopped rosemary leaves

Kosher salt and freshly freshly ground pepper
Instructions
Make the pizza dough
In a small bowl, dissolve the yeast and sugar in the warm water and let stand until the yeast has gorged itself and the liquid is foamy, about 10 minutes.

In the bowl of a stand mixer fitted with the dough hook, dump the flour, oil, and salt. Pour in the yeast mixture and stir on low to moisten the ingredients, then bump up the speed to medium and knead until the dough is supple and soft, 5 to 7 minutes. Add more flour a bit at a time if the dough seems sticky.

Transfer the dough to a bowl lightly slicked with olive oil, cover with plastic wrap, and let rise in a warm, draft-free spot until doubled in size, about 1 hour.

Position a rack to the middle of the oven, slide in a baking stone or an upside-down baking sheet, and crank the heat to 550°F (290°C). Generously dust a pizza peel or a rimless baking sheet with cornmeal and set aside.
Prepare the potato bacon toppings
While the dough is rising, pour 1 inch of water into a medium pot, fit it with a steamer insert, and place the potato slices on top. Cover the pot and bring the water to a boil. Steam the potato slices until just tender, about 10 minutes.

Carefully lift out the slices using a fork and transfer them to paper towels to cool.

Heat the oil in medium skillet over medium-low heat until it shimmers. Add the bacon and cook, stirring occasionally, until the meaty bits are crispy yet still chewy, about 10 minutes. Transfer with a slotted spoon to paper towels to drain. Reserve any bacon fat in the pan to drizzle on the pizza, if you'd like. (And admit it: who doesn't?)
Assemble and bake the pizza
Divide the dough into 4 equal pieces. Place 3 in the fridge, and roll the fourth on a lightly floured surface into a 12-to-14-inch oval using a floured rolling pin. Slip the dough onto the peel and cover with one-quarter of the mozzarella. Place 1/4 of the potato slices in rows across the pizza, scatter over some of the bacon bits, and sprinkle with 1/4 of the Parmiggiano-Reggiano cheese. Spritz the top with some of the rosemary and season well with salt and pepper. Drizzle the exposed edges of the pizza with some of the bacon fat, making sure it doesn't drip down the sides onto the peel, otherwise the pizza won't slide off easily.

Position the peel at the far edge of the baking stone and in one smooth motion pull it toward you, leaving the potato bacon pizza on the stone. Bake until the edges are deeply golden brown and the cheese is bubbling, 9 to 10 minutes. Transfer to a cooling rack and wait several minutes before slicing crosswise. Repeat with the remaining dough and toppings.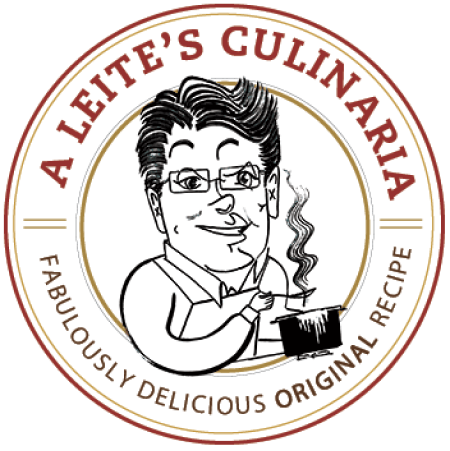 Nutrition
Serving:
1
portion
Calories:
1090
kcal
Carbohydrates:
113
g
Protein:
47
g
Fat:
49
g
Saturated Fat:
22
g
Polyunsaturated Fat:
4
g
Monounsaturated Fat:
19
g
Trans Fat:
1
g
Cholesterol:
109
mg
Sodium:
2944
mg
Potassium:
897
mg
Fiber:
7
g
Sugar:
3
g
Vitamin A:
802
IU
Vitamin C:
28
mg
Calcium:
766
mg
Iron:
7
mg
Nutrition information is automatically calculated, so should only be used as an approximation.
Recipe © 2009 David Leite. Photos © 2021 Cenk Sönmezsoy. All rights reserved.
---
Recipe Testers' Reviews
Do you ever have the urge to eat breakfast for dinner? Well, that is what drew me to this potato bacon pizza recipe. As soon as I read it, I knew I had to try it out. I mean, seriously? Cheese, potatoes, and bacon? How can you go wrong? And assembling the pizza was so easy that my 4-year-old did it.
The dough was pretty straightforward and perfect. I had to add an extra 1 1/2 tablespoons water, but apart from that, I had no changes.
The potato slices cooked beautifully when steamed for 10 minutes.
The baking time was perfect. As I was describing what we were making for dinner to my father-in-law on the phone, he asked if I was going to serve it with a fried egg. Sure enough, I followed his suggestion, and David, I would totally recommend you try that. It fully enhances the whole pizza experience. This will become a classic for brunch as well as dinner.
Dear David, I hear you and I support you–plant that potato flag and never stop sharing the tuber love. This recipe is perfection on a crust. Melting mozzarella, unrealistically creamy potatoes, crispy bacon, and the delicate herbs—and THEN you put an egg on it? I'm forever changed. But honestly, this recipe is that good.
Steaming the potatoes beforehand gives them such a lovely, creamy texture that I can't imagine doing them any other way. The recipe for the crust is quick and easy, too, but it still delivers. It's a crust that I will make, over and over, for all my other pizza recipes. The only thing that I would caution is to use more, rather than less, ingredients with more flavor. Flour, potato, and mozzarella respond so well to the salty bacon and rosemary, elevating everything together perfectly. Then crack that egg on top, dip the crusts in the runny yolk, and plant your own potato-loving freak flag firmly in this recipe.