David explains how "The Great British Bake Off" inspired him to dive back into marvelously complicated and challenging bakes and changed him in some small but profound ways.
: Omelnickiy
Let me make myself perfectly clear: I've never been a trendsetter, early adopter, bandwagon-jumper, or a sheeple (sheeperson?). And I'm certainly not someone who's fashionable. (Proof below.) I was the budding writer who, in 1976 at 16 years old, spelled the name of the rock band Lynyrd Skynyrd as "Leonard Skinnard" in a short-lived music column for The Spectator in Somerset, MA.¹ It's quite possible I'm the only person in the English-speaking world who tuned out "Breaking Bad" after the second episode.² And I'm still not sure who Rachel Zoe is, although Renee is bonkers for her.³
So it's not surprising that it took 11 years for "
The Great British Bake Off
" (or, in America, "
The Great British Baking Show
") to catch my attention this November. But quarantine will do that to a guy. After eight months, I had blown through every conceivable streaming show I could tolerate until, bereft, I reached what I thought was the bottom of the barrel and settled in to watch 12 amateur bakers making signature bakes, surmounting technical challenges, and whipping up towering, sometimes teetering, showstoppers to be judged by steely-eyed Paul Hollywood and the saucy Prue Leith.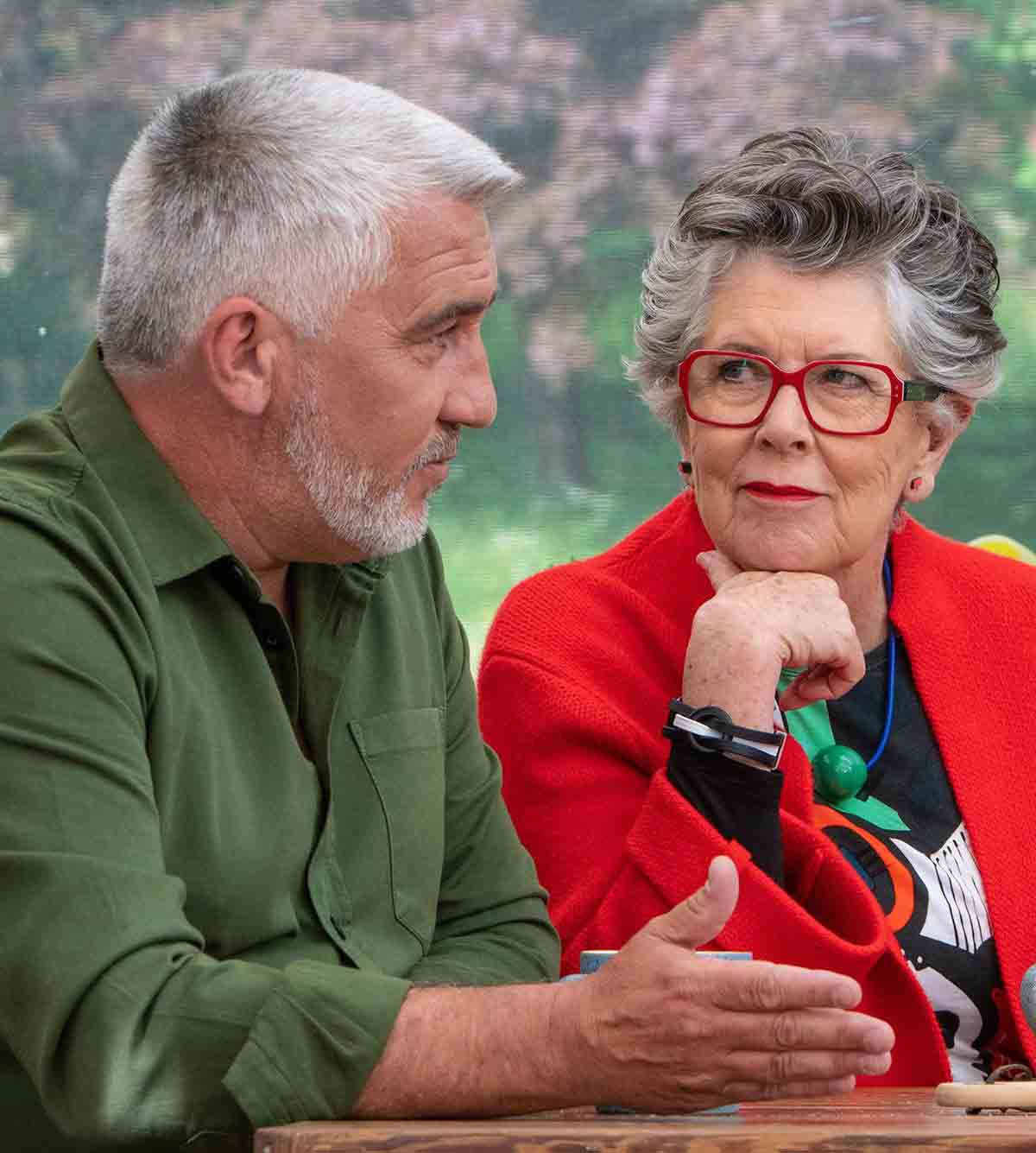 : Love Productions
I began binging the latest season (collection in #GBBO parlance) right before Thanksgiving so that I could catch up to the finale, which was to air on November 24 in the UK and three days later on Netflix in the States. It was clear I was hooked by episode five, "Pastry Week," when I furiously scribbled notes as Hermine (no last name just like Cher! or Madonna!) made her Moroccan tagine pasties, unaware the show posted the bakers' recipes on its site.
: Love Productions
But my British baking addiction hit rock bottom on the morning of the 27th when I went full off-tilt, manically clicking Netflix's "New Episode" button, which didn't work–all day. Finally, that night I watched Peter Sawkins (the young man in the flowered shirt below) win the finale, besting finalists Laura Adlington and Dave Friday.
After that, there was no looking back. I blitz-binged the remaining seven available seasons–70 episodes–staying up to three or four in the morning, much to my psychiatrist's chagrin. (When you're bipolar, sleep is practically a prescription.) Now, I'm desperately trying to find a way to stream the first three seasons that didn't air in the U.S. I want to cheer on my colleague Edd Kimber as he wins the first-ever crystal cake stand.
When I jumped back to watch season one, I had a fit of apoplexy when I encountered Mary Berry, the original female judge who was replaced by Leith. I was incensed. There was no way she could replace my sweet, dear Prue! To quote Lerner and Loewe, "I've grown accustomed to her face; she almost makes the day begin." All it took, though, was one mention by Mary of a "soggy bottom," and I melted. They were marvelous in very different ways, yet they both were the doting, adoring mothers I never had who baked pantries full of sweets. (While Momma Leite is a killer cook, she never got beyond Pillsbury's slice and bake cookies.)
: Mary Berry
I've been trying to figure out why the show has affected me so. At first, I thought it had to do with the gentility of the competition. The bakers genuinely seemed to like and root for each other. Compared to the boorishness of many U.S. competitions–Gordon Ramsay and "Hell's Kitchen" come to mind–"The Great British Bake Off" seems positively courtly. I thought the critiques were fair, helpful, and far more gentle than the acting crits I got in college. (Some of those were brutal, let me tell you. Thank you very much, Angela D'Ambrosia.) The tent felt like a safe, protective bubble–and indeed it was a bubble this past season, as cast and crew had to remain in a pandemic cluster while filming during lockdown.
: Love Productions
But my fascination with the show goes way beyond the decorum of the judges and the likability of the bakers. I learned a lot. At the very least, I have a whole new baking vocabulary: "Stodgy" (dense), "claggy" (gummy or sticky), "scrummy" (scrumptious), and, of course, the famous "soggy bottom" are in regular rotation in our kitchen these days. And I marveled at how the bakers–and especially hosts Mel Giedroyc and Sue Perkins–could discuss "spotted dick" without a whisper of innuendo. (Despite its name, spotted dick isn't some gangrenous dangly bit but rather a suet pudding studded with currants.)
I was reminded of the differences among French, Swiss, and Italian meringues. I learned joconde, a term I'd never encountered, is an almond-flavored sponge made with whole eggs instead of whipped whites and whipped yolks. (I called it almond sponge.) I discovered there is such a thing as inverse puff pastry, where the butter surrounds the dough, rather than the other way around, for an extra-crispy texture. And that it's used in making arlettes, another new one on me. (An arlette is a cinnamon-inflected palmier rolled flat so that's it's shatteringly crisp.)
: BBC Food
But I think the real reason "The Great British Bake Off" has punched me in the solar plexus is I'm inspired to bake again. Not just a dozen cookies or cupcakes–or the chocolate cake I can make with my eyes closed–but complicated bakes that demand focus and concentration. And lots and lots of pans.
After one particularly long binge-watching session, I went to the basement and hauled out entremet rings, bottomless tart forms, pastry bags and tips, kugelhopf pans, and candy molds. Sitting on the floor in the middle of 30 years of dusty baking equipment, most of which hadn't even seen our kitchen in years, I asked myself, why? Why had I stopped making my own puff pastry, croissant dough, and mocha-filled truffles? Why hadn't I worked with gelatin in a decade? Why had I sidelined something I loved so much?
The answer, sadly, was work. I was too busy writing, editing, researching, posting, and tweeting about food to bake it. The demands of a job–a job I love with all my heart–supplanted the original inspiration for this very website: my love of baking.
Sitting there, I recalled my baking course at Peter Kump's Cooking School, which later became the Institute for Culinary Education. The great baker Nick Malgieri was my teacher for a few of the classes. We made dacquoise, curds, charlotte Russes, pithiviers, savarins, and Paris-Brests. Sure, the course listed heavily toward France, but I didn't care. I was and still am a huge Francophile.
From then on, I haunted cookware stores. The day I bought my first madeleine pan, I was 36 years old and trying desperately to finish my B.S. in psychology. I sat in experimental psychology class, bag on my desk, absentmindedly fingering the scalloped ridges of the mold, lost in a reverie of having a Proustian reverie later that night. It didn't happen. My madeleines were dry and humpless.
I think baking means so much to me because it helped me climb out of a terrible, black depression back then–when I was unsure if I would ever get well, if The One and I would last, if I'd ever find a career. I knew being a psychologist was out of the question. The crazy leading the crazy is never a good idea.
In the introduction to Malgieri's book How to Bake, which has been a bible for me for 26 years, he writes, "Peter Fresulone, who was one of my partners in the Total Heaven Baking Company in the early 1980s, always said, 'Bake something, you'll feel better.'"
I can say with authority, that is a true statement: I've never felt worse after baking.
"The Great British Bake Off"'s "On your marks, get set, BAAAAAKE!" has become a rallying cry and a personal directive. Since watching the show, I've delved back into pistachio financiers, to varying degrees of success.
: David Leite
English muffins, macarons, and the mighty dacquoise from Windows on the World are on my agenda. The difference is–and I hope you won't take it the wrong way, dear reader–I'm not entirely sure I want to share the results. Not out of shame. Lord knows I've posted all kinds of baking fails on social media. (Have you seen my Ballad of the Sad Tart?) Somehow sharing my new, more involved bakes turns it into work, in a way. And because I don't want to disappoint you guys, that means I have to make them perfect. And that means I have to make them a million times so that they're scrummy looking, as my dear Mary Berry says. And THAT means I'll stress out. And THAT means I'll stress eat. (Yes, I'm still in therapy, thank you very much.) But…the jury's out on this. Maybe I should just post all of them as is. Kind of like how Alicia Keys stopped wearing makeup on "The Voice."
What I want more than anything, though, is to feel like I did when I was 34 (young, slim, and beautiful, mind you)–standing at my table in baking class, nervous, excited, wondering what wonders I'd make that day. Not unlike those dozens of skittery amateur bakers who've marched into The Great British Bake Off tent for the past 11 years.
Excuse me. I now have to binge-watch The Great American Bake Off.

_____
¹ Although I eventually learned to spell the name of the group, I never became a fan.
² After our dear friend Ellen Kroner, who ran the communications group responsible for the show's PR, urged me to try again, I did and LOVED it. So much so that I've watched it twice through.
³ I just Googled her. No bandwagon here, kids.