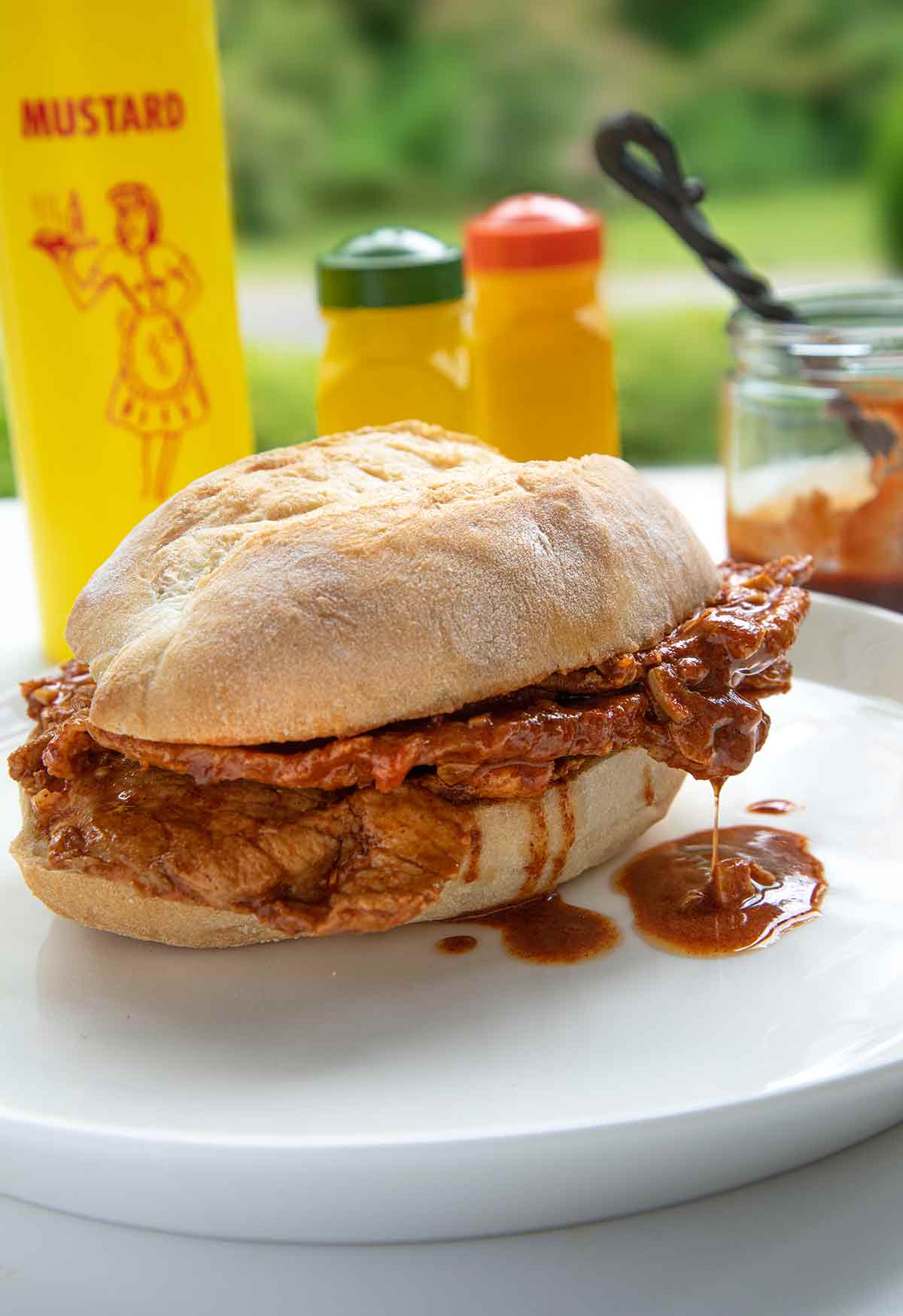 Growing up, I never heard the word bifanas. My family didn't make them. We never ordered them those few times–so few I could count on one hand–we went to a restaurant. We never had them at the St. John of God's summer fair. Suffice it to say that these flavor bombs, these sometimes-drippy, always-alluring Portuguese sandwiches of garlicky marinated pork slices never crossed my lips.
.Then I spent the better part of 2007 living and working in Lisbon as I researched and wrote my cookbook, The New Portuguese Table. And–I kid you not–for the entire time I was there, I never knew about bifanas, even though the city is studded with bifanas palaces. Casa das Bifanas. As Bifanas Do Afonso. Café Beira Gare. Just to name a few. And Casa das Bifanas was just steps from my apartment! Now, this doesn't mean that I wasn't eating bifanas. I was. Almost daily. I just didn't realize it.
Let me back up. When I went to live in Portugal, I left behind The One and our cats at the time, Chloe and Raja. Home, hearth, and family are crucially important to me. Without them to remind me of the million ways I really am loved, I don't fare well. I'm already predisposed to periods of dark sadness, thanks to faulty wiring in my DNA that causes those chromosomes that bring on bipolar disorder to blinker on and off like tacky little Christmas lights. So I'd spend my days pining for my family. The ache was palpable. It was as if someone had plunged a fist into my chest and was using my heart as a stress ball. What made it worse was my apartment was next door to a souvenir shop that played fado, the sad, soulful music of Portugal, from sunup to sundown. So while I had Skype calls with The One in which he regaled me with how our backyard glittered with more fireflies than he'd ever seen, I wept to Amalia's plaintive voice drifting up from below.
And since I wasn't fluent enough in Portuguese (or rich enough in euros) to lie on some expensive psicanalista's couch twice a week, I did the second-best thing I know to self-soothe: I ate.
One afternoon on my way to the glorious Rossio (above), the square that takes up a big swath of the old city, I moped along Rua Barros de Queiròs. It's a pleasant pedestrian pass-through lined with limestone pavers. On the left, wedged between a restaurant and shoe store, was a slice of a shop no wider than 10 feet. I've long forgotten its name and Google Maps proves that it no longer exists. But back then, in its open window, sat two huge skillets filled with rippled slices of pork simmering in an orange liquid. I walked by unimpressed until I passed through a cloud of the holy trinity of Portuguese cooking–pork, wine, and garlic. It couldn't be coming from those skillets the size of satellite dishes, could it?
Doubling back, I knew it indeed was. I slipped inside and waited at the counter for the owner, who sported a startling underbite and a prodigious chin beneath. I didn't want to let on I knew nothing about the magic brewing in the pans, so I did as I always do in these cases. I nudged my normal-sized chin in the direction of the window and said, "Uma, se faz favor. E uma Coca." That combo of sentences–One, please, and a Coke–got me through many a dining scenario when I was alone and still butchering the language with a verbal machete.
The man sliced open a papo seco, a classic Portuguese roll with its characteristic top split that made it look like the firm little butt of a putto or newborn baby. Those I was familiar with. "Butt buns," as I called then when I was a kid, were on our table all the time and cradled everything from hamburgers to chouriço to a combination of eggs, peppers, and sausage to, well, you name it. I had BBF status with their soft, chewy inside, their surprisingly buttery taste, and dusty floured crust.
He then slapped on a few slices of dripping, steamy pork slices, dunked the cut side of the top half of the roll into the simmering liquid, and capped off my meal. The Coca, made with real sugar, slid into place. The total: all of 3 euros.
Although I'd never eaten one of these mighty sanduíches before, I was intimately familiar with its flavor. It was my aunt Irene's deeply garlicky and wine-soaked pork roast, my mother's quahogs stuffed with spicy chouriço sausage, my grandmother's paprika-freckled stew, all rubbing elbows on a roll. It was the taste of my childhood.
Standing there in the middle of Lisbon, enveloped in my cloud of despair, I felt at home. Not just home, but gloriously home. Somehow that simple, inelegant sandwich bridged two continents and crossed what I was certain was a galaxy of distance. In a matter of a few bites, The One, Raja, and Chloe didn't seem so far away. And the best part: The two weeks left before The One would finally visit folded in on themselves to just that: two short weeks. Not the two decades my fantastically self-martyred self had declared it would be.
When The One arrived, I practically dragged him by the wrist to my new spot. Still not sure of the name of what I'd been eating, I nodded to my behemoth-chinned friend and held up two fingers. In no time, The One and I devoured lunch. Even after eating a bifana almost every afternoon for a fortnight, I was still bewitched. The One, on the other hand, enjoyed his and even saw its particular charms, but it didn't hold the same role of rescuer, comforter, and surrogate as it did for me.
We didn't stop by the shop again that trip. The One was too intrigued by what else Portugal had on its menu to set his meals to "repeat," and I didn't mind. We traveled up north to Coimbra, to see its stunning university, then farther still to Mealhada for leitão, whole roast suckling pig, with its mahogany skin and hunks of tender meat slicked with sweet fat. We traveled west to Tentúgal for its famous egg-yolk sweets wrapped in the sheerest hand-stretched pastry that puts phyllo to shame. Then we made our way south along the coast so he could eat his favorite: grilled sardines. Having The One there with me sated a hunger for home, and I didn't even miss my beloved whatever-the-hell-the-name-was-of that-pork-sandwich.
I'm nothing if not predictable. As soon as The One left–and I'm talking on the way home from dropping him off at the airport–I stopped in for a bifana. The first time in weeks. I knew I would, even though we had just eaten at McDonald's. (It's a tradition with us. Our last meal in a foreign place is always something deeply familiar.) Still, neither our Chez McD nor the smell his cologne on me from when we stood embracing at security was enough to ground me. So I ate without passion but with purpose.
For the remaining several months, I adjusted to life without him and our cats. Traveling, interviewing, and researching began to consume me. Along the way, I entertained a raft of friends who, for one reason or another, found themselves in Lisbon. But at those times when the ache grew unbearable, I'd ditch recipe testing, ignore piles of notes, or duck out of a cocktail party and head to Rua Barros de Queiròs. I'd slump against the counter, much like a jilted lover would hunch over a bar. But instead of a bartender whom I could unload on, I had my amigo com o queixo grande. We couldn't understand each other, but he knew my order: Uma, se faz favor. É uma Coca. And, sometimes, that was enough.