SUBSCRIBE ON Apple | Spotify | Sticher | Amazon | Google | iHeart | TuneIn
☞ If you like what you hear and want to help support us, even $1 will help! Thank you.
Have a question, query, or quagmire you'd like Renee and David to answer? Click that red button to the right, or click on this link to leave us a recorded message. Press and talk away and maybe you'll be featured on the show!
It's no surprise to any of us that food can evoke memories. Who hasn't been taken back to another time and place by an aroma, a sight, a taste? Yet food plays keeper of history in larger ways as well, collectively cradling the history of a culture. Some of the most evocative and living testaments of this are Chinatowns throughout the world—perhaps none more so than Chinatown in New York City.
Its provenance goes back to the 1870s, when Chinese immigrants were shunned from other settlements and towns and came to settle near one another in New York City. Since then, this community–restaurant owners, purveyors of food, practitioners of Chinese medicine, keepers of cultural treasures, and more–has continued to evolve and exist. Until this year, when Coronavirus took a staggering toll. Even prior to the government mandates to close businesses, many New Yorkers and travelers had abandoned Chinatown, fearful of the Chinese origin of the virus.
Cookbook author Grace Young, seeing the almost overnight disintegration of what took more than a century to make, went to the streets of lower Manhattan to create a heartbreaking video series that chronicles at least some of the memories of this cultural icon.
[renee-signature]
Chat with us
Have a cooking question, query, or quagmire you'd like Renee and David to answer? Click that big-mouth button to the right to leave us a recorded message. Just enter your name and email address, press record, and talk away. We'll definitely get back to you. And who knows? Maybe you'll be featured on the show!
Transcript
Renee Schettler: David, you've been to Chinatown, right?
David Leite: Of course I have. For years. I've lived in the city, I moved to the city in 1995, so yeah I've been there many, many times…
Renee: I was just getting out of college then…
David: Yeah. Thank you very much. Whatever. Oh, you love to rub it in. I've been there many times and I have so many fond memories of eating there and walking through the neighborhood and buying things there and shopping there. It's a great place.
Renee: Yeah. Any particular memories stand out for you?
David: I think it's the very first time I went to a dim sum palace.
Renee: A palace. You should feel comfortable in a palace, David.
David: Exactly, right. And it was big. And I want to say it was on the fourth floor or something like that. And I had never been to a dim sum palace. I'd had dim sum a little bit before that, but what I was so fascinated by was these women who were pushing these trolleys…with all kinds of dim sum…piled high with dim sum. And in my mind, I was choreographing this fabulous musical theater number where they're pushing the carts all around and everyone's singing. It was just magnificent in my mind.
Photo: Bao Menglong
Renee: Of course it was.
David: Of course. It was only surpassed by how good the food was. It was a knockout, just a knockout. And I even had an acupuncturist down in Chinatown for a while.
Renee: Interesting. Well, I agree. Dim sum is just something you have to experience. I experienced it for the first time as a kid. That was probably about the same time that you had just moved to New York on your own.
David: Oh yeah, okay. Thank you.
Renee: It was incredible. But I have other, fonder memories of Chinatown. I've been in DC, I've been in San Francisco, but New York's Chinatown. I'll never forget the first time walking down the sidewalk and there are frogs in buckets and dried mushrooms the likes of which I had never encountered before. And finally, after years and years of reading about these ingredients like palm sugar and fish sauce and kecap manis all these things that I couldn't get my hands on—that was pre-Amazon, or actually when Amazon was just books—
David: Right.
Renee: There they were right in front of me.
David: It's amazing.
Renee: It's incredible.
David: Well, the sad thing is that Chinatown that we both love so much, it's disappearing.
Photo: Grace Young
Renee: Yeah.
David: I just read a survey recently of New York City restaurants and bars and they say that more than 80% of the owners can't even pay half their monthly rent.
Renee: Oh my god.
David: And it's estimated when all this Corona is said and done, 60 to 65% of restaurants and bars won't be around in a year. And it's even worse for Chinatown, because the whole neighborhood, which has been this incredibly vibrant cultural and religious and culinary center for more than 150 years is on the brink of collapse.
Renee: It's all mom-and-pop places.
David: All of them. But luckily our guest today has decided to do something about it. Grace Young is a two-time James Beard award-winning author and filmmaker whose book, The Breath of a Wok, was inducted into the 2019 IACP cookbook hall of fame, and whose family's wok, get this, is going into the Smithsonian Institution.
Renee: That's Grace for you.
David: Isn't it?
Renee: I'm Renee Schettler, editor in chief of the website Leite's Culinaria.
David: And I'm David Leite, its founder.
Grace Young's most important mission
David: And this is Talking With My Mouth Full, a podcast devoted to all things food, the people who make it, and the stories that make the people.
Renee: Welcome, Grace.
David: Welcome to the show, Grace.
Grace Young: Thanks for having me.
David: Grace, you created this incredible video series called Coronavirus: Chinatown Stories. Now, what is that series and how did it come to be?
Grace: I was asked in February to write a story for Food & Wine Magazine about what was happening in Chinatown, and at that point, the Coronavirus began impacting Chinese businesses, starting in January. New Yorkers weren't going down to Chinatown because they were afraid they would catch the Coronavirus. Local Chinese already knew to shelter in place. So Food & Wine asked me to write an article just to get New Yorkers to start supporting Chinatown again. And the article that I wrote was really well received and so many people started showing up and giving their support.
The toll 2020 has taken on Chinatown
Grace: Then I did an interview with the local NPR station, and then by March, there's a wonderful museum in New York City called Poster House, and they had just started an exhibition called The Sleeping Giant, which is a Chinese vintage poster exhibition. They had reached out to me to ask me to do some auxiliary lectures about food and culture. But by March 10th, all museums in New York City had shut down and on March the 13th, I remember it was a Friday, they contacted me and they said to me, "We know that Chinatown is hurting. We have this Chinese exhibition. We would like to do something to help the Chinese community. Do you have any idea of what we can do?"
Grace: And I said that I had just been thinking about the fact that I want to go to Chinatown and do interviews with Chinese restaurant owners, shopkeepers, and to get a feeling for what they were experiencing, what they thought the future held for them, just get a pulse of what was going on. And they said, "If you can do this, we will post it on our website." So I put out a request on Instagram asking if there was any videographer who'd be willing to volunteer their time, and this wonderful guy, Dan Ahn, said he would do it with me.
Coronavirus: Chinatown Stories: Episode 1
.
Grace: So we went down two days later to Chinatown. I only had one interview set up with a woman named Mei Chau who has a Malaysian French restaurant, and we did this interview and she was feisty and nothing is stopping her and she's not cutting back hours and she will not close her restaurant. And after we finished this interview, I got a text message that Hop Kee, which is a restaurant that I had gone to do my Food & Wine article, the owner was willing to speak to me.
Grace: So we ran over there and he would only give me like two minutes, but these two minutes are so moving because he talks about the fact that the restaurant has been in existence since 1968, started by his father, and he has made the decision that he is closing by the end of the day. It is… He had tears in his eyes. All of us had tears in our eyes. I walked into the kitchen and the cooks were just…nobody was doing anything in the kitchen. It was quiet. That restaurant, there's normally a line out the door. It seats 160 people. The woks are clamoring. It is one of the busiest go-to restaurants in Chinatown. And he said, "I'm not sure if we'll ever reopen."
Grace: And there at Hop Kee, I ran into my friend, Jan and Don, and Don brought me into Wo Hop Restaurant, which has been in existence since 1938, and he did a quick interview with me. And he said, I don't know how he knew it, but he said, "Tomorrow, 70% of restaurants in Chinatown will shut down." So we realized that we were in the middle of living history, that at that moment, and it's true now that I look back on it, that is the last day that Chinatown existed as we know it.
Photo: Poster House
Grace: And since then there are restaurants and shops that have not reopened. A few hours after we did more interviews, we did one more restaurant and K.K. Discount. I call it a Chinese mom-and-pop Target store that carries all kinds of housewares.
Grace: And a few hours later, Mayor de Blasio shut all restaurants in New York City. And a few, like Mei Chau of Aux Epices, stayed open for one more day and realized that take-out didn't make sense for her, so she closed. So we went back and re-interviewed her five days later, and she said she had survived. Her restaurant back in 9/11 had survived, and this was far more devastating and she had no idea what she was going to do. So she went from being feisty and we're doing this to: "I have no idea what…this is just too devastating. I am completely depressed and unable to figure out how to move forward." So we have been recording these stories. And for me, it's been unusual because I'm a cookbook author. I'm not generally—
David: A filmmaker.
Grace: —a filmmaker. But I've gone from Wok Therapist now to Coronavirus: Chinatown Stories. But throughout the pandemic, working on these videos has actually given me a sense of purpose, and it has actually helped me to move forward and to focus on trying to help Chinatown and bring awareness to people of what the Chinese community is dealing with, and it is absolutely heartbreaking. And it's not just Manhattan's Chinatown, it's San Francisco's Chinatown, it's Chinese restaurants all across the country and mom-and-pop stores. I read a statistic the other day that 233,000 Asian American small businesses have closed between February and April. And Manhattan's Chinatown and San Francisco's Chinatown, they are historic Chinatowns. I mean, we have Chinatowns in Sunset Park and Flushing, and New Jersey has their Asian markets, and there are huge Asian communities everywhere now. But for me, San Francisco and New York's Chinatown represent such an important part of Chinese American history in this country, and when these businesses fold, the community folds. It will not be the same.
David: And Chinatown in New York was already being squeezed a bit by the neighborhoods around it.
Grace: Absolutely.
David: Getting smaller.
Renee: And yet it was just this iconic part of New York City. Some of my best memories, honestly, are from the days I would play hooky from work David, you didn't hear that—
David: Right.
Renee: —and take the subway down and just experience it.
David: I agree. Mine too. Some of the incredible dim sum palaces we used to go to and some of the shopping for fresh fish and vegetables down there was amazing.
Renee: But it's all mom-and-pop places.
How you can help support Chinatown
Grace: Ninety percent of the businesses in Chinatown are mom-and-pop. And, throughout New York City, Chinatown is the only ethnic neighborhood that is really left. Everything else has been gentrified. The mega stores, the box stores. So if we don't protect Chinatown…Washington, DC's Chinatown has this beautiful Chinese arch and right under it, I think there's a CVS or a McDonald's. I can't remember what.
Renee: And a bank just after that. Yeah.
Grace: Yeah. It's waiting to happen and it's happening right now. Just the other day, one of my favorite restaurants, 69 Bayard, after 65 years, it's closing. My favorite produce store, Mee Li, after 40-something years, closing. So it is heartbreaking, and we see it all across the United States, all businesses, all restaurants are suffering. But the Chinese community, of course, is dear to my heart, and you realize that this is such a unique community where you can find everything and it's not just restaurants and shopping for food.
David: No, no, not at all.
Grace: I've written about the fact that there's a cobbler on Elizabeth Street who works on the sidewalk, and when it's a rainy day, he just has a piece of tarp over his head. Ergonomically, he doesn't have a proper work surface, a lamp, a chair, and he repairs shoes and sharpens knives. His name is Ah Bao. It's incredible. You can find everything in Chinatown.
Photo: Grace Young
Grace: This past weekend, I've been going to this florist shop for ages, they started selling pesticide-free tomatoes for $1.19 right in front of the shop. They just set up a table and I'm like, "Where are you getting this?" And they said, "A local farmer." And I thought to myself, "How is the farmer and this shopkeeper making any money charging $1.19 a pound?" But this is Chinatown. And I brought home these tomatoes and they were better than anything I could get at the farmer's market at Union Square where I'm paying $5 for organic.
Photo: Grace Young
Grace: I mean Chinatown is just this amazing place that is…you just have to dig a little bit and it's wonderful for exploring. K.K. Discount, this mom-and-pop store, Mr. and Mrs. Li have owned this for over 30 years. He was a waiter. This was his big dream to open up this shop, and when I go into K.K. Discount, the place is packed full of goodies and I just love being there because I always discover something that I didn't realize that I needed desperately. He has these great skimmers that are wonderful for when you're making stock that just pulls up the fat. I've had more expensive French skimmers that aren't as good. He has a great selection of rice bowls and tea pots and rice cookers and he sells bamboo steamers. Everything. He's got it there. And it's wonderful to support a mom-and-pop business. Amazon doesn't need one more cent from us, but these people do. These people do.
Photo: Grace Young
Renee: What you're doing is an extension of what you set out to do, just in a manner in which you never envisioned. With film.
Grace: Exactly. Can I just mention one more great place, because it might be wonderful for your readers? One of my favorite supermarkets is Po Wing Hong, and it's a family-owned supermarket and they're just starting an online eCommerce store. So if you're just living in a small town in America and you can't get certain ingredients, they have it.
Photo: Grace Young
David: Grace, it was incredible talking to you and we will include in the transcript of our podcast all of the locations you talked about, and we're encouraging all of our listeners and all of our readers to go there or order from them if they can't get to New York City, to help support this very important cultural center in New York City and also cities throughout the country.
Grace: Thank you so much.
David: Grace Young has been writing about Chinese food for more than 21 years. Her award-winning books include The Breath of a Wok and Stir-Frying to the Sky's Edge. Her video series is Coronavirus: Chinatown Stories, which she created with videographer Dan Ahn, and which will be featured online at the Smithsonian this October. You can find out more about Grace at graceyoung.com and view her series at posterhouse.org.
A nod to the legacy of Chinese cooking
David: Renee, this week instead of talking about specials, let's tip our hat to the Chinese community and their wonderful contribution to the culinary world. What do we have on the site from China?
Renee: That would be my pleasure. So of course we have recipes by Grace, including her cashew chicken, which is one of the most popular chicken recipes on our site.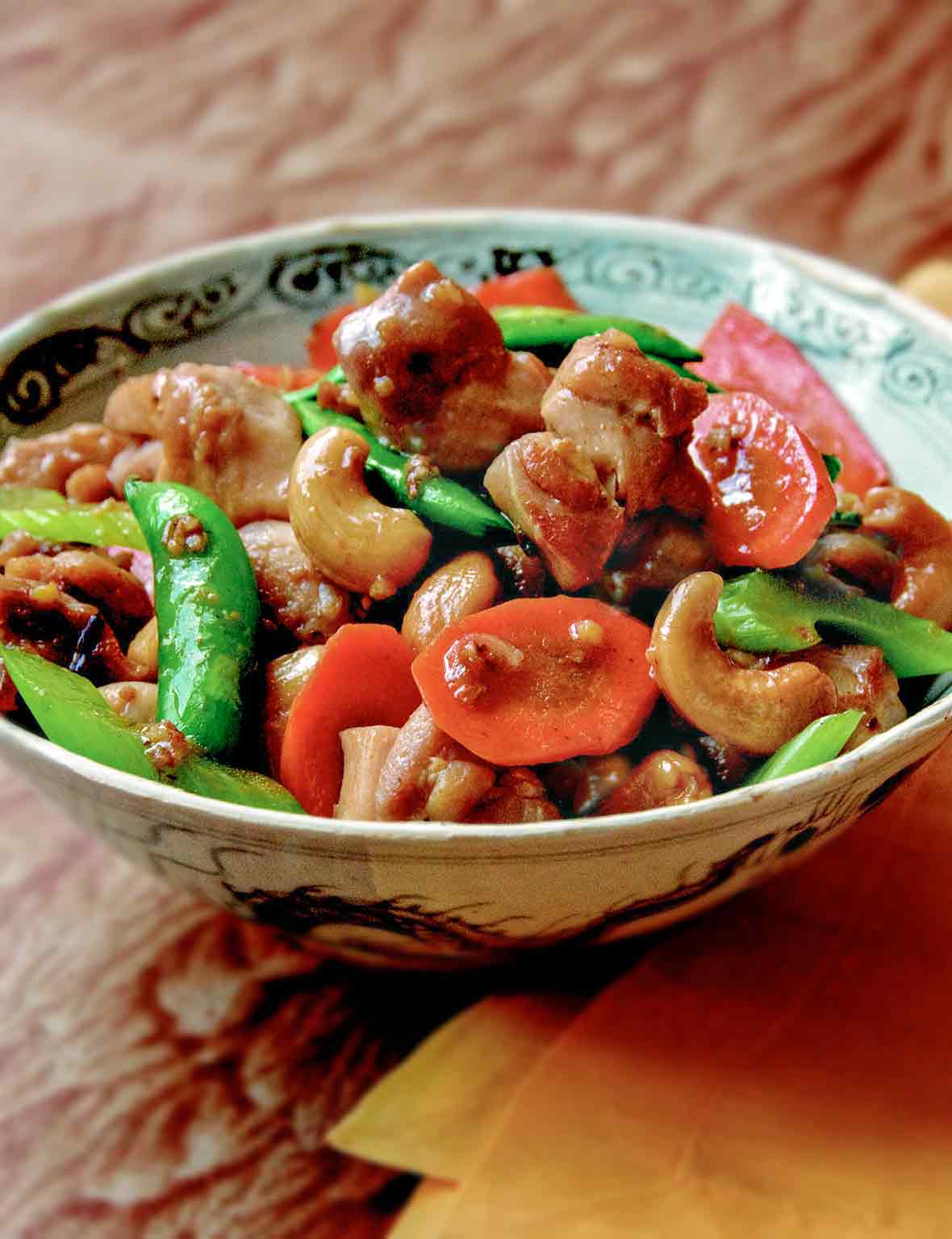 Photo: Steven Mark Needham
David: It's a great recipe, everyone.
Renee: And then we have the hot and sour soup from the famous Joanne Chang. This is actually her mom's rendition of the soup, and you're not going to believe, it comes together in 20 minutes. And yet it tastes so complex. First of all, you'd never imagine you could make this at home at all, let alone in that short of time, but it really doesn't require any outlandish ingredients. It's all incredibly accessible.
Photo: Michael Harlan Turkell
Renee: We also have Joanne's fried pork dumplings recipe. Whenever you need a Saturday afternoon project, this is what you want. Trust me on that.
Photo: Kristin Teig
Renee: And then we take things a little untraditional, but this is from Grace herself, so I'm okay with that. It's wok-popped popcorn. The wok is the absolute perfect vessel for popping corn. Enough space at the bottom for all the kernels to get some heat and yet ample room for them above to spread out and get distance from that heat as they pop.
David: Sounds great to me.
Renee: Everything sounds great to you, David.
David: This podcast is produced by Overit Studios and our producer is the sweetly sour Adam Clairmont.
David: You can reach Adam and Overit Studios at overtstudios.com And remember to subscribe to Talking With My Mouth Full wherever you download your favorite podcasts. And if you like what you hear and want to support us, please consider leaving a review and rating on Apple podcast, and a new feature, if you'd like to leave Renee and me a recorded question or compliment, we love compliments–visit our podcast page at leit.es/mouth. On the right-hand side of that page is the button to chat. Press it, and maybe you'll be featured on the show!
David: Chow.
Renee: Chow.
Where to find the shops mentioned in this podcast
Source: Google Maps
Where to watch more Coronavirus: Chinatown Stories
The National Museum of American History, part of the Smithsonian, will be streaming Coronavirus: Chinatown Stories throughout the month of October in honor of their Food History Gala, which is the weekend of October 15th. [Editor's Note: We'll be adding the link to watch the online videos as soon as it's available so kindly take note and check back.]