A new TV series on the life of Julia Child will premiere on HBO Max on March 31, 2022. The show will share not just her knowledge and enthusiasm, which made cooking so accessible to so many, but details of her personal life that we've all been curious to learn for so long.
Though it's been 60 years since Mastering the Art of French Cooking was published, Julia Child's impact on American cuisine has not been–and probably never will be–forgotten. The skills and techniques she taught us about the basics of cooking French food (and, really, about food in general) will always be necessary in the kitchen. But it's just as much about how she made that knowledge accessible.
Not to mention, what modern cooking show host doesn't owe their success to her pioneering TV series, The French Chef? Who among us doesn't try to impersonate her endearing and distinct warbly voice on an occasional basis? (When attempting a new recipe, it's helpful to say the instructions out loud a la Julie Child. Her unrelenting enthusiasm, heartfelt encouragement, and unpatronizing tone always inspire. Try it, trust us.)
An homage to Julia Child's life
So, it makes perfect sense that HBO Max has given an eight-episode, first-season order to the Max Original series, JULIA, based on and inspired by Child's extraordinary life and her first cooking show. And Child's life really was extraordinary: She graduated from Smith College with a degree in history in 1934, worked as a top-secret researcher for the government during World War II, and didn't even start cooking until she was in her 40s. It was her husband Paul, whom she met while they were both stationed in China for their wartime jobs, who introduced her to fine cuisine. Their move to Paris led to Child attending the famed Cordon Bleu cooking school, where she graduated in 1951, and was the start of her path to becoming the woman who would make fine French cuisine accessible to American housewives.
"Through Julia and her singular can-do spirit, the series explores an evolving time in American history – the emergence of public television as a new social institution, feminism and the women's movement, the nature of celebrity and America's cultural growth," said Sarah Aubrey, Head of Original Content at HBO Max, in a press release about the upcoming show. "At its heart, the series is a portrait of a loving marriage with an evolving and complicated power dynamic."
Although there's no premiere date set as of yet for when we can witness Julia portrayed as the larger-than-life force that she was—and not just because of her 6'2" frame—we do know that the show will star Sarah Lancashire as Julia and David Hyde Pierce as Paul and is scheduled to continue production late spring in Boston, the city where the couple called home for many years. Joan Cusack and Tom Hollander were originally slated to play the couple but stepped away from the project.
The cooking notes we learn from Julia Child
"We are so happy to help bring the incomparable Julia Child back to the small screen, when we need her more than ever. This show's look into her life, marriage, and trailblazing career as she transformed the way we talk about food is an absolute delight," explains the press release.
The French Chef, which debuted on February 11, 1963, taught home chefs a lot of important lessons during its 10-year run, among them, it's okay to make mistakes, cook with fresh, whole ingredients, and, of course, the necessity of using lots of wine and butter. From the boeuf Bourguignon she whipped up on that first episode to the coq au Vin, French onion soup, steak au poivre, cheese souffle, eggs benedict, and various quiches crepes that Child shared in her more than a dozen cookbooks and myriad TV shows, her instruction always conveyed her authentic joy of cooking and her delight in sharing that knowledge with the world.
And now, we cook!
We've been thumbing through our copy of Mastering the Art of French Cooking to start planning a menu for the premiere and having a tricky time choosing! And we're already stocking up on butter and wine, natch, and reminding ourselves that the show has been referred to as a "first" season.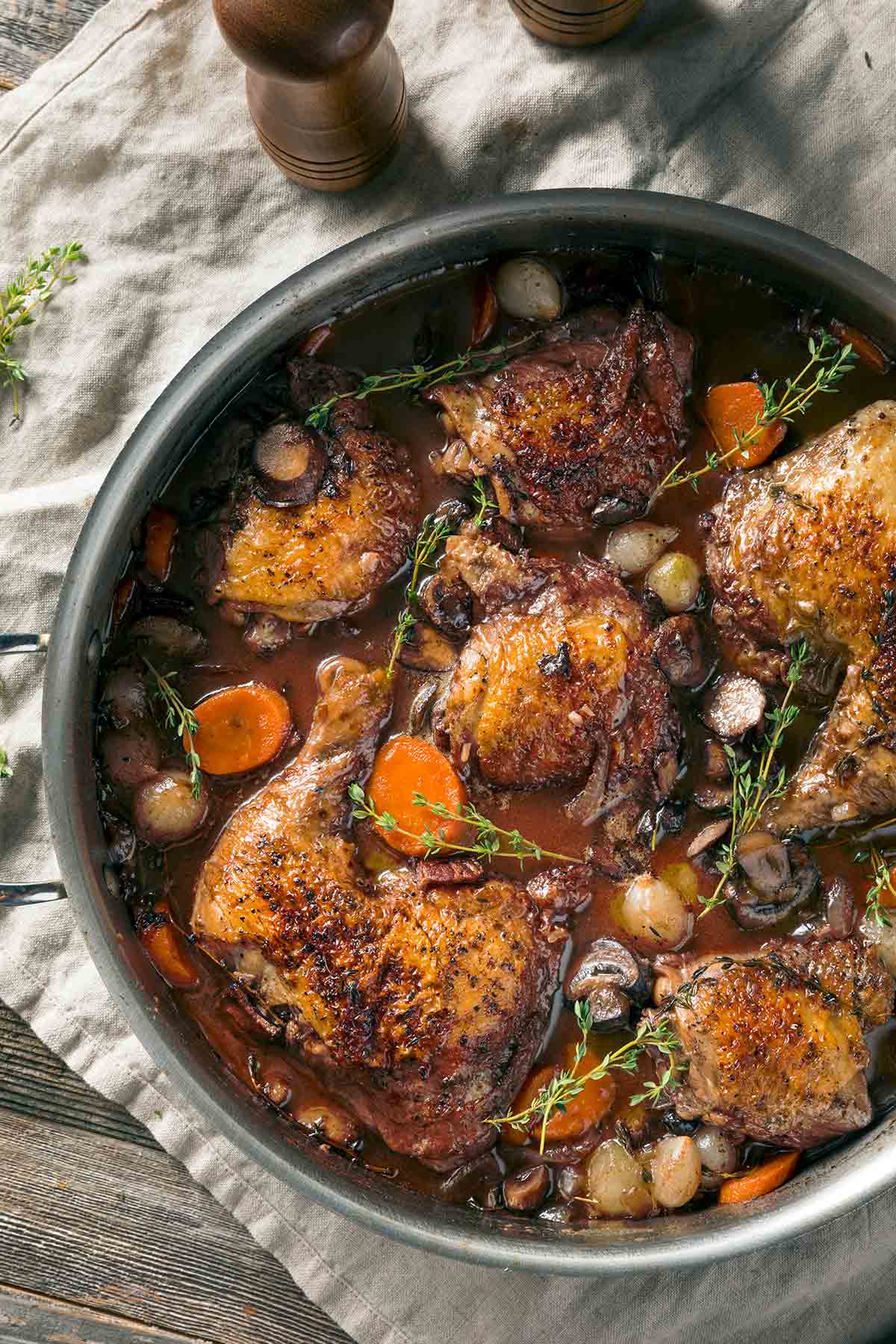 Julia Child's Coq au Vin
This coq au vin recipe strays a little from the original but I don't think that's to its detriment. This updated version of the simple French chicken stew uses a robust brown chicken stock, mushrooms, onions, bacon, and red wine.
Recipe
Julia Child's Steak au Poivre
This steak au poivre from Julia Child is a French classic made with steak encrusted with black, green, white peppercorns, and allspice and drizzled with a Cognac pan sauce.
Recipe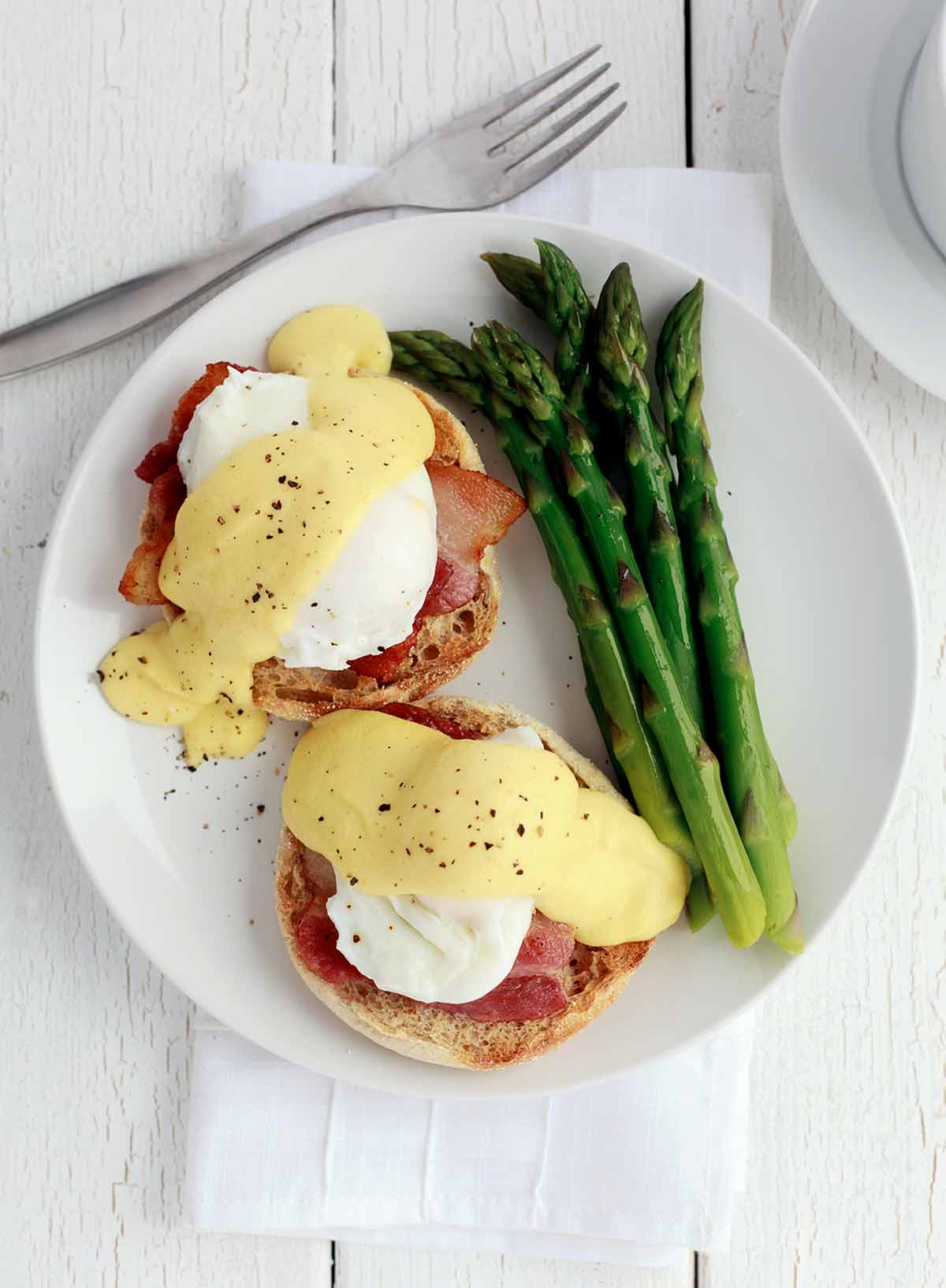 Julia Child's Eggs Benedict
This eggs Benedict from beloved Julia Child is made with hollandaise sauce, poached eggs, buttery brioche (or English muffins), and ham. The perfect brunch recipe. (How can you say no to Julia!)
Recipe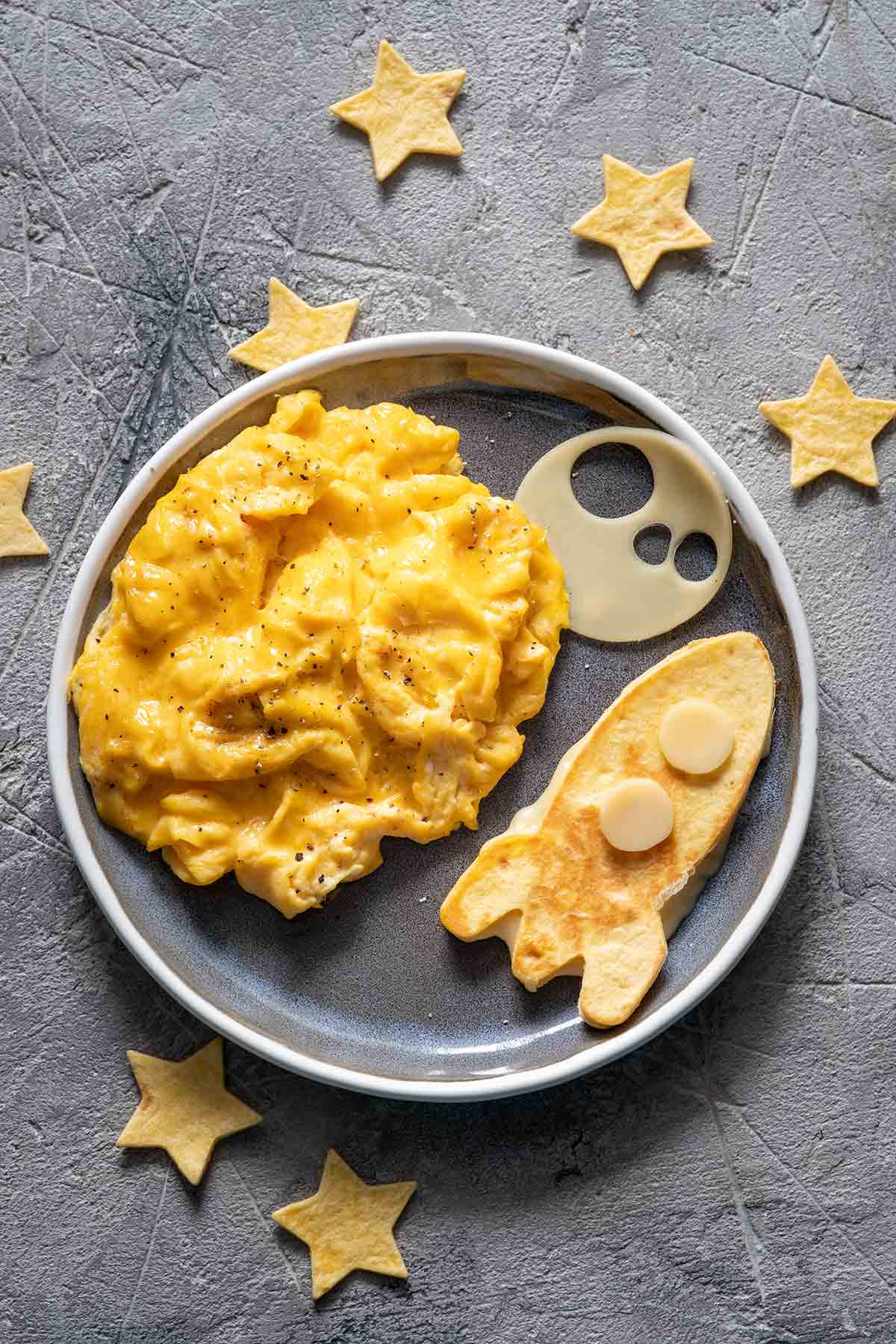 Julia Child's Easy Scrambled Eggs for Kids
Scrambled eggs in French are creamy soft curds that just hold their shape from fork to mouth. Their preparation is entirely a matter of stirring the eggs over gentle heat until they slowly thicken as a mass into a custard. No liquid or liquid-producing ingredients such as tomatoes should be beaten into them before cooking, as this is liable to turn them watery.
Recipe
We're already wanting more.