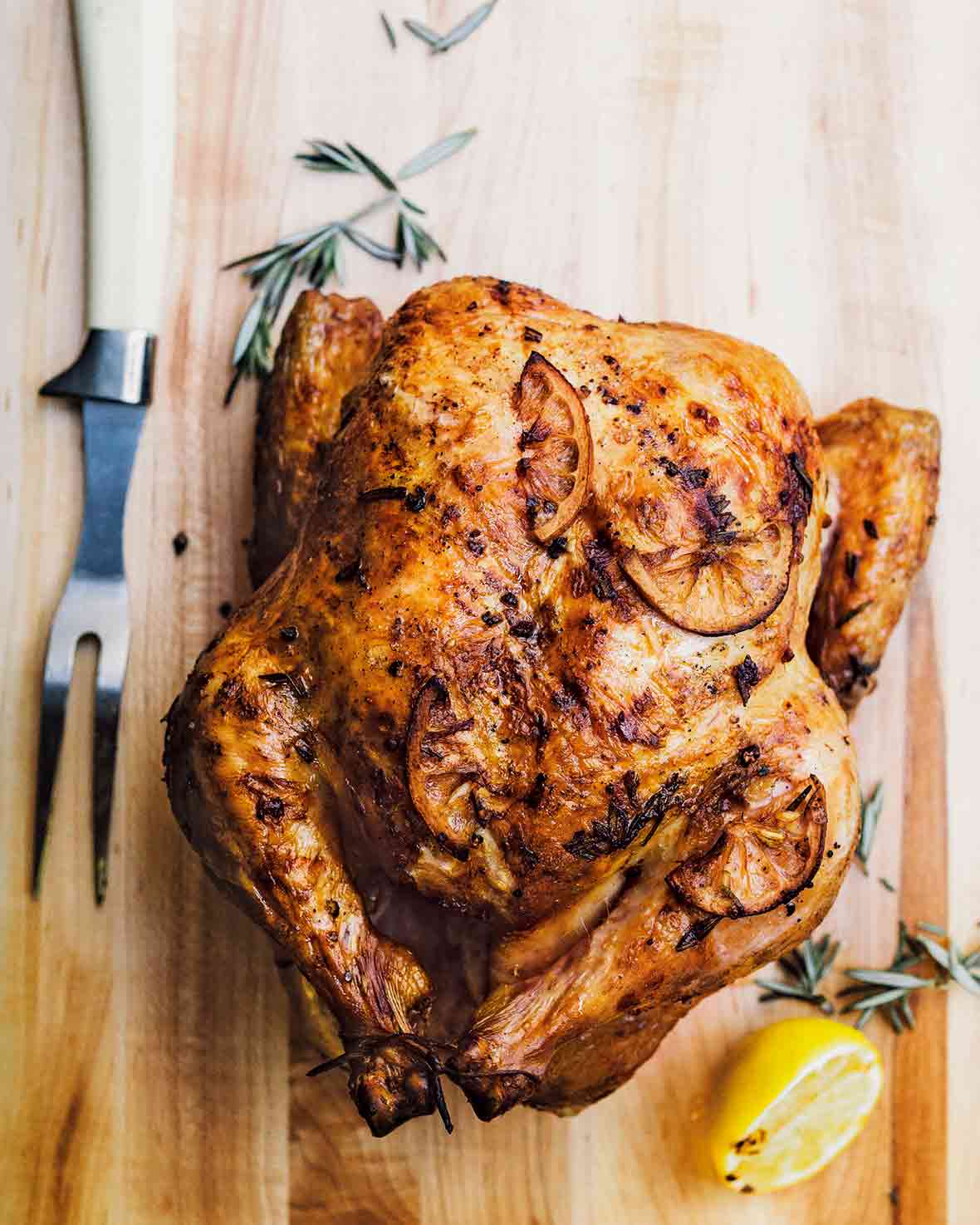 Whole Grilled Chicken
This whole grilled chicken is brined, then coated with lemon, rosemary, and garlic, and grilled to tender juicy perfection. Perfect for backyard barbecues or any other time you need to show off your grilling skills.
Recipe
Grilled Chicken Tacos with Mango
These grilled chicken tacos with mango are made with cumin, chili powder, scallions, and flour tortillas along with all the usual fixins. Perfect for Taco Tuesday. And any day.
Recipe
Chicken Skewers
These chicken skewers are magnificently easy to toss on the grill for a quick dinner. The distinct Thai taste comes from a simple marinade of coconut milk, fish sauce, cilantro, and curry.
Recipe
Grilled Rosemary-Garlic Chicken
These grilled rosemary-garlic chicken thighs rely on a quick and simple lemon marinade and a quick turn on the grill for their robust flavor and tender juiciness. Simple enough for weeknights. Special enough for dinner parties.
Recipe
Grilled Chicken Wings with Maple Bourbon Sauce
Here, you brown the wings first over direct heat without any sauce. That's when the skin gets crispy. Then you move the wings over indirect heat, where it is safe to layer on the sweet sauce without the threat of it scorching.
Recipe
Grilled Roasted Chicken
A paprika and chili powder rub coupled with an indirect cooking method ensures that this gorgeous bird has tender, juicy meat, and shatteringly crisp skin. If you've never spatchcocked a bird, now's the time to try it.
Recipe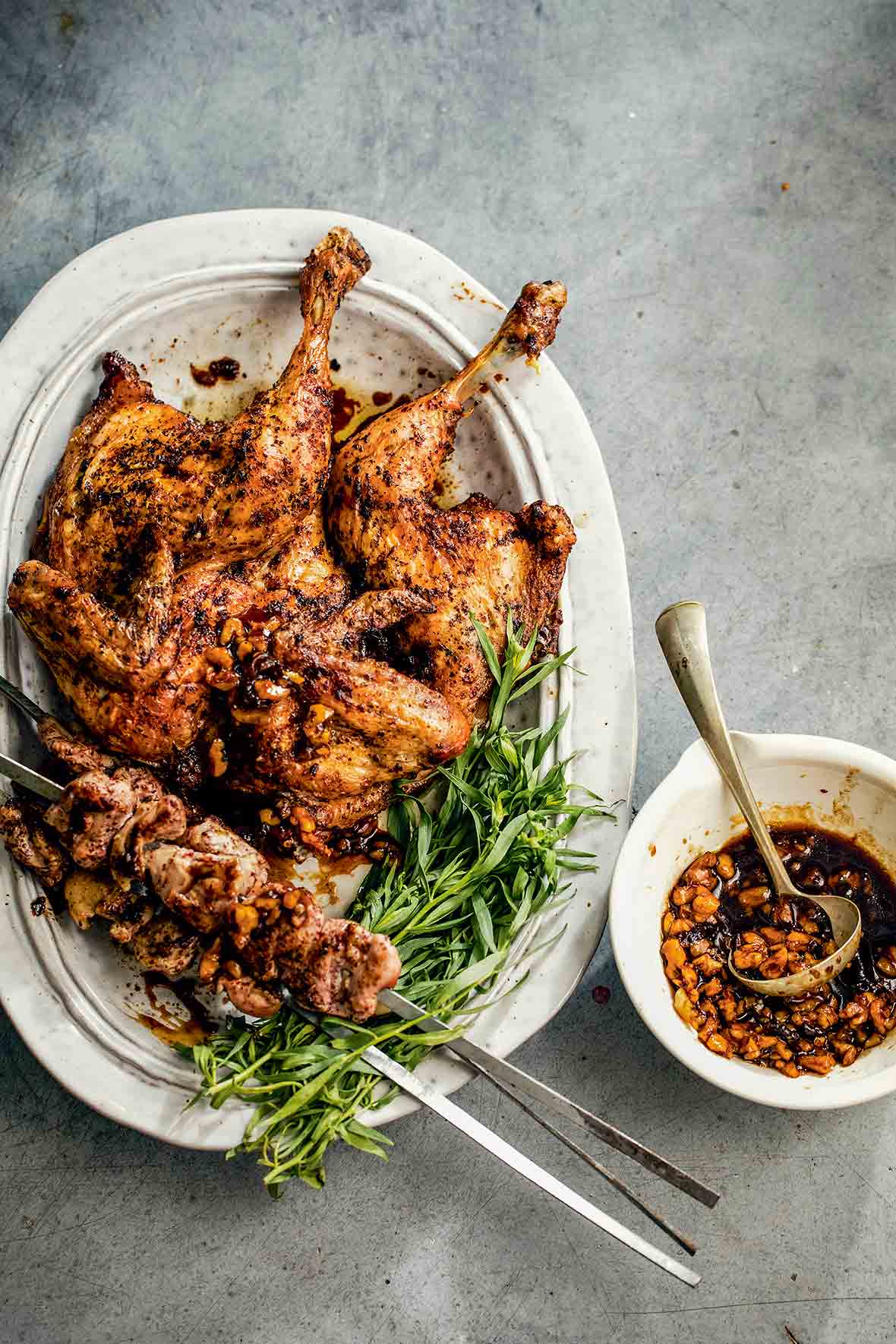 Shish Taouk | Middle Eastern Grilled Chicken
This spectacularly exotic grilled middle Eastern chicken, known as shish taouk, is coated in a sumac and garlic paste and served with a tamarind-pomegranate sauce.
Recipe
Grilled Chicken Tacos with Fruit Salsa
Marinated chicken makes up the heart of this dish, cooking away on the grill until it develops a light char on the skin, while the dark leg and thigh meat remains juicy and succulent. The sweetness of the plums is balanced by the tang of freshly squeezed lime juice and the fresh bite of cilantro, making one of the most richly flavored salsas you'll ever encounter, and the perfect pairing for the rich smoky chicken.
Recipe
Grilled Greek Chicken
What gives this grilled Greek chicken its voraciously vibrant flavor is a lemon marinade full of garlic, parsley, oregano, rosemary, thyme, and basil. It brings a Mediterranean mojo to a simple summer supper.
Recipe
Grilled Five-Spice Chicken
A grilled five-spice chicken is a remarkably easy dish for something that tastes so divine. The marinade of five-spice powder, garlic, soy sauce, lemongrass, ginger, and fish sauce is perfection.
Recipe
Jerk Chicken
August 6th is Jamaican Independence Day. Celebrate! This jerk chicken relies on an easy marinade you toss together from Jamaican allspice, scallion, thyme, cinnamon, chile pepper, and vinegar that tastes just like what you'd experience in the Caribbean. With easy instructions on how to cook it without fail.
Recipe
Chicken Thighs with Balsamic Barbecue Sauce
Why did it take someone so long to think up chicken thighs with balsamic barbecue sauce? Simple, easy, and made with pantry staples, such as ketchup, honey, balsamic vinegar, and soy sauce, this meal comes together quickly. Take advantage of late-season corn to round out the meal.
Recipe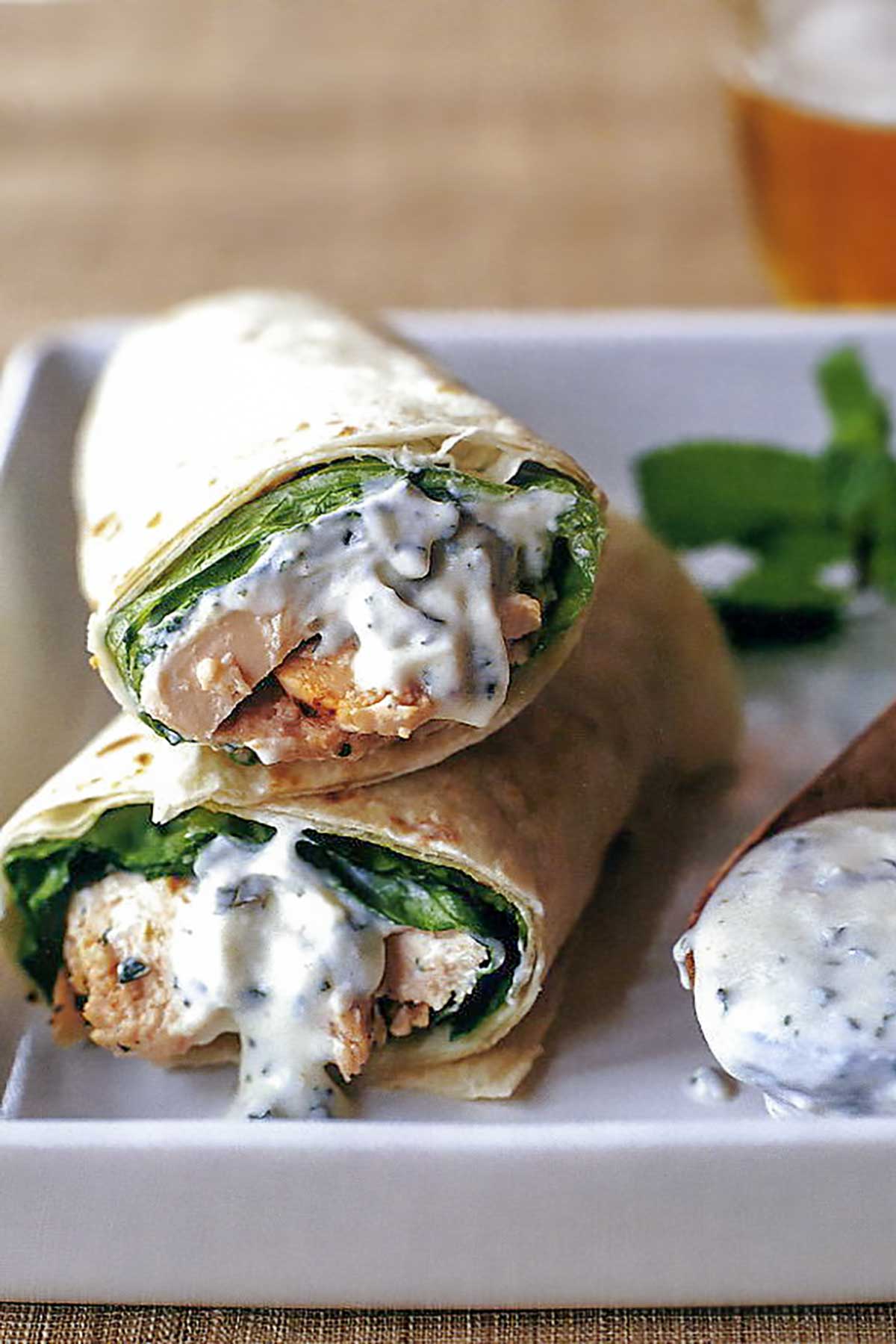 Tandoori Chicken Wraps
These tandoori chicken wraps combine grilled chicken marinated in yogurt, ginger, garlic, and Middle Eastern spices with a cooling yogurt and mint dressing. Everything is wrapped in tortillas, pita, or naan.
Recipe
Smoked Chicken
Brining in a very simple salt and sugar brine makes the chicken juicier than a typical bird and it's seasoned throughout. The addition of the dry rub makes it even more flavorful.
Recipe