Portuguese clams with vinho verde is a classic dish, served with hunks of crusty bread to sop up the garlic and cilantro-rich sauce. A dish that's resplendently reminiscent of oceanside dining, perfect for warm summer nights.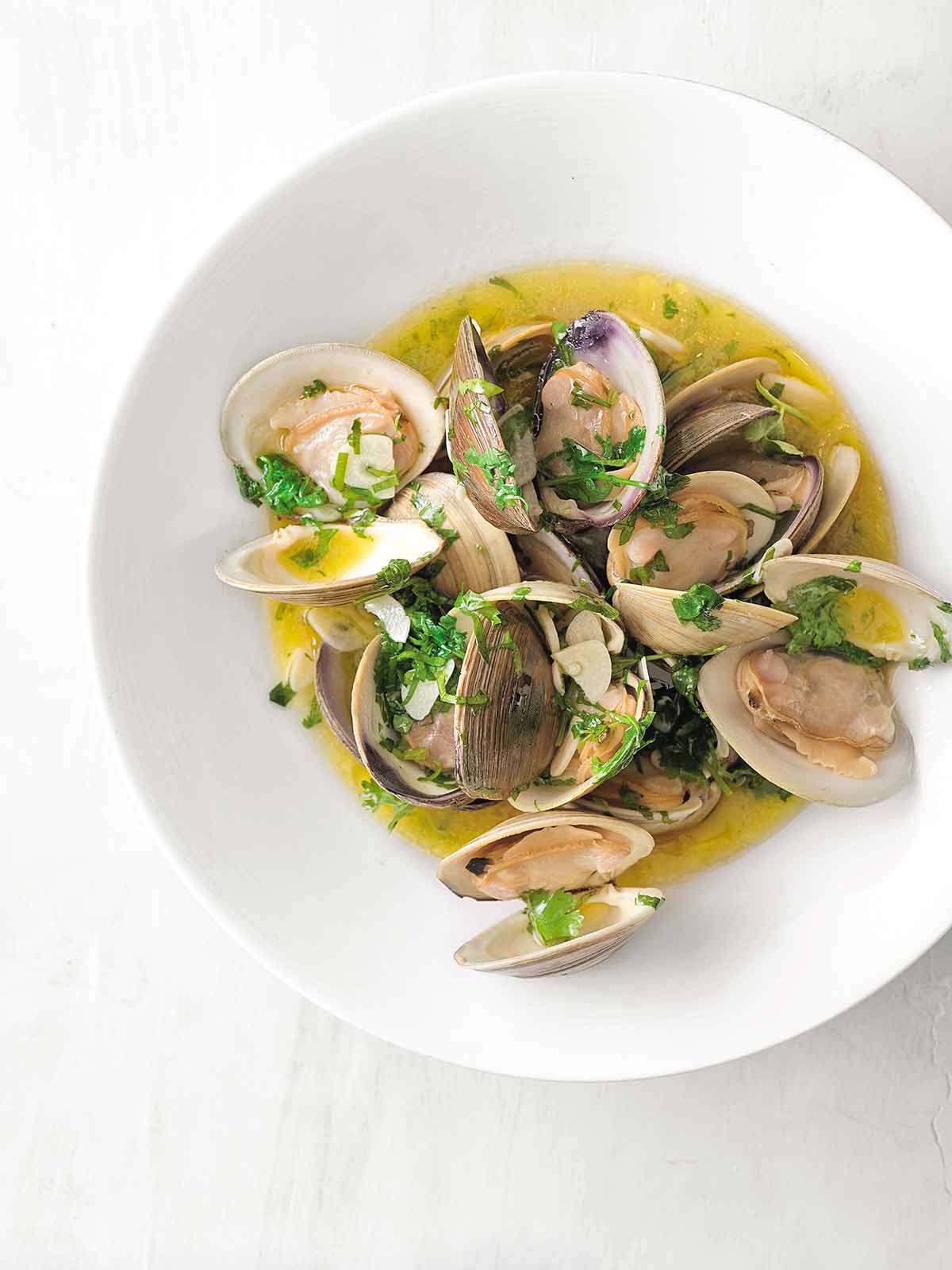 Adapted from George Mendes | My Portugal | Stewart, Tabori & Chang, 2014
A classic throughout Portugal, this is named for Bulhão Pato, a food-loving nineteenth-century Portuguese poet. No one really remembers his writing, but his namesake dish is legendary. It's the pure essence of the ocean here.
This dish is so simple and delicious, I could eat it every day. Once I finish the clams, I like to spoon the sauce with the garlic and cilantro onto hunks of good crusty buttered and toasted bread.–George Mendes
Portuguese Clams FAQs
Why didn't my clams open?
Generally speaking, a clam that doesn't open is probably dead. While you could still eat it, don't. You don't know why it died (and there are lots of reasons…none of them good) before you got your hands on it, so don't tempt fate.
This also goes for open clams that don't close when you tap them on the counter before cooking. As well, some clams are just so tightly joined to the shell that they're not going to open—they're alive but tough enough that you wouldn't want to eat it anyway. Stubborn bast*rds!
How do I choose the freshest clams?
Always look for clams with closed shells when buying live, and always buy from a licensed and reputable supplier. Fresh clams (and other shellfish, for that matter) should have a "Harvested in the USA" label, and the supplier/fishmonger should be able to tell you exactly when and where they were harvested.
You may notice that there's a bit of dirt and sand on your clams. No worries at all, the muck around it actually helps keep the clam moist until you're ready to use them. Just soak the clams and give them a good brush before cooking.
Portuguese Clams with Vinho Verde ~ Amêijoas à Bulhão Pato
This clam dish is a classic. It has a long history in Portugal and for good reason: It's delicious. Portuguese home cooking is distinguished by its gutsy soulfulness. If you're the type who seasons liberally, taste first. This dish is plenty salty and full of flavor. 
Ingredients
Kosher salt

to taste

12

medium (1 1/2 pounds)

littleneck clams

Extra-virgin olive oil

2

large

garlic cloves

very thinly sliced crosswise

1

fresh bay leaf

notches torn every 1/2 inch

1/2

cup

dry white vinho verde

2

sprigs plus 1/2 cup sliced fresh cilantro leaves

Crusty bread

for serving
Directions
Fill a bowl with cold water and dissolve enough salt in it to make it taste like the ocean. Submerge the clams in the water. Let them sit for 10 minutes or until they spit out their grit. You should see sand at the bottom of the bowl. Lift out the clams and transfer to a colander. With a stiff-bristled brush, scrub them vigorously until their shells are really clean.

☞TESTER TIP: If you don't have a kitchen brush, a clean toothbrush will work nicely in its place.

Heat a medium saucepan over medium-low heat. Coat the bottom with oil and add the garlic and bay leaf. Cook, stirring continuously, until very aromatic, bubbling, and golden, about 4 minutes.

Toss in the clams and stir to coat in the mixture and get a sizzle going on them. Add the vinho verde and cilantro sprigs. Cover, raise the heat to medium-high, and cook, shaking the saucepan frequently, until the clams start to open, 5 to 8 minutes. The liquid should be boiling vigorously. Start pulling out the early birds that open first and put them in a dish.

Cover the saucepan again and continue cooking and pulling until all the clams open. After 5 minutes, any clams that don't open are dead; throw them out.

Discard the bay leaf and cilantro sprigs. Strain the sauce into a large bowl. Swirl in about 1 tablespoon olive oil then fold in the clams and sliced cilantro.

Serve immediately with plenty of crusty bread.
Show Nutrition
Serving:
1
portion
Calories:
284
kcal
(14%)
Carbohydrates:
5
g
(2%)
Protein:
8
g
(16%)
Fat:
22
g
(34%)
Saturated Fat:
3
g
(19%)
Trans Fat:
1
g
Cholesterol:
15
mg
(5%)
Sodium:
312
mg
(14%)
Potassium:
99
mg
(3%)
Fiber:
1
g
(4%)
Sugar:
1
g
(1%)
Vitamin A:
426
IU
(9%)
Vitamin C:
2
mg
(2%)
Calcium:
34
mg
(3%)
Iron:
1
mg
(6%)
If you make this recipe, snap a photo and hashtag it #LeitesCulinaria. We'd love to see your creations on Instagram, Facebook, and Twitter.
Recipe Testers' Reviews
I really enjoyed making and eating these Portuguese clams with vinho verde while sipping on a cold glass of Espiral, one of my favorite wines, and the reason I made this because I happened to have it on hand.
This meal was simple to make and didn't break the bank. I get quite intimidated from cooking fresh seafood because of the cost, but the total cost of the entire meal, including an entire bottle of wine, came out to about $20. My boyfriend and I ate as if we were sitting outside, by the ocean, at a restaurant in Portugal and this was a Friday at 2 p.m. during a pandemic. This meal is guaranteed to bring you joy.
I soaked my pieces of toasted bread in the sauce first, made sure to scoop garlic onto every clam, and enjoyed the simple complexities of the total bite, fresh cilantro here, the aroma from the garlic there. And we did exactly as the recipe said after we ate all of the clams too, spread some salted Irish butter on our bread, and drenched them in the sauce. I'll definitely be making this again!
And I plan on making some pasta for dinner and using the sauce from this for that. So, two meals out of one. You could even serve them together but I decided to just have clams, bread, and wine for lunch.
The directions are very straightforward and easy to follow. And here's a weirdly useful tip, I used a toothbrush to clean my clams because I didn't have a kitchen brush on hand, and it worked just fine. Also, Espiral sells for I believe $4.99 at Trader Joe's. It's effervescent, sour, very sippable, and goes perfectly with the briny clams. Serves 2 with a crusty baguette and salted butter, and a glass of Espiral.
This lived up to every expectation. The Portuguese clams with vinho verde were extremely easy to prepare and they were quite satisfying with a crusty loaf of Portuguese bread to sop up all of that aromatic liquid and small pieces of garlic and cilantro. I loved serving this to guests who were very impressed and had no idea how quickly and easily this came together.
I swirled in about a tablespoon of olive oil before serving them with roasted lemon chicken in a cast-iron skillet, roasted potatoes, and steamed broccoli. I made tres leches cake from the site for dessert. I also served it with the suggested wine.
Originally published May 30, 2021
Recipe © 2014 George Mendes. Photo © 2014
Romulo Yanes
. All rights reserved. All materials used with permission.
If you make this recipe, snap a photo and hashtag it #LeitesCulinaria. We'd love to see your creations on Instagram, Facebook, and Twitter.