"The best roast chicken I've ever made." That's what we're hearing time after time from everyone who makes this roast chicken from the Barefoot Contessa herself, Ina Garten. Tasting is believing.
"I don't know how authentically French this is, but a friend made it for us in Provence and to me it's the essence of French country cooking," Ina Garten says of this recipe. My response: "Who cares?" I've made this no less than a dozen times, and each and every guest has raved. It's also a favorite of The One's family, especially of his niece, Callie. And I have a special relationship with the lemony and schmaltzy croutons in this recipe. In fact, I always make extra, just for me, ever since I had to practically tackle Callie and her brother for the last few croutons on the serving platter. That's my way of saying watch your back when eating this Ina marvel. (My solution? Stash some croutons in the kitchen, far from the prying eyes of assertive guests. How easy is that?!)–David Leite
LC Commitment Chicken Note
Ina Garten has published many a recipe for roast chicken, but perhaps none so famous as the one that inspired the gals at Glamour magazine to dub it "Engagement Chicken." As the story goes, each time a Glamour staffer made it for a beau, the happy couple ended up engaged within weeks, if not hours. Sorta swell, eh? We've made that reputedly romantic recipe. It's lemony and lovely and quite similar to this recipe, but quite honestly, if we had to choose, the roast chicken recipe that we'd want to spend the rest of our lives making is the one on this page. We've dubbed it Commitment Chicken.
Ina Garten's Lemon Chicken
Quick Glance
15 M
2 H

Serves 2 to 4
Print Recipe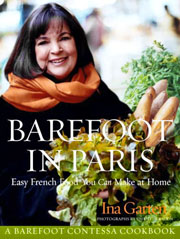 Ingredients
1 large yellow onion, thickly sliced

One (4- to 5-pound) roasting chicken

2 small lemons, quartered

2 tablespoons unsalted butter (1 oz), melted (or, if keeping kosher, substitute chicken fat or margarine)

6 cups bread cubes, each 3/4 inch (18 mm) thick, from a baguette, boule, or other artisanal loaf

2 tablespoons olive oil, plus more for the onions

1/2 teaspoon kosher or sea salt, plus more to taste

1/4 teaspoon freshly ground black pepper, plus more to taste
Directions
1. Preheat the oven to 425°F (218°C).

2. Toss the onion with a little olive oil in a small roasting pan. Remove the giblets from the chicken and discard or reserve for another use. Rinse the chicken inside and out, pat the chicken dry, and place it on the onions in the roasting pan. Sprinkle the inside of the cavity with salt and pepper to taste and cram the lemons into the cavity. Brush the chicken skin with the melted butter and sprinkle with generous amounts of salt and pepper to taste. Tuck the wing tips under the body of the chicken and, if desired, tie the legs together with kitchen string.

3. Roast the chicken for 1 1/4 to 1 1/2 hours, until the juices run clear when you make a slit between the leg and the thigh with the tip of a sharp knife. Loosely cover the chicken with foil and let it rest at room temperature for 15 minutes.

4. Meanwhile, heat the 2 tablespoons olive oil in a large skillet over medium-high until very hot. Lower the heat to medium-low, add the bread, and cook, tossing frequently and adding more oil if needed, until golden brown, 8 to 10 minutes. Sprinkle the bread with the 1/2 teaspoon salt and 1/4 teaspoon pepper. Place the croutons on a serving platter. Carve the chicken and place it on the croutons. Spoon the pan juices over the chicken. Taste and, if desired, sprinkle with salt. Serve warm.
Recipe Testers Reviews

"Mom, you are awesome!" is a quote I love to hear. Coming home to Ina Garten's roast chicken for dinner produces just that reaction in my 2 teenage boys, who play soccer after school, and my husband, who works long days, often without a break for lunch. Being out of the house before dinner for is the norm for me, so dinners that need to bake for more than an hour are impossible. I decided to try to produce the same great chicken using the slow cooker. I added another onion and 2 more small lemons, and I cut these in half and placed them on the bottom of my 7-quart slow cooker. I followed Ina's instructions from there, using salt and pepper and placing the lemons in the chicken cavity and then brushing the skin with butter and seasoning it with more salt and pepper. I cooked the chicken on high for 2 hours and low for 3 1/2 hours. When I got home, I could tell the chicken was done and juicy. Copying a technique from Ellie Krieger's Broiled Buffalo Wings from this site, I then put the chicken under the broiler to blister and crisp the skin for more of that roasted texture and appearance. It turned out perfect, with raves reviews from all! I will definitely do this recipe this way again.

I was first served this dish at the home of a well-known website publisher. :-). I assumed it was so good because he made it, but when I invited my family over for Sunday dinner, I decided to try it. I was serving five meat-eating adults and a couple small kids, so I cooked two 3 1/2-pound free-range natural chickens, side by side, in a large roasting pan. I used a loaf of durum wheat bread from Seven Stars Bakery in Providence for the croutons. The recipe couldn't have been easier and the results couldn't have been more spectacular. My siblings were ripping the meat off the carcass at the dinner table. They raved madly about it for hours—and even several bottles of wine later. Thank you, Ina!

This is the best roast chicken I've ever made. I've tried probably more than 100 roast chicken recipes in my life. They never meet my expectations. This was the easiest, most gorgeous, and most delicious chicken I've ever made. It brought tears to my husband's eyes and I was strutting around the house like I'd just won a pageant. Simply amazing. The only thing I changed was to add some chicken stock to the pan and set it over a flame to reduce. After straining everything at the bottom of the pan, you're left with a rich, dark, and delicious pan sauce. I'm tearing up just writing about it. Thank you. I really, really want to hug you!
Ina Garten's Lemon Chicken Recipe © 2004 Ina Garten. Photo © 2004 Quentin Bacon. All rights reserved. All materials used with permission.
If you make this recipe, snap a photo and hashtag it #LeitesCulinaria. We'd love to see your creations on Instagram, Facebook, and Twitter.