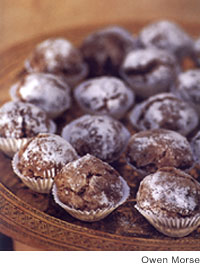 Whether during a cozy winter afternoon or a balmy summer evening, our macaroons pair perfectly with a good cup of strong coffee.–Kitty Morse and Danielle Mamane
LC Free! Note
Gluten free. Dairy free. Peanut free. Fuss free. And damn fine at eliciting oohs and aahs from even the most discerning cookie craving—even those accustomed to being indulged with gluten, dairy, and peanuts.
Almond and Walnut Macaroons
Quick Glance
35 M
1 H

Makes about 30
Special Equipment: 1 1/2-inch fluted paper cups
Print Recipe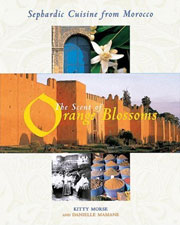 Ingredients
2 cups almond meal (about 12 ounces whole almonds ground to a powder)

1 cup walnut meal (about 6 ounces walnut halves ground to a powder)

1 1/2 cups sifted confectioners' sugar

3 large egg whites

1 teaspoon vanilla extract
Directions
1. Preheat the oven to 325°F (175°C). Place thirty 1 1/2-inch fluted paper cups on a baking sheet.

2. In a large bowl, mix the almond meal, walnut meal, and 1 cup confectioners' sugar. Sprinkle the remaining confectioners' sugar on a large plate.

3. In a large bowl, beat the egg whites and the vanilla until stiff. Using a spatula, gently fold the nut mixture into the egg whites. With your fingers, knead lightly until no streaks remain and a dough forms.

4. Pinch off a little cookie dough and roll it between the palms of your hands, fashioning it into a ball that's 1 inch in diameter. Roll the ball in the confectioners' sugar on the plate and plop the sugar-coated ball in a paper cup. Repeat with the remaining dough.

5. Bake the macaroons until they turn a light gold, 20 to 25 minutes. Remove from the oven and let cool on the baking sheet. (You can store the macaroons in a tightly sealed container for up to 2 weeks.)
Recipe Testers Reviews

This recipe is indeed very easy to make and the taste is good. They turn out like Mexican wedding cookies. A lot of recipes that use ground nuts give you the amount in cups of nuts and the first instruction is to grind the nuts. Instead what makes this recipe good is that it provides the number of cups of ground nuts and also gives you the equivalent in raw nuts if you don't have the nut meal. So you can mix and match depending upon what you have in your fridge. I used 6 3/4 ounces almond meal for the 2 cups listed in the recipe and then ground the walnut meal. By giving amounts of the different nut meals, I could see in the future substituting other types of nut meals, like cashew meal. The instructions say to use 1 1/2-inch fluted paper cups. I'm not sure whether this was the diameter of the bottom, but that would be a regular muffin cup size. It might be prettier and nicer to use mini-muffin cups because these cookies didn't spread that much for me. (I transferred the macaroons to mini-muffin cups before giving them away.) I would bake them just until golden because otherwise they'll be too dry.
Almond and Walnut Macaroons Recipe © 2001 Kitty Morse and Danielle Mamane. Photo © 2001 Owen Morse. All rights reserved. All recipes and photos used with permission of the publisher.
If you make this recipe, snap a photo and hashtag it #LeitesCulinaria. We'd love to see your creations on Instagram, Facebook, and Twitter.