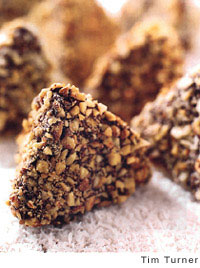 You'll love these sweet, heady kisses the way you love a favorite candy bar from your childhood. Sometimes I offer them with fruit purées for a light contrast.–Norman Van Aken
Coconut Kisses
Quick Glance
1 H
1 H, 30 M

Makes 45 to 50 kisses
Special Equipment: Instant read thermometer
Print Recipe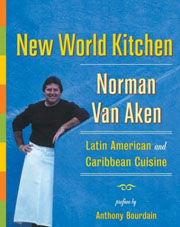 Ingredients
2 extra-large egg yolks

1 vanilla bean, split lengthwise

One 14-ounce can sweetened condensed milk

1 tablespoon unsalted butter, softened

1 pound unsweetened grated coconut

1 pound bittersweet chocolate, finely chopped

2 cups unblanched almonds, toasted in a dry skillet until fragrant, and then chopped finely
Directions
1. In a large heatproof bowl, beat the egg yolks. Using the back of a knife, scrape the seeds from the vanilla bean and add the seeds and bean pod to the eggs. Add the milk and butter and stir.

2. Set the bowl over a large pot of simmering water (or use a double boiler); the bottom of the bowl should not touch the water. Whisk constantly, frequently checking the temperature of the mixture with an instant-read thermometer, until it registers 140°F (60°C). Remove from the heat.

3. Discard the vanilla bean. Add the coconut and stir until incorporated. (The mixture will look like the filling of a Mounds candy bar.)

4. To shape the kisses, use about 1 tablespoon per morsel – I like to form them into little pyramids, but you may prefer little spheres. Set them on a platter and refrigerate for at least 30 minutes.

5. Spread the almonds on a plate. Put the chocolate into another large heatproof bowl and melt it over simmering water, stirring occasionally until smooth. Pour a little of the melted chocolate into a shallow cup. With a fork (a cocktail or fondue fork works great), gently skewer each kiss and dip it into the chocolate, then quickly roll it in the chopped almonds and place on a platter. Continue this process, adding more chocolate to the cup as necessary, until all are dipped and rolled. Let the chocolate set in a cool place before serving. (Stored in an airtight container at room temperature, these will keep for up to a week.)
Recipe Testers Reviews

We all loved these. They were very easy and, in fact, not only looked like but tasted like Mounds candy bars—but better. Less sweet and covered with almonds. If there are any left (hmmm, doubtful), I'm going to chop them up into my next batch of vanilla ice cream.
Coconut Kisses Recipe © 2003 Norman Van Aken. Photo © 2003 Tim Turner. All rights reserved. All recipes and photos used with permission of the publisher.
If you make this recipe, snap a photo and hashtag it #LeitesCulinaria. We'd love to see your creations on Instagram, Facebook, and Twitter.