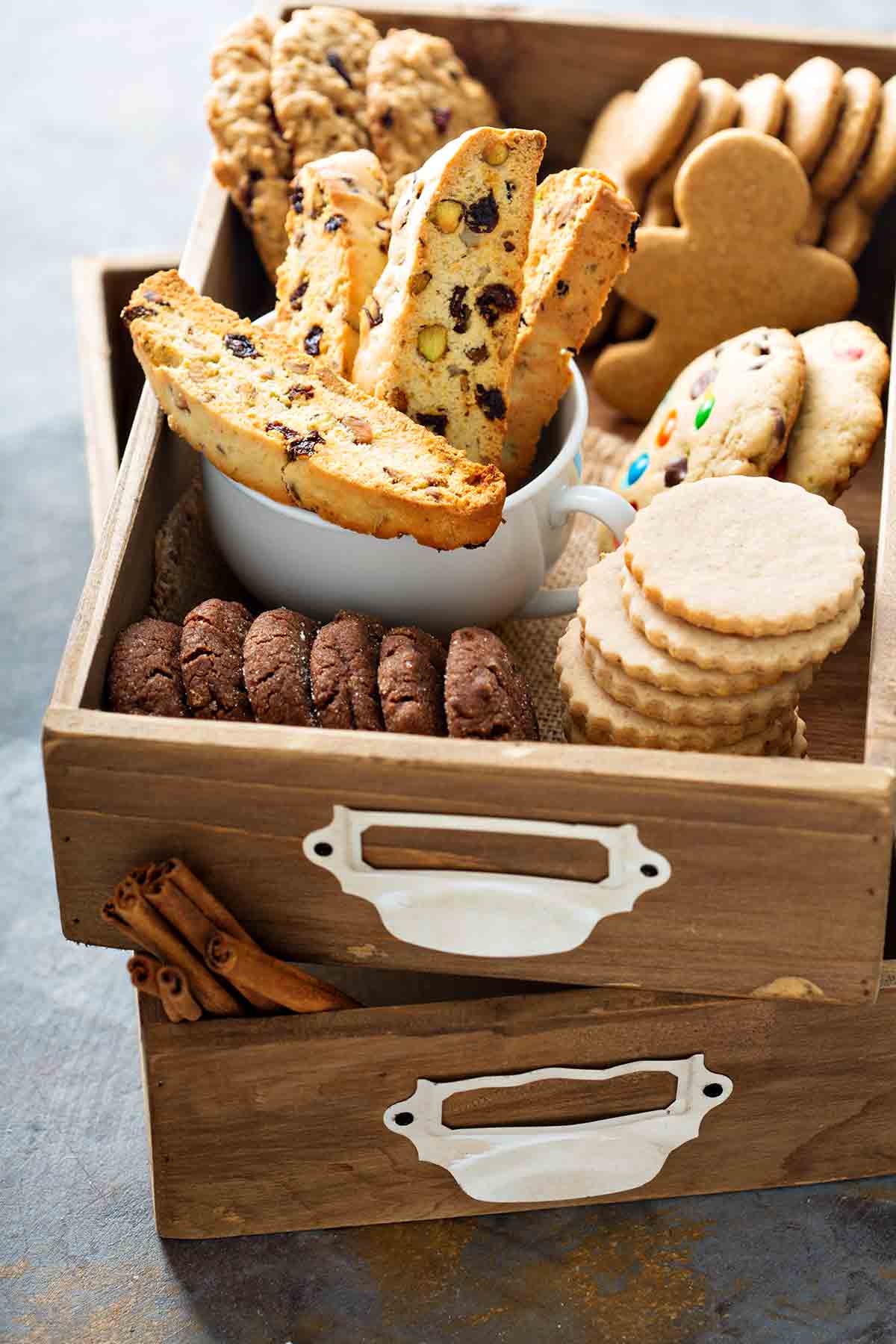 If you've ever wanted to host a holiday cookie swap but haven't, this is your year. We've got some advice that will help you confidently gather friends and family and divvy up a Santa's sack worth of cookie bounty.
The joys of a cookie swap
Have you ever dreamed of your friends or co-workers just showing up with tons of cookies? And then simply handing them over, a few weeks before Christmas? Just when you need extra baking the most?
Friends, it happens all the time, and it can happen to you. It'll take a little bit of work on your part because, well, there's no such thing as a free cookie. But trust us, it's definitely worth it.
The last thing you want is to spend weeks leading up to Christmas baking dozens of different kinds of cookies, right? With a Christmas cookie swap, you're still going to have to bake cookies, except you bake just one kind of cookie.
You invite people over, give all the guests a dozen or so to take home, and they do the same. It's an easy way to bulk up your Christmas cookie stash without having to make loads of different varieties yourself.
Setting up your cookie swap
Size
Your first decision is how big you want your cookie swap to be. A good number is 6 to 12 people. It's manageable, and everyone will reap the benefits of multiple kinds of cookies.
Location
Next, where are you going to hold it? Will you host it at home–with snacks, drinks, and mingling? Or is this a co-workers shindig, with everyone bringing baked beauties to the break room on the same day to be divvied up? That decision will determine nearly everything else about your swap.
Amount
How many cookies should everyone bring to the cookie swap? At least six per participant and up to a dozen. Make sure to let all your guests know how many confections to bring so that no one is left short-changed. (Here's the math–the number of participants multiplied by the number of cookies per batch. So, for example, six guests each bake 12 cookies for a grand total of 72 cookies.)
The more participants you have, the less they have to make. If you have 20 people in the exchange, let's say, half a dozen per swap is fine. If you only have eight people, a dozen might seem reasonable.
Give everyone plenty of time
No matter how you decide to proceed, at home or in the staff room, you need to give your fellow bakers a heads-up early enough so they can get into the biscuit groove. A month is good–more than that, people might forget; it's a busy time of year, after all.
Try to get firm responses two weeks out so that you can plan accordingly, but be prepared for drop-outs, schedule changes, and all sorts of last-minute, holiday craziness.
Your next decisions are mainly cookie-based (the most important choices!) so it deserves some thought.
What type of cookies to bake?
What are you willing to accept as worthy for your cookie swap? Do they have to be strictly homemade? Will you fling your arms open to store-bought cookies, in case some of your cookie monster friends are baking-adverse but still super into Christmas? It is the season for bigger hearts, after all. (We're talking to you, Mr. Grinch.)
Maybe a compromise and allow shortcut cookies (slice and bakes, or those giant tubs of dough sold by neighborhood kids)? How does your group skew, expertise-wise? Are you going to be broken-hearted if you spend days rolling out rugelach, only to get piles of 10-minute cookies in exchange?
Beyond that, you'll need to decide how to handle what everyone is making. Are you going to assign particular types of cookies? Or are you comfortable leaving it to chance?
Some people might not have a problem with receiving eight different iterations of gingerbread, while others might go a little Krampus on the group.
What about allergies or gluten-free? Some participants might just be looking to fill out their own seasonal offerings and aren't planning to eat anything they shouldn't, but it's still something to be mindful of.
Quality control
You might want to consider setting up a few rules for quality. Do you need to mention that burned cookies aren't trade-worthy? What about specifying that cookies should be seasonally appropriate?
Cookies are cookies but…this is Christmas, after all. Shortbread trumps S'mores, during the holidays at least.
A kids' cookie swap?
And then…what about kids? You might want to specify that you're asking for only adult participation in this endeavor. On the other sticky small hand, if your group has a ton of kids who want to get involved, a lovely solution is to make a separate "kid's exchange."
Make the cookies portable
Something else to keep in mind is cookies should be easy to transport from your cookie swap and have a lifespan of more than 48 hours. We all really, really appreciate those gorgeous, Instagram-worthy, hand-cut snowflake cookies with tweezer-applied dragées, but… how are they going to look when someone packs them into a Tupperware box, drives an hour home, and tosses the box on the counter? Or what about those delicate palmiers that are only good the day they're made? That could be problematic, for sure.
What to bring to a cookie swap (besides cookies)
For the actual holiday cookie exchange, cookie peeps will need to bring a few things with them. Think about how you want your contributors to share their recipes.
If someone makes something extraordinary, everyone is going to want the recipe. You can have guests bring copies of their recipe, or (if you're vying for host of the year…no judgment, we get it) have everyone email their recipes to you and print out a cute little commemorative booklet for all your guests.
They'll also need a way to take all those cookies home. Certainly, they can use the container they came with (always dance with the one that brung ya, right?) But you might want to invest in some big ole plastic zipper bags or pretty Ted Lasso-pink boxes, just in case.
Who's a smart cookie?
Now that you've divided and conquered that mountain of cookies from your cookie swap, you can rest easy (easier, at least) knowing that most of your holiday baking is done. Make sure to thank your guests profusely for their participation, sweep up the crumbs, and congratulate yourself on a job well done.