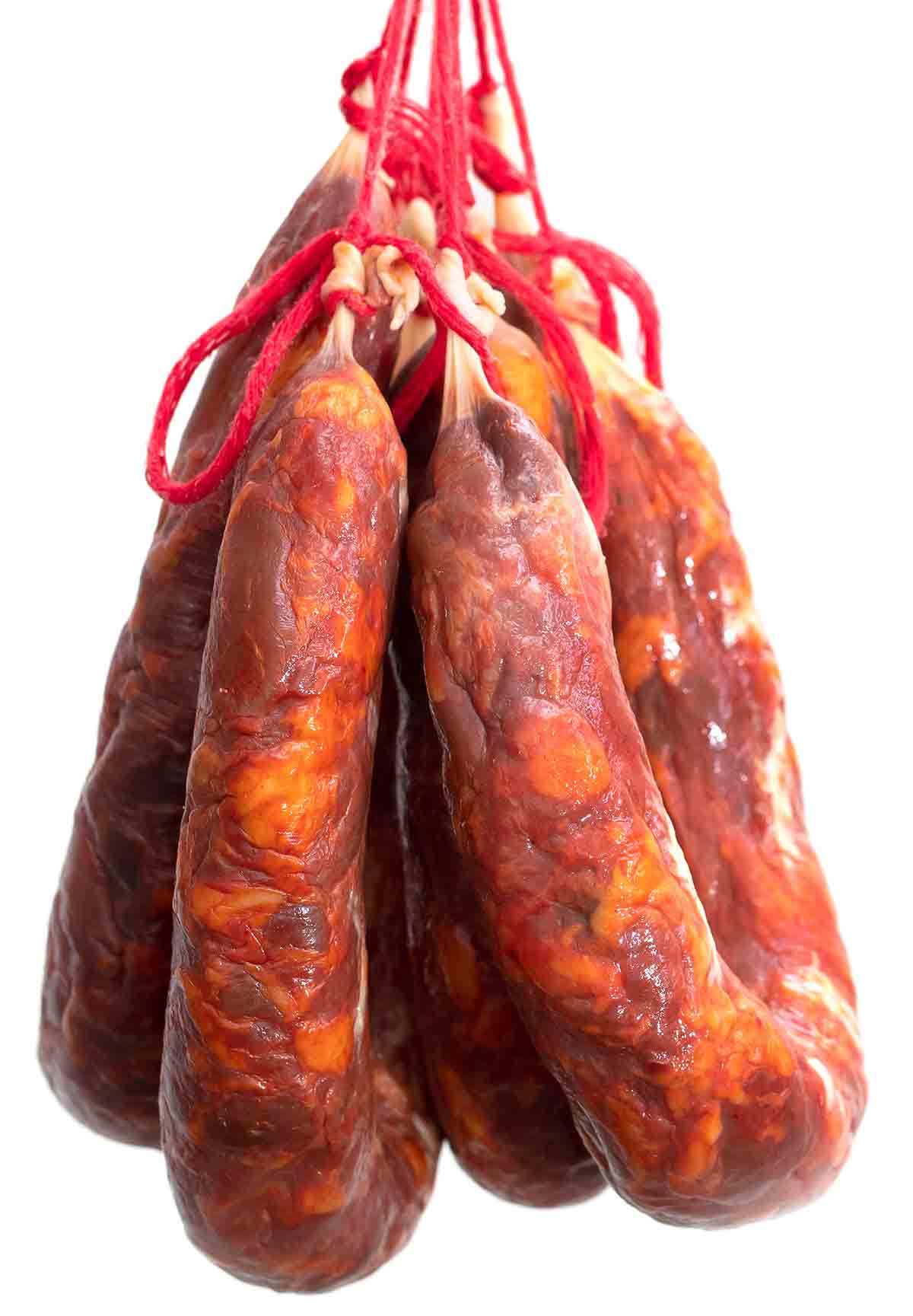 Arguably, chouriço (pronounced sho-rdee-soo in Portugal, but called sha-dise or sha-reese in America) is the poster boy for Portuguese sausage. It's ubiquitous in the mainland, Madeira, and the Azorean Islands, not to mention former Portuguese colonies, such as Brazil. So beloved is the sausage that it can be found at every meal in a multitude of preparations and recipes. Its smokiness and garlicky-paprika taste and hue lend so many dishes that unmistakable Portuguese flavor.
Now with this marvelous recipe from the Portuguese goddess herself, Ana Patuleia Ortins, you, too, can make your own homemade chouriço in your own backyard. Bom Preveito!–David Leite
Homemade Portuguese Chouriço FAQs
What is the difference between Portuguese chouriço and Mexican and Spanish chorizo?
First, the similarities. All three sausages are made from pork and various spices. Now, Mexican chorizo links and loose sausage are raw. They must be cooked before serving. Spanish chorizo is a dry-cured sausage, sometimes smoked, that's hung to dry (hence the name "dry-cured") until it loses moisture and hardens. Once cured, it's ready to eat.

Portuguese chouriço, on the other hand, is always smoked. Some versions of chouriço are heavily smoked, making them ready to eat, while others are lightly smoked and require cooking. Also, unlike Mexican chorizo, Portuguese chouriço doesn't call for chili powder and relies on less paprika than Spanish chorizo.
What cut of pork is used for making chouriço?
Pork shoulder (or Boston butt) is the cut of pork always used in chouriço. It has the right amount of fat-to-meat ratio.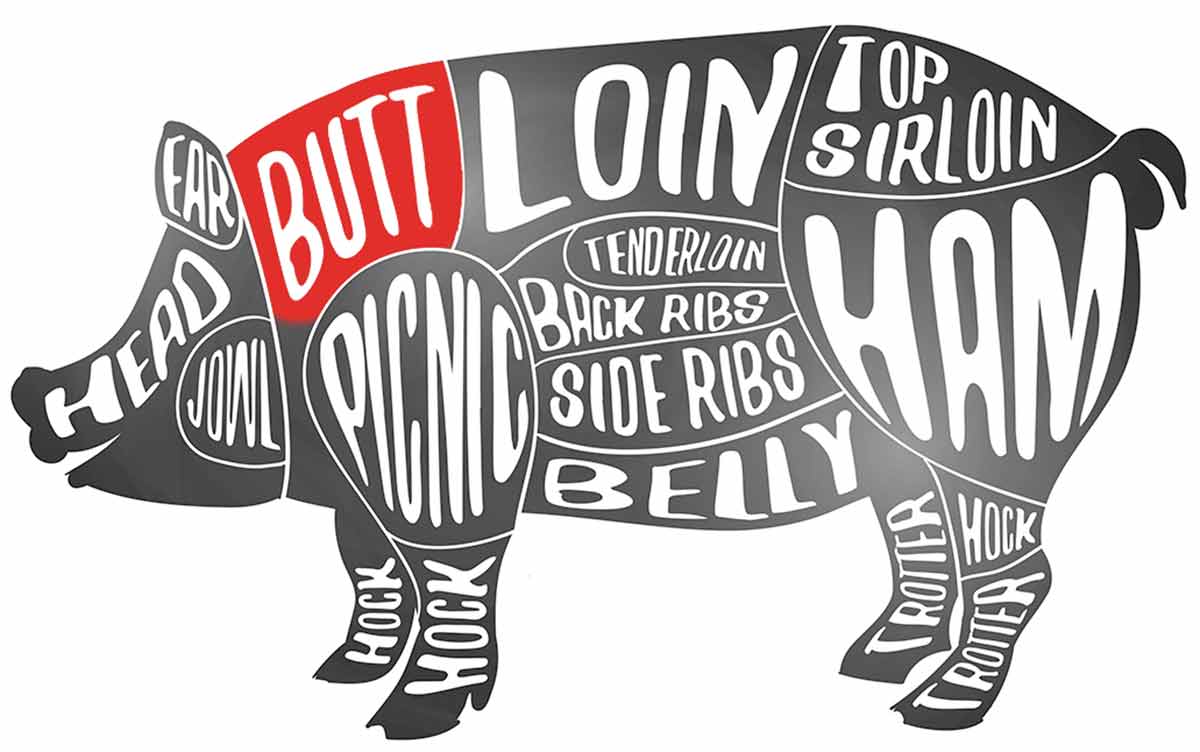 Are there fillers in Portuguese chouriço?
Neither homemade nor better-quality store-bought chouriço has filler. Cheap, commercial sausage can often contain non-fat dry milk as a filler/binder. Ground oats, bread crumbs, and maltodextrin are sometimes used. The reason is that they all help the sausage retain moisture. We say use nature's moisture: the fat that is in the pork shoulder.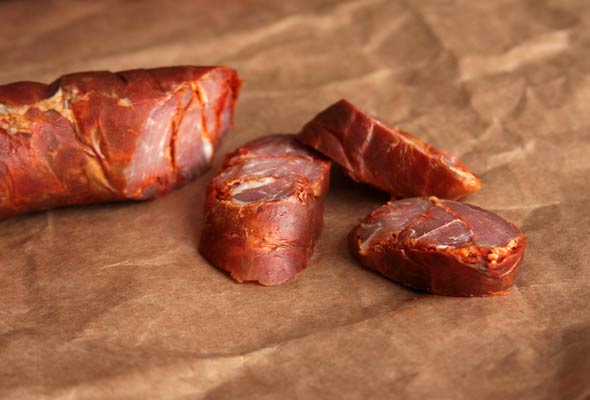 Homemade Portuguese Chouriço
If the idea of making homemade Portuguese chouriço seems daunting, fear not. With a little time and patience, you'll be rewarded with a smoky cured sausage that rivals anything from the Portuguese market.
Equipment
Meat grinder

Kitchen string

Smoker

Sawdust or woodchips
Ingredients
5

pounds

boneless pork butt

10

garlic cloves

,

finely chopped

1

cup (4 oz)

hot or sweet paprika

1

tablespoon

store-bought or homemade hot pepper paste

1 1/4

cups

dry red wine

,

plus more if needed

1 1/4

cups

dry white wine

,

plus more if needed

2 1/2

cups

water

2

tablespoons

coarse kosher salt

,

plus more if needed

10

ounces

34-mm hog casings,

cut to 18-inch (45-cm) lengths, prepared for stuffing
Instructions
Prepare the pork butt
Fill an extra-large bowl three-quarters full with ice and set a large stainless steel bowl inside it. Working in small batches, quickly cut the pork into 1/2- to 1-inch (13- to 25-mm) cubes and place in the bowl. Remove any sinew or gristle. Remove the gland as well, if possible, because it is bitter. You should have about 20% fat to 80% meat. Alternatively, you can have your butcher precut the meat to your specifications, using the extra-large grind on their machine.

☞ TESTER TIP: The gland Ana is referring to is the prescapular lymph gland. It can appear pink or greenish. Most markets and butchers carve it out before selling.
A day ahead
Place the pork butt in a large bowl.

In a separate mixing bowl, combine the garlic, paprika, and hot pepper paste. Add the wines and water and stir until combined. Pour over the processed meat and mix well. If needed, add more wine and water in equal parts so that the meat is wet but not swimming in liquid. Mix thoroughly and marinate for 24 hours in the refrigerator, turning occasionally.
Prepare the casings
Soak the casings in cool water for 15 minutes. Then rinse them under cold running water: open one end and allow the water to flow through to the opposite end. Store casings in the refrigerator, covered with cold water, until ready to use.
Stuff the casings
If using, wrap your grinder and sausage attachments in plastic and prechill for several hours.

Just before stuffing the casings, remove the meat from your refrigerator and mix in the salt. Remove a small amount of meat and fry it until cooked through. Taste for seasoning and adjust if necessary.

Stuff the casings by hand using a funnel that has a wide exit end or use the sausage attachment on a meat grinder without the cutting blade. Apply the readied casings, wetting the attachment nozzle with water so the casings slide easily onto the attachment.

Tie off the bottom end of the casing, leaving an 8-inch (20 cm) length of string.

Stuff, feeding the meat through the funnel or grinder. Gently squeeze the meat to the end of the casings, but do not overstuff. Pour a small amount of the marinade into the attachment from time to time to facilitate moving the meat along the casing.

Using a sterilized needle, prick any air bubbles that are created. Give the sausage a very gentle squeeze to close the space where there was an air pocket. The sausages should feel firm but have a slight give to allow for shrinkage of the casings during smoking.

☞ TESTER TIP: Prick your sausages outside to avoid a messy cleanup in your kitchen.

Using the string at the end of the casing, tie off the opposite end, leaving a 2-inch (5-cm) gap of string, and forming a loop. The gap of string will rest on the hanging rod. Continue with remaining meat.

Hang the sausage loops on a wooden dowel to let the casings air-dry in a cool room for 12 to 15 hours. The casings will darken somewhat as they dry.

☞ TESTER TIP: Place a bowl or piece of cardboard under the sausages to catch any drips as they dry.
Smoke the sausages
These smoking instructions are for use with an electric or gas smoker. Keep in mind that the directions for your smoker may differ.

Preheat the smoker to 100°F (38°C) to 110 °F (43°C).

Add the sausages, leave the damper open and the door slightly ajar, and maintain this temperature until the casings are dry to the touch, about 1 hour.

Close the smoker door, then increase the temperature setting to 130°F (54°C), building the temperature slowly. The sausages will not smoke properly if the exterior is still moist, if the heat is too hot too soon, or if the process is rushed; they are more likely to steam. Slow smoking makes a more tender sausage.

When the internal temperature of the sausage reaches 100°F (38°C), increase the temperature setting to 150°F (66°C), then close the damper halfway.

After the casings are brown, add a pan of dampened (not soaking) sawdust; close the damper so it is only one-quarter of the way open.

When the amount of smoke from the damper decreases, add another pan of dampened sawdust. Repeat two or three times more, for a total of four or five times. Remove the pan completely when the sausage color is dark.

If the sausages have not reached an internal temperature of 125°F (52°C) at this point, adjust the temperature setting of the smoker to 160°F (71°C) to 165°F (74°C) and continue to smoke the sausages until they reach 125°F (52°C).

Continue to smoke the sausages until an internal temperature of 152°F (67°C) is reached. To reach the final internal temperature of the sausages, it may be necessary to fill the empty sawdust pan with boiling water and place it in the smoker.

Remove the sausages from the smoker. Rinse with cool water, reducing the internal temperature to 100°F (38°C). Hang the sausages on wooden dowels to dry for 20 to 25 minutes; the sausages will darken – or bloom – as they dry.

When completely cool, cover with wax paper and refrigerate. They will keep for up to 2 weeks, well wrapped. You can also place individually wrapped sausages in freezer bags and freeze until needed.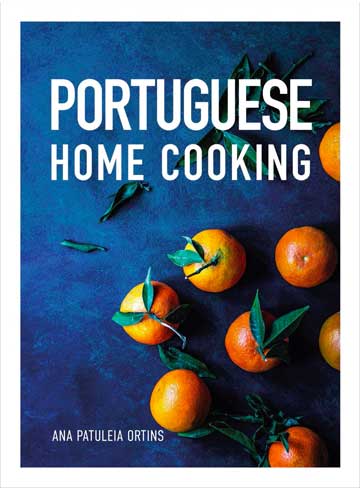 Nutrition
Serving:
1
link
Calories:
482
kcal
Carbohydrates:
11
g
Protein:
55
g
Fat:
18
g
Saturated Fat:
6
g
Polyunsaturated Fat:
3
g
Monounsaturated Fat:
7
g
Trans Fat:
1
g
Cholesterol:
170
mg
Sodium:
1944
mg
Potassium:
1318
mg
Fiber:
5
g
Sugar:
2
g
Vitamin A:
6654
IU
Vitamin C:
2
mg
Calcium:
84
mg
Iron:
6
mg
Nutrition information is automatically calculated, so should only be used as an approximation.
Recipe © 2021 Ana Patuleia Ortins. Photo © 2021 Natalia Mylova. All rights reserved.
---
Recipe Testers' Reviews
I gave this recipe a TC designation because after following all the steps I was rewarded with 8 links of good homemade chouriço.
I'm not new to the sausage making process. I have made fresh chourizo which I chose to not encase and I have made the close smoked cousin, linguiça sausage. This particular recipe intrigued me for the delayed addition of salt.
One thing that I don't love about homemade Portuguese sausages is that the colour of the meat always has some grey undertones. I thought that the delayed salting might correct this. It did not.
Sausage making is a meditative type of project. It's also a very rewarding endeavour that is worth the preparation and potentially messy cleanup.
I chose to hand cut my meat and funnel stuff by hand as these were the traditional methods for this sausage and result in the most authentic looking links. Other than the golden rules of sausage making (sanitize your work area and all the equipment used; keep the meat cold at all times during the sausage meat preparations) I also suggest that you cue in your favourite music, podcast, or audiobook. Prevent interruptions. Wear gloves and change them periodically washing your hands before donning another pair. Wear an apron and goggles might also be helpful. "Dexter-ize" your environment! I used a sausage pricker to remove air and marinade from the first link with projectile squirts of marinade escaping in all different directions. In order to avoid having to "Dexter-ize" my working space, I took my links placed on a rack in a sheet pan outside and did the pricking in open air. My sprayed grass provided immense entertainment for Truffle, my 94 lb Saint Berdoodle.
My resulting chouriço sausages were tender but very mild tasting despite adding more salt in after the cooked meat tasting before stuffing. I used cherrywood smoke flavour "bisquettes" and the smoke flavour was sufficient. Although my home taste testers thought there was enough salt, I felt these could have used another 1/2 to 1 tablespoon of salt. Next time, I would use all hot paprika and perhaps another 1/2 tablespoon of amped up red pepper sauce and definitely no water.
This sausage was great for using as an ingredient in other recipes calling for chouriço sausage. I used one link in the Portuguese Sausage Frittata very successfully. As a stand-alone sausage I would make these again following my recommendations herein. When I purchase chouriço sausage, I choose the hot flavoured one. That is the kind of chouriço sausage that I want to make at home next time.
As daunting as this recipe may be, the flavors are truly incredible and worth all the work. All the flavors are very well balanced: the smoky, the salty, the savory. I loved the marinade: lots of garlic, paprika (I used 3/4 sweet, 1/4 smoked), hot pepper paste, red, and white wine. The chouriço mixture smelled amazing when I was stuffing the sausage so I thought it might be delicious. And I was right. When I was done, I wanted to try just a bite to see and I couldn't stop eating it. Head and shoulders above any store-bought chouriço I've ever had except for the Spanish dry chorizo.
The recipe is fairly involved, so you need to go into it with a lot of patience and time. I took the easy route and had my butcher grind the pork. That was a huge help. I'd never stuffed sausage before and used a manual stuffer that was surprisingly easy to work with. It was pretty messy since the meat is very wet from marinating. I have a charcoal smoker, not electric or gas, so temperature control was not tremendously exact but I kept my eye on the chouriço and it worked out fine. Depending on your equipment, you may need to use the smoking direction as a guide as I did. If you like chouriço and are at all adventurous, you should give this recipe a try. You won't be disappointed!