We've all got our favorite pasta recipes, from rich, cheesy baked pasta to simple one-pot pasta recipes, but sometimes you need a reliable weeknight recipe that can be on the table in a flash. We've compiled a list of our 10 quick and easy pasta recipes that can be on the table in about 30 minutes. Take a peek and find some new ones to add to your list of favorites.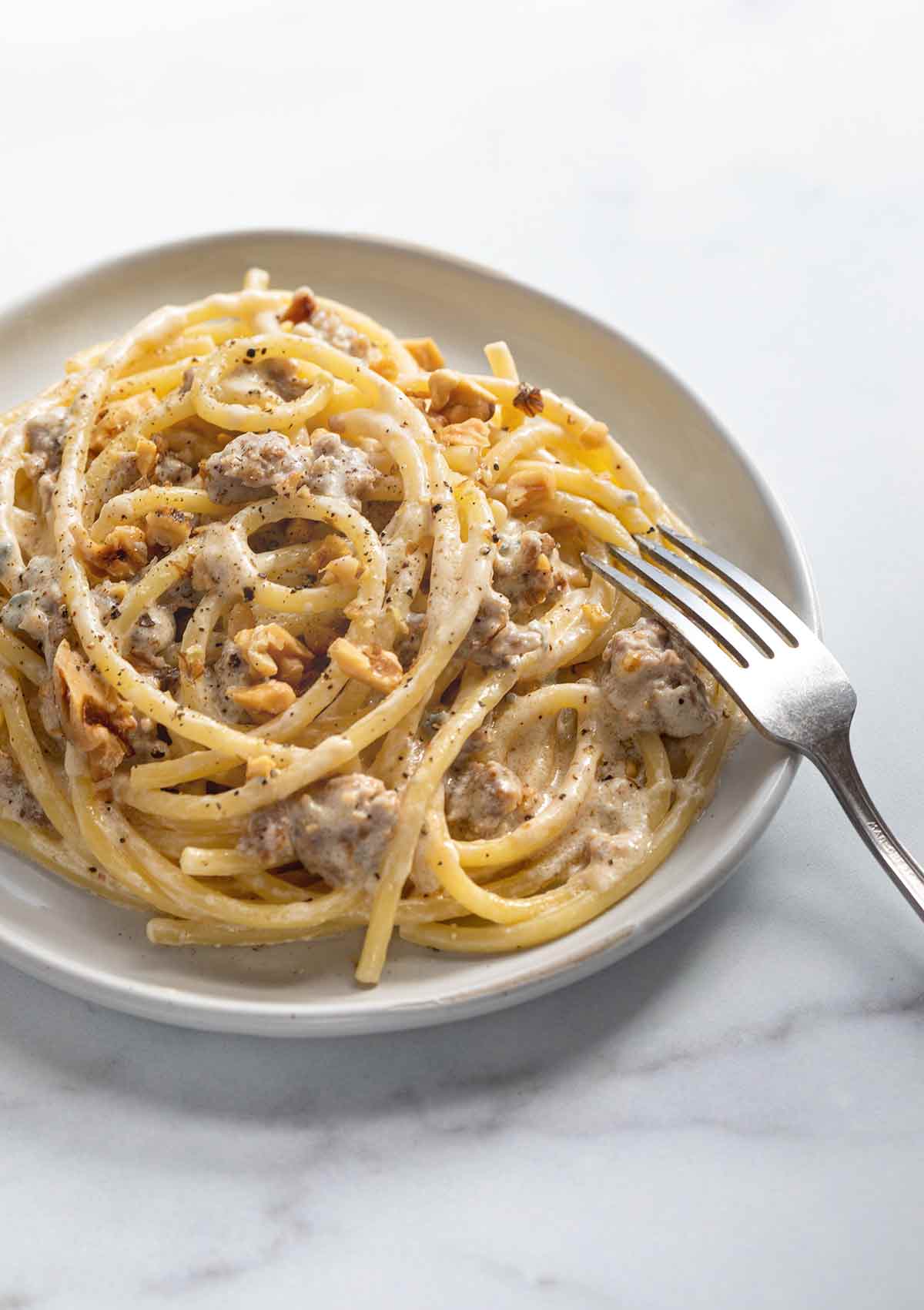 This blue cheese, sausage, and walnut pasta is rich, creamy comfort food made with walnuts, sweet Italian sausage, pasta, and blue cheese. It's an easy-peasy way to have dinner on the table when you're getting antsy for a quick yet ultra-satisfying meal.
Recipe
---
I made this for dinner last night, and I'm so glad that I did as it was absolutely delicious! It was rich and creamy, the perfect dish for a rainy night.
The sausage and blue cheese complemented each other so nicely. It seemed like a very elegant pasta dish, however, it was quick to put together with few ingredients needed. This is definitely going into my pasta dinner rotation.–Aryn
---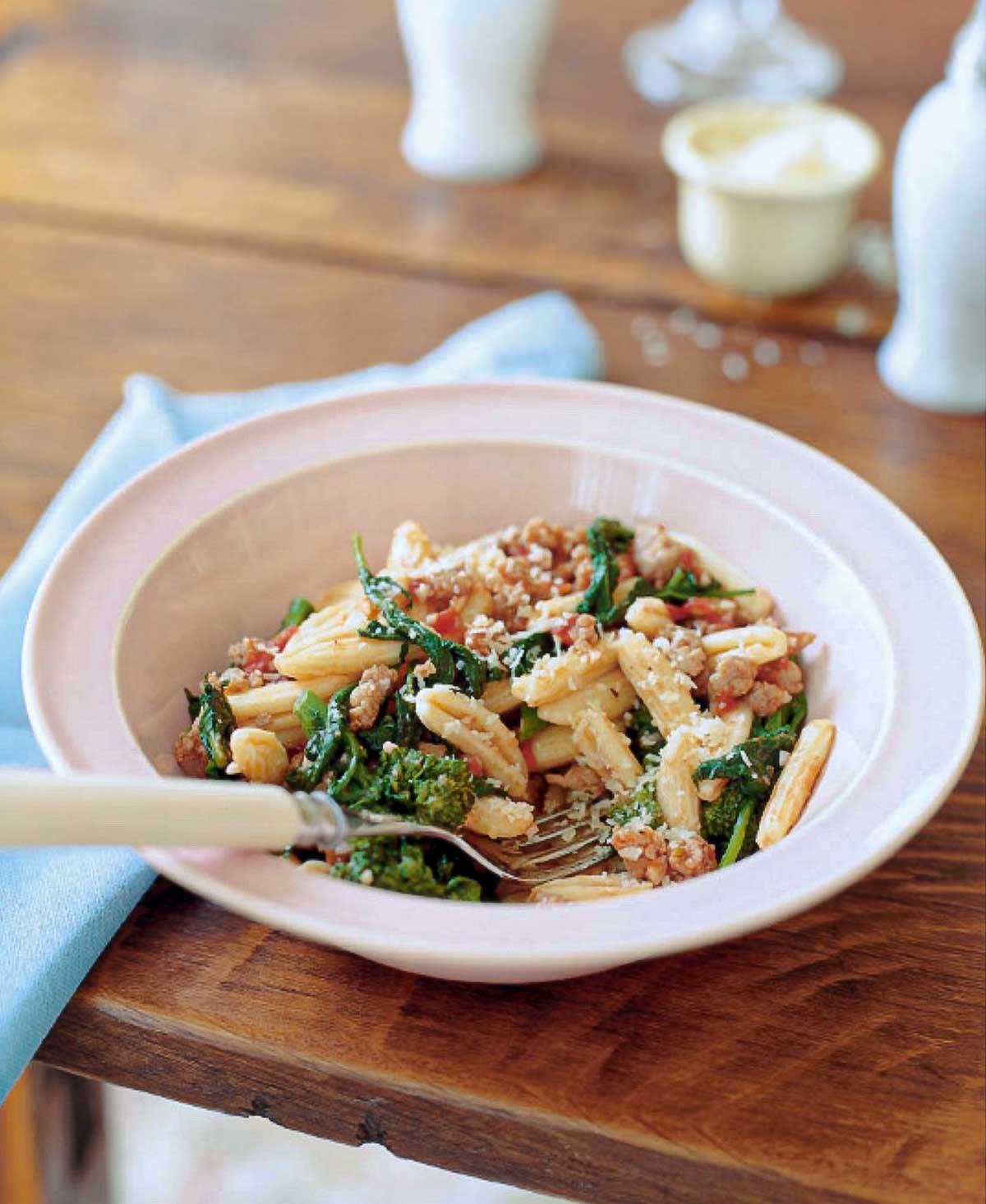 This cavatelli with turkey sausage, tomato, and broccoli rabe is a riff on the classic sausage and rabe pairing. Healthy never tasted so good.
Recipe
Pasta FAQs
I never seem to have the right shape of pasta on hand. How do I know what to substitute?
Different pasta shapes are suited to different types of sauce. Some pasta recipes work best with long strands so that they are fully coated in sweet tomato sauce, while other pasta shapes have nooks and crannies to capture bits of ground beef or sausage.
However, within those categories, you can easily swap in different shapes of pasta. Check out this guide on How to Choose the Best Pasta Shape for Your Sauce.
What's the best way to reheat leftover pasta?
Our preferred method is to reheat leftover pasta gently in a saucepan over low heat. When you're making pasta, save some of the pasta water and stash it in the fridge with your leftovers. It works miracles in loosening up pasta sauces that have turned too thick and clumpy.
How do I avoid making mushy pasta?
There are three important things to remember when cooking pasta. First, undercook it slightly. You want it to be just al dente which is usually about 1 minute less than the box suggests.
Second, save some pasta water before you drain the noodles. That starchy liquid will help bring your sauce and pasta together.
Lastly, finish cooking your pasta in your sauce. The flavors will meld together and the pasta will absorb some of the sauce as it finishes cooking. For more details, read this article on How to Cook Perfect Pasta.
This lemony fettuccine alfredo is a slight twist on the classic made with fresh pasta, creamy white wine alfredo sauce, and Parmesan. Fast and easy enough to make on a weeknight yet impressive enough for company.
Recipe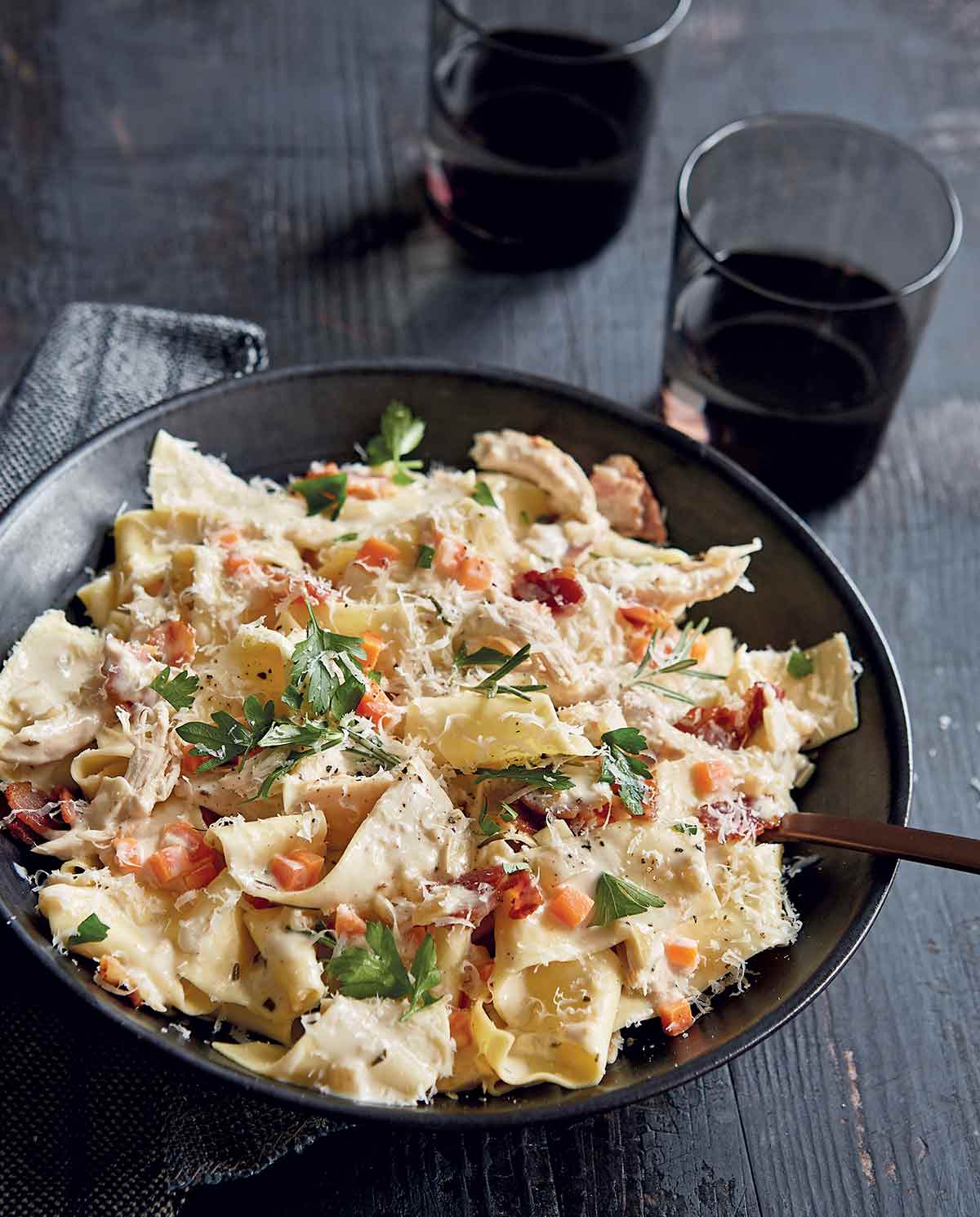 Rotisserie chicken is folded into a rich, bacony cream sauce that drapes perfectly over pappardelle (or other wide noodles) for a comforting dish that's as good for a chilly night at home alone as it is for a casual yet special dinner with friends.
Recipe
This authentic cacio e pepe recipe relies on pantry staples of pasta, cheese, salt, pepper, and olive oil as well as a nifty cooking technique to put dinner on the table before you know it.
Recipe
---
This cacio e pepe was really delish and super easy. Nice to have a meatless meal for a change.–Anne
---
This smoked salmon pasta is a simple meal that creates lotsa flavor by easily tossing together spaghetti and smoked salmon with a lemon cream sauce. Did we mention it's on the table in less than half an hour?
Recipe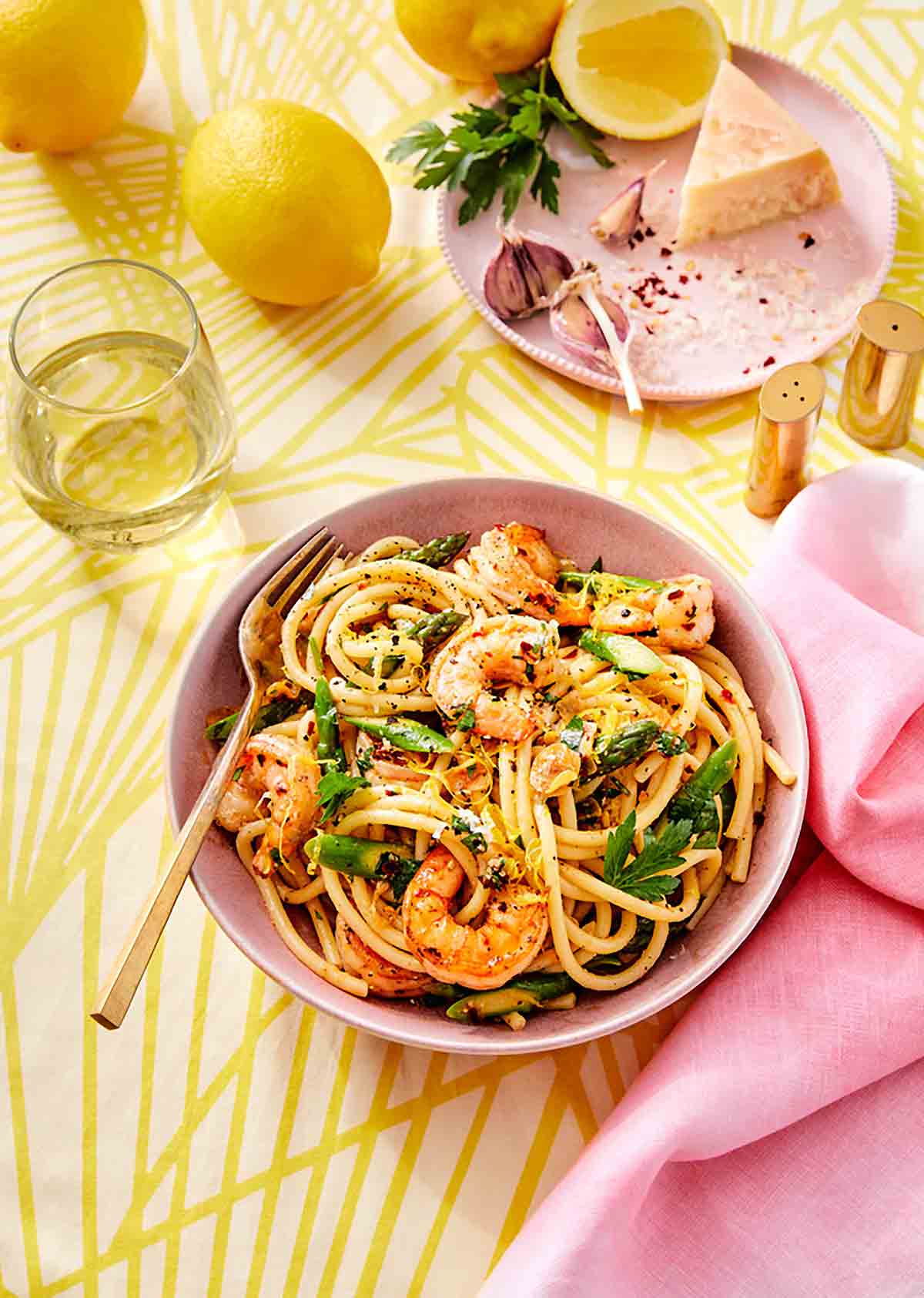 This bright lemony pasta includes pan-seared shrimp, noodles, and a buttery garlic sauce. It's an easy weeknight meal that's on the table in just 30 minutes.
Recipe
This simple spaghetti with garlic and chile flakes couldn't be more simple. Just spaghetti, garlic, oil, and red pepper flakes. Great for lunch, snack, or a fast weeknight dinner.
Recipe
---
Amazingly simple. Easy and delicious.–Piyush
---
When making tortelloni pasta with spinach and ricotta filling, I sometimes end up with leftover filling. It occurred to me that it would make a very nice pasta sauce, so I added a little cream to the spinach and ricotta mixture and this penne with spinach-ricotta sauce was born!
Recipe
---
This spinach-ricotta pasta is mild and luscious, reminiscent of creamed spinach but much lighter. We served it two ways: my husband had his with Parmesan, and I had mine with mizithra. Both were delicious.–Alena
---
Make the most of canned tuna with this quick and easy tuna and pasta salad, filled with tomatoes, olives, garlic, and topped with crispy breadcrumbs.
Recipe
Originally published October 8, 2022
© 2022 Leite's Culinaria. All rights reserved. All materials used with permission.