This knock-it-out-of-the park spaghetti alla carbonara recipe calls for extra egg yolk, which lends an extra silken richness and lusciousness to the dish. If you want a traditional version, use 4 whole eggs. I've also seen Italian cooks use an extra large egg yolk per person, which is super luxurious. Whatever you do, please forgo cream, peas, garlic, etc. They are wonderful, they're just not part of the classic recipe.
Also, a lot of readers have asked whether they can use freshly made pasta. You can, but I find that using a premium dried pasta made from durum or semolina wheat really helps the sauce to cling.
Raw Egg Reminder
A gentle reminder that this spaghetti alla carbonara recipe contains raw egg. Please be aware of this if you're making the recipe for anyone for whom that's a potential food safety no-no, including the very young, the very old, the very pregnant, and the very compromised in terms of immunity. All the rest of you, go ahead and sit down to this outrageously easy and traditional Italian carbonara recipe with gusto.
Spaghetti Carbonara FAQs
What is guanciale?
Guanciale, which comes from the cheek of the pig, is a richly fatty piece of meat that is often cured. It's usually found in Italian pasta dishes from Umbria and Lazio, in central Italy. Two of the most famous and beloved dishes that call for guanciale are spaghetti alla carbonara and Bucatini All' Amatriciana.


: detlevn
Does classic spaghetti carbonara contain cream?
Absolutely, 100 percent, utterly no. There is no cream in the dish. The creaminess comes from the proper cooking of the eggs with pasta cooking water so that it's luscious, creamy, and addictive. Also, while I'm at it, there are no peas in carbonara, either.
What's the origins of spaghetti carbonara?
"Carbonara" comes from the Italian word carbonaro, which translates as "coal burner." There's a legend, which most believe to be apocryphal, that says the dish was created as an easy-to-make, stick-to-your-ribs meal men who were working outside all day long could make for themselves. The more widely accepted origin of the dish is that American soldiers during the Second World War brought their taste for bacon and eggs to Europe, and hence the dish was created to sate ally tastes.
Spaghetti Carbonara
Spaghetti carbonara, a pasta and sauce rich with Parmigiano-Reggiano cheese and guanciale, pancetta, or bacon, is a quick and easy dinner that takes just 25 minutes from stove to table.
Ingredients
1

tablespoon

extra-virgin olive oil

6

ounces

thickly sliced guanciale, pancetta, or bacon,

cut into 1/4-inch (6-mm) pieces

2

tablespoons

kosher salt

1

pound

spaghetti

3

large

eggs plus 1 large egg yolk

,

well beaten

3/4

cup

grated Parmigiano-Reggiano

,

combined with 1/4 cup grated pecorino Romano

Freshly ground black pepper
Instructions
Grab your largest skillet and place it over medium heat. Pour the olive oil into the skillet and wait until the oil ripples.

Toss in the guanciale (or pancetta or bacon, if using) and cook, stirring often, until crisp. Slide the skillet off the heat.

Meanwhile, bring 6 quarts of water to a boil in a large pot. Toss in the salt and the spaghetti and boil, stirring to keep the strands from sticking to one another, until al dente.

Carefully scoop out 3/4 cup of the cooking pasta water and reserve it. Then drain the spaghetti in a colander, shaking it to release any excess liquid.

Working quickly, dump the hot drained spaghetti into the skillet with the guanciale. Dribble a bit of the reserved cooking water into the beaten eggs and whisk quickly. This prevents the eggs from cooking.

Immediately add the eggs and half the cheese to the skillet of spaghetti and toss well. Add just enough of the reserved pasta water to make the mixture lusciously creamy.

☞ TESTER TIP: Add the pasta water incrementally, tossing all the while you're dribbling in the water, as everything magically coalesces into a velvety sauce that cloaks each strand.

Sprinkle generously with pepper and serve at once. Pass the remaining cheese at the table.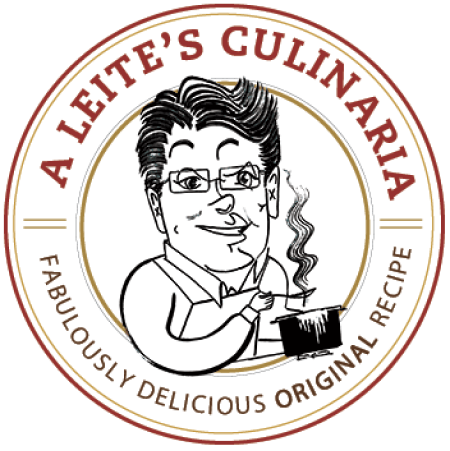 Nutrition
Serving:
1
portion
Calories:
744
kcal
Carbohydrates:
86
g
Protein:
29
g
Fat:
30
g
Saturated Fat:
11
g
Polyunsaturated Fat:
4
g
Monounsaturated Fat:
13
g
Trans Fat:
1
g
Cholesterol:
179
mg
Sodium:
4083
mg
Potassium:
369
mg
Fiber:
4
g
Sugar:
3
g
Vitamin A:
346
IU
Calcium:
267
mg
Iron:
2
mg
Nutrition information is automatically calculated, so should only be used as an approximation.
Recipe © 2004 David Leite. Photo © 2022 Roberta Dall'Alba. All rights reserved.
---
Recipe Testers' Reviews
It was a rainy night, and I had no desire to brave the elements and hit the grocery store. This spaghetti alla carbonara recipe allowed me to use ingredients that I had on hand—with one minor substitution of regular bacon for pancetta—and create an easy, soul-satisfying meal. The eggs, cheese, and pasta water formed a rich creamy sauce that, when combined with the crisp bacon, made for a real wow factor.
Don't be scared of spaghetti carbonara! Just remember to mix the pasta quickly once you add the eggs and add in the hot pasta water slowly (you might not need it all). I'll never be able to eat the versions served with cream in restaurants again. This was delicious, so easy, so fast (!), and is ideal as a pantry dinner. The longest part really is waiting for the water to boil!
This is one of those wonderful recipes that doesn't require you to run out and buy a thing. Who doesn't have pasta, cheese, and eggs laying around? This spaghetti carbonara was so simple to make. It's perfectly my cooking style—a handful of ingredients with simple preparation with a great tasting result. I'm most certainly adding this to my arsenal. It just doesn't get much better than this creamy, porky bowl of pasta-love. Great recipe! Next time I make this dish I want to add fresh peas. I think the sweetness of the peas would contrast beautifully with the saltiness of the pancetta. I love that certain "pea-ness" (love you, Iron Chef) that only comes from fresh peas.