"There are many ways to make this classic dish of cacio e pepe and each Roman cook will show you some slightly different ways to manipulate pasta, cheese, and pepper into a wonderful, warm bowl of comfort food." So begins this seemingly unassuming recipe for authentic cacio e pepe. But when you peruse the instructions, that's when the magic truly begins.
The cacio e pepe pasta relies on a method known as "risotato," so-called because it is like making a risotto. The pasta is cooked not in a pot of salted water but in a frying pan just large enough to contain the spaghetti. As the cooking water is absorbed by the pasta the liquid in the pan reduces and becomes the sauce. And that's just in theory. Wait'll you taste it.–David Leite
Cacio e Pepe FAQs
How do you pronounce "cacio e pepe?"
Yeah, we get tongue-tied sometimes, too. Here's the phonetic pronunciation kaa·choh ee peh·pay And here's an Italian speaking it for you.
What cheese should I use for cacio e pepe?
This recipe specifically calls for cacio de Roma (literally Roman cheese). And since cacio de pepe is a quintessential Roman dish, you'd do well to find some. It's a semi-soft sheep's cheese from Lazio (the region of Italy that encompasses the province of Rome).

While a hard cheese won't give you quite the same result, there are substitutions. Most of our testers were unable to find cacio de Roma without specially ordering it, so if you find yourself in the same situation, you can use pecorino Romano (a hard sheep's milk cheese) instead. Failing that, Parmigiano-Reggiano makes an acceptable choice as well
Can I make this with a different type of pasta?
Although it's not traditional, our testers had success making this with linguine, bucatini, penne, and gluten-free pasta.
Cacio e Pepe
This authentic cacio e pepe recipe relies on pantry staples of pasta, cheese, salt, pepper, and olive oil as well as a nifty cooking technique to put dinner on the table before you know it.
Ingredients
3

tablespoons

extra-virgin olive oil

1/2 to 1

teaspoon

freshly ground black pepper

11 1/2

ounces

fresh tonnarelli or dried spaghetti

Generous pinch

salt

4 1/4 to 5

cups

boiling water or exceptionally hot tap water

3 1/2

ounces

cacio de Roma

,

finely grated [See FAQ above]
Instructions
Grab your largest saucepan (you want it to be around 12 inches or 30 centimeters in diameter or large enough for the spaghetti to lie in a single layer) and place it over medium heat. Add the oil and pepper and heat until you can smell the heady spice of the pepper, about 2 minutes.

Add the spaghetti to the pan along with the salt and about 2 cups (16 fluid ounces) of water. You'll want to watch out as the water may sputter when added to the hot oil. Add the remaining 2 1/4 cups (18 fluid ounces) hot water, little by little, as you would with risotto—that is to say, add a ladleful of hot water and cook, stirring frequently, until the liquid is almost but not completely absorbed before adding another ladleful of water.

Repeat until the spaghetti is al dente and the water has reduced to a soupy consistency, 8 to 10 minutes. If the pasta starts to look dry, add a little more water but no more than a total of 5 cups (40 fluid ounces).

While the pasta is cooking, warm some bowls in a low oven. (Don't ignore this step. It helps ensure the creamy sauce clinging to the pasta doesn't turn to clumps.)

When the pasta is ready, remove the pan from the heat and add the cheese, a little at a time, stirring furiously and constantly, until a smooth and creamy sauce forms. Serve the cacio e pepe straight away in the hot bowls.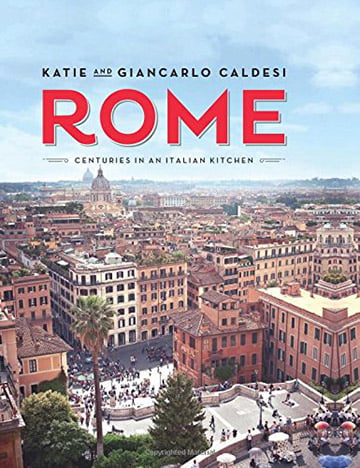 Nutrition
Serving:
1
serving
Calories:
985
kcal
Carbohydrates:
124
g
Protein:
37
g
Fat:
37
g
Saturated Fat:
12
g
Polyunsaturated Fat:
3
g
Monounsaturated Fat:
20
g
Cholesterol:
52
mg
Sodium:
635
mg
Potassium:
413
mg
Fiber:
5
g
Sugar:
5
g
Vitamin A:
210
IU
Calcium:
584
mg
Iron:
3
mg
Nutrition information is automatically calculated, so should only be used as an approximation.
Recipe © 2015 Katie and Giancarlo Caldesi. Photo © 2015 Helen Cathcart. All rights reserved.
---