Every Saturday when I was growing up, my mother would go to the local Portuguese bakery and buy a dozen chouriço rolls—torpedo-shaped logs stuffed with sausage. By Monday, they would be gone, mostly due to me. To dress up my childhood classic, I added presunto and cheese, and sometimes sautéed onions and garlic, to the dough. And I form the rolls into round loaves because I think they look more elegant on the table.–David Leite
What is presunto?
Presunto is dry-cured ham from Portugal. It's quite similar to prosciutto from Italy and Jamon from Spain and either would make a capable substitution. Just don't tell anyone from Portugal you did that.
Portuguese Sausage, Ham, and Cheese Bread
These sausage, ham, and cheese loaves turn out a hearty, traditional Portuguese bread made with presunto, chouriço, and semi-firm sheep's milk cheese. The dough can also be made into rolls.
Ingredients
One

(1/4-ounce)

package active dry yeast (2 1/4 teaspoons)

1

teaspoon

granulated sugar

1 1/2

cups

warm water (110°F | 43°C)

3

large

eggs

,

at room temperature

1/4

cup

olive oil,

plus more for the bowl

4

cups

all-purpose flour

,

plus more if needed

1 1/4 teaspoons

kosher salt

Two

(1/4-inch)

thick slices presunto, serrano, or prosciutto,

trimmed of excess fat and cut into 1/4-inch (6-mm) cubes

1/2

pound

semi-firm sheep's milk cheese

,

such as Nisa, Roncal, or Manchego, coarsely shredded

Coarse cornmeal

,

for dusting
Instructions
In the bowl of a stand mixer fitted with a dough hook, dissolve the yeast and sugar in the warm water. Let stand until the liquid is foamy, 8 to 10 minutes.

In a small bowl, whisk 2 of the eggs and add them to the yeast mixture along with the oil. Process on low speed until blended.

Scoop in the flour and salt and mix on medium-low speed, scraping down the bowl once or twice, until a smooth, sticky ball forms, 7 to 10 minutes. Add up to 1/2 cup flour, a little at a time, if needed. It's okay if it's still a bit of a sticky, shaggy mess at this point.

Dump the dough onto a lightly floured surface and knead a few times, adding more flour if needed, until supple, 3 to 5 minutes.

Flatten the dough into a 12-inch (30-cm) disk, sprinkle with the presunto, chouriço, and cheese, and knead to distribute the pieces evenly. It will seem like a lot of work, but press on.

Place the dough in a large, lightly oiled bowl, turn to coat, cover with plastic wrap, and let rise in a warm, draft-free spot until doubled in size, 1 to 1 1/4 hours.

Line a rimmed baking sheet with parchment paper and sprinkle it with cornmeal. Lightly dust a work surface with flour, turn the dough out, and knead several times.

Cut the dough into 4 equal portions and shape each portion into a ball. Transfer the balls to the baking sheet and let rise, covered with a towel, until double in size, 45 to 60 minutes.

Meanwhile, crank up the oven to 425°F (218°C) and position a rack in the center of the oven.

Whisk the remaining egg with 1 tablespoon of water and brush the loaves with the mixture. Bake until the loaves are deeply brown and sound hollow when thumped on the bottom, 25 to 30 minutes.

Transfer to a wire rack to cool completely. The loaves will keep for up to 2 days when covered with plastic wrap and refrigerated. But you can't beat them on the day they're made.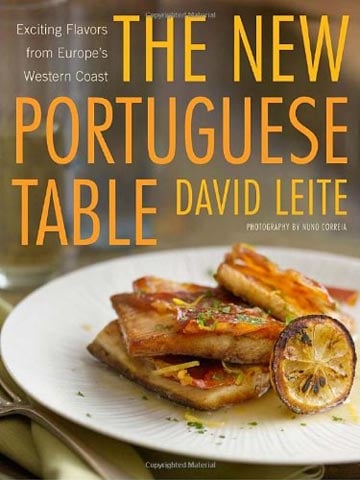 Nutrition
Serving:
1
portion
Calories:
226
kcal
Carbohydrates:
25
g
Protein:
8
g
Fat:
10
g
Saturated Fat:
4
g
Polyunsaturated Fat:
1
g
Monounsaturated Fat:
3
g
Trans Fat:
1
g
Cholesterol:
54
mg
Sodium:
331
mg
Potassium:
55
mg
Fiber:
1
g
Sugar:
1
g
Vitamin A:
148
IU
Calcium:
81
mg
Iron:
2
mg
Nutrition information is automatically calculated, so should only be used as an approximation.
Recipe © 2009 David Leite. Photo © 2009 Nuno Correia. All rights reserved.
---
HOW TO MAKE SMALL SAUSAGE, HAM, AND CHEESE ROLLS
If you'd prefer to make this bread into individual rolls, after the initial rise, break off the dough into 2 1/8-ounce (60-g) chunks and shape them into balls. Proceed with the recipe, adjusting the cooking time to about 18 minutes.
Recipe Testers' Reviews
Both of my grandmothers and my mother used to make linguiça rolls, so I was called to this recipe and I'm so glad I made it. I don't bake bread as often as I'd like as I'm a little intimidated by yeast, but this was easy even for a yeast-o-phobe like me. I used linguiça, prosciutto, and Manchego cheese, which are easily available for most.
I had a slice as soon as it was cool enough to handle (slathered with some butter) and the smokiness of the linguiça was very present in the loaf and the Manchego brought a nice tanginess to the bread.
When kneading the dough after it came out of the mixer, I had to add an additional 1/2 cup or so of flour. I shaped it into a 13-inch disk before adding the meat and cheese. It did take a lot of work to incorporate them.
It took closer to 30 minutes to bake the loaves. I served them along with dinner, but can't wait to have some in the morning with eggs.
These were easy to make, fun to eat, and generous in terms of yield and creative uses. (Four hearty loaves for 25 minutes of hands-on time is an exceptionally good return on investment in my book!)
I added the maximum suggested amount of flour and although it still didn't ball up, I trusted that the dough would even itself out during the subsequent hand-kneading, and indeed it did. The first rising, the shaping, and the second rising all proceeded as planned and the loaves baked up quickly with an even, golden crust.
We had plump wedges with a spicy and piquant red sauce pasta dish, which the richness of the bread complemented perfectly. I could also see this as a fantastic choice for sandwiches, as well as a great tartine base when toasted and topped with shrimp or egg salad or sliced summer tomatoes. Extra loaves can be easily frozen…or better yet, shared with neighbors & friends.
I worked through some early struggles with the dough and I'm glad I did because the bread turned out to be one of the tastiest breads I've ever had. I just wanted to keep eating it, but with two kinds of meat and cheese, it's quite filling. The recipe calls for 4 cups of flour and says to add more, 1/2 cup at a time, if it's too sticky. I added about another cup and it still was very sticky.
I didn't want to just keep adding flour so I dumped it out at that point and tried kneading it by hand. That was very challenging. I had to keep dipping my hands in the flour jar and sprinkling the dough with more. I did manage to get it into a disc (12 inches) but it was still kind of sticky. So kneading it with the meat and cheese was tricky. Thankfully the second knead, after an hour's rise, was much easier. From here on out, the recipe was a breeze.
As I said, I was glad that I didn't give up because wow. Every bite was so filled with wonderful flavors of cheese, chorizo, and, in my case, serrano. And when it was baking, the house filled with a wonderful aroma. I ate a couple pieces when it was completely cooled and they were good but 100% better when heated.
The recipe says it makes 4 loaves, which it does, but they don't last long! We had it plain all by itself, with chili, and accompanying grilled chicken.