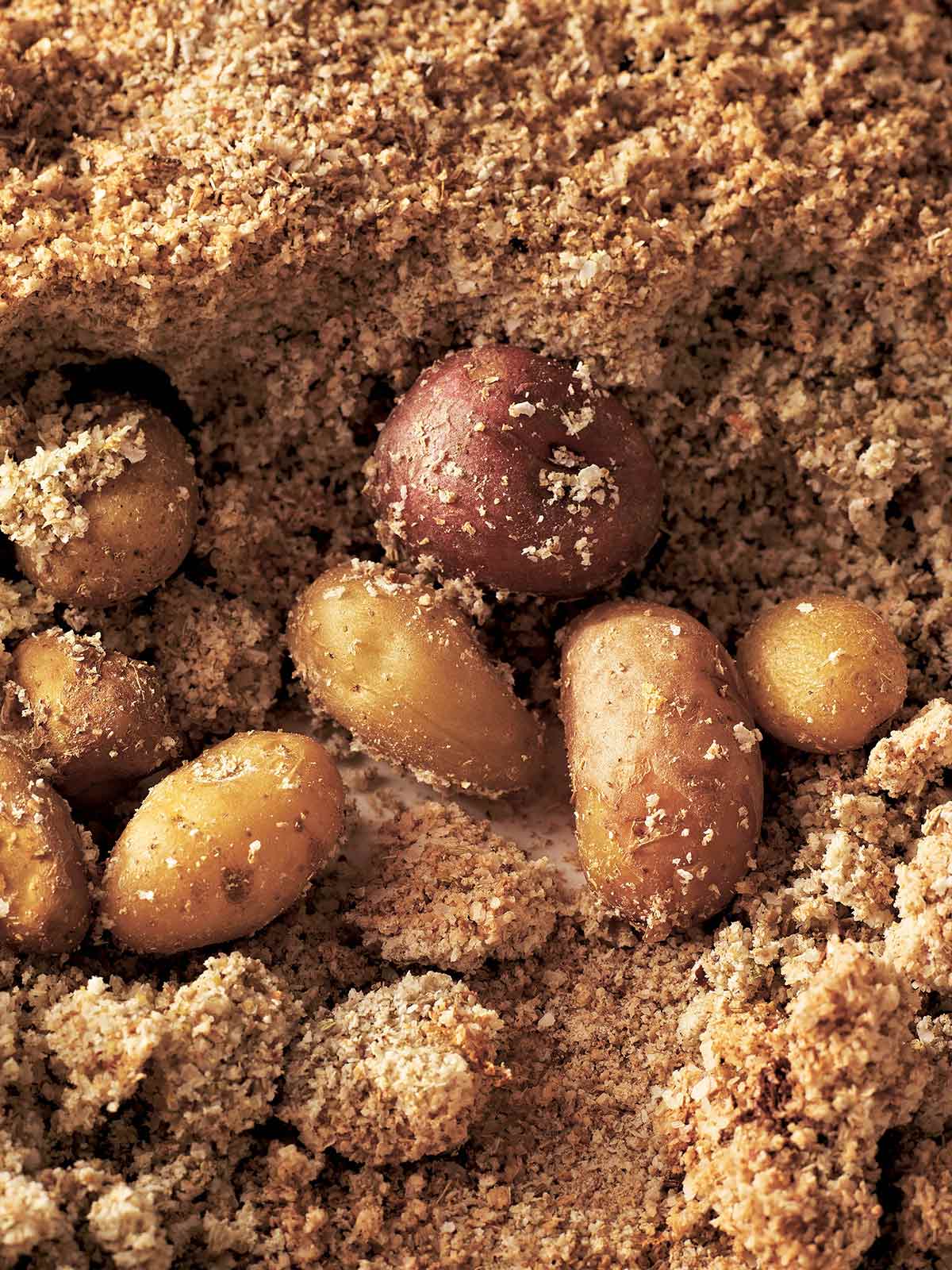 The same technique I use to make salt-roasted Thai snapper works with small potatoes. Salt-roasting cooks them evenly, so they're moist and creamy inside, and the spices and seasonings in the salt crust add just a hint of subtle flavor and mystery. Smashed and browned in oil, as described below, the potatoes make a nice passed appetizer when topped with crème fraiche and caviar. The salt-roasting technique can also be used for carrots, parsnips, turnips, and beets.–Mourad Lahlou
WHAT DOES SALT-ROASTING DO TO POTATOES?
This isn't just a way to make it okay to eat salty food with abandon and, if you're a salt freak like some of us, you don't need permission anyway. Personal preferences aside, salt roasting is a tried and true method for cooking vegetables with a crisp exterior and soft, fluffy insides. By surrounding potatoes (the technique works well with meat, too) with a mound of salt, it creates a tight seal around them. All the flavor and moisture get trapped in the salt shell to create a cooking environment that's part roasting and part steaming, ensuring the unmistakable texture. Mourad Lahlou's recipe also includes a healthy smattering of toasted spices and citrus zest, taking them over the top.
Salt-Roasted Potatoes
Salt-roasted potatoes take your regular tubers from side dish to dinner all-star. Roasted in a bed of citrus salt and toasted spice before being smashed and fried, they're pure magic.
Ingredients
12

ounces (about 2 cups)

2-inch (5-cm) new potatoes or 2-inch fingerlings

3 1/2

cups

kosher salt

1/4

cup

fennel seeds

1/4

cup

coriander seeds

2

star anise

10

green cardamom pods

,

shelled and seeds reserved

1/2

orange

,

preferably a blood orange, preferably organic

1/4

large

grapefruit

,

preferably organic

1/2

lemon

,

preferably organic

3

large

egg whites

Grapeseed or canola oil

,

(if sautéing the potatoes)

Rosemary leaves

,

(optional)

Extra virgin olive oil

,

for finishing (optional)

Crunchy sea salt

,

(optional)
Instructions
Rinse and scrub the potatoes and then pat them dry. Place the salt in a large bowl and place a piece of parchment paper or aluminum foil on your work surface.

Combine the fennel, coriander, star anise, and cardamom seeds in a large skillet or pan and set it over medium heat. Let it warm, occasionally tilting the pan to toss or swirl or scuttle the spices around so they toast evenly, until the spices are fragrant, 2 to 3 minutes. Tip the spices onto the parchment paper or foil and let cool.

Grab the edges of the paper or foil and tilt half the cooled spices into a spice grinder. Coarsely grind them and pour them into the bowl of salt. Repeat with the remaining spices.

Finely grate the zest from the orange, grapefruit, and lemon, preferably using a microplane. You should have about 1 generous tablespoon total of zest. Use your fingertips to mix it into the salt mixture.

Preheat the oven to 400°F (204°C).

Beat the egg whites until they're just beginning to hold their shape, then fold them into the salt mixture.

Line a 9-inch square baking dish with parchment paper or aluminum foil. Pour enough of the salt mixture into the dish to create a 1-inch-thick bed. Arrange the potatoes on the salt in a single layer. Cover with the remaining salt mixture. The potatoes should be completely encased with salt and spice.

Roast until the potatoes are tender, about 30 minutes for 1-inch potatoes or 35 minutes for 2-inch potatoes. Remove from the oven and let rest for 10 minutes.

For potatoes served whole, dump them in a bowl, toss with rosemary leaves, if desired, and drizzle with olive oil.For thin, chip-like potatoes, place the potatoes between pieces of parchment paper lightly brushed with oil and press a meat pounder or a heavy skillet against them to flatten. Heat a generous film of oil in a nonstick skillet over medium-high heat and sauté the potatoes on both sides to brown, about 2 1/2 minutes per side. Drain on the paper towels. Add some rosemary leaves to the oil and fry and crisp them for about 30 seconds. Arrange the potatoes on a plate and sprinkle with crunchy sea salt and rosemary. (The potatoes can be stored in olive oil in the fridge for up to 3 days.)
Nutrition
Serving:
1
portion, about 2 ounces
Calories:
64
kcal
Carbohydrates:
10
g
Protein:
1
g
Fat:
2
g
Saturated Fat:
1
g
Trans Fat:
1
g
Sodium:
391
mg
Potassium:
239
mg
Fiber:
1
g
Sugar:
1
g
Vitamin A:
1
IU
Vitamin C:
11
mg
Calcium:
7
mg
Iron:
1
mg
Nutrition information is automatically calculated, so should only be used as an approximation.
Recipe © 2011 Mourad Lahlou. Photo © 2011 Deborah Jones. All rights reserved.
---
Recipe Testers' Reviews
These salt-roasted potatoes are exactly as advertised: very moist and tender throughout, and with just a hint of flavor from the spices in the salt crust. I almost wished that the spice flavor came through a bit stronger–it was quite subtle. As it was, these were very good when smashed, fried up, and sprinkled with fried rosemary leaves as directed. I did gild the lily and add crème fraîche and caviar, which was nice but by no means necessary. My husband actually preferred them on their own.
I am ruined. Ruined, I tell you. For the humble potato that I reach for as a secondary thought to a star protein–a mere side dish–just became my whole dinner at the kitchen counter. Once again, a recipe did not make it to a plate or to a table. With nimble fingers, I gently tossed the long and small hot potatoes from hand to hand, quietly blowing away the heat as to not attract attention to my treasured tubers. I devoured each one–slick with olive oil and dotted with rosemary–after another.
Perfectly salted and dressed with the essence of fennel and coriander as they were, I didn't imagine they would be so seductive. My poor husband. He must have thought the recipe yielded far less than the actual amount, for there were just a few small fingerlings left when he came 'round, wondering, "Why so quiet in here?" Testing Tip: Please, double the recipe–it's imperative if you are to serve any at all to the table.