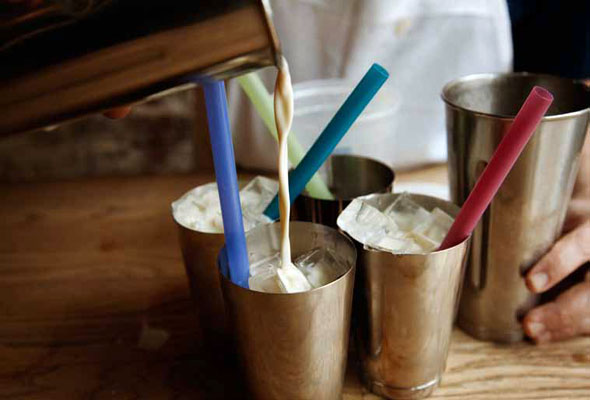 We use the unfrozen cereal milk ice cream to make White Russians because it stands up to the Kahlua and vodka better than regular cereal milk does. The liquor in this recipe dulls the cereal milk flavor, so we add freeze-dried corn powder to bring it back. We call these White Ruskies. When we make these with frozen ice cream, we call them Fancy Shakes. We sell them at Milk Bar and they kill it, every night. And you don't have to be a mixologist to bang them out.–Christina Tosi
LC Two Cult Classics Collide Note
Can you dig how two cult classics of sorts collide in this cocktail? For inspiration, this trendy little number draws on both The Big Lebowski, progenitor of the classic White Russian, made from Kahlua, vodka, and a splash of cream, as well as that puddle of sweet, sometimes eerily colored milk left in your cereal bowl as you sat mesmerized by Saturday morning cartoons. We're sorta astounded by the American cultural quotient at play here. Uh, yeah. But sometimes you just can't take life–or libations–too seriously. So go ahead and imbibe–or shall we say, abide.
Cereal Milk White Russian Recipe
Quick Glance
5 M
5 M

Serves 2
Ingredients
1/4

recipe (1 cup)

Cereal Milk Ice Cream, before being churned

2

teaspoons

freeze-dried corn powder

(uh, that's optional)

3

tablespoons

Kahula

3

tablespoons

vodka
Directions
1. Whisk together the ice cream, corn powder, if using, Kahlua, and vodka in a small pitcher or bowl.

2. Pour this into two ice-filled glasses and stir or, if you've got the mixology gear, pour it into a cocktail shaker filled with ice, cover, and shake until the shaker is frosty. Strain into two old-fashioned glasses filled with ice. Sip and sigh….
Fancy Shake Variation
Substitute 1 cup churned Cereal Milk Ice Cream for the unchurned Cereal Milk Ice Cream and blitz with the remaining ingredients in a blender until smooth, creamy, and irresistibly tempting. Take a sip and adjust the amount of ice cream, if necessary. Pour into a pint glass and imbibe.
Hungry for more?
Chow down on these:
Cereal Milk White Russian Recipe © 2011 Christina Tosi. Photo © 2011 Gabriele Stabile. All rights reserved.
Hey, there. Just a reminder that all our content is copyright protected. Like a photo? Please don't use it without our written permission. Like a recipe? Kindly contact the publisher listed above for permission before you post it (that's what we did) and rewrite it in your own words. That's the law, kids. And don't forget to link back to this page, where you found it. Thanks!