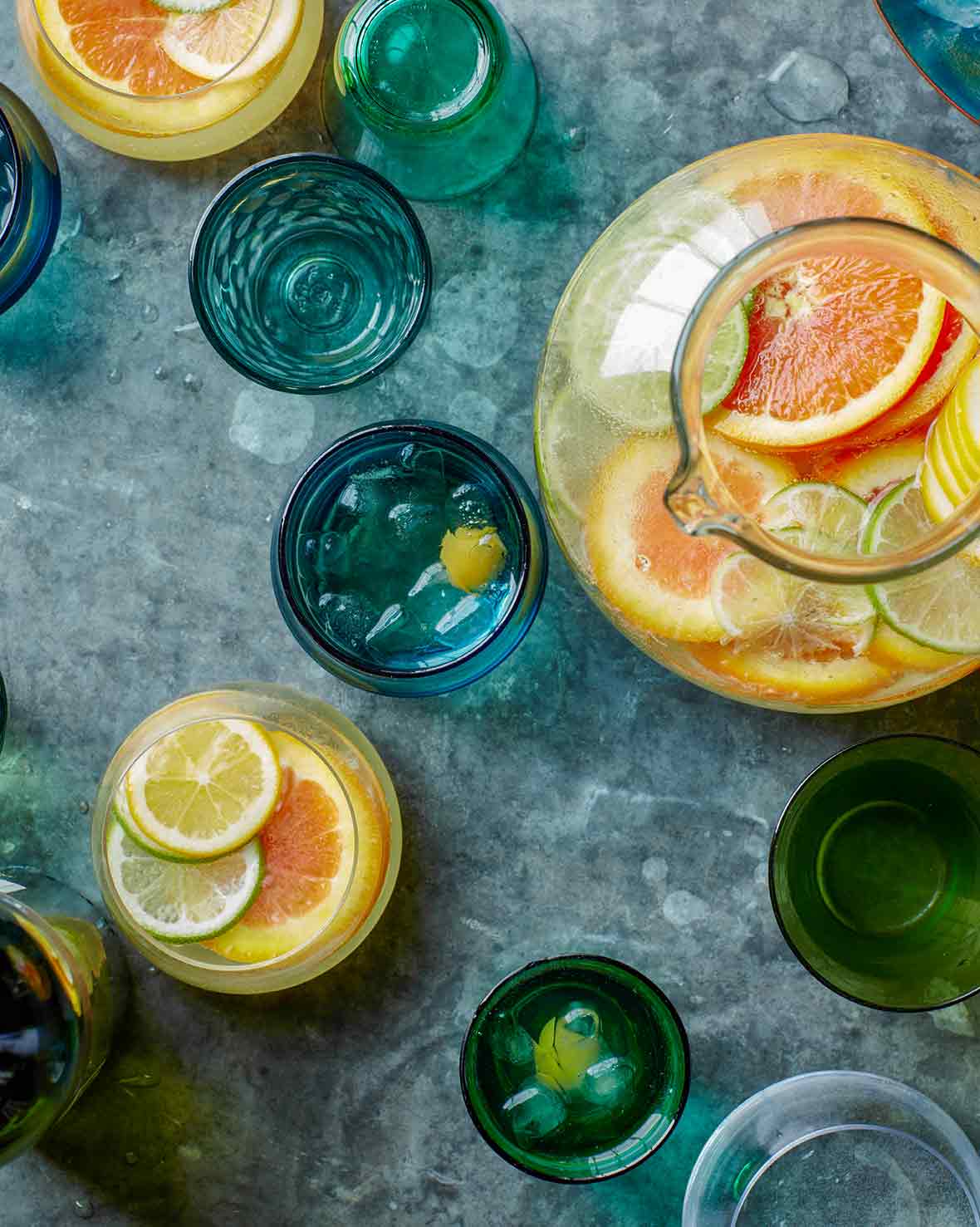 Welcome to your new favorite house cocktail. In cooler months, you can count on its citrus notes to lend verve to your holiday open house or cocktail party, a pleasant respite from typically heavy winter cocktails. On sultry summer nights, you'll swoon to its chill vibe, sorta like that of a flamenco dancer breezily strolling across stage.–Jenny Howard
*What can I substitute for albariño?
This sangria spritzer asks for albariño, a light-bodied Spanish white with notes of citrus, peach, and a touch of salinity. Sounds delish, right? It's fairly common, although if you can't track it down, there are other suitable Spanish wines that you can use, including Rioja blanco and verdejo. Many Sauvignon and Chenin blancs are also known for their citrus and stone fruit flavors and would sub beautifully here.
White Sangria Spritzer
This white sangria spritzer is crisp white wine, Cointreau, plenty of citrus, and sparkling water collide. What results is a refreshing drink you can sip all evening long without getting TOO tipsy.
Ingredients
1

(26-ounce)

bottle Albariño*

1

cup

Cointreau (or other orange liqueur)

1

lime

,

preferably organic, thinly sliced

1

lemon

,

preferably organic, thinly sliced

1

large

orange

,

preferably organic, thinly sliced

3

cups

seltzer or sparkling water,

chilled

Ice

,

for serving

Herb sprigs

,

such as mint or rosemary (optional)
Instructions
In a large pitcher, combine the wine, Cointreau, lime, lemon, and orange, and gently stir until blended. Refrigerate until chilled, at least 2 hours but preferably 24 hours to allow the flavors to meld.

To serve, partially fill 8-ounce glasses with ice. Pour the wine mixture into each glass until about 2/3 full. Top each glass with seltzer to taste, whether just a splash or filling the remaining 1/3 of the glass or somewhere in between. Stir to blend. Taste and adjust the ratio of wine and seltzer as desired. If desired, garnish with an herb sprig. Originally published December 18, 2018.
Nutrition
Serving:
1
portion
Calories:
182
kcal
Carbohydrates:
16
g
Protein:
0.5
g
Fat:
0.2
g
Saturated Fat:
0.04
g
Polyunsaturated Fat:
0.05
g
Monounsaturated Fat:
0.01
g
Sodium:
26
mg
Potassium:
136
mg
Fiber:
1
g
Sugar:
13
g
Vitamin A:
58
IU
Vitamin C:
19
mg
Calcium:
27
mg
Iron:
0.4
mg
Nutrition information is automatically calculated, so should only be used as an approximation.
Recipe © 2017 Martha Stewart Living. Photo © 2017 Stephen Kent Johnson. All rights reserved.
---
Recipe Testers' Reviews
I absolutely loved this white sangria spritzer. There's nothing better than a refreshing cocktail on the weekend. I was worried it would feel too summary for a winter drink but the orange liqueur really brought out a festive flavor. I had never had albariño and I'm not going to lie, it would have been difficult for me to find if it was not for the lovely gentlemen at the wine store helping me out. I was so pleasantly surprised by the crisp flavor it had.
The orange, lemon, and lime are a much-needed addition to this recipe and I thought it was great. I used all the seltzer water. I was able to top off each glass with it and have just a tiny bit left over.
I thought this white sangria spritzer was wonderful! And it's so easy to throw a batch together. It's quick, simple, and refreshing.
The flavor is improved by giving it some time to infuse with the citrus, so I would recommend making it at least a few hours in advance. I preferred it with lemon-lime soda in place of soda water but may change my mind when the weather heats up again. Can't wait to make this by the pitcher come summer time.
I used Gran Gala in place of Cointreau and I thought it was nice. It has the benefit of being a little more affordable as it's simply a brandy base in place of a cognac base but it worked very well in the drink.
This really benefits from resting. The recipe asks you to serve it immediately but it was vastly improved the following day. I made it on a Thursday and I thought it was decent. I tried it Friday and it was fantastic. Saturday it was good but by this evening it had grown pithy and a touch bitter.
I really enjoyed how refreshing and light this was. I loved the citrus but definitely would use a bigger orange next time and perhaps a few slices of grapefruit in place of (or in addition to) the lime. I tried it with soda water, tonic water, and 7-Up. I liked the 7-Up the best as it gave it a touch more of the sweetness I was missing without being syrupy. My mom loved the recipe and I think it's safe to say we'll be sipping this on repeat poolside come summertime.
Every Saturday night my boyfriend and I go to Chinatown for dinner with his foodie in-laws and family, usually about 10 of us (affectionately referred to as "dinner with the fam"). Then we go back to his mother-in-law's for dessert. I decided to introduce a little interest into the dessert portion by serving these sangria spritz cocktails. First, this was a wine that few of the group had tasted so I needed an extra bottle to give samples of the unaltered wine. What followed was a discussion of the merits of the wine itself, which in the end, everyone agreed they liked. Then I served the cocktails.
Everyone liked them. The recipe made 12 cocktails in tall glasses filled with ice. The recipe called for three cups of soda water, which we all agreed was too much. In the end, the perfect amount was just a splash (about 1 tablespoon) that was then stirred into the drink. Leaving the soda water on top of the drink resulted in a watery taste to begin with then intensifying as you continued through the drink. We tried it with a couple of iterations—a sprig of mint and then a sprig of rosemary. We liked both.
The mother-in-law said it was the best cocktail she had drunk in 40 years, so that was high praise. We will definitely have this again in the warmer months to come.