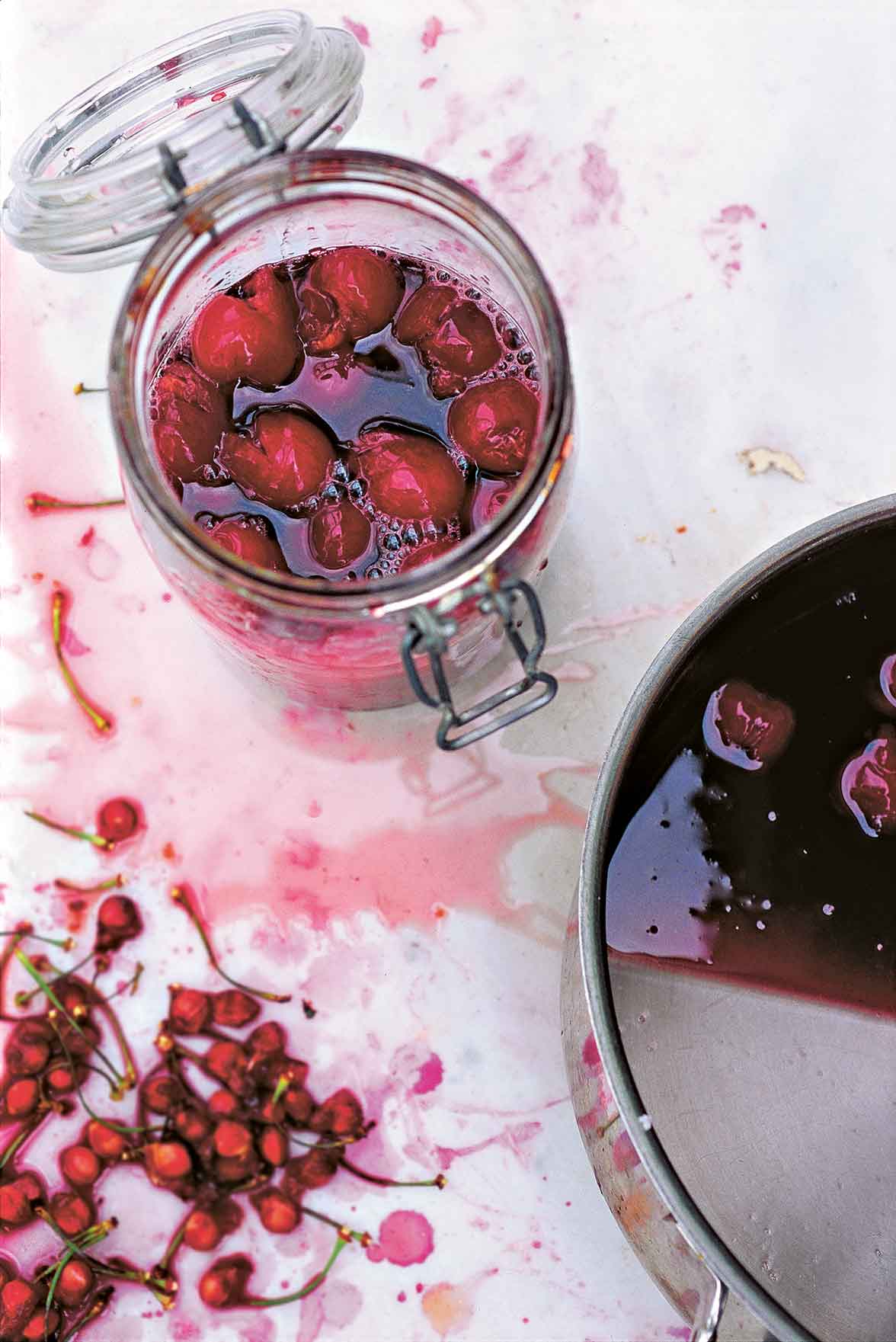 Doesn't the notion of cherry liqueur seem lovely, even before you've tasted it? Fruit liqueurs and so-called "wines" are a wonderful way of capturing summer. They're the easiest kind of "preserve" you can make. Cherries are usually expensive, but every so often you come across a mountain being sold cheaply in a market. That's the time to make this.
Serve this French aperitif chilled in small glasses. A fresh cherry hanging on the side of the glass doesn't go amiss—it is, after all, a pretty and romantic drink. You can add sparkling white wine to make a sort of cherry kir or sparkling water to make a spritzer.–Diana Henry
LC Getting Acquainted with Guignolet Note
Guignolet. Say it with us. Guig gno LAY. Sort of just rolls off the tongue, doesn't it? Also sort of just pours itself, at least in France, where the cherry liqueur is set out in small glasses, as if from a magic spigot, and sipped prior to each evening's repast. Civilized, oui? It's actually a fortified wine of sorts, though no matter what you call it or how you pronounce it, we think you'll be saying its name rather regularly from now on.
Cherry Liqueur
Quick Glance
5 M
2 D

Makes about 1 quart
Print Recipe
Ingredients
1 generous pound unblemished cherries, pitted

One 750-milliliter bottle light red wine, such as a pinot noir or a Côtes du Rhône

1 1/2 cups sugar

6 tablespoons kirsch
Directions
1. Heat the cherries, wine, and sugar in a saucepan over medium heat, stirring until the sugar dissolves. Bring the mixture to a gentle boil, then immediately reduce the heat and let it simmer languidly for 5 minutes or so. Let cool.

2. Stir the kirsch into the cherries and wine. Transfer the boozy liquid to a container with a tight-fitting lid, cover, and set aside at room temperature or in the fridge for 2 days.

3. Pour the liqueur – including the cherries – into sterilized bottles or jars with screw-top lids. Either cork the bottles with new corks or screw the lids onto the jars. Refrigerate the cherry liqueur until you consume it, preferably within the week. Strain the liqueur just before serving, reserving the boozy cherries left behind to plop atop chilled rice pudding, layer with sponge cake and whipped cream, spoon over ice cream, or…well, we could go on, but you get the idea.
Apricot Liqueur Variation
Place 1 pound apricots, halved and pitted, in a saucepan with 2 1/4 cups sugar and 3 cups dry white wine and proceed as above. When you take the pan off the heat, add 5 tablespoons amaretto and 1 1/4 cups vodka. Pour the apricots and the liquid into a bowl or pitcher, cover with a small plate that will keep the apricots submerged, then cover with a clean towel and leave at room temperature for 6 days. Strain the liqueur (I filter it twice through cheesecloth, as the apricots do disintegrate a bit) and pour it into clean, sterilized bottles or jars. Add corks or screw-tops and refrigerate for up to a month before using. The liqueur itself should be served in small glasses—I prefer it chilled—or mixed with white wine or sparkling white wine to make an apricot kir. The boozy apricots can be used as you would the cherries above or folded into lightly sweetened whipped cream to make a lovely fool.
Cherry Liqueur Recipe © 2010 Diana Henry. Photo © 2010 Jonathan Lovekin. All rights reserved. All recipes and photos used with permission of the publisher.
If you make this recipe, snap a photo and hashtag it #LeitesCulinaria. We'd love to see your creations on Instagram, Facebook, and Twitter.