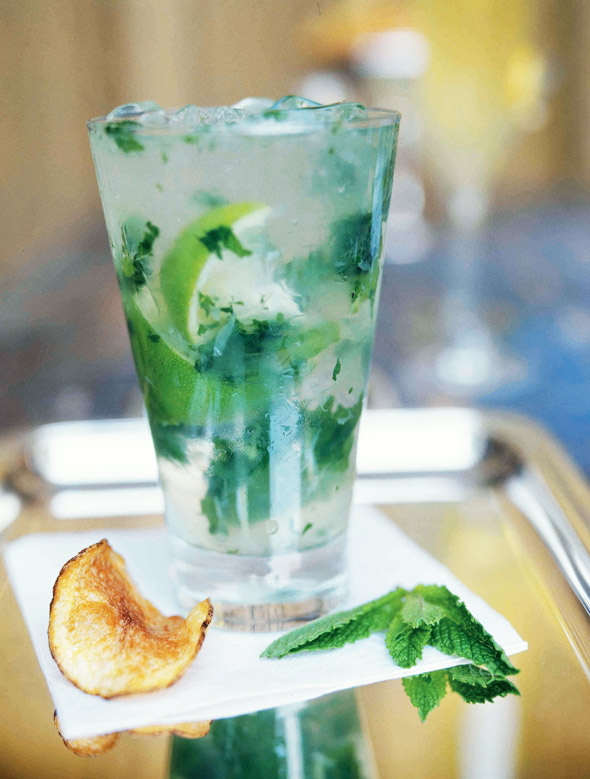 The Southside Cocktail is the house drink of New York's 21 Club, this has quite a following at the Bottega bar as well. Think of it as a gin mojito.–Frank Stitt
LC Rolling in the Deep Note
As chef Frank Stitt points out in Frank Stitt's Bottega Favorita, the inspired collection of recipes from which this Southside Cocktail recipe is taken, "rolling a drink" means to "gently pour it from the shaker into a glass in order to mix it." Sorta like "rolling in the deep"–deep into cocktail hour, anyways.
Special Equipment: Cocktail shaker
Southside Cocktail Recipe
Quick Glance
5 M
5 M

Makes 1
Ingredients
2

lime wedges

1

ounce

Simple Syrup

2

sprigs

mint

2

ounces

gin

Splash

of club soda
Directions
1. Squeeze the lime wedges into a cocktail shaker (if you're the sort who needs to measure, you should have 3/4 ounce fresh lime juice) and drop the wedges into the shaker. Add the simple syrup and mint. Muddle with a long-handled spoon to bruise the mint and extract some of the oils from the lime peel. Add the gin and enough ice to fill the shaker halfway. Cover and shake.

2. Add a big splash of soda, roll the cocktail into a highball glass, and serve.
Thirsty for more?
Sip on these:
Southside Cocktail Recipe © 2008 Frank Stitt. Photo © 2008 Christopher Hirsheimer. All rights reserved.
Hey, there. Just a reminder that all our content is copyright protected. Like a photo? Please don't use it without our written permission. Like a recipe? Kindly contact the publisher listed above for permission before you post it (that's what we did) and rewrite it in your own words. That's the law, kids. And don't forget to link back to this page, where you found it. Thanks!