This pie marries the sweet, smoky, salty, nutty flavors of Elvis's favorite sandwich in a rich, gooey, messy cream pie.
Quick Glance
45 M
2 H, 30 M
Warning: This tart is best when consumed within a few hours of emerging from the oven. We don't see this as being a problem.
Quick Glance
20 M
1 H, 30 M
Crushed graham crackers. Melted butter. Slippery fingertips pressing said ingredients into a pie plate. Brings back memories.
"If I could make only one pie in my lifetime, this would be the one." That's what folks are saying about this pie. Yep.
Quick Glance
1 H
2 H, 15 M
If you just took a look at this stunning tart and thought, "Oh, I can't do that!", think again. We suspect you can.
Quick Glance
50 M
2 H, 10 M
David reveals his pie-crimping obsession and admits he's been outcrimped by baker Libbie Summers and her 20 cool and classy pie crust tactics.
At long last, a slice of pumpkin pie is complete in and of itself—no dollop required. Pumpkin and meringue. So happy together.
Quick Glance
25 M
3 H, 15 M
Strange how such a sweetly stunning sensation can be just sugar, cream, flour, and vanilla. Couldn't be easier—or more addictive.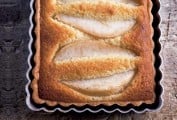 French. Foolproof. Froufrou. Fuss-free. Fenomenal. (Work with us.) Rarely does elegance come together with such ease.
Much as we love lard, we gotta say, this all-butter pie crust has a special place in our hearts—and on our thighs.
Quick Glance
35 M
2 H, 20 M
An unconventional approach to apple pie that happily involves rum and lotsa butter. We guarantee it's as memorable as the classic.
Quick Glance
45 M
4 H, 25 M
What light through yonder window breaks? It is the east, and this flaky pie crust is the sun. (That's how much we love this crust.)
Quick Glance
25 M
2 H, 45 M