This peanut butter pie recipe is easy, creamy, and worthy of being dubbed Elvis Pie thanks to the presence of peanut butter, bacon, and banana—The King's favorite sandwich fixings.
Peanut butter pie. But not just any peanut butter pie. An easy, creamy, sweet, smoky, salty, nutty peanut butter pie consisting of a crust made with crumbled peanut butter cookies and bacon (yes, bacon) that's heaped with banana pudding and then smothered with peanut butter whipped cream. As the author notes, "Elvis Presley was known for his swiveling hips, his dreamboat eyes, his smooth crooning, his ridiculous sequined jumpsuits, and his eccentric palate. One of his favorite snacks was a grilled peanut butter, banana, and bacon sandwich, which to some might sound obscene, to others obscenely delicious.This peanut butter pie recipe marries the sweet, smoky, salty, nutty flavors of Elvis's favorite sandwich in a rich, gooey, messy cream pie." Elvis Pie, anyone? Originally published June 13, 2014.–Renee Schettler Rossi
How To Make The Best Peanut Butter Cookie Crust Ever
We can't help falling in love with this peanut butter pie for several reasons—among them are two sorts of brilliance lurking in the peanut butter cookie crust. One sort of brilliance is using crushed peanut butter cookies for the pie crust in lieu of a graham cracker crust. The other moment of heartbreaking brilliance is the act of sneaking bacon (bacon!) into the cookie crust. We know what you're thinking. Yet the saltiness and smokiness and sweetness tug at one another in a way that makes our knees wobble. We think it'll do the same to you.
Peanut Butter Pie
Quick Glance
45 M
2 H, 30 M

Makes one 9-inch pie
Print Recipe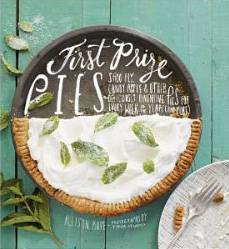 Ingredients
For the peanut butter cookie crust

4 strips bacon (optional)

1 1/2 cups peanut butter cookie crumbs (from 10 to 15 crushed peanut butter cookies, whether you like crisp peanut butter cookies or chewy peanut butter cookies)

3 to 5 tablespoons unsalted butter, melted, or bacon drippings, or a combination

For the banana filling

3 cups whole milk

2/3 cup granulated sugar

1/3 cup cornstarch

1/2 teaspoon salt

5 large egg yolks, lightly whisked together

1 teaspoon vanilla extract

4 medium-size ripe bananas

For the whipped cream topping

1 cup heavy cream

2 tablespoons confectioners' sugar

1 tablespoon creamy peanut butter

1 teaspoon vanilla extract

1/4 cup salted peanuts, chopped (optional)
Directions
Make the peanut butter cookie crust

1. Preheat the oven to 350°F (175°C).

2. If using the bacon, arrange it on a foil-lined rimmed baking sheet, slide it into the oven, and bake until it's super crisp but not burned, anywhere from 20 minutes to 50 minutes, depending on how thick the bacon is sliced. Transfer the bacon to paper towels to drain. Keep the oven on. When the bacon is cool enough to handle, toss it in a food processor and pulse until it's finely chopped.

3. Toss the cookies in the food processor along with the bacon, if using, and pulse until you've got fine crumbs. Turn the crumbs into a bowl and add the butter or bacon drippings and mix until the crumbs are the consistency of wet sand. Firmly press the mixture into a 9-inch pie plate and refrigerate the crust until firm.

4. Bake the crust for about 10 minutes. Place the pie plate on a wire rack and let cool completely.

Make the banana filling

5. Fill a large bowl halfway with ice water.

6. In a large saucepan over medium heat, whisk together the milk, granulated sugar, cornstarch, and salt. Bring the mixture to a simmer, whisking constantly, but do not let it boil. Simmer for 4 minutes. Remove the pan from the heat.

7. Whisk a ladleful of the hot milk mixture into a bowl with the lightly beaten egg yolks. Add another ladleful of milk, whisking constantly, then pour the egg mixture back into the saucepan of hot milk, still whisking constantly. Place the pan over medium-high heat and cook, whisking steadily, until the custard is thick and you see small bubbles breaking the surface, about 3 minutes.

8. Remove the pan from the heat, whisk in the vanilla, and place the pan in the ice bath. Stir the custard occasionally until it's fully cooled. (The custard can be made ahead and refrigerated for up to 1 day if covered tightly with plastic wrap. Make sure to press the plastic wrap against the surface of the custard to prevent a skin from forming.)

9. Slice the bananas—either lengthwise into elegant strips or crosswise into circles, whichever you prefer—and arrange a single layer of bananas in the pie crust. Cover them with half the pudding, then repeat the layering with the remaining banana slices and pudding.

Make the whipped cream topping

10. Using a stand mixer, a hand mixer, or a whisk, whip the cream, confectioners' sugar, peanut butter, and vanilla until stiff peaks form.

Assemble the peanut butter pie

11. Pile the whipped cream topping onto the pie filling and top it with the chopped nuts, if using. Slice and, if desired, swivel your hips just before serving or just after indulging.
Peanut Butter Pie Recipe © 2014 Allison Kave. Photo © 2014 Tina Rupp. All rights reserved. All recipes and photos used with permission of the publisher.
If you make this recipe, snap a photo and hashtag it #LeitesCulinaria. We'd love to see your creations on Instagram, Facebook, and Twitter.