This sour cream apple pie makes up half of what The One (that's short for "The One Who Brings Me Love, Joy, and Happiness") and I have dubbed "Love Food." When he and I began a'courtin', way back in ancient history, it was October, so the meals we made each other–and there weren't many in our repertoires–were autumnal. And they were the same every weekend.
He made cider-braised pork loin with sautéed apples. It was his only cooking ace up his sleeve. (Remember: This is the guy who, long before we met, made Thanksgiving turkey and forgot the carcass in his oven only to discover his gaffe when he turned on the stove Christmas morning.)
I was marvelously thin at the time and barely ate, let alone cooked, so the only rabbit I could pull out of a hat was, ironically, this sinfully indulgent sour cream apple pie.
Several times a month, all that fall and winter, that's what we made each other. Pork and apple pie.
☞ READ THE ARTICLE: LOVE FOOD
Twenty-seven years later, our cooking repertoires have mercifully expanded, along with our waistlines. (Thank ye gods for sweatpants!)
Recently, in a moment of nostalgia, I rooted around for the original recipe for this pie–I think it was from Gourmet magazine–but I couldn't find it on the shelves of cookbooks and magazines in the kitchen, the office, or the basement. So I recreated it. The verdict?
The One held out his plate for seconds. Still crazy (in love) after all these years.–David Leite
Sour Cream Apple Pie FAQs
What is the best way to cut apples for this pie?
The apples need to be thinly sliced, not in the chunks you may find in other apple pies. We recommend using a paring knife to thinly slice, or a mandoline.
Why are Granny Smith Apples the best for baking?
Granny Smith apples are naturally a bit tart, so they keep desserts from being overly sweet. They also are sturdy and hold their shape while baking, while most other apples would just turn to mush.
Who was Granny Smith?
Turns out, she was a real person! The Granny Smith Apple is named after the woman who propagated it in Australia in 1868. Her name was Maria Ann Smith… and we can only presume she was someone's sweet granny.
What's a Dutch apple pie?
A streusel-topped apple pie tends to be dubbed Dutch apple pie here in the States for reasons that vary according to whomever tells the story.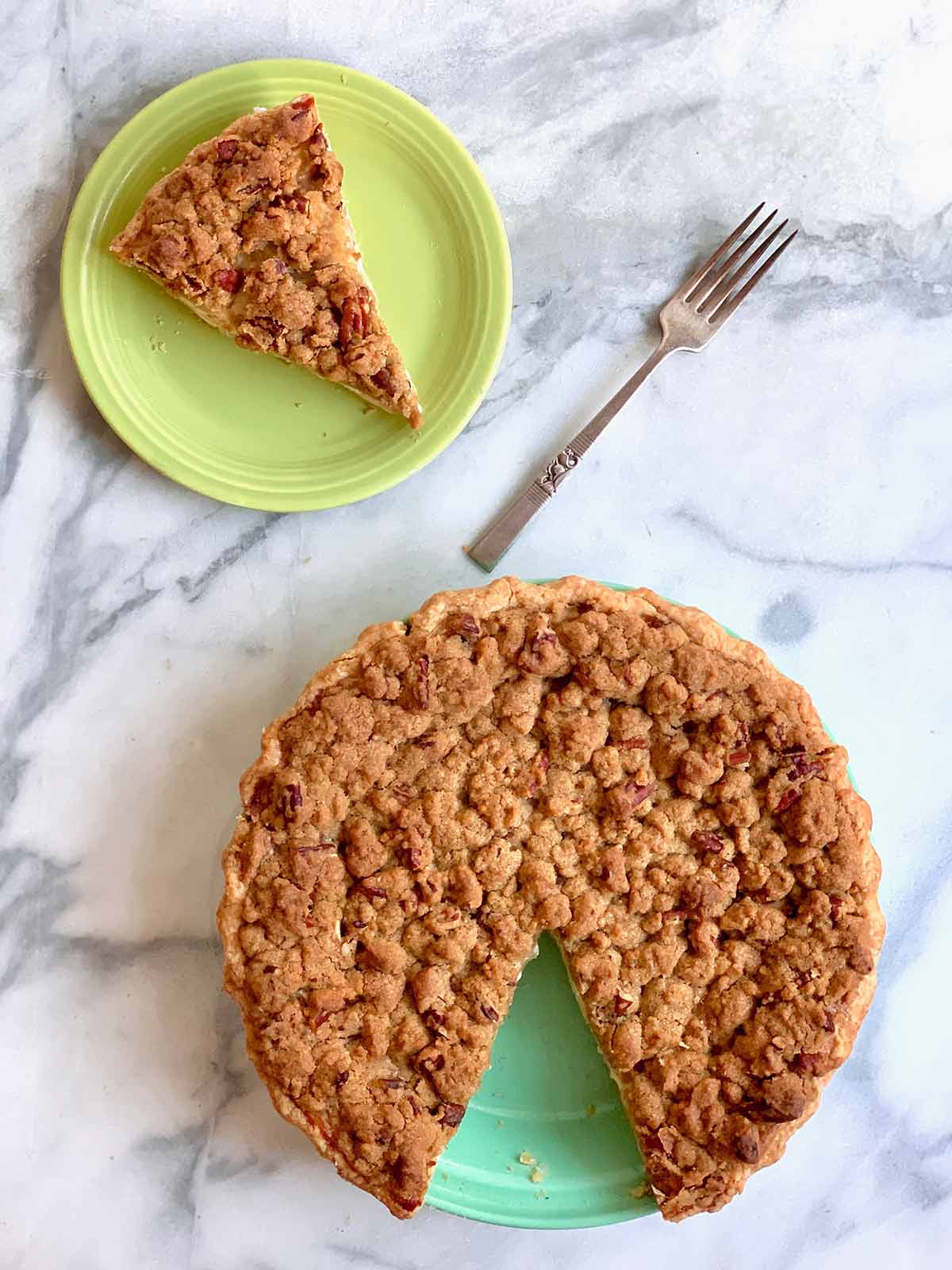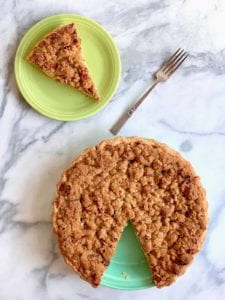 Sour Cream Apple Pie
This sour cream apple pie is filled with layers of thinly sliced apples and a sour cream filling and then the whole shebang is smothered with a buttery streusel topping. What's not to love?!
Ingredients
For the pie crust
1 1/4

cups

all-purpose flour

,

plus more for the work surface

2

tablespoons

granulated sugar

1

teaspoon

ground ginger

1/4

teaspoon

salt

1

stick

unsalted butter

,

cold, cut into 1/2 -inch (12-mm) chunks

Ice water
For the streusel topping
1

cup

all-purpose flour

2/3

cup

chopped walnuts or pecans

1

stick

unsalted butter

,

melted

1/2

cup

firmly packed dark brown sugar

1/2

teaspoon

ground cinnamon

1/2

teaspoon

salt
For the sour cream apple pie filling
1 1/3

cups

sour cream

2/3

cup

granulated sugar

2

large

eggs

3

tablespoons

all-purpose flour

2

teaspoons

vanilla extract

Grated zest of 1/2 lemon

,

preferably organic

3/4

teaspoon

ground cinnamon

1/2

teaspoon

salt

1/4

teaspoon

grated nutmeg

5

large

Granny Smith apples

,

peeled, cored, and thinly sliced
Instructions
Mix together the pie crust
In a large bowl, whisk together the flour, sugar, ginger, and salt.

Dump the butter in the bowl and, using a pastry blender or 2 knives, cut in the butter until the mixture resembles coarse meal. (Sure, you could instead blitz the ingredients in a food processor until crumbly. But why bother having to clean the blade for so little dough?)

Add 3 tablespoons ice water, toss the mixture with a fork until the water is incorporated, and continue mixing until the dough clumps. If the dough seems dry, continue adding water, 1 teaspoon at a time, until it comes together. Flatten the dough into a disc, cover with plastic wrap, and refrigerate for at least 1 hour.

Position a rack in the lowest part of the oven, slide a baking stone or a heavy baking sheet on top, and crank the temperature to 425°F (218°C). Let the oven heat for at least 30 minutes. You want that stone to be hot.
Make the streusel topping
In a small bowl stir together the flour, nuts, butter, sugar, cinnamon, and salt until well combined. Cover and stash it in the fridge until you're done rolling out the crust.
Roll out the crust
When the dough is fully chilled, roll it out to 1/8 inch (3 mm) thickness on a lightly floured surface. Draping the dough on the rolling pin, gently ease it into a deep-dish 9-inch (23-cm) pie plate, and then go wild crimping the edge. Back into the fridge it goes for at least 30 minutes.

☞ TESTER TIP: Using a heatproof glass pie plate lets you check the bottom of the pie crust for doneness without having to cut into the pie.
Make the sour cream-apple pie filling
While the crust is chilling, in a medium bowl, whisk the sour cream, sugar, eggs, flour, vanilla, zest, cinnamon, salt, and nutmeg until smooth.
Assemble and bake the apple pie
Carefully layer the apples in the pie plate, as you would a gratin, gently flattening them as you go. Slowly pour the sour-cream mixture over the apples. (Yes, it's a lot of filling. Use it all.)

Bake the pie directly on the baking stone or baking sheet, without the streusel topping, for 20 minutes.

Remove the pie from the oven and carefully crumble the streusel on top. Slide the pie back onto the baking stone, lower the temperature to 375°F (190°C), and bake until the streusel is deeply golden brown and the middle looks dry, 40 to 60 minutes more. If the topping begins browning too much, loosely cover the pie with foil.

☞ TESTER TIP: If the bottom of the pie looks a little underdone at the end of baking, set the plate directly on the hot oven floor for a few minutes to finish. (Yes, I do mean the floor of the oven.)

Transfer the pie to a wire rack to cool completely. (Completely! This baby will fall apart when warm.) Slice and serve only once it's reached room temperature. Ideally, let it rest overnight.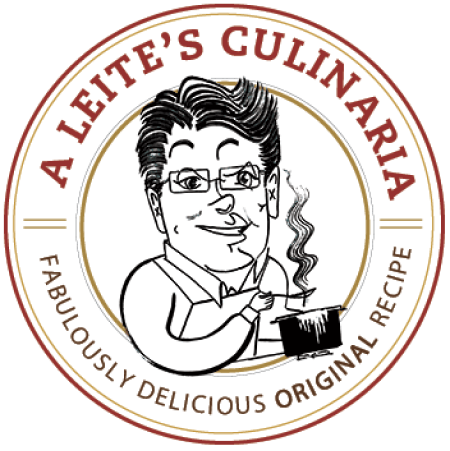 Nutrition
Serving:
1
slice
Calories:
563
kcal
Carbohydrates:
68
g
Protein:
7
g
Fat:
31
g
Saturated Fat:
16
g
Polyunsaturated Fat:
5
g
Monounsaturated Fat:
7
g
Trans Fat:
1
g
Cholesterol:
104
mg
Sodium:
322
mg
Potassium:
264
mg
Fiber:
4
g
Sugar:
39
g
Vitamin A:
872
IU
Vitamin C:
6
mg
Calcium:
73
mg
Iron:
2
mg
Nutrition information is automatically calculated, so should only be used as an approximation.
Recipe © 2019 David Leite. Photo © 2019 David Leite. All rights reserved.
---