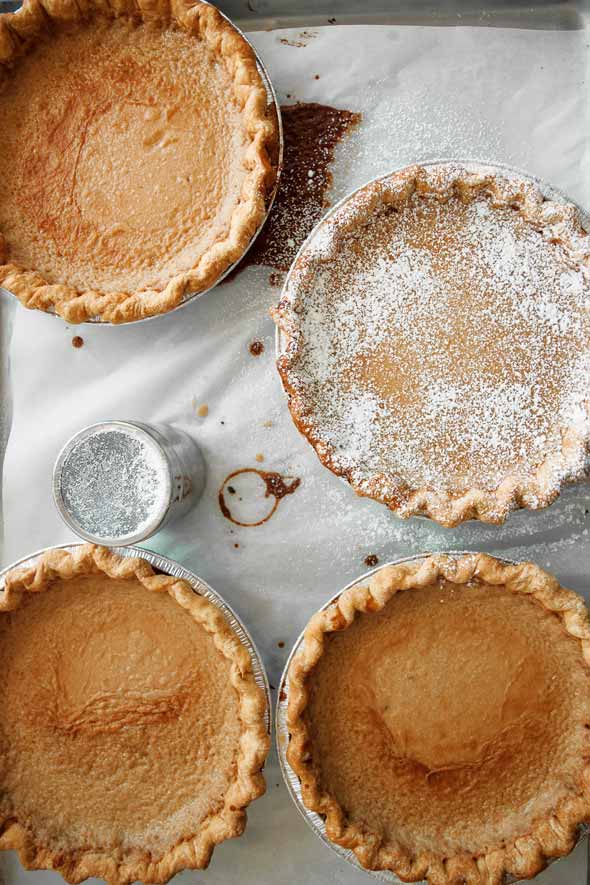 The recipe for sugar cream pie traveled across the prairie in covered wagons with the earliest settlers of the Indiana Territories. According to pie lore, it was a great favorite of pioneering farm wives who, to avoid washing utensils or a bowl, would throw the few staple ingredients in an unbaked pie shell and mix with their fingers before rushing back to their work in the fields.
At Hoosier Mama, we prebake the pie shell and use utensils, but the basic recipe—cream and sugar thickened with a little flour—remains unchanged. The flavor is wonderful—somewhere between crème brulée and melted caramel ice cream, depending on the exact recipe. Recipes are closely guarded and passed down from generation to generation, with each family claiming its recipe is best. Our recipe, somewhat controversially, calls for both white and brown sugar.
It's a homely pie by any standard and it languished in the pie case until we started handing out samples. Now it's a customer favorite.–Paula Haney
LC Crack Pie Note
Talk about the sum being exponentially more than the parts. This pie is quite, quite similar to the much ballyhooed Crack Pie sold by the much, much, much more ballyhooed Momofuku Milk Bar—part of the David Chang kingdom—in New York City. Seriously, folks. You have got to taste this pie. One bite and you'll understand the moniker.
Sugar Cream Pie
Quick Glance
20 M
5 H

Makes one 9-inch pie
Print Recipe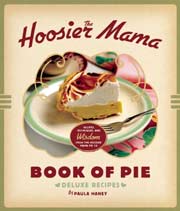 Ingredients
1 single-crust blind-baked All-Butter Pie Dough Shell

1/2 cup granulated sugar

1/2 cup dark brown sugar

2 tablespoons all-purpose flour

Pinch kosher salt

2 cups (1 pint) heavy cream

1 teaspoon vanilla extract or vanilla paste

Confectioners' sugar, for dusting
Directions
1. Preheat the oven to 400ºF (200ºC).

2. Place the pie shell on a rimmed baking sheet. Set aside.

3. Combine the granulated sugar, brown sugar, flour, and salt in a medium bowl. Mix with a whisk or your hands to break up any clumps and to combine ingredients. Gently stir in the heavy cream with a wooden spoon or spatula. Do not overmix. (Whipping the cream will prevent the pie from setting.) Stir in the vanilla extract or paste.

4. Pour the filling into the prepared pie shell and bake for 20 minutes. Rotate the pie 180° and bake for 20 to 25 more minutes, until large bubbles cover the surface. The pie will not appear to be set when it comes out of the oven.

5. Let the pie cool to room temperature, then put it in the refrigerator to chill for at least 4 hours and up to overnight. Dust with confectioners' sugar before slicing and serving. (The baked pie can be stored in the refrigerator for 3 to 5 days. Some Hoosier Mama Pie makers at the bakery like to throw leftover Sugar Cream Pie slices in the freezer and snack on them frozen.)
Sugar Cream Pie Recipe © 2013 Paula Haney. Photo © 2013 Debbie Carlos. All rights reserved. All recipes and photos used with permission of the publisher.
If you make this recipe, snap a photo and hashtag it #LeitesCulinaria. We'd love to see your creations on Instagram, Facebook, and Twitter.