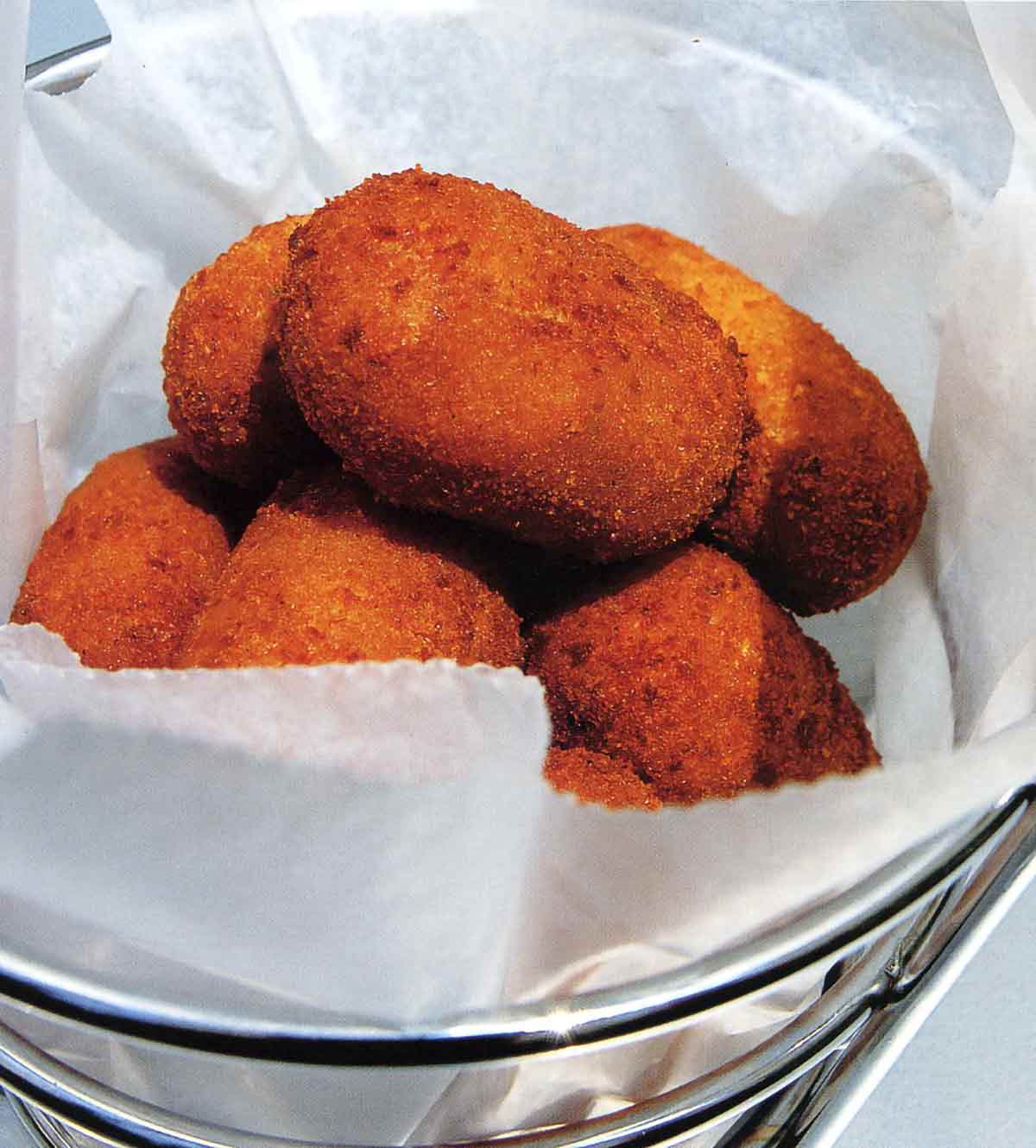 I don't know anyone in Spain who doesn't love croquetas, and they're one of those dishes that always taste better at home. But today many tapas restaurants offer a huge variety of croquetas, filling them with different mixtures. At my Jaleo restaurants, they are one of our most popular tapas, proving that good taste travels. When my daughter Carlota invited her entire class to Jaleo, it was the croquetas that her 30 classmates devoured.–José Andrés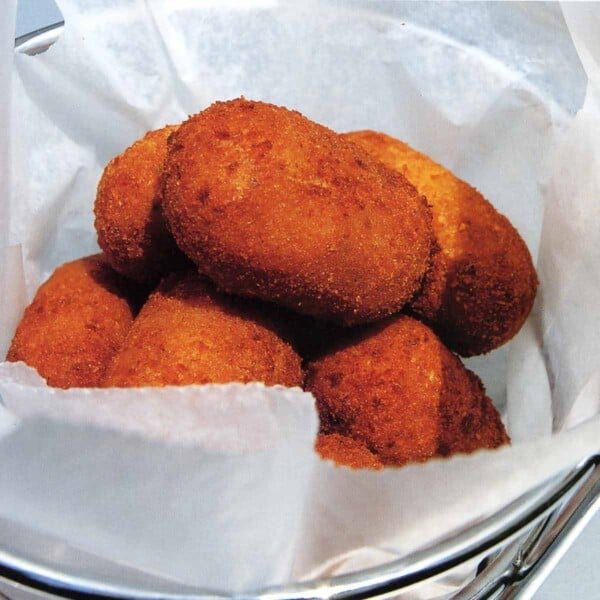 Serrano Ham and Chicken Fritters ~ Croquetas
These Spanish serrano ham and chicken fritters or croquetas, made with ham, chicken breadcrumbs, eggs, and spices, are a favorite in Spanish tapas bars. A great hors d'oeuvre, after-school snack, or nibble.
Ingredients
1

stick (4 oz)

unsalted butter

1/2

medium

Spanish onion

,

peeled and finely chopped (about 1/2 cup)

2 1/2

cups

all-purpose flour

4

cups

whole milk

1/2

cup

finely chopped jamón serrano,

(Spanish cured ham)

6

ounces

chicken

,

boiled and shredded (leftover chicken from making stock is ideal)

1/2

teaspoon

salt

1

pinch

nutmeg

2

large

eggs

,

beaten

1

cup

breadcrumbs
Instructions
Heat the butter in a medium saute pan over a medium flame. Add the onions and cook until they are translucent, 5 minutes. Add 1 1/2 cups of the flour and mix energetically. Cook until the flour is cooked through and it starts to take on a golden color, 5 to 8 minutes. Pour the milk into the flour mixture and cook, stirring continuously, for about 2 minutes, until you have a thick béchamel.

Add the ham and chicken, and sprinkle in the salt and nutmeg. Cook for another 2 minutes. You should now have a thick mixture that you can mold in your hands. Carefully pick up a bit and try to ball it with your hands. It shouldn't be too sticky. If it does stick to your hands, cook it a little longer.

Spread the mixture on a cookie sheet and let it cool to room temperature, about 25 minutes.

Take a spoonful of the cooled béchamel mixture and roll it in your hands to make a small cylinder the size of a wine cork. Roll the cylinder in the remaining 1 cup of flour, then in the eggs, and then in the breadcrumbs. Repeat with all the croquetas.

In a small, deep frying pan, heat the olive oil to 375°F (190°C) (measured with a candy thermometer). Add the croquetas in small batches, making sure they are covered completely in oil. Fry until they have a nice golden color, about 1 minute; then transfer them to paper towels to drain. Repeat with all the croquetas, and serve hot.
Notes
How do you stop croquetas from bursting?
Croquetas can burst because they contain a lot of liquid. The good thing about this recipe is it has a lower moisture content. Also, you always want to make sure the croquetas are completely submerged when frying and the oil is the correct temperature.
Can cooked croquetas be frozen?
Absolutely. When you have leftover croquetas, or are making them ahead of time for a party, let them cool completely after frying. To make sure there are no misshapen fritters, line a rimmed cookie sheet with parchment and line up the croquetas like soldiers. Let them freeze through then drop them into a freezer bag or container.
The day before you want to serve them, let them defrost on a tray in the fridge. Crank the oven to 400°F (200°C) and heat the croquetas until warmed through, about 7 to 10 minutes.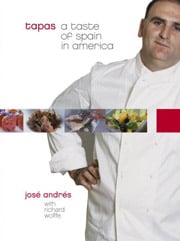 Nutrition
Serving:
1
fritter
Calories:
93
kcal
Carbohydrates:
10
g
Protein:
3
g
Fat:
4
g
Saturated Fat:
1
g
Trans Fat:
1
g
Cholesterol:
17
mg
Sodium:
93
mg
Potassium:
67
mg
Fiber:
1
g
Sugar:
2
g
Vitamin A:
63
IU
Vitamin C:
1
mg
Calcium:
39
mg
Iron:
1
mg
Nutrition information is automatically calculated, so should only be used as an approximation.
Recipe © 2005 José Andres. Photo © 2005 Frances Guillamet. All rights reserved.
---
Recipe Testers' Reviews
With this recipe, you can easily prepare this delicious snack at home, essential when we eat the famous Spanish tapas, but they are also great for a light meal or snack. The dough reaches a consistency that is easy to shape, and remains firm during frying, which is very fast, and only to give a golden color and some crunchiness.
Callie M.] These serrano ham and chicken fritters are delicious and surprisingly easy to make. The breadcrumb coating forms a satisfying crust around a tender and flavorful filling. That same coating is also so forgiving that even though my little béchamel cylinders were (to my eyes) a bit lumpy and misshapen, once they were coated and fried, they were picture-perfect.
I imagine serving these at a party, the only disappointing part being that my guests could easily assume that they were bought like that, rather than patiently rolled by my own hands. The crust retains its crunch even as they cool, and while they're obviously best hot and fresh, I wouldn't turn one down even at room temperature. I also imagine any number of variations: swapping in duxelles or leftover Thanksgiving turkey for the chicken, or adding a handful of chopped herbs or some Gruyère.
A boneheaded move on my part (getting distracted, only adding half the amount of milk) means I tested this recipe twice. The first time I used panko, but this may be the rare recipe where ordinary, fine breadcrumbs are preferable—I used them on the second batch to nice effect. I also used up all of my leftover boiled chicken on the first batch, and used chopped up chicken sandwich meat for the second. The fresher chicken was better (mostly for the added texture), but even with the sandwich meat, no one would complain. The jamón serrano does a lot of the heavy lifting, flavor-wise, so I wouldn't leave that out unless specifically cooking for someone who doesn't eat pork, but if you can't find it, prosciutto will happily step up to the plate.