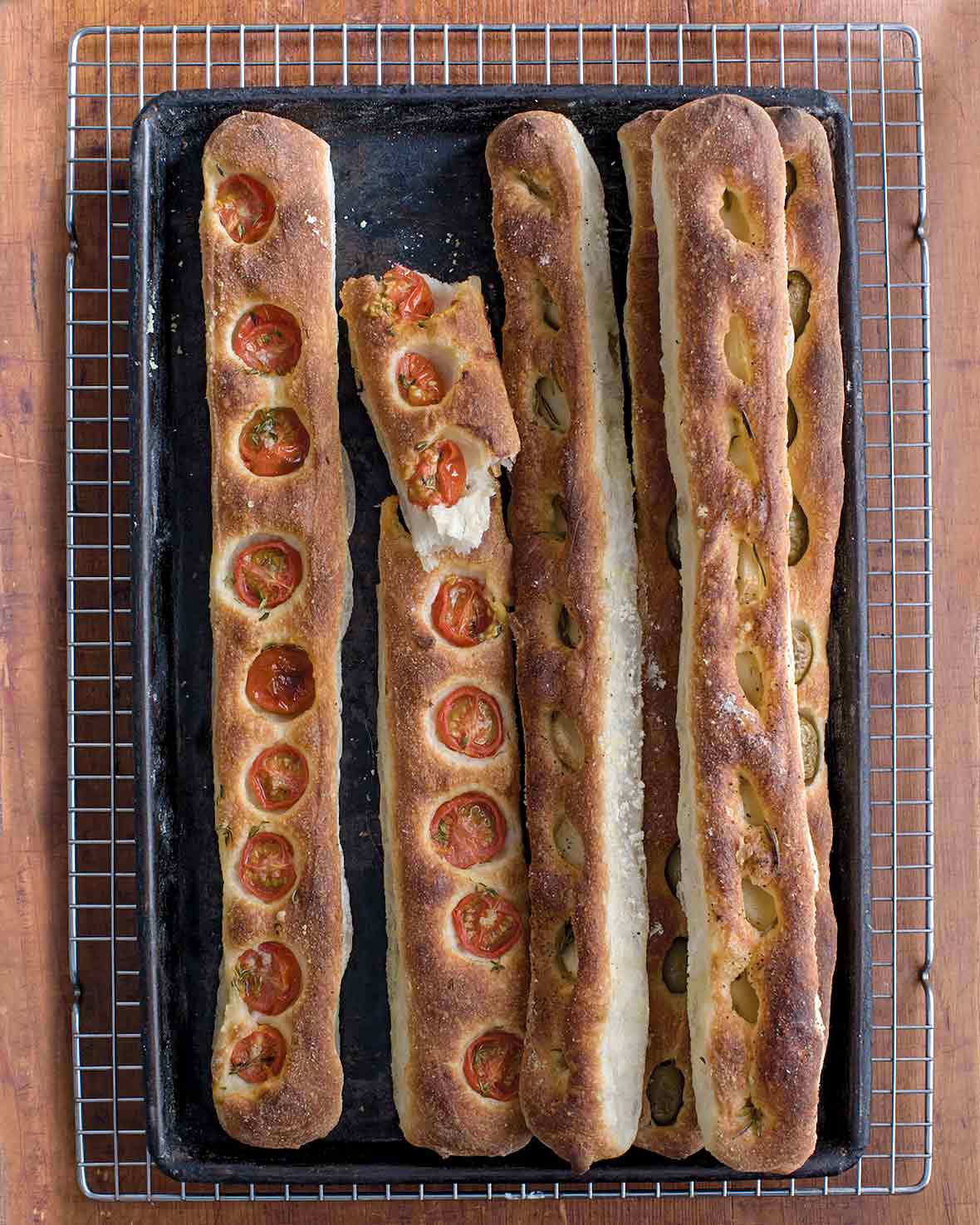 The name of this bread—stecca, or "stick" in Italian—is one I simply made up to describe it, since it has a narrow shape. It's based on the faster-rising pizza bianca dough you'll find in the pizza section and is stretched into such a narrow rope that it bakes rapidly. It is also baked on a baking sheet rather than in a pot. In this case, even though I get a good, brittle crust, it's thinner than most of the other breads in this section. Because I wanted to use it for sandwiches, I was aiming for a lighter-colored, less-assertive loaf of bread to encase the filling ingredients without overpowering them. But the olive oil glaze and coarse salt make it very flavorful on its own.–Jim Lahey
Keep Your Crust Crispy Note
The baguettes may become a bit soggy in just a few hours because of the salt on the surface. If that happens, reheat the loaves in a hot oven until crisp.
Jim Lahey's No-Knead Small Baguette
Quick Glance
20 M
45 M

Makes 4 thin stick-shaped 18-inch loaves
Ingredients
Email Grocery List
3 cups bread flour, plus more for the work surface

1/2 teaspoon salt

3/4 teaspoon sugar

1/4 teaspoon instant or other active dry yeast

1 1/2 cups cool (55 to 65°F) water

1/4 cup extra-virgin olive oil

3/4 teaspoon coarse sea salt
Directions
1. In a medium bowl, stir together the flour, table salt, sugar, and yeast. Add the water and, using a wooden spoon or your hand, mix until you have a wet, sticky dough, about 30 seconds. Cover the bowl and let sit at room temperature until the surface is dotted with bubbles and the dough is more than doubled in size, 12 to 18 hours.

2. When the first rise is complete, generously dust a work surface with flour. Use a bowl scraper or rubber spatula to scrape the dough out of the bowl in one piece. Fold the dough over itself two or three times and gently shape it into a somewhat flattened ball. Brush the surface of the dough with some of the olive oil and sprinkle with 1/4 teaspoon of the coarse salt (which will gradually dissolve on the surface).

3. Place a tea towel on your work surface and generously dust it with wheat bran, cornmeal, or flour. Gently place the dough on the towel, seam side down. If the dough is tacky, dust the top lightly with wheat bran, cornmeal, or flour. Fold the ends of the tea towel loosely over the dough to cover it and place in a warm, draft-free spot to rise for 1 to 2 hours. The dough is ready when it is almost doubled. If you gently poke it with your finger, it should hold the impression. If it springs back, let it rise for another 15 minutes.

4. Half an hour before the end of the second rise, preheat the oven to 500°F (260°C), with a rack in the center. Oil a 13-by-18-by-1-inch baking sheet.

5. Cut the dough into quarters. Gently stretch each piece evenly into a stick shape approximately the length of the pan. Place on the pan, leaving at least 1 inch between the loaves. Brush with olive oil and sprinkle with the remaining 1/2 teaspoon coarse salt.

6. Bake the baguettes for 15 to 25 minutes, until the crust is golden brown. Cool on the pan for 5 minutes, then use a spatula to transfer the stecca to a rack to cool thoroughly.
Baguettes with Tomatoes, Olives, or Garlic Variation
Push 10 cherry tomato halves, cut side up, 10 large pitted olives, or 10 lightly crushed garlic cloves into each formed stecca, taking care to space the additions evenly down the length of the dough. Brush each stecca with enough olive oil to create a thin coat of oil on the surface. For the tomato stecca, top each tomato half with a very thin slice of garlic and a couple of fresh thyme leaves, and sprinkle with salt. Sprinkle the garlic stecca with salt and freshly ground black pepper. Do not salt the olive stecca—it's already salty from the olives.
Recipe Testers Reviews
I could not stop eating these baguettes! They combine the flavor of a focaccia with the texture of a baguette and are dangerously easy to make. We ate most of the batch just plain, no toppings or fillings, this bread can really stand alone. The tomato variation is really cute looking, but if you are not too concerned about presentation, just olive oil and rock salt is the best tasting. Note: Keep an eye on them during the last few minutes of baking because the tips can get burnt very quickly.
Wow! What a baguette. We had it plain, and brushed with olive oil and coarse salt. The recipe is very easy to follow, and even beginners can try it to feel the joy having a real, fresh baguette at home. I only had two issues with the recipe: First, you need an excellent memory, since you have to begin about 20 hours before serving time. Second, I suggest doubling the recipe if you're serving 6 or more. Most of it was eaten in the kitchen before dinner. Even our guest, who seems to be on an eternal low-carb diet, couldn't resist it.
Jim Lahey's No-Knead Small Baguette Recipe © 2009 Jim Lahey. Photo © 2009 Squire Fox. All rights reserved. All materials used with permission.
If you make this recipe, snap a photo and hashtag it #LeitesCulinaria. We'd love to see your creations on Instagram, Facebook, and Twitter.