This Hershey's chocolate cake recipe with frosting is an old-fashioned classic American dessert that will never, ever disappoint. Simple and simply the best.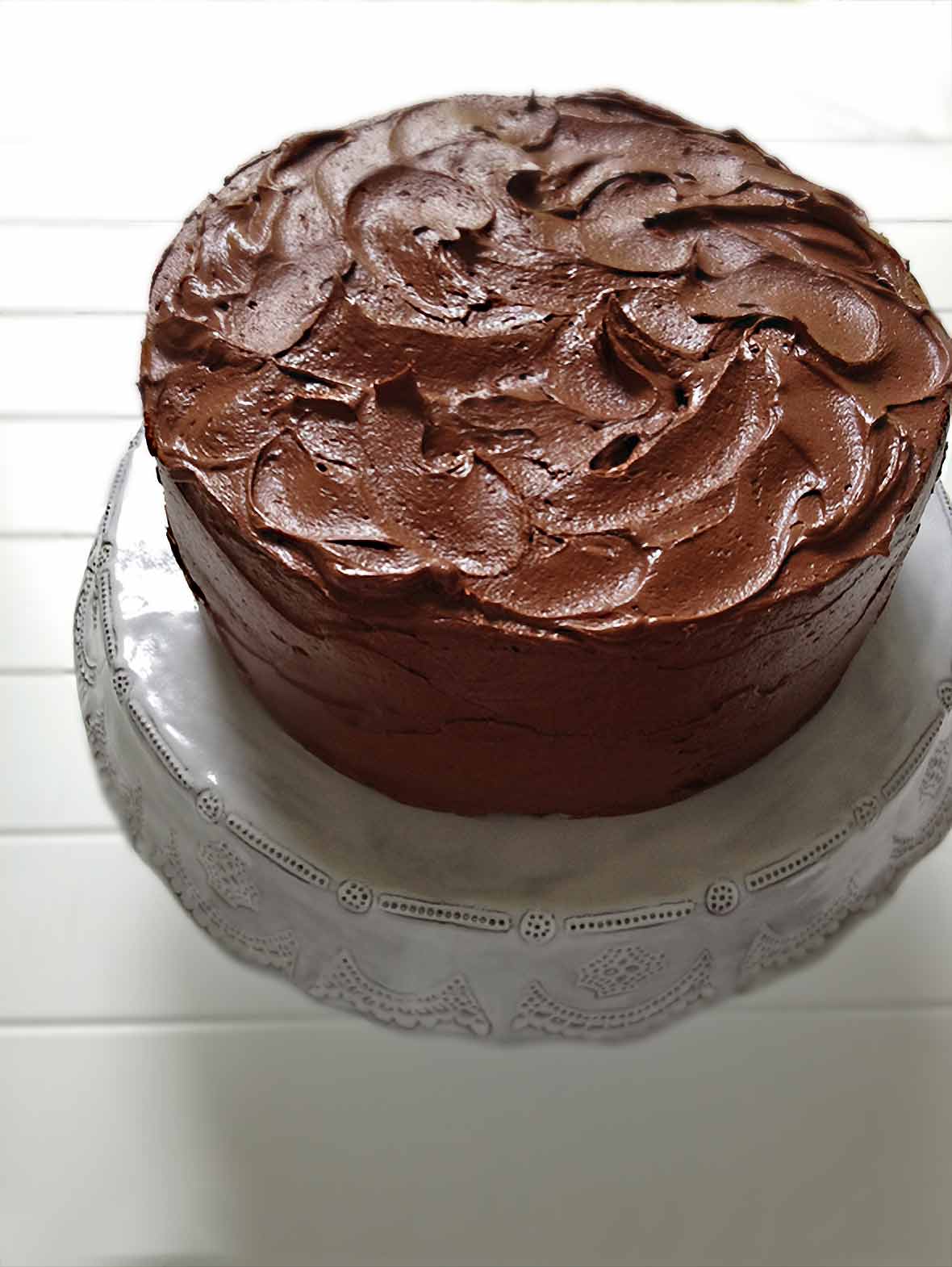 This Hershey's chocolate cake needs no introduction, as it's been around for almost a century. If you've never made it, you're in for an old-fashioned treat. And if you've never made it with my wee spin on it, you're in for an even greater treat. All I've done is toss in some instant espresso powder to the batter and the frosting. It amps up the flavor. And because I wanted a frosting that was more buttery and less cloyingly sweet, I use a greater proportion of butter to sugar, which makes the frosting soooo light–nothing at all like the cloying, gritty American buttercreams out there. That's it. I don't like to mess (too much) with perfection. Originally posted February 8, 2013.–David Leite
☞ READ DAVID'S ARTICLE: Forever and Completely, in which he explains that few things in life are truly forever and completely, save for his adoration for this chocolate cake and his partner of umpteen years. We consider your comments about this article, found beneath the recipe below, to be a testament to how intermingled food and love are for all of us.
Hershey's Chocolate Cake Redux
Quick Glance
20 M
55 M

Serves 10 to 12
Ingredients
Email Grocery List
For the Hershey's chocolate cake

Butter, for the pans

2 cups granulated sugar

1 3/4 cups all-purpose flour, plus more for the pans

3/4 cup Hershey's Cocoa

2 tablespoons instant espresso

1 1/2 teaspoons baking powder

1 1/2 teaspoons baking soda

1 teaspoon salt

2 large eggs

1 cup whole milk

1/2 cup mild vegetable oil

2 teaspoons vanilla extract

1 cup boiling water

For the Hershey's chocolate frosting

2 sticks unsalted butter (8 oz), melted

1 1/3 cups Hershey's Cocoa

2 teaspoons instant espresso

3 1/3 cups confectioners' sugar

2/3 cup whole milk

1 1/2 teaspoons vanilla extract
Directions
Make the Hershey's chocolate cake

1. Crank your oven to 350°F (180°C) and position a rack in the middle of the oven. Generously butter and flour two 9-inch round baking pans, tapping out any excess flour.

2. In a large bowl with a wooden spoon (surely you have one of those, yes?), stir together the granulated sugar, flour, cocoa, espresso powder, baking powder, baking soda, and salt. Make a well in the center.

3. Plop the eggs into the well and pour in the milk, oil, and vanilla. Using a handheld electric mixer (c'mon, surely you still have one of those, too?!), beat the ingredients on medium speed for 2 minutes.

4. Stir in the boiling water. The batter will appear alarmingly thin but fear not, that's the way it should be. Pour the batter into the prepared pans, dividing it evenly.

5. Bake the cakes for 30 to 35 minutes, until a toothpick or cake tester inserted in the center of each cake comes out clean.

6. Cool the cakes in the pans on a wire rack for 10 minutes. Then invert the cakes onto the rack, remove the pans, turn the cakes right side up, and let them cool completely.

Make the Hershey's chocolate frosting

7. In a bowl, stir together the butter, cocoa, and espresso powder.

8. Add some of the confectioners' sugar and then add some of the milk to the butter mixture, beating with a handheld electric mixer (see how handy it can be?!) after each addition. Continue to add the rest of the sugar and milk, alternating them, and beat until you achieve a thick but spreadable consistency.

9. If a thinner frosting is desired, add more milk, a little at a time, until you've achieved your ideal texture. Stir in the vanilla.

Frost and serve the Hershey's chocolate cake

10. Place a single cake layer on a platter or cake stand and spread a goodly amount of frosting on top. Place the second cake layer on the first and frost the sides and top, creating as few or as many lavish swoops and swirls with the frosting as desired.

11. Cut the chocolate cake into gargantuan wedges—none of those diminutive slivers for us, thank you very much—and serve.
Tower of Chocolate Cake Variation
For a more elegant take on this cake, make a double batch of frosting, slice each layer in half horizontally, fill, and frost. You'll end up with a towering cake with four layers. Pull out the linen napkins.
Recipe Testers Reviews
Hershey's Chocolate Cake Redux Recipe © David Leite. Photo © 2013 David Leite. All rights reserved. All materials used with permission.
If you make this recipe, snap a photo and hashtag it #LeitesCulinaria. We'd love to see your creations on Instagram, Facebook, and Twitter.