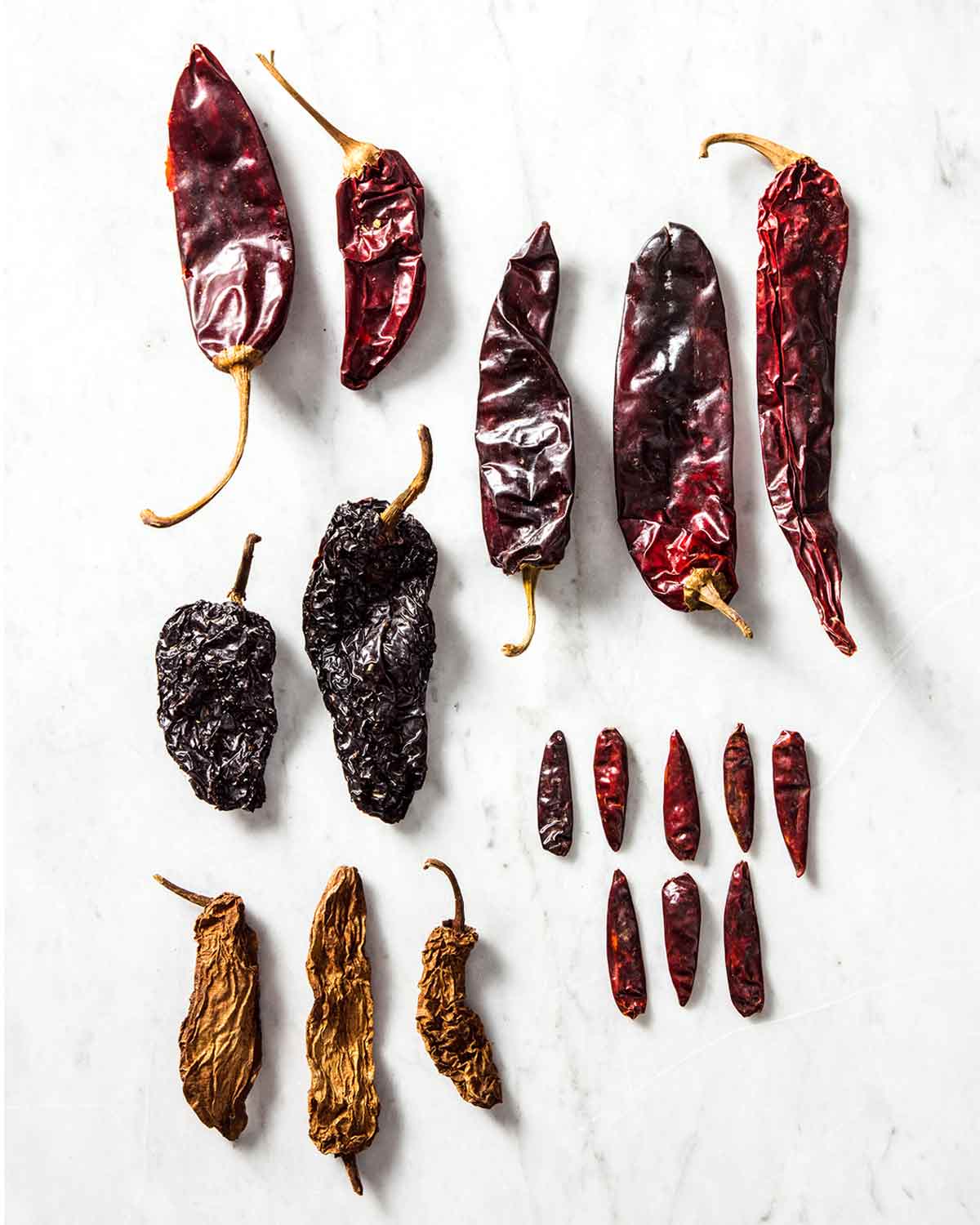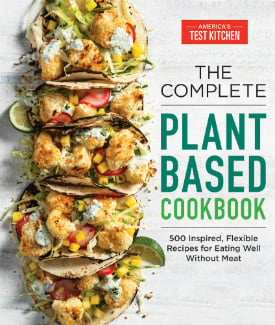 Ever wonder, when you can't get your hands on the particular dried chile pepper a recipe demands, which other chiles you can substitute? Or perhaps you're curious as to what exactly you'd miss out on by not using that particular pepper? Here, a cheat sheet from the folks at America's Test Kitchen in their recently released The Complete Plant-Based Cookbook, which captures a handful of the flavors and uses for some of the most exquisitely dried peppers we experience in chile cookery. And yes, it includes those suggested substitutions that have you wondering. —LC Editors
Guajillos

Guajillos are mild to medium-hot with a fruity flavor and subtle natural smokiness. Substitute anchos or pasillas.
Heat: *
LC Note:
The mild yet flavor intense chile is lovely in these red chile pork tamales.
Anchos

Anchos are mild to medium-hot. These dried poblanos have deep, earthy flavors that evoke chocolate, coffee, raisins, and licorice. Substitute mulatos or pasillas.
Heat: *
LC Note:
The rich earthiness lends itself to many sorts of recipes. Ancho short rib tacos. Ancho pork and potato tacos. Even ancho chile soup.
Chipotles

Chipotles are medium-hot. These dried, smoked ­jalapeños have charred wood, tobacco, and barbecue ­flavors ­balanced by subtle sweetness. Substitute anchos. Chipotles are also available canned in tangy red adobo sauce.
Heat:**
LC Note:
We have a chipotle maple barbecue sauce that perfectly illustrates that balance of heat and subtle sweet mentioned above. And you can also easily find dried chipotle chile powder which is magnificent in spice-rubbed grilled pork chops and chicken and steak, oh my. We even show you how to make your own adobo sauce.
New Mexican chiles

New Mexican chiles are medium-hot, with a sweet, earthy flavor reminiscent of roasted red peppers, tomatoes, and cherries. Substitute guajillos or cascabels.
Heat: **
Calabrian peperoncini

Calabrian peperoncini are hot, tiny, and a bit smoky, with a mildly fruity flavor. They are available as flakes and whole. Arbol chiles are a better substitute than regular crushed red pepper flakes.
Heat: ***
© 2021 America's Test Kitchen. Photos ©
America's Test Kitchen
. All rights reserved. All materials used with permission.