Adobo sauce is probably best known for being the sweetly earthy sauce that bathes chipotle peppers in a can, although it has a ridiculous number of other uses. It's an authentic Mexican pantry staple from Rick Bayless which has no substitute. Here's how to make it at home.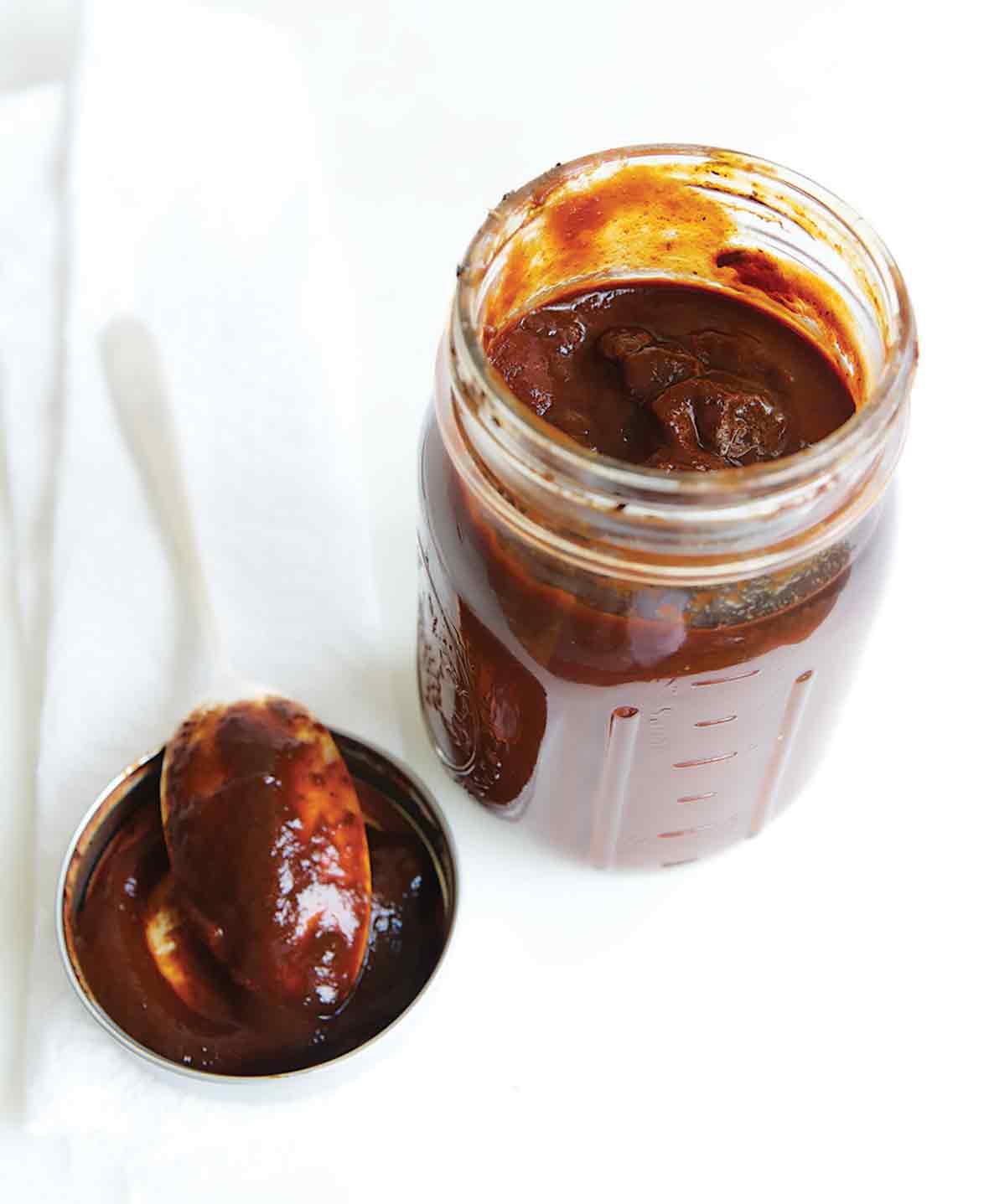 Adobo sauce is one of countless authentic Mexican sauces made from dried chile peppers that boasts an impossibly rich taste and velvety texture but not a lot of mouth-tingling heat. The trick to making adobo at home is that it typically requires dried ancho chile peppers, which are easy to find yet require a little more effort than many time-challenged home cooks are willing to dedicate to the cause. Which is why Rick Bayless concocted this riff that relies on pure ancho powder rather than dried ancho chiles in pepper form. What are you waiting for?–Renee Schettler Rossi
How to Use Adobo Sauce
We're all probably most familiar with adobo sauce as the sweetly earthy sauce that bathes canned chipotle peppers. But it as far, far more uses than that.
Use it as a marinade for fish, scallops, shrimp, chicken or pork destined for the grill or skillet.
Stir a little into rice as it cooks.
Mix with ground pork for a quick substitute for Mexican chorizo.
Add to pretty much any brothy soup for depth and interest.
Season sautéed greens or potatoes.
Use in a simple vinaigrette to drizzle over a salad.
Adobo Sauce
Quick Glance
15 M
15 M

Makes about 1 1/4 cups
Print Recipe
Ingredients
Scant 1/2 cup (2 ounces/57 grams) ancho chile powder*

1 1/4 cups (296 ml) water

8 garlic cloves (about 25 grams), peeled

1/2 teaspoon (1 gram) ground cinnamon, preferably Mexican canela

1/4 teaspoon (0.6 grams) ground black pepper

1/8 teaspoon (0.3 grams) ground cumin

1 teaspoon (2 grams) dried oregano, preferably Mexican

3 tablespoons (45 ml) apple cider vinegar

1 1/2 teaspoons (9 grams) kosher salt
Directions
1. Scoop the chile powder into a blender or small food processor. In a medium saucepan, bring the water to a boil. Pour the hot water over the chile powder, loosely cover the blender or secure the top of the processor, and pulse to create a smooth slurry. Let cool.

2. If you prefer a straightforward and quick adobo, toss the peeled garlic cloves in a microwavable bowl, add enough water to cover, and microwave on 100% for 1 minute. Drain. If you prefer a sweeter, toastier flavor to your adobo, toss the garlic cloves, still in their papery skins, in a dry skillet and place over medium heat, turning them regularly until they turn soft and blotchy black, about 15 minutes. Let cool and then remove and discard the papery skins.

3. Toss the garlic in the blender along with the cinnamon, pepper, cumin, oregano, vinegar, and salt and process until a smooth purée forms. If necessary, stir in some water, a splash at a time, until the adobo is the consistency of barbecue sauce. Transfer the adobo to a pint jar, screw on the lid, and store in the refrigerator for up to a couple months.
*How to Make Adobo Sauce with Whole Dried Ancho Chiles
If you prefer to work with whole dried ancho chiles rather than ancho powder, simply remove the stems and seeds from 4 medium dried ancho chiles and toast them in a dry skillet over medium heat for a minute or so, until very aromatic. Transfer to a plate to cool and then tear the chiles into small pieces, scoop into a blender, and proceed with the recipe, blending the dried chiles instead of the chile powder with the boiling water as directed and then adding the remaining ingredients.
Adobo Sauce Recipe © 2015 Rick Bayless. Photo © 2015 Christopher Hirsheimer. All rights reserved. All recipes and photos used with permission of the publisher.
If you make this recipe, snap a photo and hashtag it #LeitesCulinaria. We'd love to see your creations on Instagram, Facebook, and Twitter.