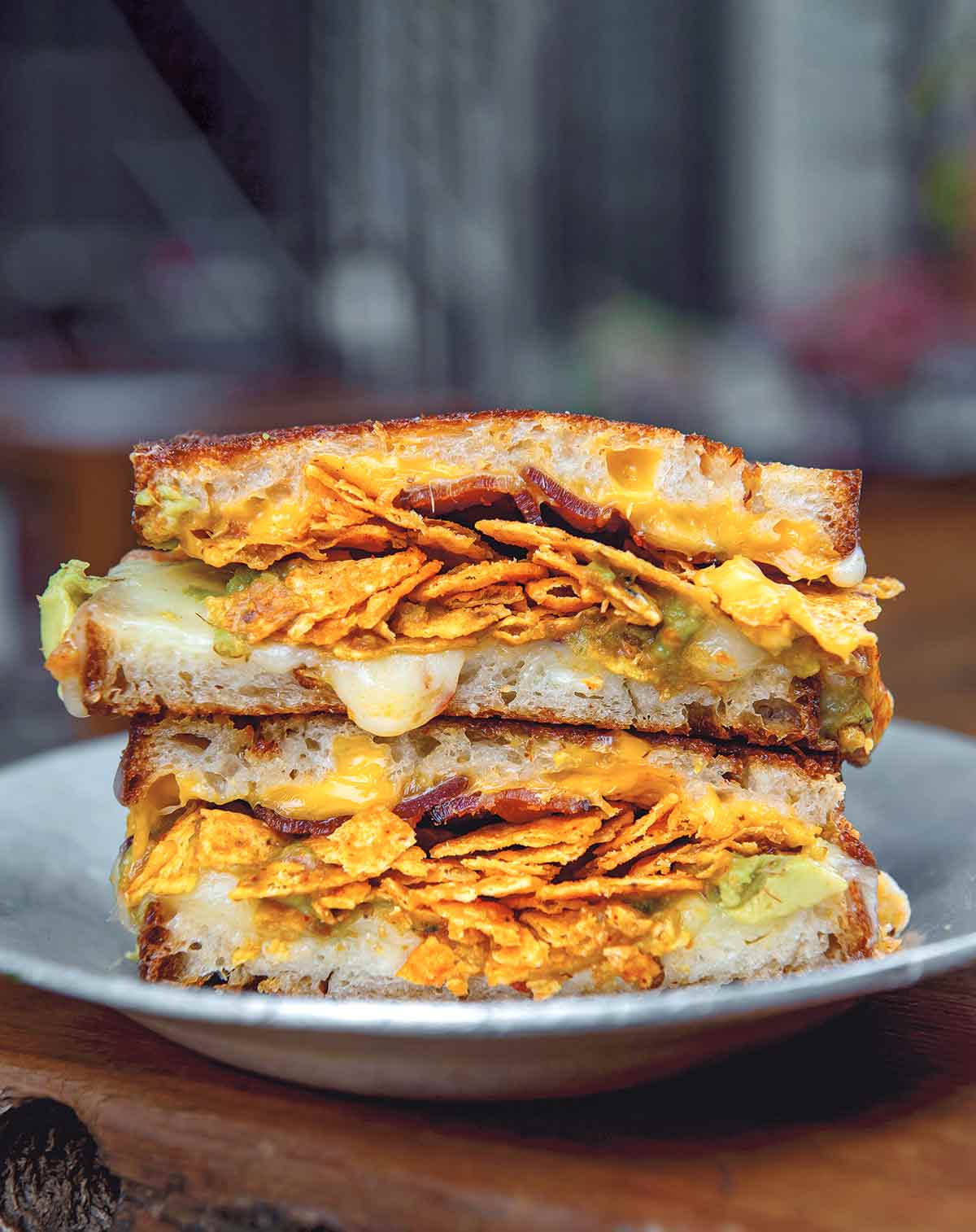 Since opening in 2012, Harlem Public has been a staple in the Hamilton Heights neighborhood of Manhattan. The menu has so many unique and DEVOUR-worthy dishes, but this Loaded Doritos® Grilled Cheese–an amped-up version of the classic grilled cheese–is definitely one of our favorites.
Chef Chad Vigneulle says the recipe was inspired by the potato chip–topped sandwiches he loved as a kid. "A lot of people think it was just some stoner dish I came up with, but honestly, there was a lot more thought put into it than that," he says. A plain old grilled cheese just won't cut it after you've experienced this masterpiece.–Greg Remmey
Grilled Cheese with Doritos on Sourdough
This over-the-top grilled cheese sandwich is filled with four kinds of cheese, bacon, avocado, and cheesy nacho chips.
Ingredients
1

tablespoon

brown sugar

Pinch

of garlic powder

Pinch

of onion powder

Pinch

of crushed red pepper flakes

3

slices

thick-cut bacon

1

ripe avocado

,

halved and pitted

2

tablespoons

store-bought or homemade pico de gallo

Kosher salt

Freshly ground black pepper

2

thick slices high-quality sourdough bread

2

tablespoons (1 oz)

unsalted butter, softened

2

slices

sharp Cheddar cheese

2

slices

pepper Jack cheese

2

slices

Swiss cheese

2

slices

American cheese

10

Doritos Nacho Cheese flavored tortilla chips
Instructions
Preheat the oven to 350°F (175°C). Line a rimmed baking sheet with parchment paper.

In a small bowl, combine the brown sugar, garlic powder, onion powder, and red pepper flakes. Arrange the bacon on the baking sheet. Evenly coat the tops of the slices with all of the sugar and spice mixture, making sure to press it into the meat. Bake until crispy, 25 to 30 minutes.

While the bacon is cooking, use a spoon to scoop the flesh from the skins of the avocado and place it in a medium bowl. Add the pico de gallo and mash with a fork to break up the avocado and combine the ingredients. Add salt and pepper to taste. Cover and refrigerate until needed.

Place a skillet large enough to accommodate both slices of bread over medium heat. Generously coat one side of each slice of bread with butter, place butter side down in the skillet. Add 1 slice each of Cheddar, pepper Jack, Swiss, and American cheese to each slice of bread.

Add all of the bacon to 1 slice of bread. Cook until the bread turns golden brown on the bottom and the cheese melts, 5 to 7 minutes.

Move both slices of bread to a cutting board. Spread all of the guacamole onto the slice of bread without the bacon. Generously top both slices with Doritos chips.

Combine the slices to form a sandwich. Smash the sandwich a little to break up the chips, cut it in half and devour.
Nutrition
Serving:
1
serving
Calories:
1783
kcal
Carbohydrates:
125
g
Protein:
65
g
Fat:
118
g
Saturated Fat:
53
g
Polyunsaturated Fat:
12
g
Monounsaturated Fat:
45
g
Trans Fat:
2
g
Cholesterol:
233
mg
Sodium:
2590
mg
Potassium:
1504
mg
Fiber:
18
g
Sugar:
21
g
Vitamin A:
2508
IU
Vitamin C:
22
mg
Calcium:
1408
mg
Iron:
7
mg
Nutrition information is automatically calculated, so should only be used as an approximation.
Recipe © 2021 Greg Remmey | Rebecca West-Remmey. Photo © 2021 Ken Goodman. All rights reserved.
---
Recipe Testers' Reviews
This Doritos grilled cheese sandwich recipe drew my eye because I love grilled cheese. I had to laugh when I read through the recipe because my thoughts were that someone had to be loaded late at night when they came up with the recipe.
I used light brown sugar on the bacon portion of the recipe. I make candied bacon a lot during football season (it's a family favorite), and this blend was delicious. I usually only use brown sugar, but I really loved the addition of garlic powder, onion powder, and red pepper flakes. I'll do this next time I make candied bacon whether or not it's for this recipe.
The timing on baking the bacon was slightly off for my oven. It took about 30 minutes in my oven, rotating it once during the bake.
I melted my butter to about the halfway point of being melted, stirred it until it became soft, and spread the butter on my sourdough bread with a full coating with a pastry brush.
It did take about 5 minutes for the first sandwich to become golden brown. I went ahead and built the sandwich adding the bacon, avocado spread, and Doritos in the skillet before turning the other piece of the bread over the top before taking it out of the pan with a spatula. There was enough cheese on either side of the bread to keep most of the Doritos from falling out of the sandwich.
I cut this in half. Because the sandwich was so big, I didn't serve any sides with it. With some trepidation of the calories, I ate the whole sandwich. My husband, who was a big eater, loved it so much, he ate two!
The combination of the smoky, sweet bacon, all the lovely cheese and the Doritos adding a nice crunch was unbelievably satisfying. I was overfull after eating it though, I could have gotten by with half and been satisfied. I'll make this recipe again, maybe on a cold winter's day.
I wasn't sure quite what to expect with this nacho grilled cheese sandwich, which looked appealing in a decadent junk food kind of way, but I was too curious not to find out. Discovery: the recipe delivered on that decadent promise of excess. Lots of fat and carbs laced with a little spiciness. What's not to love?
From the photo, I was wondering if I'd be able to get my jaw around the whole sandwich, but it smooshed down like a fairly normal grilled cheese and did, in fact, fit in my mouth. It was very filling, however, and I could only finish half of it.
Given that the guacamole and chips are already on the sandwich, storing leftovers is a little problematic. For lighter eaters, assembling and cutting the sandwich first and then layering guacamole and chips only on one half of it at a time might get around this problem. Otherwise, unless you have a big appetite, this is a sandwich for sharing.
I wrapped the remaining half in foil, planning to reheat it, but then remembered I don't like heated avocado. Instead, I went with eating it cold straight from the refrigerator, and that was a solid choice. Cold, this sandwich has a definite cold pizza for breakfast vibe. It was good!
The quality of the guacamole and chips degraded some by the next day—the chips basically melted down and the guacamole was discolored—but the sandwich was still satisfying.