Our best sheet pan dinners is an any-night savior for the harried and hungry. Don't bother questioning the science–sheet pan food just tastes better, it always does. We've got chicken, pizza, beef skewers, chickpeas, wings, and even tacos.
This sheet pan taco bake has seasoned ground beef, onions, tomatoes, cilantro, and Cheddar and Monterey Jack cheeses enveloped in tortillas and baked until crunchy and golden. Great party food for feeding a crowd.
Recipe
I love the huge flavor you get from roasting the cherry tomatoes, and how the heat of the oven mellows out the red onion, making this effortless sheet pan salmon a superb dinner.
Recipe
Sheet pan chicken with apples, bacon, and Brussels sprouts with an autumn-ish union of root vegetables, sweet apples, and smoky bacon, is certainly not for autumn only. It's a year-round staple in our household, and we really unlocked the sheet pan chicken secret when, one night, we added pomegranate molasses to the mix for a burst of sweetness and acidity. This turned out to be a very good decision.
Recipe
Going keto doesn't mean that you have to give up American traditional dishes—with a little creativity most of your favorite foods can be adapted. A base of sliced zucchini and tomatoes, topped with lots of melted cheese and marinara makes a suitable sub for pizza.
Recipe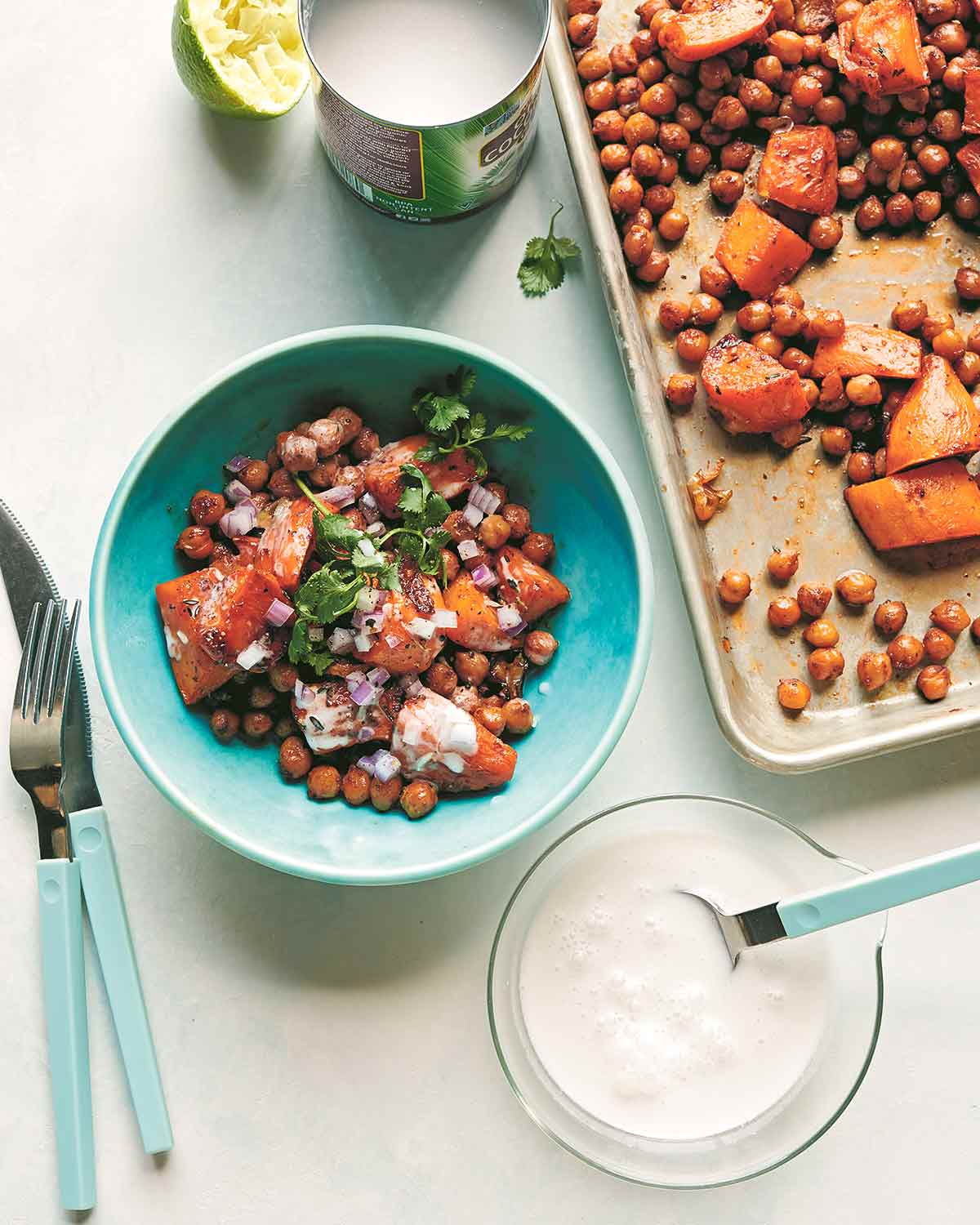 These roasted sweet potatoes and chickpeas are cooked on a sheet pan until tender and tossed in coconut milk and lime dressing. An easy dinner
Recipe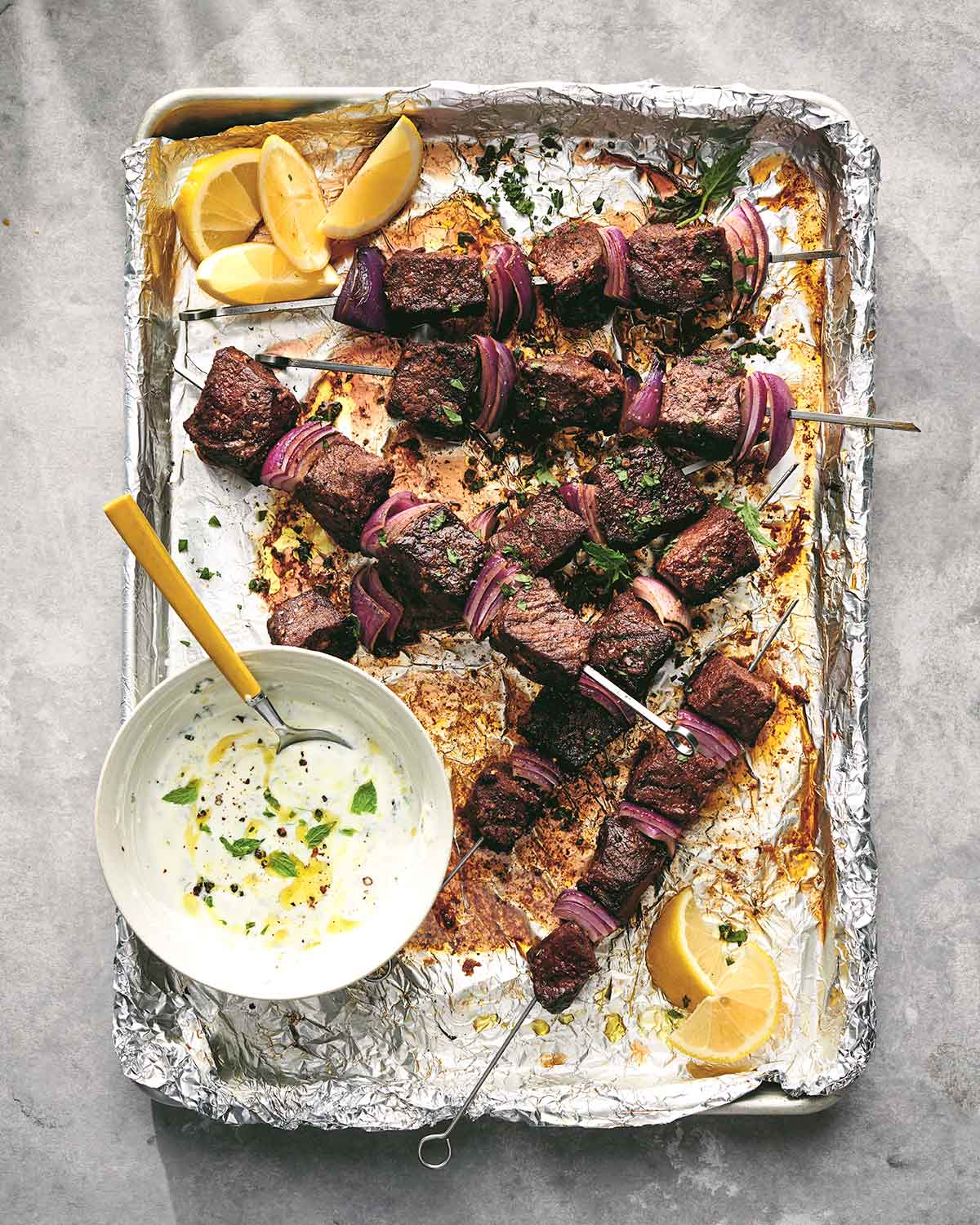 These sheet pan beef skewers are a quick and easy meal from Melissa Clark. Beef sirloin is marinated in oil, garlic, and fragrant spices, skewered and quickly broiled, and served with a cilantro and mint yogurt sauce.
Recipe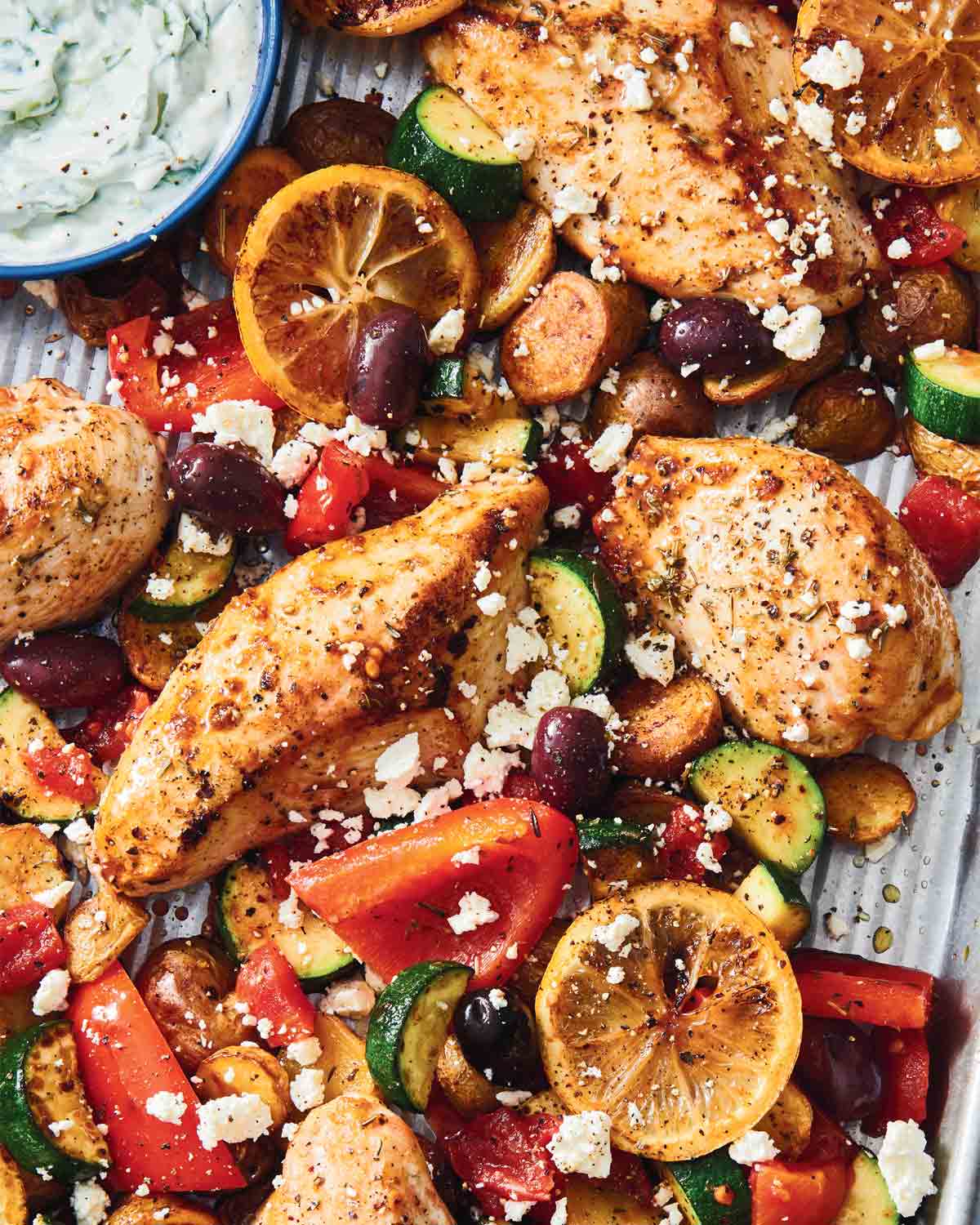 This Greek-style sheet pan chicken is an easy, healthy meal of spice-rubbed roasted vegetables and boneless chicken breasts served alongside a cooling homemade tzatziki sauce.
Recipe
These sheet pan sausage, peppers, and onions are a quick and easy one-pan weeknight meal. Just like what you'd get at the ballpark, but from the comfort of your home. Pork sausage, bell peppers, and onions all cooked with ease in no time. Beer, please.
Recipe
This sheet pan roast chicken with za'atar is an easy meal of tender, marinated chicken that's roasted on a bed of onion, garlic, and lemon slices. The result? A sum of SO much more than its parts.
Recipe
This roast pork loin with apples and onions boasts a rustic loveliness from a garlic, thyme, and fennel seed rub and a caramelized sweetness from the side that's roasted at the same time. And it's about to become your new favorite one-pan dinner.
Recipe
This sheet pan chickpea curry is a weeknight wonder. Full of flavors and healthy ingredients like garbanzo beans, cauliflower, eggplant, and tomatoes, it's a hearty vegetarian dinner.
Recipe
These chipotle chicken wings, which are coated in a spicy chipotle, brown sugar, and paprika rub, are served with sweet potato wedges for a fun and easy sheet pan dinner.
Recipe
This pepperoni pan pizza is made with a simple yet superlative from-scratch tomato sauce, two types of mozzarella, Parmesan cheese, pepperoni, and either store-bought or homemade dough. Lavished with everyone's favorite topping and three types of cheese, this thick-crusted beauty means you can delete your closest pizza delivery place from your contacts and forget you ever craved anything else.
Recipe
© 2021 Leite's Culinaria. All rights reserved. All materials used with permission.