Most pot roast recipes recommend that you strain the vegetables to make the sauce, which makes it too thin for my taste. If you don't strain the vegetables, though, the sauce is too chunky. I got the best of both worlds by puréeing half the sauce and pouring it back into the pot with the chunky half. This recipe makes a lot of sauce. If there are leftovers, the sauce is delicious the next day on pasta. A splash of red wine in the pot before serving gives the sauce a nice edge.–Ina Garten
LC Cheap Cuts Of Meat Note
Each time we make pot roast, we're astounded at just how marvelously tender such a cheap cut of meat as a chuck roast can become with a little love—and a lotta patience. We're convinced the trick to pot roast lies in leaving it in the oven long enough. Those of you who are impatient and continually pull it out to poke and prod it will find that it remains unappetizingly tough until the very last moment. So hang in there and just go read a book or something, as it will turn surprisingly tender, it just does so on its own timeframe. Sorta like some guys we've known….
Barefoot Contessa Company Pot Roast
Quick Glance
1 H, 15 M
3 H, 45 M

Serves 8
Print Recipe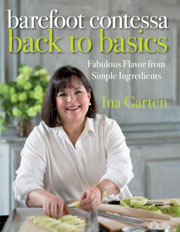 Ingredients
Email Grocery List
One (4- to 5-pound) prime boneless beef chuck roast, tied

Kosher salt and freshly ground black pepper, to taste

All-purpose flour

Good olive oil

2 cups (4 carrots) chopped carrots

2 cups (2 onions) yellow onions

2 cups (4 stalks) chopped celery

2 cups (2 to 4 leeks) chopped leeks, white and light green parts

5 large garlic cloves, peeled and crushed

2 cups good red wine, such as Burgundy

2 tablespoons Cognac or brandy

One 28-ounce can whole plum tomatoes in puree

1 cup homemade chicken stock or canned chicken broth

1 chicken bouillon cube

3 branches thyme

2 branches rosemary

1 tablespoon unsalted butter, at room temperature
Directions
1. Preheat the oven to 325°F (160°C).

2. Pat the roast dry with paper towels. Season the roast all over with 1 tablespoon salt and 1 1/2 teaspoons pepper. Dredge the roast in flour, turning to coat all sides (including the ends). In a large Dutch oven, heat 2 tablespoons olive oil over medium heat. Add the roast and sear without moving for 4 to 5 minutes, until nicely browned. Turn and sear the other side and then turn and sear the ends. This should take 4 to 5 minutes for each side. Remove the roast to a large plate.

3. Add 2 tablespoons olive oil to the Dutch oven. Add the carrots, onions, celery, leeks, garlic, 1 tablespoon salt, and 1 1/2 teaspoons pepper and cook over medium heat for 10 to 15 minutes, stirring occasionally, until tender but not browned. Carefully add the wine and Cognac and bring to a boil. Add the tomatoes, chicken stock, bouillon cube, 2 teaspoons salt, and 1 teaspoon pepper. Tie the thyme and rosemary together with kitchen string and add to the pot. Put the roast back into the pot, bring to a boil, and cover. Place in the oven for 1 hour. Turn the heat down to 250°F (120°C) to keep the sauce at a gentle simmer. Continue to roast until the meat is fork-tender or the pot roast registers 160°F (71°C), about 1 1/2 hours more, for a total of 2 1/2 hours.

4. Transfer the roast to a cutting board. Remove the herb bundle and discard. Skim off as much fat as possible from the surface of the sauce.

5. Transfer half the sauce and vegetables to a blender or a food processor fitted with the steel blade and puree until smooth.

6. Pour the puree back into the pot, place on the stove top over low heat, and return the sauce to a simmer. Place 2 tablespoons flour and the butter in a small bowl and mash them together with a fork. Stir the butter mixture into the sauce and simmer, stirring constantly, until thickened, which ought to take about 2 minutes. Taste and adjust the seasonings accordingly.

7. Remove the strings from the roast and slice the meat. Pile it onto a platter and serve it warm with the sauce spooned over it.
Recipe Testers Reviews

This is a very simple and delicious pot roast recipe. It's comfort food all the way. Fabulous served with mashed potatoes or buttered noodles. The leftovers are great for an open faced sandwich the next day. For those who use a slow cooker, this dish is ideal. Puréeing the sauce makes a wonderful gravy to use over the potatoes or noodles. Serve it with some glazed carrots or broccoli and this is an ideal dish for family or guests.
Barefoot Contessa Company Pot Roast Recipe © 2008 Ina Garten. Photo © 2008 Quentin Bacon. All rights reserved. All materials used with permission.
If you make this recipe, snap a photo and hashtag it #LeitesCulinaria. We'd love to see your creations on Instagram, Facebook, and Twitter.