Baking competition shows are to bakers what the Super Bowl is to baseball, er, basketball, er, you know what we mean. And with a ton of shows taking a bow or serving up their newest season, we sat bleary-eyed to pick the top-tier best.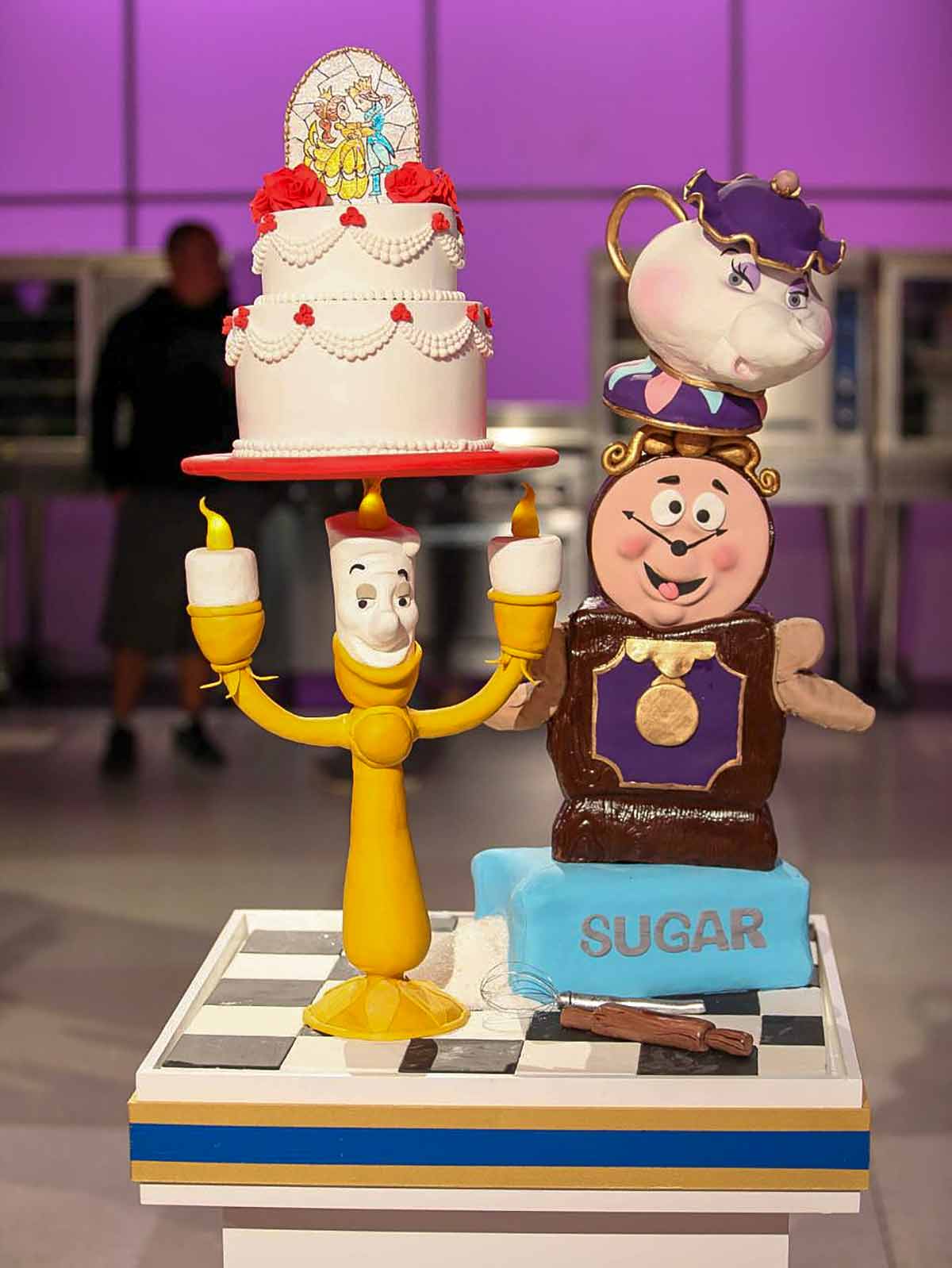 If you're on LC, we assume that you're into food. Reading about it, cooking it, and most importantly, eating it. Have you been lured into the ever-expanding universe of reality TV baking competition shows yet? With so many shows out there, you'd be hard-pressed to pick just one to settle down and watch. And you don't have to–we watched them all for you. Here are a few of the most pop-culture-fuelled, charming-est, and for good measure, wackiest choices you can sink your teeth into.–Jenny Latreille
If you've never seen this show, lucky you have 11 seasons to savor. While we're talking about the one, the only British original here, both the American and Canadian versions have their own charms.
A large, pastel-colored tent on the grounds of a mid-sized castle is filled with Brits, all quietly whisking, and slicing, and docking away. Behind them are lambs frolicking in meadows. There has never been another reality show so calming and lovely. This isn't the baking competition to watch if you're looking for screaming, plotting, and back-stabbing frenemies.
The competition consists of three rounds in each themed episode. In the first round, the Signature Bake, contestants prepare their own recipes determined by the theme and show off their strengths and takes on flavors. Next, the Technical Challenge takes all the bakers by surprise when they have to bake the same thing from the same, very bare-boned recipe. Picked by the judges for classic techniques and the level of skill required, the recipe in this challenge can be the most harrowing of all. On top of that, this challenge is blind-tasted, so no favoritism here! Finally, the Showstopper Challenge is the reason to watch GBBO. Following the day's theme, the bakers are expected to make, in one afternoon, an enormous dessert with a number of different parts. Not only that, it has to have a professional appearance and outstanding flavors. If that wasn't enough…they have to carry these monster desserts through the tent to the judge's table without them toppling over.
The four cast members are kind, quirky, and sweet. Two professional bakers, Paul Hollywood and Prue Leith, judge while comedians Noel Fielding and Matt Lucas host. Everyone hugs and cries when someone gets sent home. Filled with subtle innuendo such as "soggy bottom" or, occasionally, "large nuts," the show is genteel and sweet but never boring. Viewers walk away with an armload of new recipes and baking techniques. It's a soothing reminder that you can try your best and beat out the competition and still be delightfully funny and charming.
Over the prior 11 seasons, GBBO has produced a lot of bakers who are now household names. Edd Kimber, winner of series 1 in 2010; Chetna Makan, a semi-finalist in series 5 in 2014; and Nadiya Hussain, winner of series 6 in 2015.
WHO IS THIS FOR: People who don't like aggressive reality TV; Anglophiles.
TONE: Gentle. Warm. Funny.
LEARNING FACTOR: Great British Bake-Off gives good background research on most of the bakes and the judges do a terrific job of explaining what they're looking for in each challenge.
RATING: 5/5. It's beloved for a reason–it showcases terrific talent, gorgeous food, with exceptional charm.
Season 12 Premieres September 24, 2021, on Netflix USA.
On the other end of the spectrum is the Netflix series, Nailed It! Hosted by the delightful and joyfully boisterous Nicole Byer, an American comedian with a penchant for sparkles and absolutely fabulous wigs. The series tasks home bakers with replicating desserts–generally cakes, cookies, and cupcakes–that have been exquisitely and ornately decorated by professional bakers.
Given access to an enormous pantry full of all the baking supplies a baker could ever want, three contestants are set loose to make their own version of a professional's awesomely perfect baked offerings. The contestants are given step-by-step instructions and the actual item is sitting right in front of them. Even so, it mostly all goes terribly and deliciously wrong.
A lot of the time, it comes down to frantic contestants panicking and just covering blocks of Rice Krispies with colored fondant and lumpy buttercream. You might not think that's baking–and we assure you, it isn't really–but the hapless home cooks still try their damnedest to produce edible octopi, space shuttles, or whatever else they've been assigned. And all they have to do to take home $10,000 is not be the worst of the bakers.
Host Byers is joined by elegant chocolate master Jacques Torres, handsome but harassed stage manager Wes, and weekly celebrity judges, who all try to help Byers reign in the often overwhelmed, frazzled, and clueless contestants. Byers is the absolute best part of this show, doing whatever it takes to make it work, including pratfalls and playing the contestants off of each other.
WHO IS THIS FOR: People who like zany comedy; People who want to feel better about their kitchen skills.
TONE: Wild. Loud. Frenetic.
LEARNING FACTOR: Jacques Torres occasionally steps up to explain where the contestants are going wrong or what a particular technique is but don't expect to learn much.
RATING: 3.5/5 The hosts are definitely the best part.
Premiered September 15, 2021, on Netflix USA
Master baker Christina Tosi of Milk Bar bakery fame, hosts a show that brings together four incredibly creative and accomplished pastry chefs competing to make the most epic sweets for a specific party theme. However…this isn't your average reality competition, because no one gets eliminated and no one wins anything. They're just doing it for pride and the love of baking, ya'll!
Does it work? If you're into seeing four seriously impressive bakers show off just how good they are, then absolutely yes. Tosi has found a squad of peers that work incredibly well together and bring out the best in each other. They each have a specialty–Gonzo Jimenez is a master chocolatier; Maya-Camille Broussard, is a baker with an uncanny understanding of flavor; Ashley Holt, is a cake expert; and finally Christophe Rull, the contestant Tosi calls the "pastry illusionist" creates bakes of enormous scale and with exceptional realism. And all of these contestants are capable of very big things.
The weekly challenges let the competitors flex their abilities and ideas in any way they desire. They're simply given the details of an event–a kid's birthday party, a bachelorette party, an anniversary–and they come up with anything they think will appeal to the person being feted. And by anything…well…so far they've presented a chocolate drum set, a royal winter wonderland wedding, an edible beauty counter, and a chocolate dinosaur hatching out of a three-foot chocolate egg. It's awe-inspiring, to say the least.
WHO IS THIS FOR: The relentlessly cheerful; People who love a theme party.
TONE: Whimsical. Colorful. Upbeat.
LEARNING FACTOR: Pretty darn good. Tosi and the squad talk through everything they're doing and why it works or doesn't.
RATING: 4/5 It's an incredibly upbeat and entertaining show but the lack of true competition may not appeal to some.
Premiered on August 11, 2021, on Netflix USA
For those of you who love cake but also love Robot Wars and MythBusters (we know you're out there), Baking Impossible is a jaw-dropping combination of baking and engineering. Nine baker and engineer duos (Bakineers!) compete to bake the most impressive cakes that also do something. Challenges include a miniature golf course made out of dessert, edible floating boats, and baked skyscrapers that can withstand a simulated earthquake.
The judging panel consists of The Great British Baking Show-finalist (2016) and aerospace engineer Andrew Smyth, James Beard Award-winning chef and Leite's Culinaria friend Joanne Chang and the self-proclaimed cake-loving astrophysicist Dr. Hakeem Oluseyi. The intersection of cake and science has never looked or tasted better.
Justin Willman, previously known as the host of Cupcake Wars, guides the contestants through the first season, while they make cakes that are put through rigorous testing even before they get plated and tasted. Willman is a comedian and magician, so expect a side of sleight-of-hand with your remote-controlled layer cakes and Rube Goldberg pies.
WHO IS THIS FOR: People who hate Great British Bake-Off's gentle sensibilities.
TONE: Testosterone-fuelled. Noisy.
LEARNING FACTOR: Exceptional. Maybe not baking knowledge but you're going to learn a lot about batteries, momentum, levers, and chemical reactions.
RATING: 3.5/5 Based solely on the trailer (it hasn't premiered yet), it looks like messy fun but not much going on food-wise.
Premieres on October 6, 2021, on Netflix, USA
Honorable Munchtions
Say what you will about Josh Groban's music–it is pretty divisive, after all–but he's recently come into focus as a "comic" actor. Okay, he starred opposite Tony Danza in one season of a not-great sitcom. Still…as the host of one of the weirdest food-based reality competitions we've ever seen, he does alright.
The premise of this show is mind-blowingly simple. Two contestants are each paired with a comedian and compete to guess if an object presented to them is real or cake. That's it! A conveyor belt brings out an object, say, an old catcher's mitt, a rubber duck, or a cowboy boot. If a contestant thinks it's cake, they take a bite and find out. Mouthful of actual playing cards? You lose! Is that cigarette butt honest-to-goodness cake? $500 for you!
The final test comes when they're ushered into a room decorated with a theme. Three objects are, you guessed it…made out of cake. It's a deceivingly simple premise that actually delivers a few laughs. What ultimately saves it is Groban's dorky charm and snappy suits, and the fact that each episode is only 8 minutes long. Although they really pack a lot of licking and biting into those 8 minutes!
WHO IS THIS FOR: Anyone with a short attention span; Fans of Adult Contemporary music.
TONE: A little geeky and a lot of enthusiasm.
LEARNING FACTOR: Not much at all, to be honest.
RATING: 3/5 Cute and easy to watch but nothing to DVR.
Premiered on August 13, 2021, on The Roku Channel.
If you're of a certain age, you might remember Paris Hilton's track record with reality TV and superstardom. She was a Kardashian before the Kardashians were Kardashians, darling. And now she's back with a cooking show–yes, she actually does the cooking–that, let's be honest here, surprised even the most cynical of us. Speaking of the Kardashians, Kim shows up in an episode involving frittatas; it goes about as badly as you think it would.
This isn't a competition show, and it doesn't just focus on baking but don't let that stop you. The premise of the show is simply that Paris has a scrapbook filled with things she wants to try to cook for her famous friends. She picks a recipe, gathers ingredients, then invites someone famous over. In just under half an hour, we find out that nothing ever goes as planned. Least in part because her friends aren't cooks, either, and are unable to help.
If you weren't a fan of Paris in the 00s, we don't blame you. She was famous for being blasé, rich, and blonde. But maybe age has a way of mellowing us and making us all a little better, like leftover unicorn cannolis (unicorn-olis. Seriously). Don't get ahead of yourself, though–she's still pretty blasé, incredibly rich, and even blonder. The difference here is that she seems to be in on the joke, finally. It's actually quite enjoyable but it's not about cooking; be aware that if you're in any way capable, you might find yourself immensely frustrated at various points.
This show is absurd but she knows it's absurd, and we'll begrudgingly acknowledge that it works. You're not going to learn much about cooking from Paris, unless, like her, you don't know what lemon zest is. Or chives. And you're more than likely going to be horrified at the amount of hair, feathers, and Swarovski crystals that get dragged through, stuck to, and embedded in everything she touches. She makes mistakes, lets the audience know that she's clearly out of her depth, and then feeds caviar to her dog. However, if you're into pop culture with a heaping side of over-the-top campiness, this just might be where you find your bliss.
WHO IS THIS FOR: Those of us who came of age between 1995 and 2005; People deep into social media; Anyone who loves stuff that sparkles.
TONE: Giggly, sugary, and just out-of-touch enough. Slightly frustrating.
LEARNING FACTOR: Paris learns a LOT…but likely things most of you already know.
RATING: 1.5/5 for real cooks. 4/5 for reality TV lovers.
Premiered on August 4, 2021, on Netflix, USA.