This Greek baklava, a Middle-Eastern dessert, is made from layers of phyllo or filo pastry which is filled with chopped walnuts, cinnamon, sugar, and butter and soaked in a honey syrup.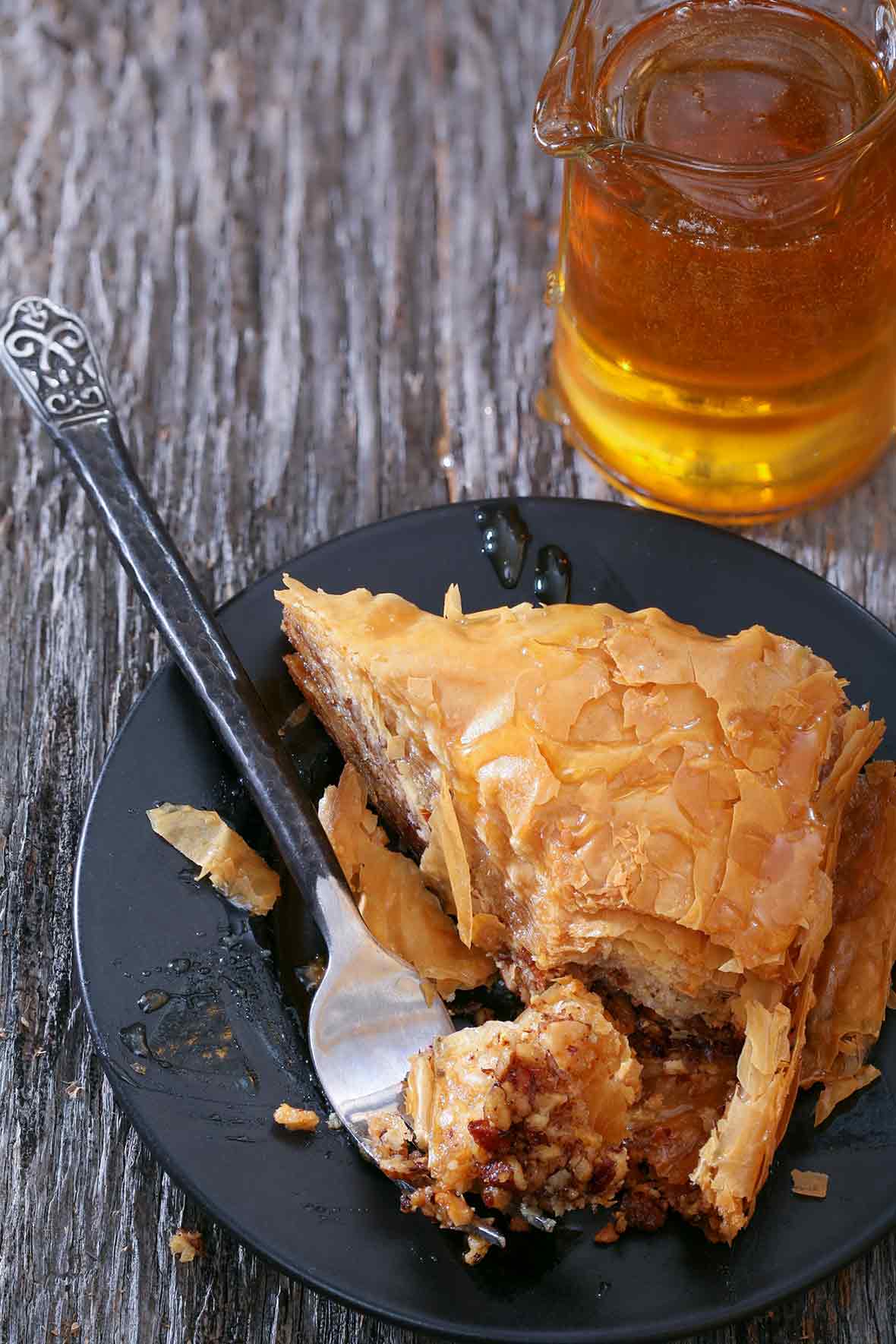 One of my most memorable experiences ever is walking along a back street in a Greek town decades ago and following an aroma of intoxicating sweetness until I happened upon its origins. There at the house with an open door was a frail and wrinkled grandmother hauling sheet pans of baklava out of the oven. Needless to say the crackly shards of phyllo drenched with honey was the best baklava I'd ever experienced. This recipe may not be hers, and it may not transport you to the Greek isles, but it will satiate something deep in your soul. Originally published April 24, 2004.–Renee Schettler Rossi
Greek Baklava
Quick Glance

(1)

45 M
1 H, 45 M

Makes 16 to 18 1 1/2-inch pieces
Print Recipe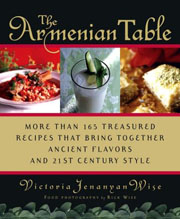 Ingredients
Email Grocery List
For the syrup
For the filling
For the pastry
Directions
Make the syrup
Combine all the ingredients in a medium saucepan. Bring to a boil and simmer until thickened and reduced, about 12 minutes. Set aside at room temperature until ready to use. (The syrup should be at room temperature and still pourable when ready to use; if cooled too much, reheat slightly.)
Make the filling
In a bowl, mix together the walnuts, cinnamon, and sugar. Set aside.
Make the baklava
Preheat the oven to 350°F (175°C). Brush the bottom and sides of a 9-by-13-inch baking dish with some of the butter.
Place a layer of phyllo in the bottom of the dish, cover with another layer, and brush the top with butter. Add another layer (2 sheets), brushing the top with butter, and then another layer, brushing the top with butter, until you have a stack 6 sheets high. Spread 1/3 of the filling evenly over the phyllo.
Layer and butter another 6 sheets in the same way. Spread another 1/3 of the filling over it. Layer and butter another 6 sheets in the same way and spread with the final third of the filling, so that you wind up with 3 nut layers.
Top the final nut layer with the remaining 6 fillo sheets, buttering every other one as above. Finally, brush the top layer of fillo with butter.
With a sharp knife, cut through all the layers down to the bottom of the dish, making 16 to 18 diamond or 1 1/2-inch square sections. Place in the oven and bake for 20 minutes. Pour the remaining butter across the top and continue baking until pale golden and crispy, about 25 minutes.
Remove and set aside for 5 minutes, until no longer sizzling. While still warm, tilt the pan and pour off the excess butter. Pour the syrup in between the cuts and around the edges of the sections, taking care to avoid the top or else it will get soggy. Set aside at room temperature until completely cool.
To serve, lift out the pieces as outlined. Serve right away or cover and store at room temperature for up to 5 days.
Print Recipe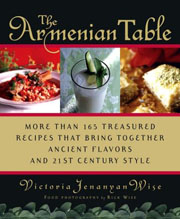 Recipe Testers Reviews

Having been spoiled and awed by countless Turkish friends' excellent baklava, I never thought that I would attempt it myself. This recipe for Greek baklava was so easy and such a gratifying experience, and the baklava was great! Textures of crunchy and chewy are mellowed by a thick, sweet syrup that only got better as it aged.

I really enjoyed this recipe. It took a day for the flavors to meld to make it taste of authentic baklava. It was extremely easy and sinfully tasty.
Greek Baklava Recipe © 2004 Victoria Jenanyan Wise. Photo © 2004 styxclick. All rights reserved. All materials used with permission.
If you make this recipe, snap a photo and hashtag it #LeitesCulinaria. We'd love to see your creations on Instagram, Facebook, and Twitter.