Ok, dear readers, let's kick off The One's and my annual summer odyssey of chilled indulgence. Below, I humbly offer seven no-churn ice cream recipes, seven compelling alternatives to whatever sad, iced-over pint you've been digging into your freezer.
Making no-churn ice cream is about saying hell to the no. No to lugging a 25-pound compressor up from the basement. No to questionable sweating as you crank your grandpa's wooden ice cream maker. No to trips to the ER for mangled fingers.
But there's a whole lotta yes when it comes to plunging a spoon into mounds of homemade frozen glory. Every flavor is a sweet indictment of summer heat, each spoonful a luscious affirmation of human laziness.
Brain freeze, come on in and stay for awhile.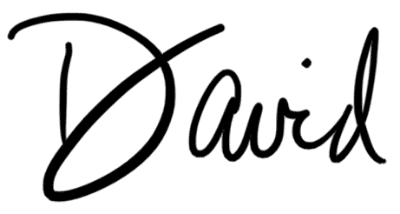 No-Churn Vanilla Ice Cream
Not everyone has an ice cream maker lying around, so I adapted this recipe so that it can be made anywhere and at any time! Start with vanilla bean and work your way through other flavors.
Recipe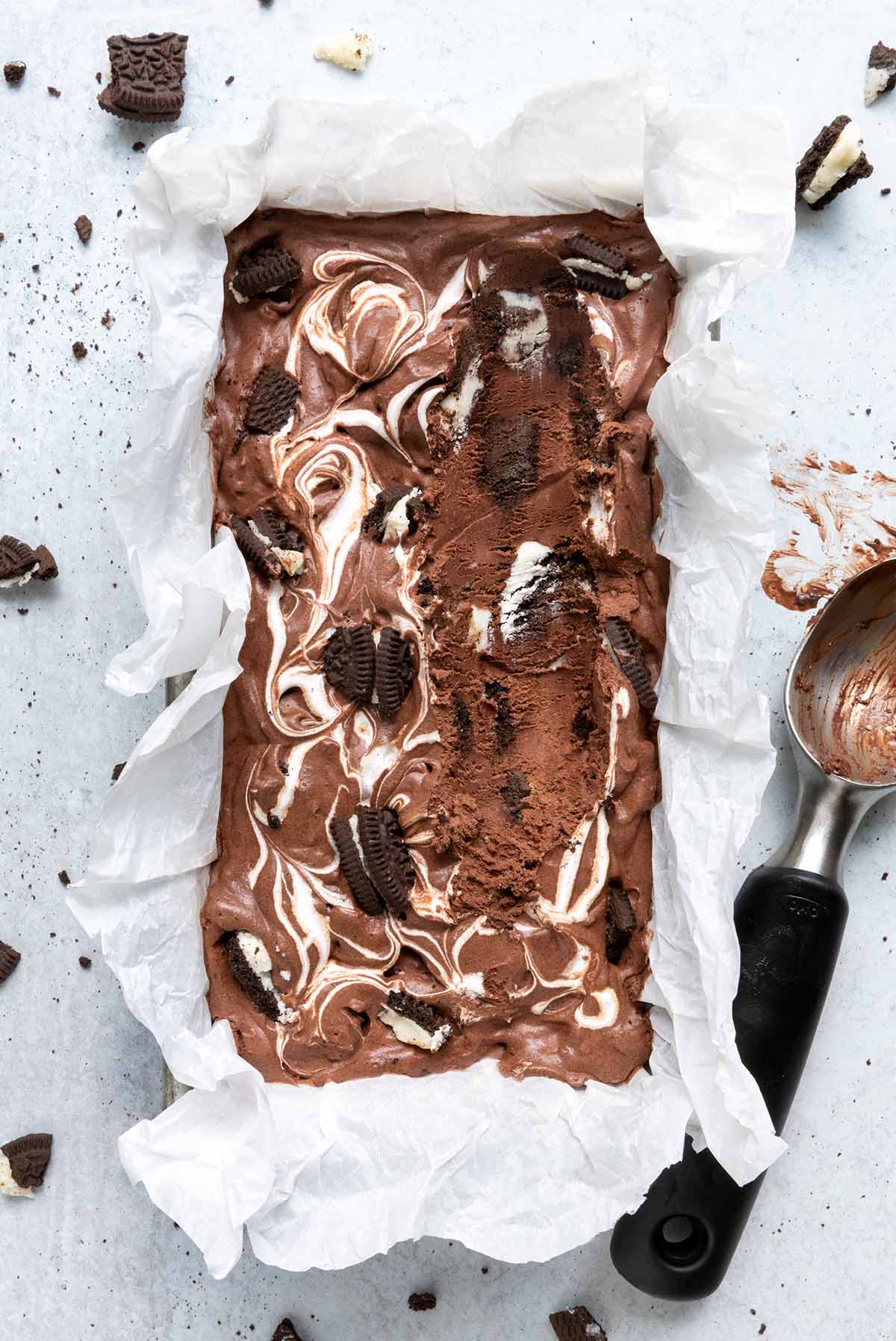 No-Churn Chocolate Oreo Ice Cream with Marshmallow
Creamy chocolate ice cream, crushed Oreo cookies, and sweet marshmallow creme collide to make this spectacular frozen dessert.
Recipe
This is like a big chocolate hug! It is so good. The ice cream has a dreamy mousse-like texture, and then there is the wonderful contrast with the bites of Oreo and marshmallow fluff. What's not to love?!

And with only 30 minutes from start to kitchen clean, I will be making this again and again.

karen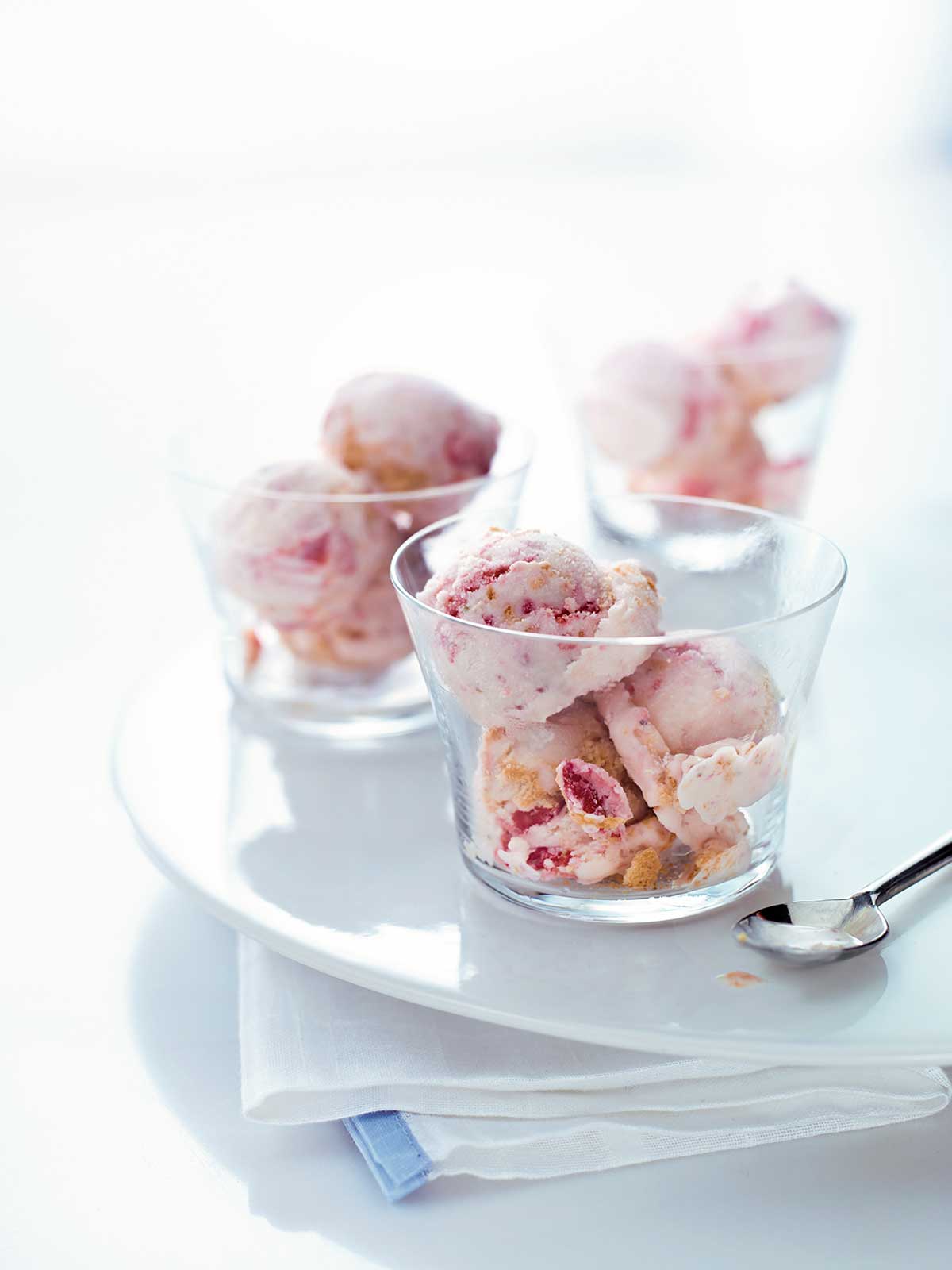 Strawberry Cheesecake Ice Cream
This strawberry cheesecake ice cream is easy as can be. All you do is mix together cream cheese, sweetened condensed milk, and cream until smooth and then freeze it. Later strawberry puree and crushed graham crackers are swirled through. No ice cream maker required.
Recipe
Made this recipe for Victoria Day dinner here in lovely Richmond Hill, Ontario, and my whole family loved it! Like Dan states, I think it would have benefitted from in-season strawberries, but we still enjoyed it.

I think the actual cheesecake base without the strawberries is wonderful and perfect to try all kinds of possibilities with. I'd like to try it with cherry preserves, amaretto liqueur, and amaretti cookie crumbs. YUM!!

angela g.
No-Churn Coffee Ice Cream
In this no-churn ice cream recipe, which is made without eggs, homemade coffee ice cream gets a boost from a rich chocolate ganache swirl.
Recipe
Peaches and Cream Ice Cream
This peaches and cream ice cream relies on yogurt as well as cream for its creamy, not-too-sweet base. Toasted hazelnuts add crunch to the peaches.
Recipe
Yum. I made this as written with local peaches and Grand Marnier. I used the freezer method. I will be making this on repeat!

jen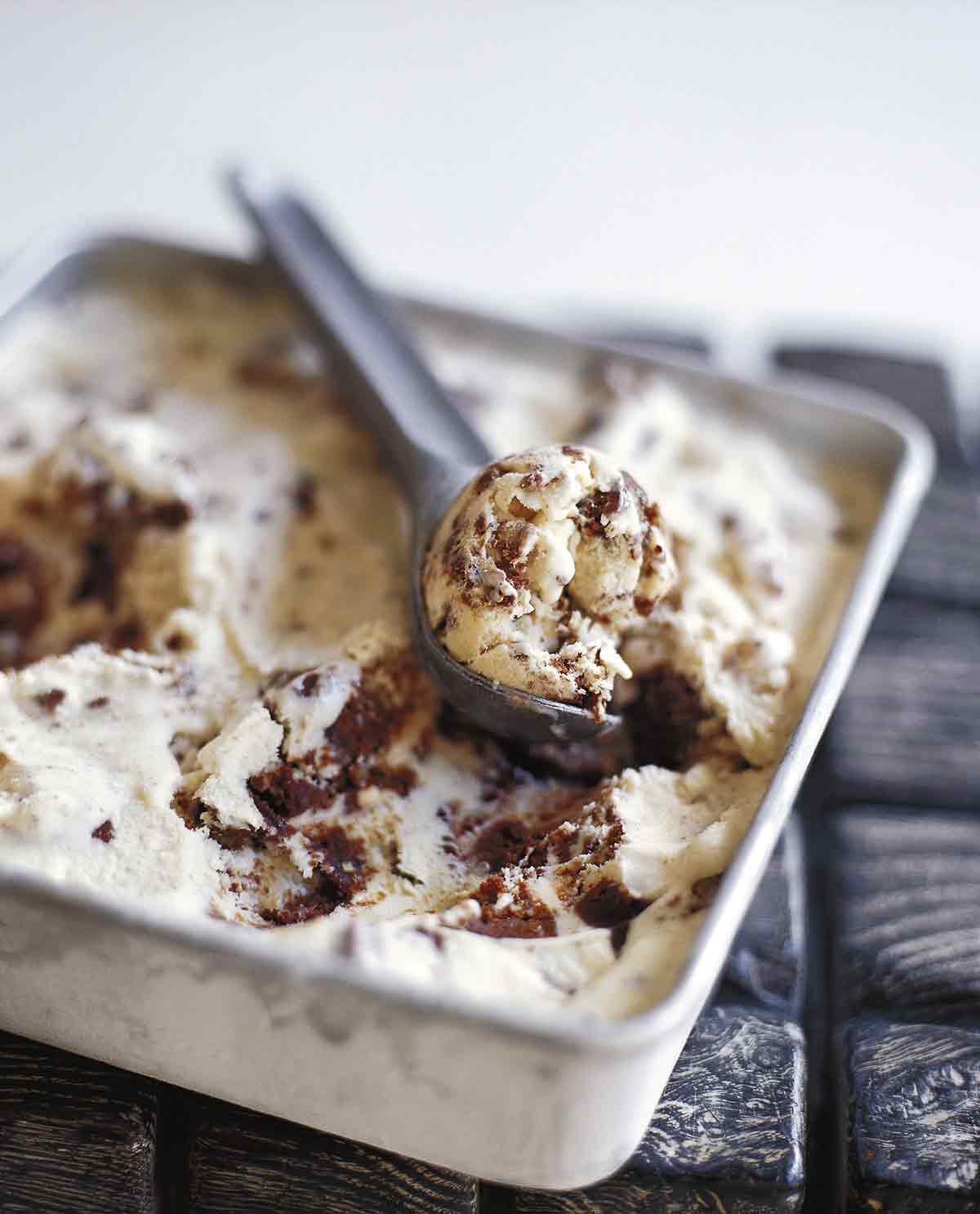 Brownie Ice Cream
Here, a fudgy brownie made with plenty of chocolate and toasted pecans, and baked slightly thinner than usual, is combined with a good store-bought ice cream—either vanilla or white chocolate works well.
Recipe
No-Churn Ice Cream FAQs
What's the best way to store homemade ice cream?
Keep your ice cream in a freezer-safe, airtight container in the freezer. This will help to prevent ice crystals from forming. A lidded container will work fine, or you can purchase containers designed for storing ice cream online.

When storing your ice cream, make sure to leave a little space at the top of the container, as the ice cream will expand as it freezes.
How long does homemade ice cream keep?
Your homemade ice cream will be best if enjoyed within two weeks of making it. It'll likely keep longer, but the texture and flavor will begin to change as ice crystals develop.
How long does it take for ice cream to freeze?
Allow at least three hours for the ice cream to freeze to a firm consistency. If you leave it for longer and it is very hard, let it sit at room temperature for about 10 minutes to soften slightly before scooping.
Looking for a homemade ice cream recipe that you can whip up in your ice cream maker instead? Whether you're craving creamy vanilla ice cream or a fudgy dark chocolate confection, you'll find the perfect recipe here.
7 No-Churn Ice Cream Recipes
No collection of no-churn ice cream recipes would be complete without the classic pairing of peanut butter and chocolate. If the idea of a creamy frozen dessert, studded with mini peanut butter cups has you drooling, try this ☞ NO-CHURN PEANUT BUTTER CUP ICE CREAM.
Ingredients
One

(14-ounce) can

sweetened condensed milk

2

teaspoons

vanilla extract

1/3

cup

creamy natural peanut butter

1/2

cup

half-and-half

1 1/2

cups

heavy cream

30

mini peanut butter cups
Instructions
In a medium-sized bowl, whisk together the sweetened condensed milk, vanilla extract, peanut butter, and half-and-half, until the mixture is smooth.

Using a stand mixer fitted with the whisk attachment or a hand mixer, whip the heavy cream until stiff peaks form, 2 to 4 minutes.

☞ TESTER TIP: To speed up the whipping of the cream, chill your bowl and whisk attachment.

Fold the sweetened condensed milk mixture into the cream that has been whipped. This is your ice cream base. You will want this to be as smooth as possible and lump free.

Unwrap the mini peanut butter cups. Place them in a large plastic bag and seal it. Gently roll a rolling pin over the peanut butter cups to crush them into chunks, being careful as they are a softer candy. Alternatively, you can crush them by hand, roughly breaking them into four pieces per cup.

☞ TESTER TIP: For larger chunks of peanut butter cups, simply crush them less. For smaller chunks of peanut butter cups, crush them more.

Place the crushed peanut butter cups into the ice cream base and stir to combine, ensuring that there is an even distribution of cups throughout the ice cream batter.

Pour the ice cream into an 8-by-8-inch (20-by-20-cm) baking pan (or a freezer-safe container of about the same size), and use a spatula to spread the ice cream evenly throughout the pan.

Freeze the ice cream uncovered until it is firm, 3 to 5 hours. Once frozen, cover with foil or plastic wrap and store in the freezer for up to 3 weeks.
Nutrition
Serving:
0.5
cup
Calories:
533
kcal
Carbohydrates:
46
g
Protein:
11
g
Fat:
36
g
Saturated Fat:
18
g
Polyunsaturated Fat:
4
g
Monounsaturated Fat:
12
g
Cholesterol:
74
mg
Sodium:
224
mg
Potassium:
398
mg
Fiber:
1
g
Sugar:
43
g
Vitamin A:
856
IU
Vitamin C:
2
mg
Calcium:
212
mg
Iron:
1
mg
Nutrition information is automatically calculated, so should only be used as an approximation.
All rights reserved.
---