The One and I love ice cream. In fact, I'm a little embarrassed to say it, but we've been known to eat it every night for months on end. During the summer, we keep our local dairies in business with all that we buy.
One day it hit me: Why don't I make homemade ice cream? Then I remembered: Oh, yeah. I have to lug our ice cream maker that's the size of a hassock up from the basement. And it's so old, it complains with the loudest groan after only a few minutes.
No-churn ice cream is what we needed. This one fits the bill. We both adore chocolate, I love Oreos, and The One can't say no to Marshmallow Fluff. It's honestly so good, I've made it every Friday night for several weeks.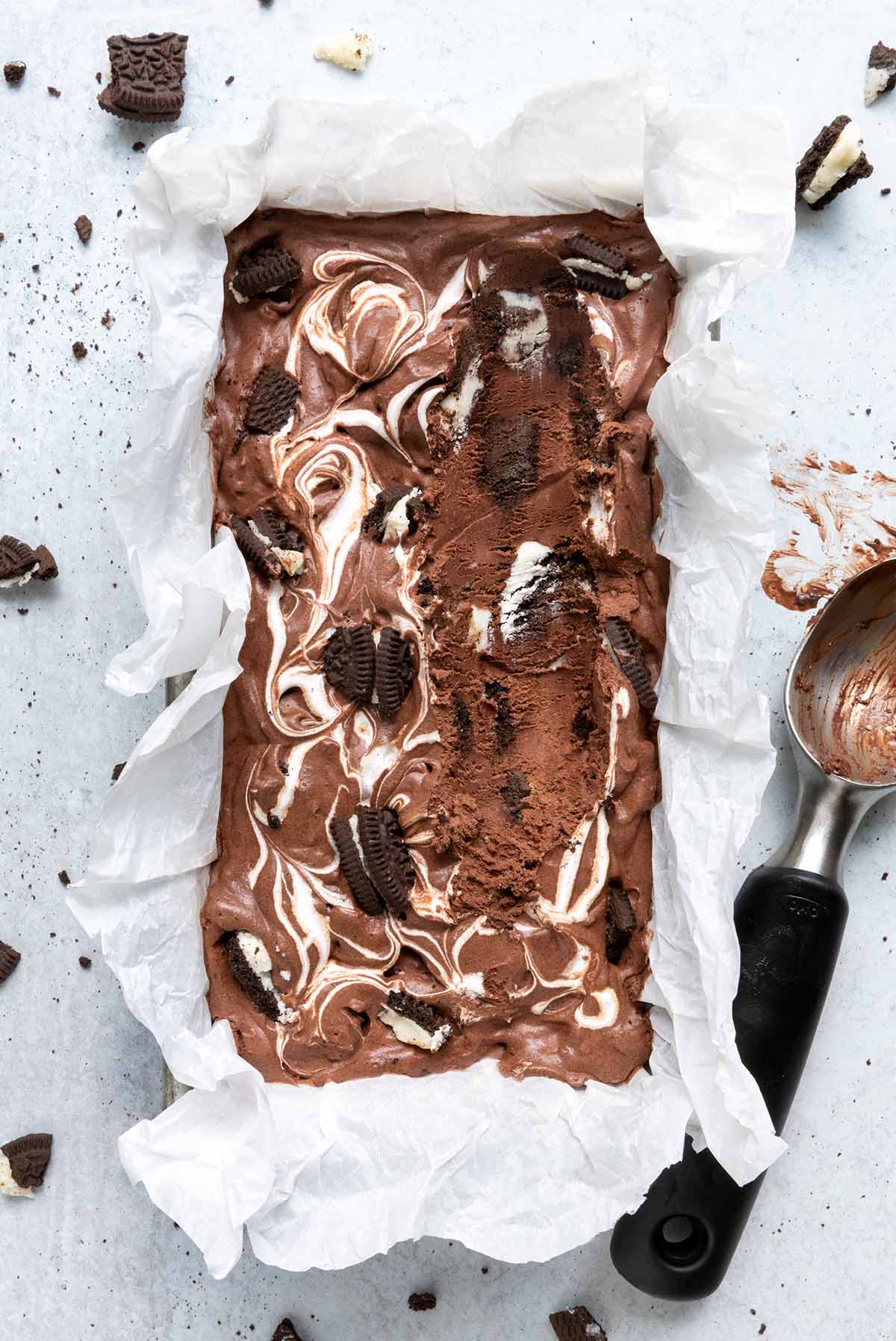 No-Churn Chocolate Oreo Ice Cream FAQs
What type of Oreo should I use for this recipe?
That depends on your preference. Thin, regular, or double-stuffed – any variety you choose will mix nicely into this wonderfully decadent frozen treat. I personally prefer regular Oreos, but let us know which is your favorite!
What else can I add to this ice cream?
I like the way you're thinking! Hot fudge sauce, Nutella, and caramel sauce are all my top picks to swirl into the ice cream. You can add chocolate chips, peanut butter cups, or nuts. Coconut would be a nice addition, too.

Instead of Oreos, consider crumbled chocolate chip cookies, brownie cookies, peanut butter cookies, chocolate peanut butter cookies, or big chewy brownie cookies.
Is espresso powder the same as espresso coffee?
It's not. Espresso powder is very intensely dark and concentrated instant coffee that's been crystallized, and it dissolves quickly in liquid. Espresso powder isn't just finely ground espresso beans. If you use ground beans, your ice cream will have a grittiness to it.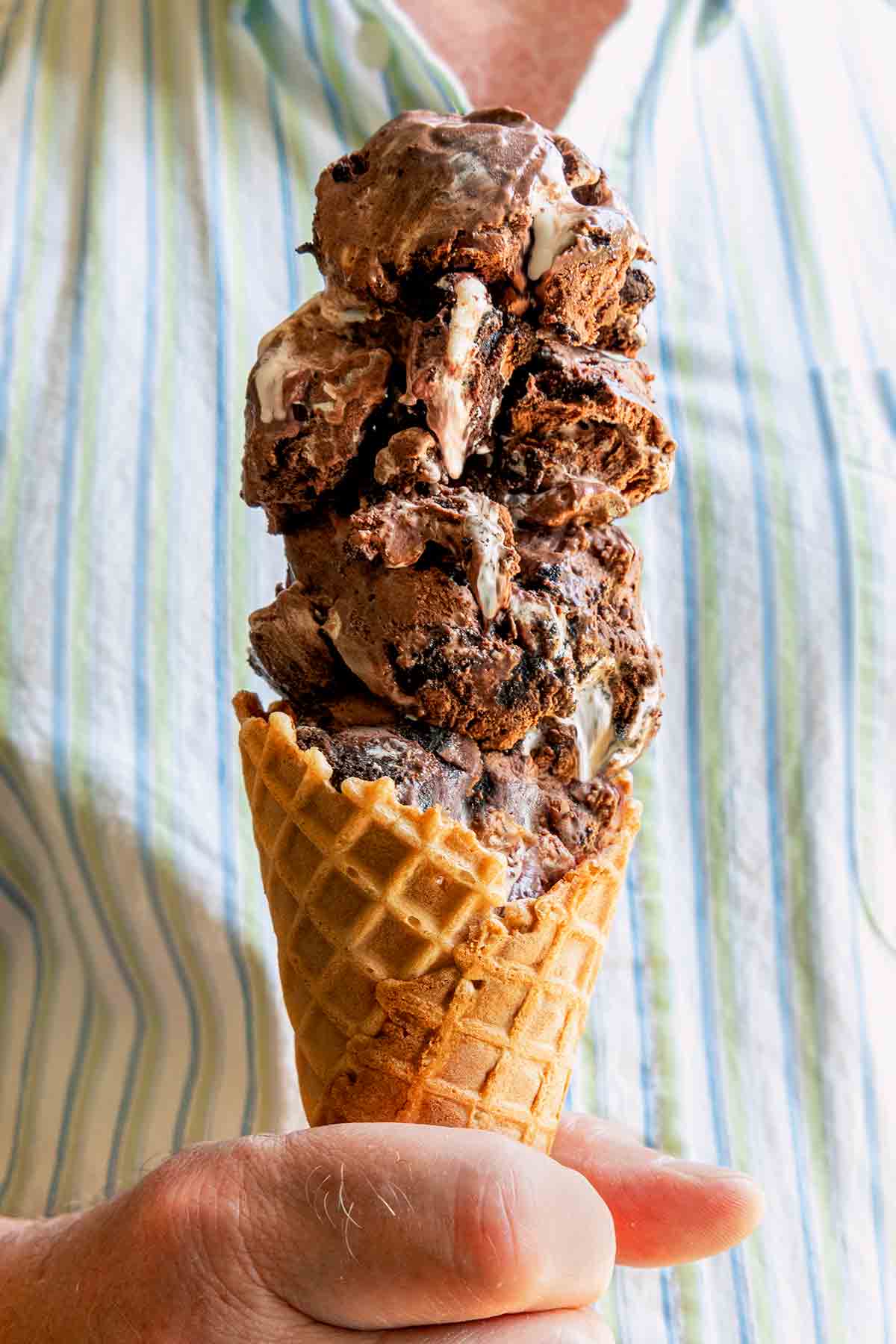 No-Churn Chocolate Oreo Ice Cream with Marshmallow
Creamy chocolate ice cream, crushed Oreo cookies, and sweet marshmallow creme collide to make this spectacular frozen dessert.
Ingredients
2

cups

heavy whipping cream

One

(14-ounce) can

sweetened condensed milk

1

cup

dark cocoa powder

2

teaspoons

vanilla extract

1

teaspoon

espresso powder

Large pinch of salt

16

Oreos

,

crumbled (reserve a few pieces for the top)

6

to 7 tablespoons

marshmallow creme

,

stirred well
Instructions
Line a 9-by-5-by-2 1/2-inch (23-by-13-by-6-cm) loaf pan with plastic wrap or parchment paper.

Using a handheld mixer fitted with the whisk attachment, whip the heavy cream in a large bowl until stiff peaks form, 2 to 4 minutes. (If you're up for a workout, a balloon whisk works just dandy.)

In another bowl, stir together the sweetened condensed milk, cocoa powder, vanilla, espresso powder, and salt until thoroughly combined. The mixture will be thick.

Dollop about 1/4 of the whipped cream into the chocolate mixture and stir to lighten the consistency.

Scrape the chocolate ice cream mixture into the whipped cream. Toss in the Oreo pieces.

Gently fold it all together with a spatula. (Be mindful not to over fold, you'll lose all that beautiful volume you've incorporated.)

Scoop 1/3 of the chocolate Oreo ice cream into the prepared pan and smooth it with an offset spatula or the back of a spoon. Drizzle a heaping spoonful or 2 of the marshmallow creme on top. Repeat layering the ice cream and marshmallow two more times.

Swirl the top of the ice cream with a toothpick. Poke the reserved Oreo pieces into the top of the ice cream. Cover with plastic wrap.

Freeze overnight before serving. Let sit at room temperature to soften a bit before scooping, about 5 minutes.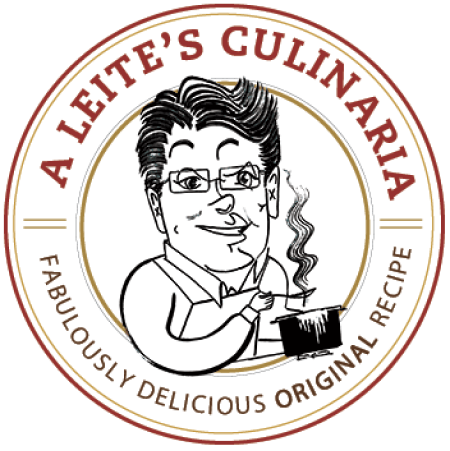 Nutrition
Serving:
0.5
cup
Calories:
510
kcal
Carbohydrates:
55
g
Protein:
9
g
Fat:
32
g
Saturated Fat:
19
g
Polyunsaturated Fat:
2
g
Monounsaturated Fat:
9
g
Trans Fat:
0.01
g
Cholesterol:
84
mg
Sodium:
176
mg
Potassium:
464
mg
Fiber:
5
g
Sugar:
41
g
Vitamin A:
1008
IU
Vitamin C:
2
mg
Calcium:
199
mg
Iron:
4
mg
Nutrition information is automatically calculated, so should only be used as an approximation.
Recipe © 2022 David Leite. Photos © 2022
David Leite
. All rights reserved.
---
Recipe Testers' Reviews
Yowza! Yum! This no-churn chocolate oreo ice cream with marshmallow is one of those addictive dishes that you just can't stop eating.
It's less like ice cream and more like a rich stracciatella/semifreddo. Because of the way it's made and formed, it's something you can take out of the freezer and slice, put on dessert plates, and then let sit for a few minutes while you make espresso for your guests. It doesn't melt too quickly, so this would work perfectly. The flavors are rich and lovely, the texture is heavenly… just not ice cream as we know it.
This no-churn ice cream is a chocolate lover's dream, and there's no ice cream maker required! The deep chocolate notes bumped up by the espresso make it a decadent dessert to treat yourself to or to serve to company. It's a two-bowl, throw-it-together, no-saucepan-needed recipe, which I love, especially in the summer.
As it begins to melt, it's reminiscent of a chocolate mousse, creamy and decadent. After two overnights in the freezer, the ice cream did feel a little harder to scoop, but after 3 to 4 minutes of sitting out on the counter, the problem was easily cleared up.
This no-churn chocolate Oreo ice cream recipe screams perfection. Marshmallow, whipped cream, cocoa powder. There are many steps in the process but it's worth it, plus surprisingly, the ice cream is not too cloying.
This is a brilliant technique for making delicious ice cream.
I do recommend, that if you or your family are not coffee drinkers, you skip the espresso. I drink coffee but my wife does not. And while I thought a scant teaspoon of espresso powder would not be discernible, it most definitely was – my wife detected it immediately and could not enjoy the dessert. I will leave out the coffee when I make this next.
I needed to microwave the marshmallow fluff even after a lot of stirring because it was too thick to drizzle. After a night in the freezer, the texture was quite fluffy.
My 12 year old is an expert in the field of ice cream so he was very happy to assist in making this version of ice cream. We found the steps straightforward forward, and it was ready to freeze in less than 30 minutes. We both agreed you could easily eat this without freezing – it was tasty as an indulgent whip cream dessert with a fudgy texture.
It would be a good base for all of your favorite mix-ins, although the Oreo and marshmallow was pretty perfect with chocolate. It is near enough to ice cream but not quite like a good old-fashioned churned ice cream, but worth the minimal effort and a fun summer dessert to make with kids.
Select a Tester
The no-churn chocolate Oreo ice cream recipe was easy to follow. It was served as dessert and was a family favorite! It has a very rich chocolate flavor. The only difficulty I had was that the condensed milk and cocoa powder mixture became very thick and sticky, making it difficult to fold into the whipped cream, but other than that, the recipe was straightforward. I would make this recipe again!
This no-churn chocolate Oreo ice cream with marshmallow had me at ice cream. I have an ice cream maker and have never tried a no-churn version, so this seemed like the perfect opportunity to give it a go, not to mention we love ice cream in my house!
Overall, it is a very simple process and a fabulous way to enjoy homemade ice cream without the need for an ice cream maker. The result was a thick, rich, chocolatey ice cream that was almost like eating frozen pudding. Everyone licked their bowls clean.
Since it's cherry season here, I added some fresh sliced cherries on the side. Chocolate and cherries, a classic delicious combo. The marshmallow fluff was an interesting addition and a nice way to break up the richness of the ice cream.
Next time I would be tempted to add mint instead of the expresso powder or even some orange zest, think chocolate Oreo mint or a Terry's Dark Chocolate orange…yum! Having now made no-churn ice cream and tasted the results I will definitely be giving a few more of these recipes a try. I don't think there will be any complaints about another ice cream in our freezer!
Originally published July 25, 2022