Old-Fashioned Peach Cobbler
This old-fashioned peach cobbler is made with peaches, flour, milk, sugar, and a surprise trick to make the surface irresistibly crackly and crisp. It's the best cobbler we've ever tried.
Recipe
I didn't believe peach cobbler could be improved, but this recipe showed that it could. It's the best cobbler I've ever tasted and, according to my husband, his new favorite as well. The crunchy top is the bomb.

cleo
Peach Iced Tea with Mint
This easy summer sipper is made using tea leaves, fresh peaches and mint leaves, and is sweetened with simple syrup.
Recipe
Peach Salsa
Peach salsa works its considerable magic on fish, pork, chicken. And it's so easy to make this canned stone fruit salsa you'll be wanting to do it each summer.
Recipe
This salsa is to die for. I added an extra clove of garlic. The flavour is perfect!!

dusteen
Chicken Thighs with Spicy Peach Sauce
One of my most popular main dish recipes is this Spicy Peach Skillet Chicken. It's a little sweet, a little spicy, and a little tangy—my favorite combo! With peaches now in season, it's a great way to make use of one of my favorite fruits, but I have made this recipe successfully many times with frozen peaches as well.
Recipe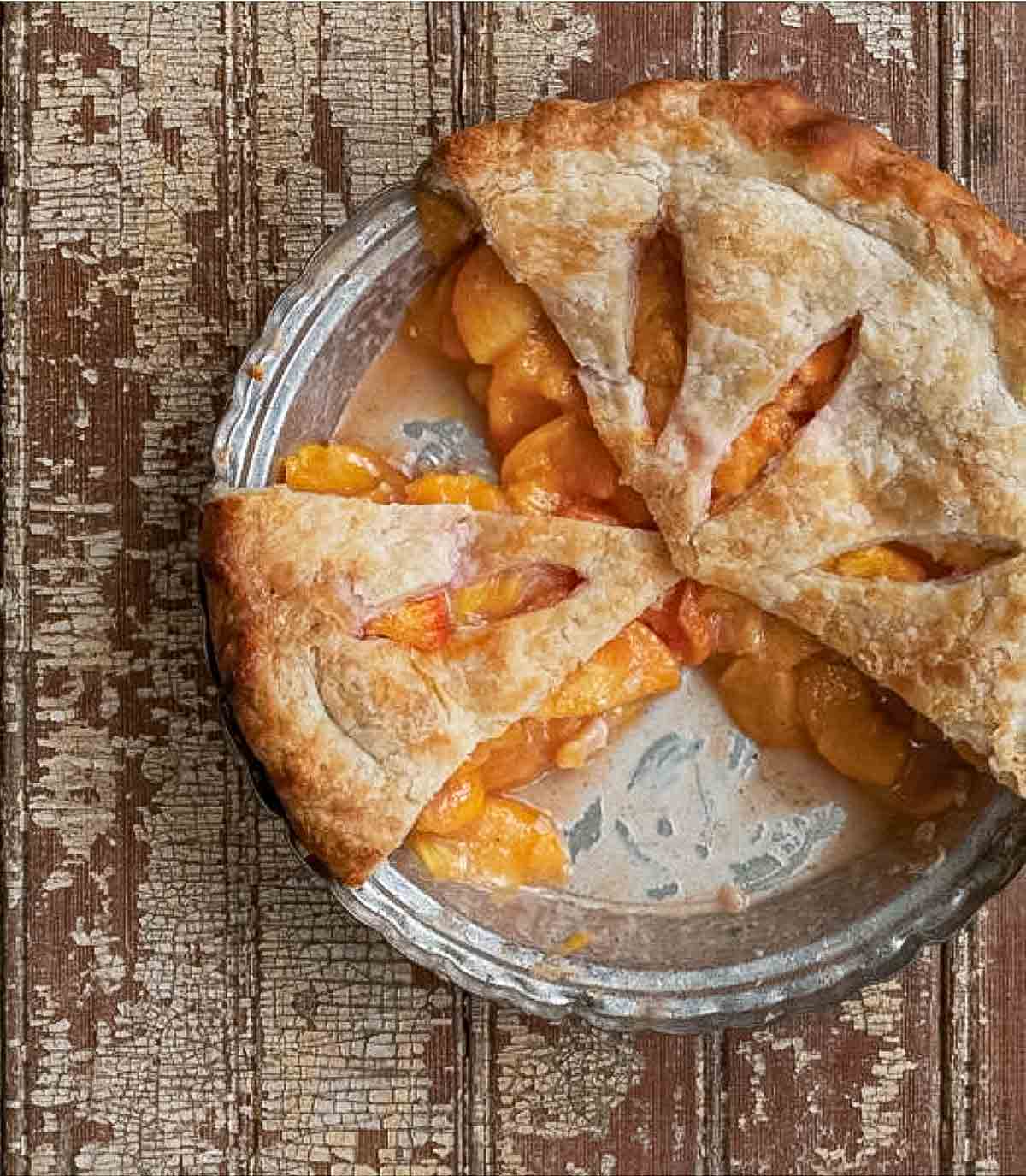 Fresh Peach Pie
Peach season is fleeting, but this fresh peach pie is so delicious that you should slip it into your summer any way you can. Fresh peaches, a hint of cinnamon, and a tender vinegar pie crust takes advatage of those gorgeous stone-fruits.
Recipe
The taste of this peach pie is unbelievably bright and just sweet enough. Very glad that I tried the crust. It all came together quickly and baked up beautifully golden and flaky.

liz
Zucchini, Peach, and Burrata Pizza
This easy vegetarian pizza is loaded with shaved zucchini, peach slices, creamy burrata cheese, and arugula. Perfect for meatless Monday or a casual backyard gathering.
Recipe
Grilled Peaches with Honey and Black Pepper
These grilled peaches with honey and black pepper are an easy summer dessert that caramelizes the natural sweetness of stone fruits and turns them tender and soft. A drizzle of honey and a slight bite from black pepper takes them over the top.
Recipe
This is the perfect summer dessert! Black pepper is one of my favorite spices and is superb on ripe peaches.

It was the perfect ending to a lovely dinner of grilled lamb chops, potato gratin, and fennel arugula salad. I served the peaches with vanilla ice cream and had a very happy table!

lisa
FAQs About Peaches
When is peach season?
Peaches are in season beginning in late May in some parts of the U.S. Peach season generally lasts into September, with the peak season in July and August.
how can i tell if a peach is ripe?
Ripe peaches should have good color, a sweet fragrance when sniffed, and yield slightly when gently squeezed. These are a few ways to determine if a peach is ripe.
what's the difference between clingstone and freestone peaches?
As their names suggest, the stone or pit of a peach remains attached to a clingstone peach. For freestone peaches, the stone can be easily removed when the fruit is cut open.

Clingstone peaches tend to be sweeter and juicier than freestone peaches, making them perfect for preserving and baking. Freestone peaches are a little firmer than clingstone but are easier to work with.
What's your favorite way to use peaches? Classic desserts like Southern peach cobbler or sonker? Or savory sides like this peach and burrata salad or peach panzanella?
8 Recipes for Fresh Peaches
One of the best ways to showcase peaches (or other stone fruit) is this ☞ WHITE PEACH CROSTATA. It's a simple, easy summer dessert made from ripe white peaches, sugar, and lemon–all of which is wrapped in a buttery pie crust.
Ingredients
For the tart dough
1 1/4

cups

all-purpose flour

,

plus more for the work surface

1/8

teaspoon

salt

2

teaspoons

granulated sugar

7

tablespoons (3 1/2 oz)

cold unsalted butter

,

cut into chunks

3

tablespoons

ice water
For the filling
1 to 2

tablespoons

sugar

,

plus more for sprinkling

1

teaspoon

cornstarch

4 to 5

white peaches

,

peeled, pitted, and cut into 1-inch (25 mm) slices (4 to 5 cups sliced peaches)

1

tablespoon

fresh lemon juice

1/2

teaspoon

vanilla extract

1

large

egg

,

lightly beaten
Instructions
Make the dough
Pulse the flour, salt, and sugar in a food processor until blended. Add the chunks of butter and blend just until mixture resembles pebbles. Add the ice water, 1 tablespoon at a time, and pulse just until the mixture comes together. Do not let it form a ball. It should should still appear to be pretty pebbly and shaggy.

Turn the dough out onto a lightly floured surface and shape it into a disk. Wrap in plastic wrap and refrigerate for at least 30 minutes or up to 2 days.
Make the filling
In a large bowl, stir together the sugar and cornstarch. Add the peaches, lemon juice, and vanilla. Let stand for about 30 minutes, until the peaches release their juices. Taste and adjust the amount of sugar according to how innately sweet your peaches are.

Preheat the oven to 375°F (190°C). Adjust an oven rack to the center position.

Remove the dough from the refrigerator and let it rest at room temperature for a few minutes. Roll the dough out on a piece of parchment paper to 12 inches in diameter. Transfer the parchment and the dough to a rimmed baking sheet.

Pile the fruit mixture into the center of the dough, spreading it slightly but mounding it in the center. Fold the edges of the dough up around the fruit, allowing the dough to fall into pleats or seams every 2 inches. There should be at least 6 inches of fruit showing in the center of the crostata.

Brush the edges of the dough liberally with the beaten egg and sprinkle with sugar.

Bake the crostata for 45 to 50 minutes, until the crust is golden brown and the fruit is bubbling at the edges. If some liquid oozes out during baking, spoon it up and dribble it over the peaches in the center of the crostata.

Transfer the parchment and peach crostata to a wire rack and let cool slightly or, if you can manage to resist, let cool completely. Cut the tart into wedges and serve.
Nutrition
Serving:
1
slice
Calories:
285
kcal
Carbohydrates:
33
g
Protein:
5
g
Fat:
15
g
Saturated Fat:
9
g
Polyunsaturated Fat:
1
g
Monounsaturated Fat:
4
g
Trans Fat:
1
g
Cholesterol:
68
mg
Sodium:
63
mg
Potassium:
237
mg
Fiber:
2
g
Sugar:
12
g
Vitamin A:
802
IU
Vitamin C:
8
mg
Calcium:
19
mg
Iron:
2
mg
Nutrition information is automatically calculated, so should only be used as an approximation.
All rights reserved.
---