This summer panzanella salad is packed with tomatoes and peaches—a seemingly strange combination, but one on which you'll soon be hooked. I always think that if two foods are growing and ripe at the same time, they must be a good match. This salad showboats the best produce of the summer in an almost effortless salad that tastes infinitely more complex than the sum of its parts. Ripe summer tomatoes and succulent peaches are tossed together with toasted, chewy bread and finished with a simple red wine vinaigrette and gobs of basil.–Sarah Waldman
Tomato and Peach Panzanella
Tomato and peach panzanella may sound unlikely but it's gonna knock your socks off. Or, if you're not wearing socks this time of year, then it'll knock your flip-flops off. Guaranteed.
Ingredients
1

whole

French baguette*

,

torn into 1-inch (25-mm) chunks (about 6 cups)

1/2

cup

olive oil

3/4

teaspoon

kosher salt

,

plus more as needed

3

large (about 1 lb)

tomatoes or 3 cups cherry tomatoes

,

sliced

3

large (about 1 lb)

peaches

,

pitted and sliced

3

tablespoons

red wine vinegar

1/4

teaspoon

freshly ground black pepper

,

plus more as needed

1/2

(about 4 oz)

red onion

,

thinly sliced

1/2

cup

torn, chopped or thinly sliced fresh basil
Instructions
Preheat the oven to 400°F (200°C).

In a large bowl, toss the bread chunks with 2 tablespoons olive oil and then sprinkle with 1/4 teaspoon salt. Place the bread on a rimmed baking sheet in a single layer. Bake until evenly toasted, stirring once or twice, 10 to 20 minutes.

In a large bowl, gently toss the tomatoes and peaches with 1/2 teaspoon salt. Slowly pour the tomato and peach mixture into a colander and place it over the bowl you used to toss the tomatoes and peaches. Let the tomatoes and peaches drain while the bread toasts.

Lift the colander of tomatoes and peaches out of the bowl and set it aside. You should have some juices in the bottom of the bowl. Whisk 6 tablespoons oil, the vinegar, and the black pepper into the tomato and peach juices. Add the toasted bread, toss to coat, and let it soak, tossing occasionally, for 10 minutes.

Add the tomatoes and peaches, red onion, and basil to the bowl with the bread and toss to combine. Season with salt and pepper to taste and serve immediately.
Notes
*Can I use stale bread instead of toasted bread in panzanella?
Hear us out on this—you can use stale bread but it still needs to be toasted. The biggest difference between stale and dried (toasted) bread is how it's going to absorb that lush vinaigrette. Stale bread, because of molecular differences that we only partially understand, will be tough and crusty at its core while getting mushy with dressing at the same time. But toast that very same bread and you'll end up with something that passes for decent bread again. The same goes for the fresh, tender stuff you've got. Toasting as instructed in the recipe will give you something that can stand up to the dressing but not be too much of a workout to eat.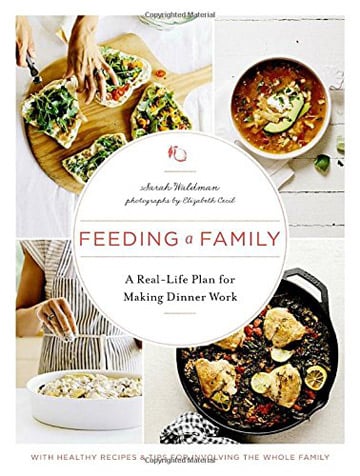 Nutrition
Serving:
1
portion, based on 4 servings
Calories:
318
kcal
Carbohydrates:
18
g
Protein:
2
g
Fat:
28
g
Saturated Fat:
4
g
Polyunsaturated Fat:
3
g
Monounsaturated Fat:
20
g
Sodium:
570
mg
Potassium:
541
mg
Fiber:
4
g
Sugar:
14
g
Vitamin A:
1474
IU
Vitamin C:
26
mg
Calcium:
32
mg
Iron:
1
mg
Nutrition information is automatically calculated, so should only be used as an approximation.
Recipe © 2017 Sarah Waldman. Photo © 2017 Elizabeth Cecil. All rights reserved.
---