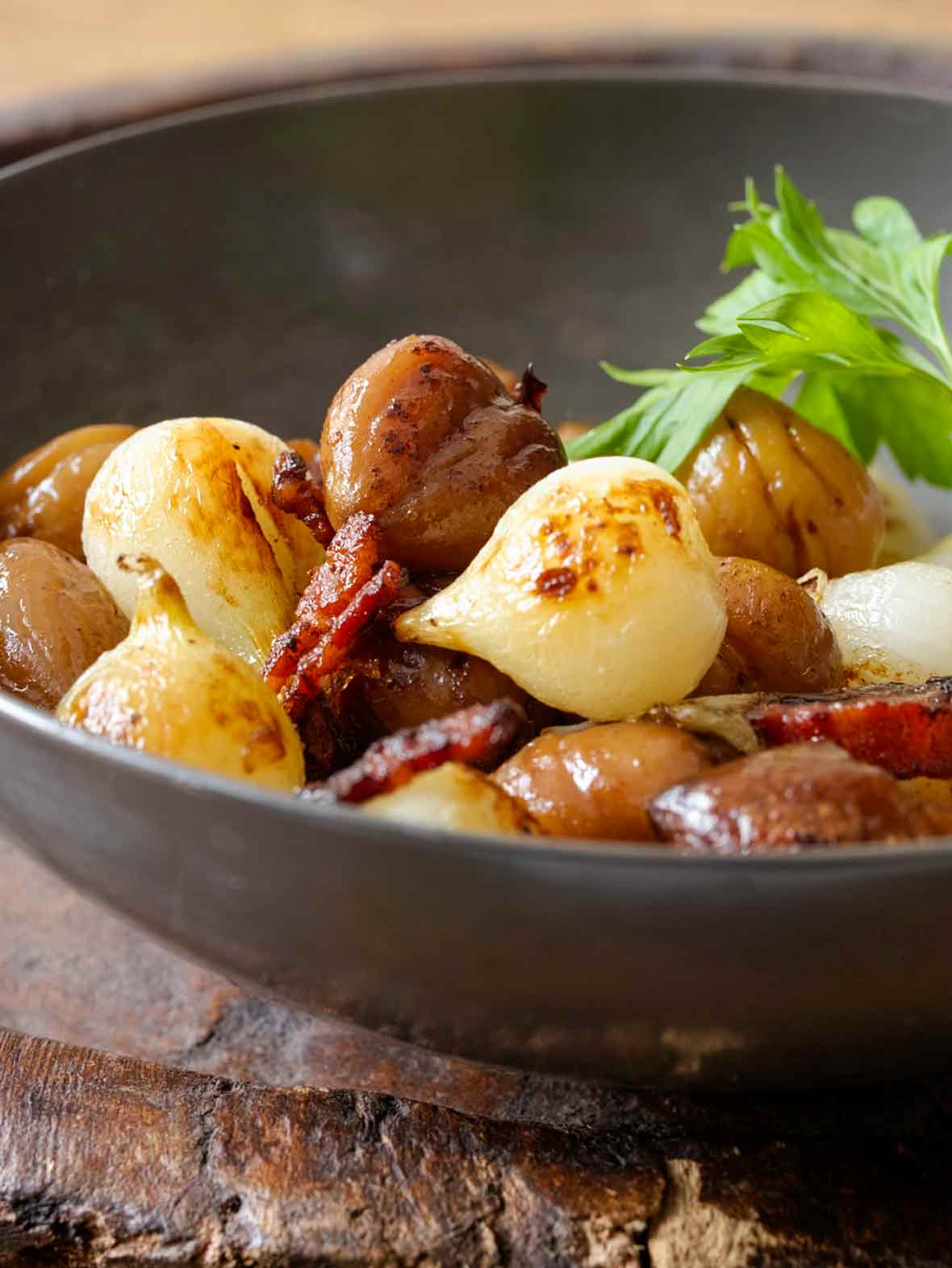 Your first thought when you saw a side dish of sauteed onions, chestnuts, and bacon was Thanksgiving, right? Well, the Portuguese don't celebrate the holiday, but they do grow plenty of chestnuts. When something is as vital to the local economy as chestnuts are to the Trás-os-Montes and Alto Douro region, people find plenty of ways to cook and eat it throughout the year. While living in Portugal, I had chestnuts in soups, bread, and dessert, but I'd never had them tossed with onions and bacon, as they are in this dish adapted from a recipe by chef Michel da Costa. It makes sense. The nuts are an excellent foil for the saltiness of the bacon and the caramel sweetness of the onions. Not surprisingly, it makes for a crowd-pleasing Thanksgiving side dish and will be on our table this year. Again.–David Leite
LC Know Your Chestnuts Note
This recipe calls for cooked chestnuts, which you can find in a jar or vacuum-packed bag. If you have the luxury of choosing between jarred and vacuum-packed chestnuts, pick the jarred. Fewer broken casualties that way.
Video: How to Make Portuguese Onions, Chestnuts, and Bacon
Video courtesy of WTNH
Portuguese Onions, Chestnuts, and Bacon
Quick Glance

(2)

15 M
30 M

Serves 6 to 8 as a side dish
Print Recipe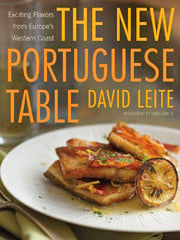 Ingredients
Email Grocery List
Directions
Cook the bacon in a large skillet over medium-low heat, stirring often, until the fat has rendered and the meaty bits start to crisp, about 12 minutes. Transfer to paper towels to drain.
Meanwhile, fill a bowl with ice and water. Bring a medium saucepan of water to a boil. Drop in the onions and blanch for 30 seconds. Scoop out the onions with a slotted spoon and plop them in the ice water. Peel the onions by snipping off the tip and removing the papery outer layers. Pat the onions dry.
Raise the heat under the skillet to medium, plonk in the onions, and sauté in the bacon fat, stirring occasionally, until tender and spotted with brown, about 10 minutes. Add the chestnuts, bacon, and honey and toss to warm through, being careful not to break up the nuts—they're fragile. Season with salt and plenty of pepper, then scoop everything into a decorative bowl and garnish with the parsley.
Print Recipe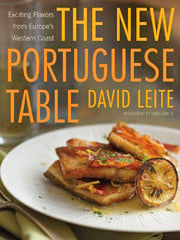 Recipe Testers Reviews

The title of this recipe is enough to make me smile. Just think about the ingredients—pearl onions, chestnuts, bacon, honey. You can envision how beautiful this recipe is even before you make it. I have many kinds of honey, and opted for chestnut honey in this dish. As you can imagine, it became luscious and sticky and gooey, just like I'd hoped it would. The onions remained a bit crunchy, which is exactly how I like them, and nicely complemented the mealy, earthy chestnuts. But the bacon plays an integral role, adding the salty savory element. First you sauté it, remove it from the pan, then sauté the onions and chestnuts in the drippings, then add honey to it all, and finally add the bacon back to its rightful place. Does that not sound fabulous? Parsley is added at the end for color, but I personally thought it detracted slightly from everything else. (But then,the parsley in my garden is quite...well...powerful.) When I make this next, I'll use fresh thyme rather than parsley, as it's earthy and would go so nicely with the flavor profile. This candy-like yet very savory dish says Thanksgiving and Christmas. It would be the highlight of any meal. I love that it's different than usual. But if I were to make it for a holiday, I would have to keep it warm in the back corner of the dark oven so when the guests are doing the dishes I could excuse myself and feast on it unhindered.
Portuguese Onions, Chestnuts, and Bacon Recipe © 2009 David Leite. Photo © 2009 Nuno Correia. All rights reserved. All materials used with permission.
If you make this recipe, snap a photo and hashtag it #LeitesCulinaria. We'd love to see your creations on Instagram, Facebook, and Twitter.