Pairing fish and meat for main courses has become a popular restaurant trend over the least few years, and not just in the traditional surf-and-turf sense. In cooking the two in the same pan, chefs use this technique to give fish a more robust, meaty flavor, and although it may sound strange if you've not tried it, the results can be spectacular.
This pan-roasted halibut, chickpeas, and chorizo is based on a Spanish dish; chorizo, the Spanish hard sausage, and chickpeas (garbanzo beans) are often paired in the cuisine of that country. They make a great accompaniment for the halibut, which is a fish that stands up well to other flavors. The next time you get your hands on some very fresh halibut, remember this dish.–Kevin Garvin
Pan-Roasted Halibut, Chickpeas and Chorizo
For this pan-roasted halibut, chickpeas, and chorizo, seared halibut is matched up with a stew of Spanish chorizo, chickpea, cabbage.
Ingredients
For the Seafood Seasoning
2

tablespoons

ground coriander

1

tablespoon

Old Bay seasoning

2

teaspoons

salt

1

teaspoon

freshly ground black pepper
For the Iberian Stew
4

tablespoons

olive oil

4

ounces

Spanish-style chorizo sausage

,

(preferably Goya or Quixote brand), cut on a bias into 1/4-inch slices

1

tablespoon

minced garlic

1

cup

diced onion

1/2

cup

peeled and finely diced carrot

1/8

teaspoon

dried oregano

1

cup

shredded cabbage

One

(19-ounce) can

chickpeas

,

drained and rinsed

1

cup

homemade chicken stock or canned chicken broth

Salt and freshly ground pepper

1/4

cup

minced cilantro leaves

,

(leaves and stems)
For the halibut
Four

(6-ounce)

halibut fillets

4

tablespoons

olive oil

1

cup

julienned scallions

,

(green and white parts)

1/4

cup

cilantro leaves
Instructions
To prepare the seasoning, combine the coriander, Old Bay seasoning, salt, and pepper in a bowl and set aside (if not using immediately, transfer to an airtight container and store in a cool, dry space).

To prepare the stew, pour 2 tablespoons of the olive oil into a saute pan and set over medium-high heat. Add the chorizo and saute for 2 to 3 minutes, until it begins to brown. Remove with a slotted spoon and transfer to a mixing bowl. Using a fine-mesh strainer, strain and reserve the colored and well-flavored oil for finishing the dish.

Pour the remaining 2 tablespoons of olive oil into a saucepan and set over medium heat. Add the garlic and saute for about 1 minute, stirring occasionally with a wooden spoon, until golden brown; the garlic should be caramelized but not burned. Add the onion, carrot, and oregano, and continue to cook for about 3 minutes, until the onion is translucent. Turn down the heat to low and add the cabbage. Cook for 3 minutes longer, stirring occasionally.

Add the chickpeas and chicken broth, and season with salt and pepper. Bring to a simmer and continue to cook over low heat, uncovered, for 10 to 15 minutes, so that some of the broth evaporates and the flavors come together. Add the cooked chorizo and the cilantro and keep warm.

Preheat the oven to 350°F (175°C).

Place the halibut fillets on a large plate and drizzle with 2 tablespoons of the olive oil, brushing the oil to completely cover the fish. Evenly coat each fillet with about 1 tablespoon of the reserved Seafood Seasoning. Pour the remaining 2 tablespoons of olive oil into an oven-proof saute pan or skillet and set over medium-high heat. Carefully place the fillets in the pan and saute for 2 to 3 minutes, letting the fillets brown and form a crust on the first side. Turn the fillets over with a spatula and transfer the pan to the oven. Roast for about 10 minutes, until the fillets are firm and flake easily when gently pierced with a fork. Meanwhile, gently warm the reserved chorizo oil in a small saucepan or skillet.

To serve, spoon equal amounts of the stew into the middle of warm pasta bowls or serving plates. Arrange a halibut fillet on top and garnish with the scallions and cilantro. Drizzle 1 teaspoon of the flavored chorizo oil around each fillet.
Notes
Chef's Note
Spanish chorizo is available at good grocery stores or specialty food markets. The beautiful red coloring it gives to the oil in which it is cooked comes from its large quantity of paprika. This stew also makes a great appetizer or an accompaniment for grilled shrimp. You can substitute sea bass or grouper for the halibut.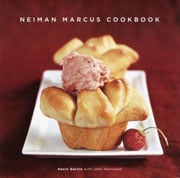 Nutrition
Serving:
1
portion
Calories:
957
kcal
Carbohydrates:
50
g
Protein:
94
g
Fat:
42
g
Saturated Fat:
8
g
Polyunsaturated Fat:
6
g
Monounsaturated Fat:
24
g
Cholesterol:
222
mg
Sodium:
1975
mg
Potassium:
2503
mg
Fiber:
14
g
Sugar:
11
g
Vitamin A:
3560
IU
Vitamin C:
24
mg
Calcium:
178
mg
Iron:
7
mg
Nutrition information is automatically calculated, so should only be used as an approximation.
Recipe © 2003 Kevin Garvin. Photo © 2003 Ellen Silverman. All rights reserved.
---