This Portuguese fennel soup, or sopa de funcho, made with fennel, white beans, cabbage, and sausage is a staple in Madeira and the Azores Islands.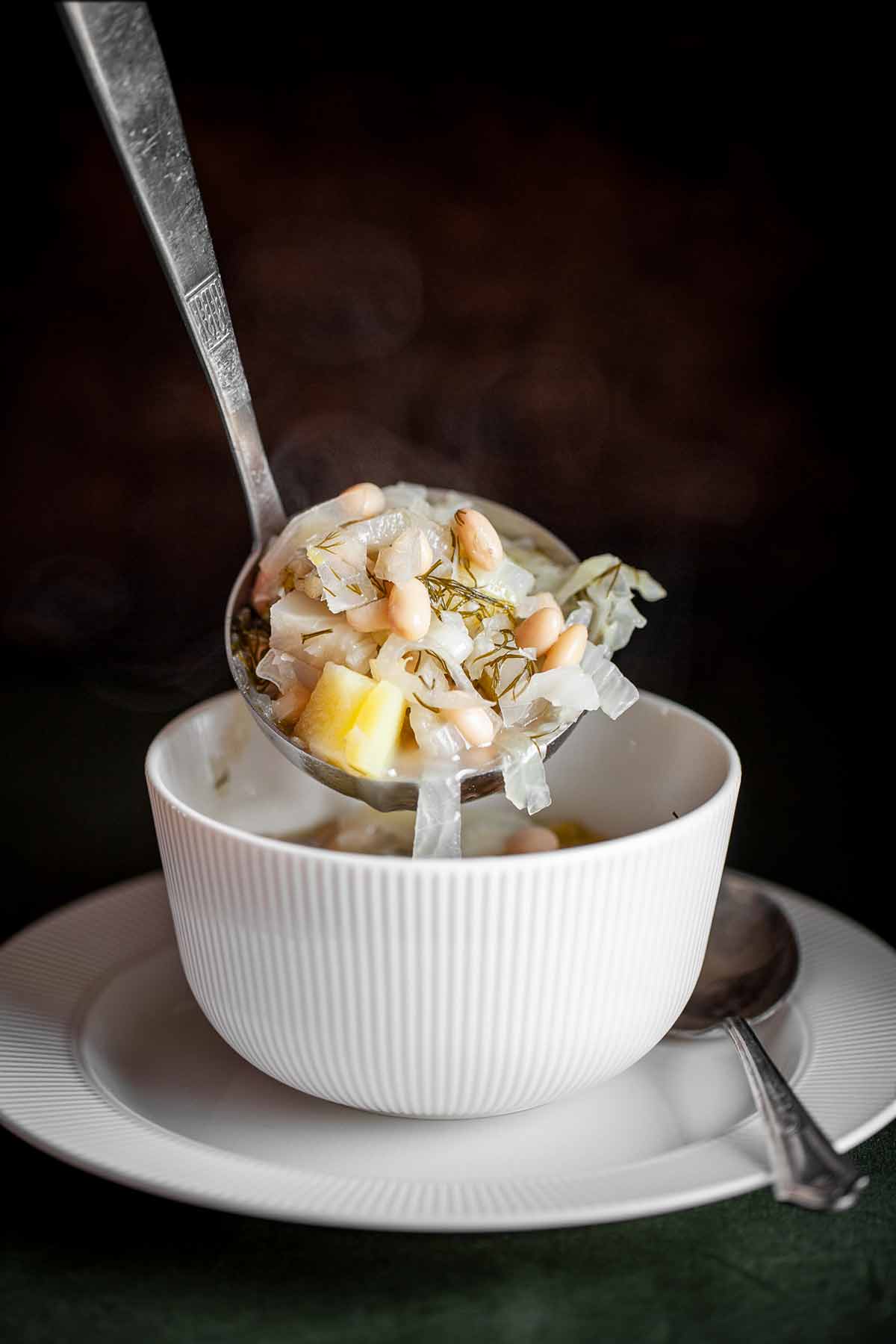 Can I make this soup without meat?
Ana Patuleia Ortins, the author of the cookbook in which we found this classic recipe, says, "You can also make this soup without any meat." And that's what we did in the photos below. Although that's not how it's made traditionally, we like to think that it falls in step with the frugal nature of much Portuguese cooking. To ensure ample flavor, you may want to use vegetable stock in place of water, but that, too, can be made inexpensively from scraps of vegetables.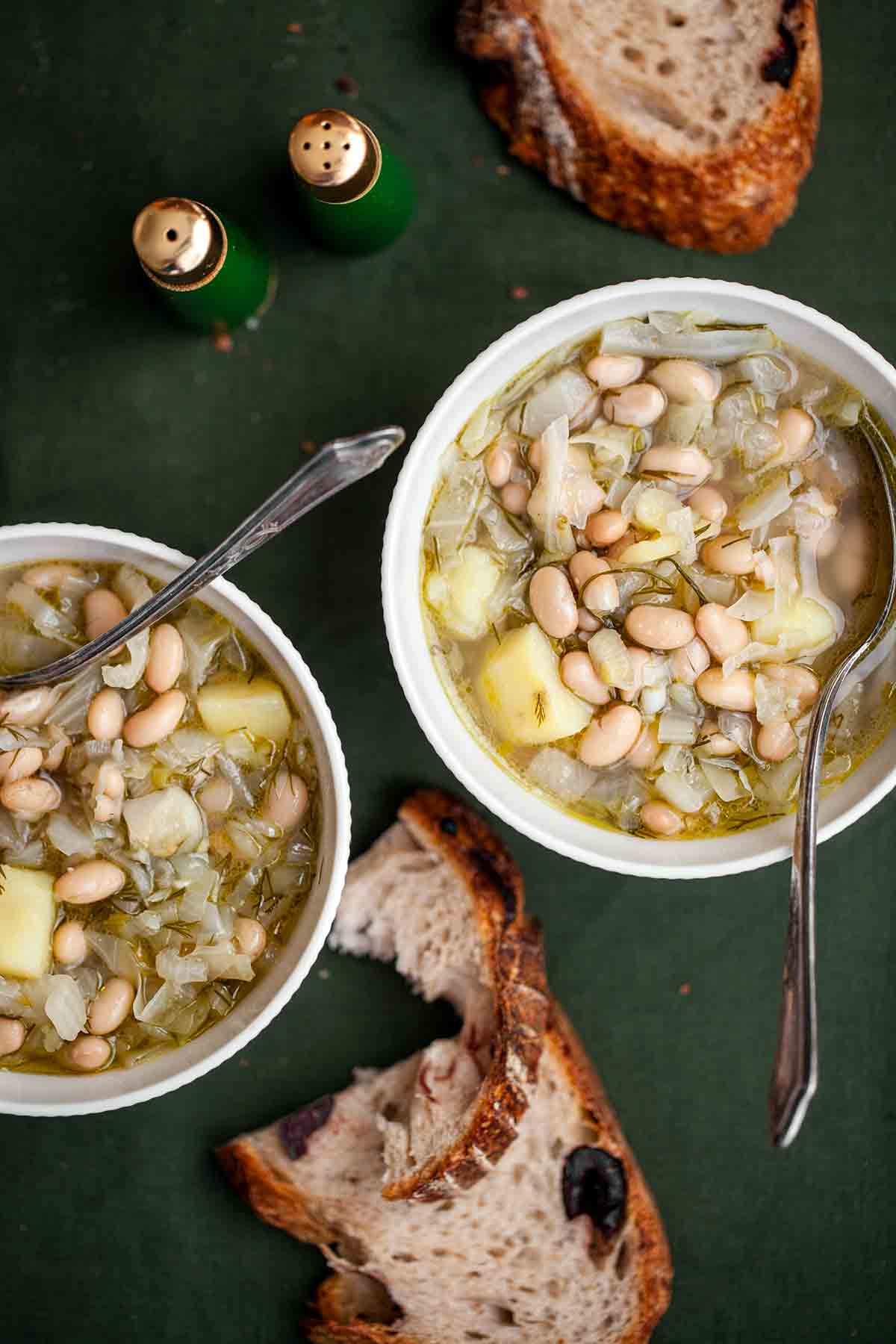 Portuguese Fennel Soup
Quick Glance

(1)

45 M
2 H
Serves

6

to 8
Print Recipe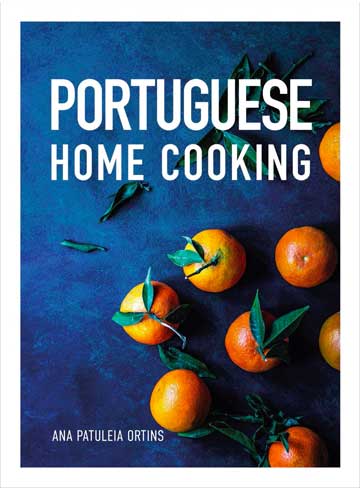 Ingredients
Directions
The day before
Soak beans overnight in enough water to cover by 2 inches.
Rub the meat with 2 tablespoons coarse salt and chill overnight.
The next day
Drain and rinse the beans. 
Wipe any excess salt from the ribs (or pig's feet) and place in a 4-quart stock pot with the beans and water. Cover, place over medium-high heat, and bring to a boil. Reduce the heat and simmer until the meat is tender and the beans are easily mashed, 60 to 90 minutes. Occasionally skim the surface of any impurities.
Meanwhile, trim and discard coarse stems from the fine feathery fennel leaves. Finely chop enough leaves to yield 2 cups. (If you are using fennel bulbs, discard the outer layer. Separate sections of the bulbs, rinse well, and coarsely chop.) 
Add the onion, garlic, bay leaf, cloves, and black pepper to the pot. Simmer for 5 minutes. then toss in the fennel leaves, and chopped bulb if using, along with the cabbage, potatoes, scallions, olive oil, and sausage, if using. Return the soup to a boil, reduce the heat to medium-low, and continue to simmer until the potatoes are done and the cabbage is tender, about 20 minutes. 
Usually this soup needs no additional salt, but taste and season to your preference.
Print Recipe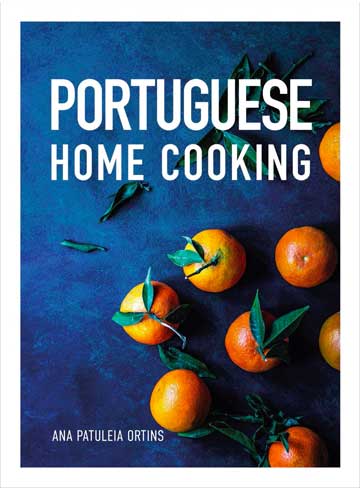 Health note
Replace the salted pork with an additional 2 tablespoons of olive oil.
Recipe Testers' Reviews
I was immediately drawn to this recipe by the title. I wasn't always a fan of fennel, but once I was introduced to it properly used/cooked/imagined, I was hooked. I also have dreams of visiting Portugal when I feel safe traveling again. This soup was fantastic. A hearty dish for a cold winter's night( and lunch for the next few days).
I only got 1 1/4 cups of fennel leaves from what I purchased which felt like a lot, so I would be interested to see how 2 cups would change the soup. I also might add a little more liquid as I think my ratio was slightly off due to evaporation with a longer cooking time The linguica added a wonderful textural element besides just being delicious. I would definitely make this again and hopefully will be able to find savoy cabbage for the next batch.
Once everything was added in and the soup returned to a boil, the potatoes were ready in 20 minutes. I did end up adding more water as I think I lost a lot with the extended bean cooking time.
At first I thought the soup might need additional salt, however after I let it cool down a bit I discovered it wasn't necessary.
This was a comforting, stick to your ribs kind of soup, perfect for a chilly day. It had a thick consistency, more like a stew, but of course, you can always vary the amount of liquid to make it just how you like it. It was just perfect for me. The beans and potatoes broke down just enough to give the soup good body, and having the two different kinds of pork in the soup kept things interesting as well.
Although the recipe called for ground cloves I didn't really detect much influence, so I'd say don't be afraid if you want to increase the cloves a bit. I did use the optional suggestion of cabbage, and I think next time I'd add even more. Around here, at least in the winter, fennel bulbs don't come with the feathery fronds, so I wasn't able to use them, and just went with the actual fennel bulbs instead. In fact, I might even want to add a teaspoon of fennel seeds as well to bump up the fennel essence.
I went with fresh links of linguica since that's what I was able to find, but I'd love to try it with the cured version. I bet it's more flavorful. Delicious soup, easy to make, definitely would make again.
Portuguese Fennel Soup Recipe © 2001 Ana Patuleia Ortins. Photos © 2021
Cenk Sönmezsoy
. All rights reserved. All materials used with permission.