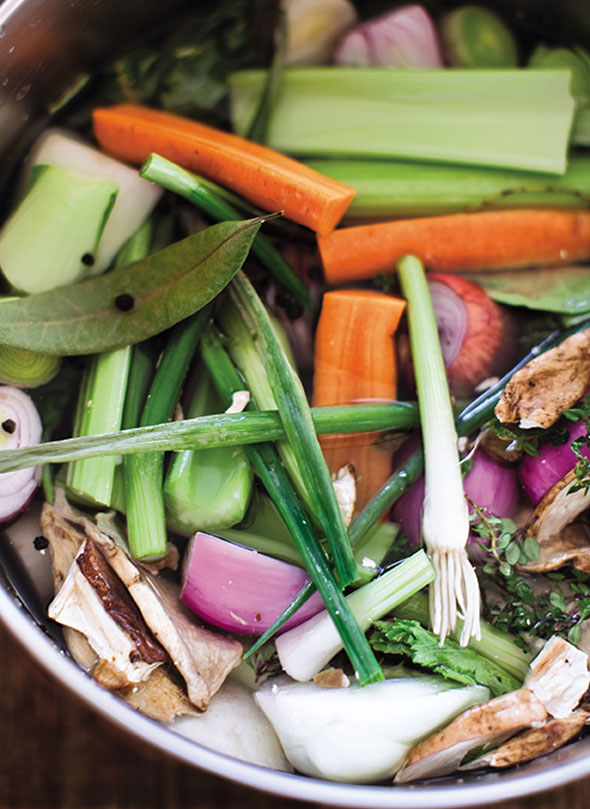 If you collect vegetable scraps throughout the week, you'll find yourself with more than enough materials to make this sumptuous vegetable broth recipe come Sunday.–Erin Scott
LC Guilty Conscience Note
Do you get clobbered by a guilty conscience each time you let vegetables languish in the fridge? Yeah, us too. "Even when I toss perfectly good veggie scraps into the compost bin, I feel a tug at my conscience telling me the act is wrong," says the author of this lovely, if loosely defined, vegetable broth recipe. Gah. It's like she can read our minds. No more guilt, though. Not with this recipe.
Vegetable Broth Recipe
Quick Glance
10 M
4 H

Makes about 6 cups
Ingredients
Veggie scraps

, such as tough green ends of leeks, bok choy, broccoli florets, turnips and their greens, a wayward carrot, a lonely celery rib, extra onion half, etc. (Avoid using carrot tops in your broth–We think they impart a bitter flavor.)

Bay leaf

A few

dozen

peppercorns

Sea salt

A few

garlic cloves or shallot

Herbs of your choosing

Parmesan rind

(optional)

Water
Directions
1. Rinse your veggie scraps and toss them into a stock pot. Add the bay leaf, peppercorns, salt, maybe a few cloves of garlic or a shallot, any extra herbs you've got lying around, and maybe a rind of Parmesan, if you want. (You can veer from the recipe and use practically anything you want.) Cover everything with plenty of water. Bring the liquid to a boil, then turn the heat down to achieve a gentle simmer. Partially cover the pot and watch your scraps turn into nourishment after a few hours of simmering.

2. When the vegetable broth is infused with flavor, turn off the heat and let the liquid cool a bit. Taste and adjust the seasoning, if desired. Use a slotted spoon to scoop the used vegetables right into the compost bin and strain the broth through a fine mesh strainer.

3. Use your vegetable broth to make risottos, soups, stews—any recipe you crave. You can stick the broth in lidded containers or resealable plastic bags and stash in the fridge for up to several days or toss it in the freezer until you need it.
Hungry for more?
Chow down on these:
Vegetable Broth Recipe © 2014 Erin Scott. Photo © 2014 Erin Scott. All rights reserved.
Hey, there. Just a reminder that all our content is copyright protected. Like a photo? Please don't use it without our written permission. Like a recipe? Kindly contact the publisher listed above for permission before you post it (that's what we did) and rewrite it in your own words. That's the law, kids. And don't forget to link back to this page, where you found it. Thanks!