This Portuguese fish chowder is a tomato-based stew of fish, potatoes, chouriço, peppers, and cilantro, that's a traditional classic in Portugal as well as the homes of transplanted Portuguese everywhere.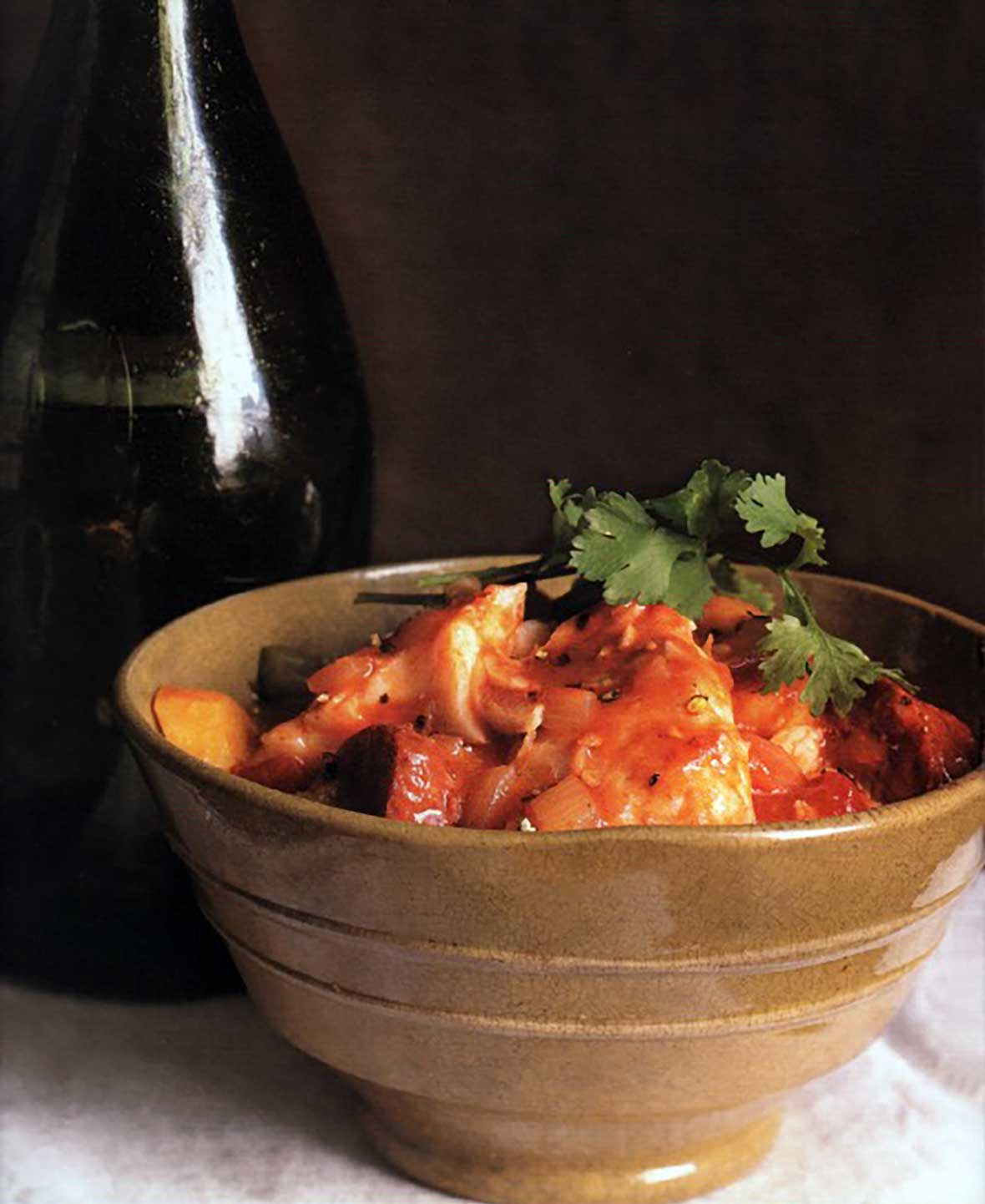 This chowder has a relationship to New Bedford and the area New Englanders call South Coast, which includes that part of southeastern Massachusetts west of Cape Cod and a small piece of eastern Rhode Island. The area is ethnically diverse, with a large Portuguese population, but everyone, even those who aren't Portuguese, loves good food. I served this chowder recently to a group at Sakonnet Vineyards in Little Compton, Rhode Island. As soon as word got out that there was chouriço (a dry, spicy, garlicky Portuguese sausage) in the chowder, the crowd demolished it. Almost everyone in this region loves chouriço, which the locals pronounce "shore-EE-soo." All over New England where the Portuguese have settled, chouriço is included in clambakes, clam boils, and other traditional Yankee fare.
With its translucent reddish broth and colorful pieces of bell pepper, tomato, chouriço, potato, fish, and cilantro, this Portuguese-style chowder is very enticing. It has a splendid aroma and a savory spicy flavor, making it an interesting and exciting alternative to milder creamy chowders.
For equipment, you will need a 4- to 6-quart heavy pot with a lid, a wooden spoon, a slotted spoon, and a ladle.–Jasper White
LC Chowder Smackdown Note
You can embrace your creamy chowders all you want. And there's nothing wrong with that. But don't be so certain that you don't prefer a tomato-y chowder until you try this traditional Portuguese-style chowder.
Portuguese Fish Chowder
Quick Glance
40 M
2 H, 15 M

Serves 8
Print Recipe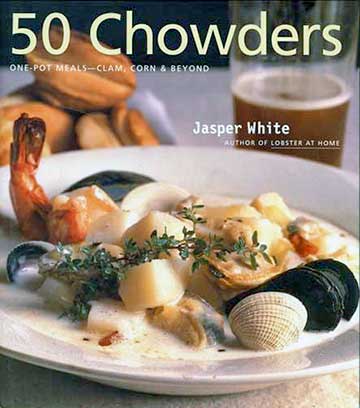 Ingredients
2 tablespoons olive oil

2 dried bay leaves

3 cloves (1 tablespoon) garlic, finely chopped

2 medium onions (14 oz), cut into 3/4-inch (18-mm) dice

1 green bell pepper (6 oz), cut into 1/2-inch (12-mm) dice

1/4 teaspoon ground allspice

2 pounds Yukon Gold, Maine, PEI, or other all-purpose potatoes, peeled and sliced 1/3-inch thick

4 cups fish stock, as a last resort, water

2 cups (from a 28-ounce or 795 g can) canned whole tomatoes in juice, cut into 1/2-inch (12-mm) dice (measured with their juice)

6 ounces spicy chouriço or andouille sausage, casing removed and sliced 1/4 inch (6 mm) thick

Kosher salt and freshly ground black pepper

2 pounds skinless silver hake, cod, haddock, or bass fillets, pinbones removed

2 tablespoons coarsely chopped flat-leaf parsley leaves
Directions
1. Heat a 4- to 6-quart heavy pot over medium heat and add the olive oil and bay leaves. As soon as the bay leaves begin to turn brown, add the garlic and cook, stirring constantly with a wooden spoon, for 30 seconds or until it's golden. Add the onions, bell pepper, and allspice and saute, stirring occasionally, for about 8 minutes, until the onions and peppers are softened but not browned.

2. Add the potatoes and stock; if the stock doesn't cover the potatoes, add just enough water to cover them. Turn up the heat, bring to a boil, cover, and cook the potatoes vigorously for about 10 minutes, until they are soft on the outside but still firm in the center.

3. Reduce the heat to medium, add the tomatoes and sausage, and simmer for 5 minutes. Season the mixture assertively with salt and pepper (you want to almost overseason the chowder at this point, to avoid having to stir it much once the fish is added).

4. Add the whole fish fillets and cook for 5 minutes, then remove the pot from the heat, gently stir in the cilantro, and allow the chowder to sit for 10 minutes. (The fish will finish cooking during this time.) If you're not serving the chowder within the hour, let it cool a bit, then refrigerate; cover the chowder after it has chilled completely. Otherwise, let it sit for up to an hour at room temperature, allowing the flavors to meld.

5. When ready to serve, reheat the chowder over low heat; don't let it boil. Use a slotted spoon to mound the chunks of hake, the chouriço, tomatoes, peppers, and potatoes in the center of large soup plates or shallow bowls, and ladle the savory tomato broth over. Sprinkle with the chopped parsley and serve immediately.
Portuguese Fish Chowder Recipe © 2000 Scribner. Photo © 2000 Gentl & Hyers. All rights reserved. All materials used with permission.
If you make this recipe, snap a photo and hashtag it #LeitesCulinaria. We'd love to see your creations on Instagram, Facebook, and Twitter.