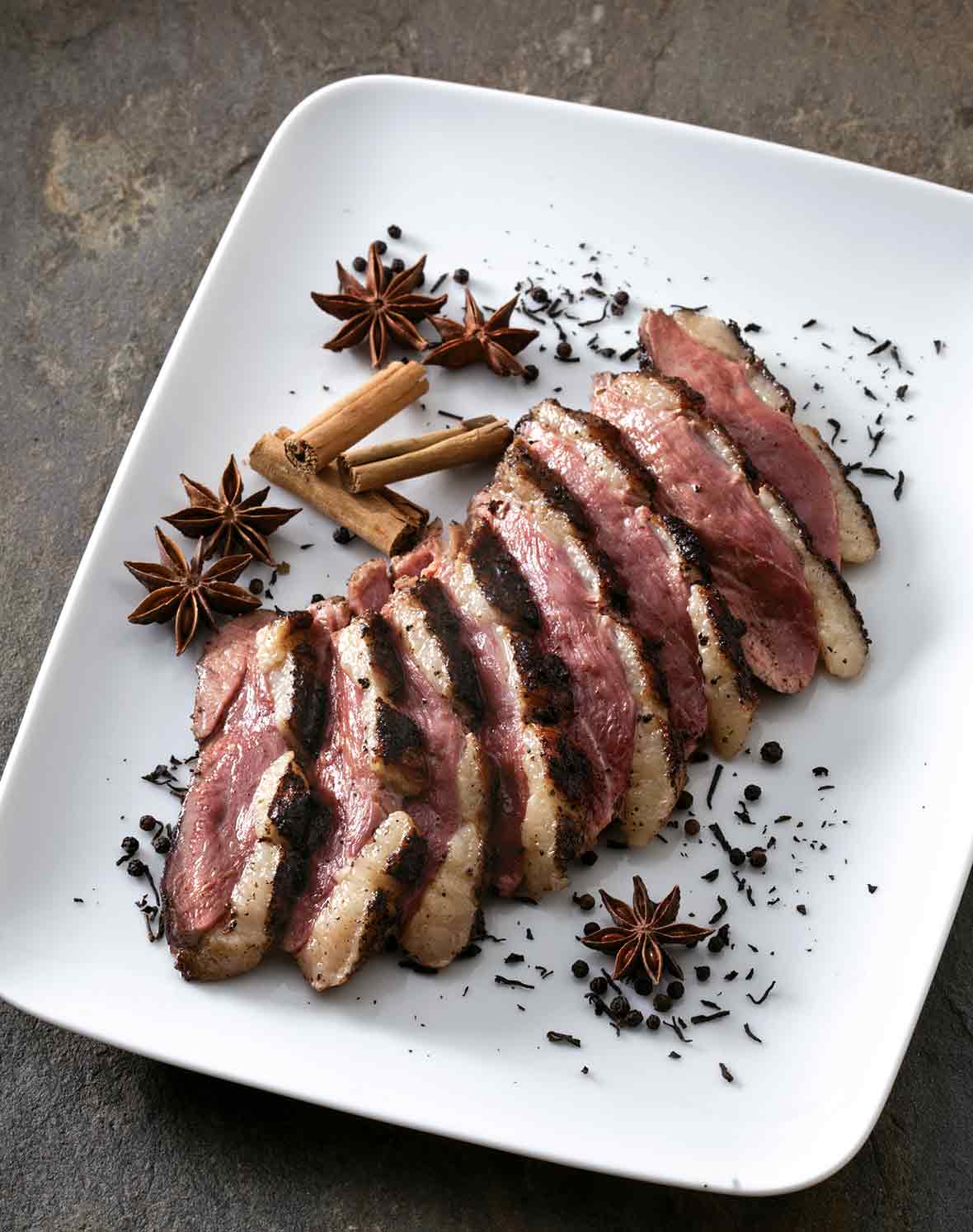 Smoked duck is wonderful in all its incarnations, but when combined with the rich caramelization and crisp skin that grilling adds, this dish is a must. Lychee tea has a sweet aroma that goes well with assertive meats such as duck, as well as with other poultry. Freshly ground whole peppercorns, coriander, and allspice add a more intense kick of flavor to the rub. (This is also good as a dry rub on pork or chicken before roasting or grilling or to season a couscous salad. Try using a small amount of the extra rub to make a tea salt for sprinkling over just about anything. Or roll a log of goat cheese in the rub and serve with roasted fruit.) The duck needs to sit in the rub overnight, so plan accordingly.–Cynthia Gold and Lisë Stern
LC In Lieu of Lychee Tea Note
As the authors note in their book, lychee tea is black tea scented with lychee fruit, a centuries-old tradition in China. And it's more common than you may think. If, even after looking, you still can't lay your hands on some, not to worry. Other Chinese black or oolong tea leaves will work in a pinch in place of lychee tea.
Tea-Smoked Duck Breast
Quick Glance
25 M
1 H

Serves 4
Print Recipe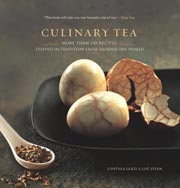 Ingredients
For the tea spice rub

1/4 cup (10 grams) loose-leaf lychee black tea leaves (you may substitute a Chinese black or strongly oxidized oolong)

1 tablespoon whole black peppercorns

1 teaspoon whole coriander seeds

1 star anise, crumbled, or 1/2 teaspoon anise seeds

1 teaspoon allspice berries

1 tablespoon ground cardamom

1 tablespoon ground ginger

1 teaspoon ground cumin

1/2 teaspoon ground cinnamon

1/2 teaspoon ground cloves

For the duck breast

2 whole (12 to 14 ounces each) boneless duck breast

1/4 cup lychee tea spice rub

1/2 cup uncooked rice

1/2 cup (20 grams) loose-leaf lychee black tea leaves

2 whole star anise, or 1 teaspoon anise seeds

1 teaspoon whole black peppercorns

2 cinnamon sticks

Zest of 1/4 orange, removed in large strips
Directions
Make the tea spice rub

1. Grind the tea, peppercorns, coriander seeds, anise seeds, and allspice in a coffee or spice grinder until fine and even in consistency. Blend with the cardamom, ginger, cumin, cinnamon, and cloves until thoroughly combined. You should have about 1/3 cup. Store in an airtight container at room temperature.

Prepare the duck breasts

2. Split the duck breasts in half and trim any excess fat. Score the skin lightly several times on the diagonal with a sharp knife, cutting through the skin and well into the layer of fat, but not into the duck meat underneath. This will aid in draining the excess fat off during cooking. Rub the breasts well with the tea spice rub, cover, and refrigerate overnight.

3. When ready to cook the duck, light the grill and heat until coals are ashed over. While the grill heats, place the rice, tea, star anise, peppercorns, cinnamon sticks, and orange zest on a large piece of heavy-duty aluminum foil. Fold over to make a loose packet, folding over the edges to seal. Make several small slits in the top of the packet to allow the aromatic smoke to release.

4. When the coals are ashed over, flatten the mound of coals and place the tea-spice packet on top of them, slits facing upward. When the packet begins to smoke, place the duck breasts, skin-side down, on the grill rack. Cover and cook over medium heat. Turn the duck breasts over after about 8 minutes and continue to cook, covered, until it reaches the desired doneness, around 135°F to 140°F (58°C to 60°C) on an instant-read thermometer for medium-rare. Remove the duck from the grill and let rest several minutes on a cutting board, tented with foil to keep warm. Slice the duck on the diagonal and serve immediately.
Tea-Smoked Duck Breast Recipe © 2010 Cynthia Gold | Lisë Stern. Photo © 2010 Steve Legato. All rights reserved.
If you make this recipe, snap a photo and hashtag it #LeitesCulinaria. We'd love to see your creations on Instagram, Facebook, and Twitter.