Sonhos, Portuguese for "dreams," are deep-fried donuts rolled in cinnamon sugar, dunked in caramel sauce, or drizzled with warm fruit jam.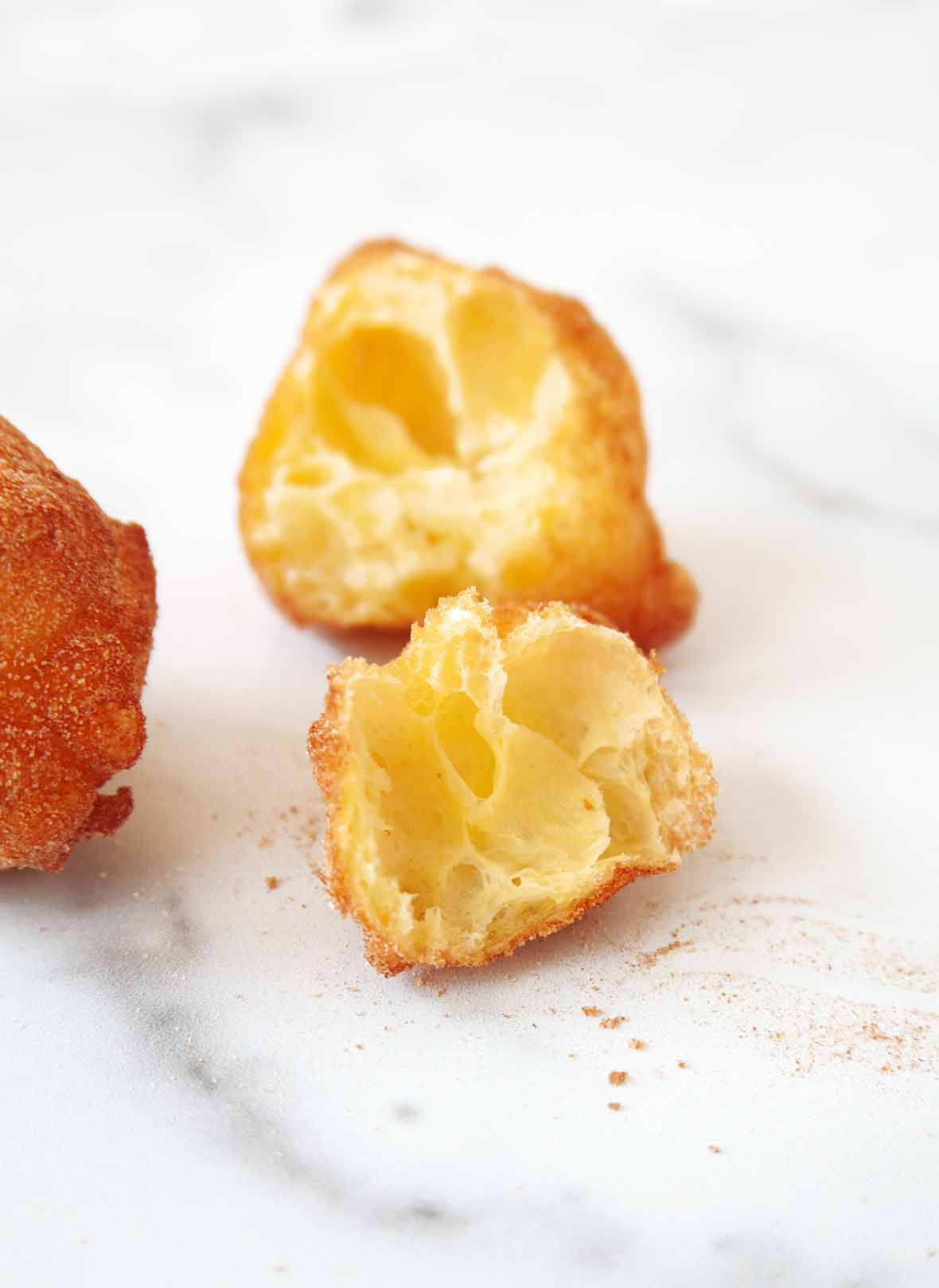 Sonhos are fried cakes like small doughnuts but much lighter in texture. There are many variations on the theme all over Portugal. Generally speaking, fried cakes are intended for the Christmas season, but, being so popular, sonhos are made at other times as well, and some specialty patisseries sell them freshly made on a daily basis.–David Leite
How to Serve Sonhos
Sonhos, in Portuguese, means "dreams." We can think of no more fitting name for something so dreamy. This recipe suggests dusting the deep-fried dough with cinnamon-sugar, although we have it on good authority that they are also often dunked in honey, warm fruit jam, or caramel sauce.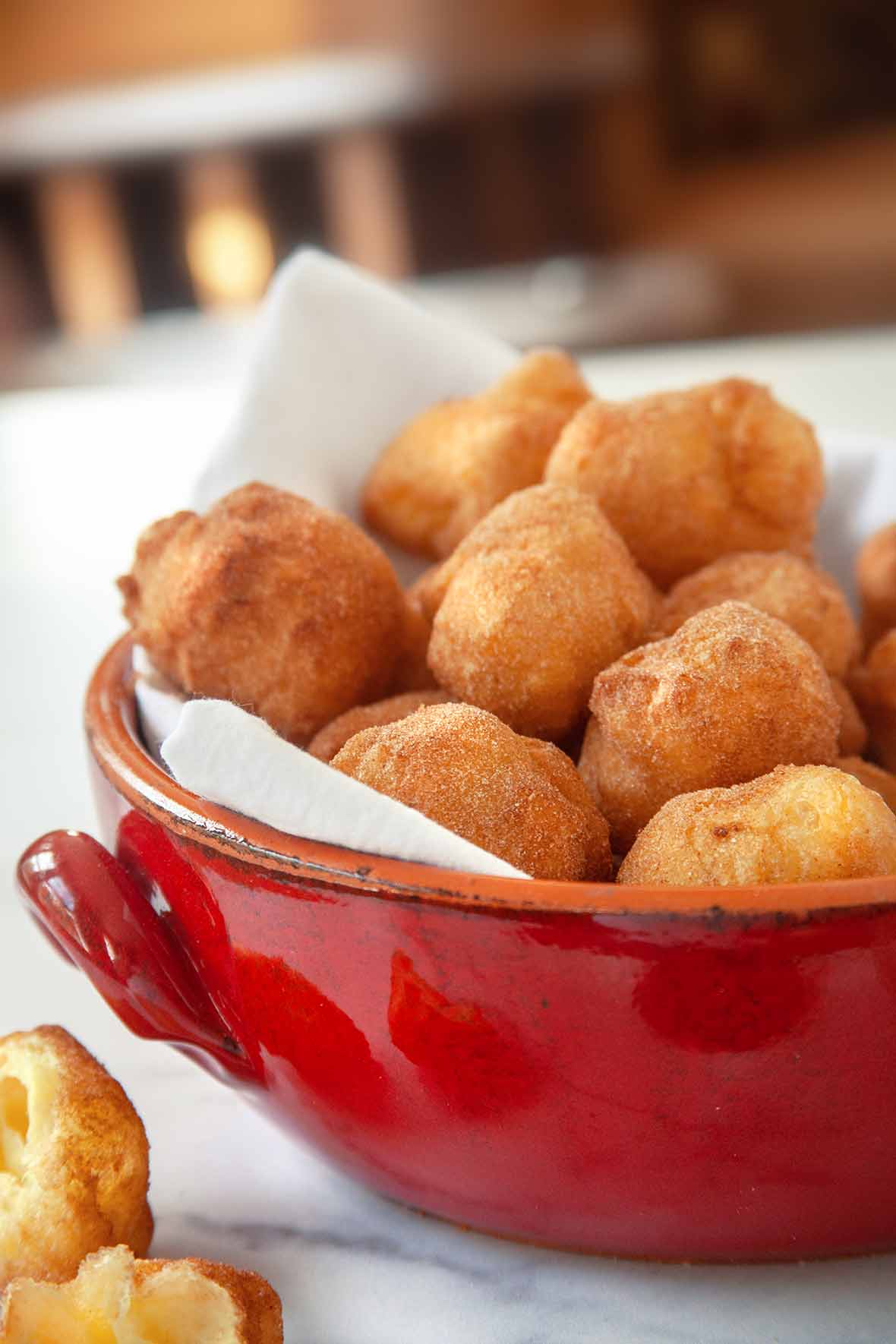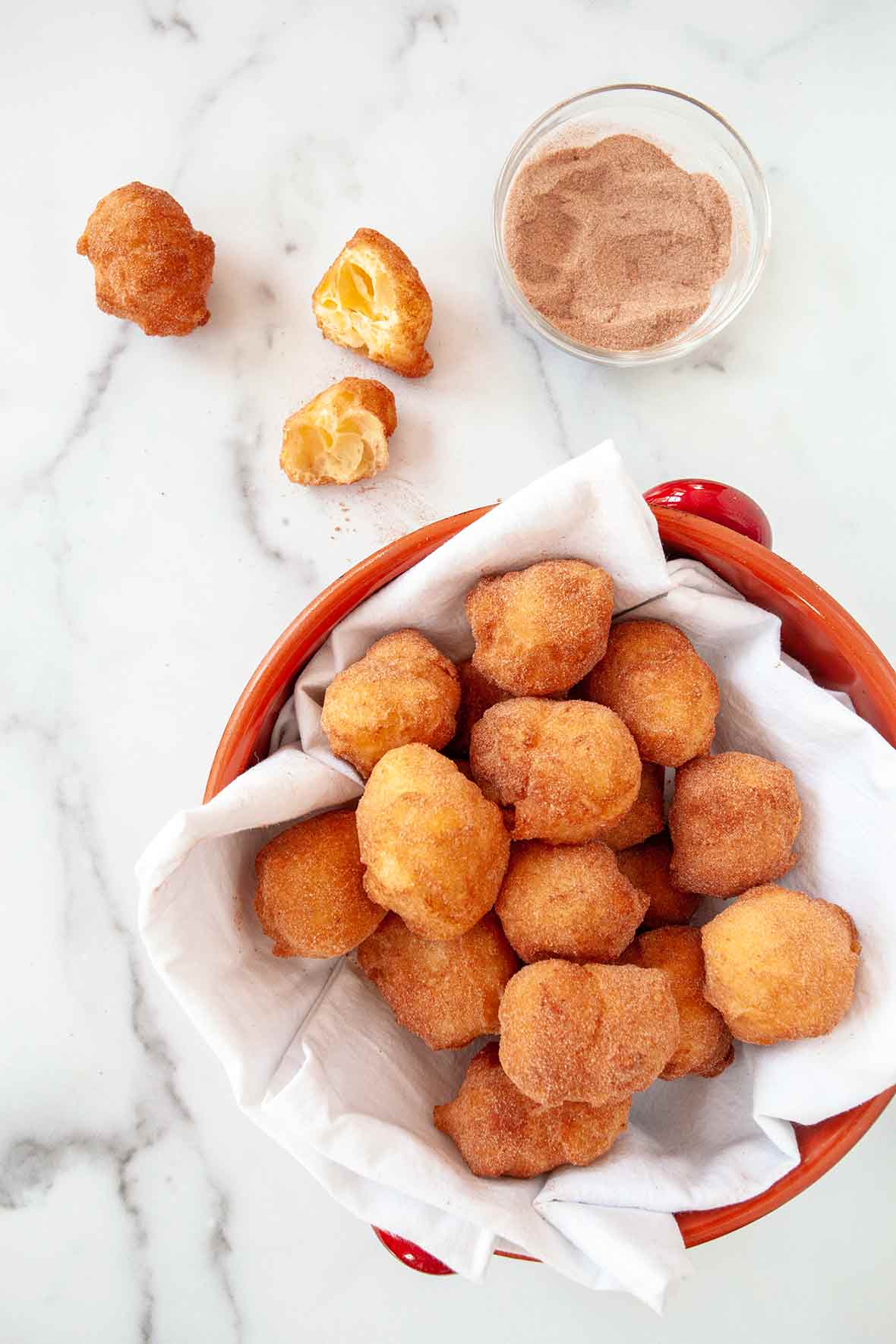 Sonhos | Portuguese Doughnuts
Quick Glance
25 M
1 H

Makes about 30 sonhos
Special Equipment: Deep-fry or candy or instant-read thermometer
Print Recipe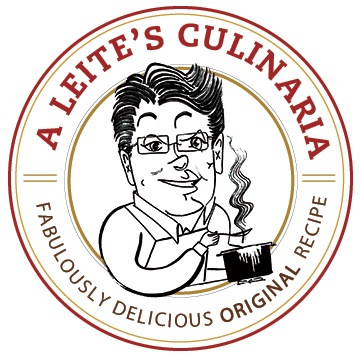 Ingredients
For the batter

1 tablespoon butter (1/2 oz)

1 teaspoon granulated sugar

Large pinch salt

3/4 cup water

1 cup all-purpose flour

4 large eggs

For the cinnamon sugar

1 tablespoon ground cinnamon

1/2 cup granulated sugar

For deep frying

Canola oil, for deep-frying

For serving

Honey, warm jam, or caramel (optional)
Directions
Make the batter

1. In a medium saucepan over high heat, bring the butter, sugar, and water to a boil. Add the flour and stir vigorously with a wooden spoon until a stiff ball forms.

2. Reduce the heat to medium and continue stirring (oof!) until a thin layer films the bottom of the pan, 1 to 2 minutes.

3. Plop the dough into the bowl of a stand mixer fitted with the paddle attachment. Beat the on low speed for 1 minute to cool the dough.

4. Add the eggs one at a time, beating on medium-high speed until each egg is fully incorporated, about 1 minute for the first egg and less time for each subsequent egg. (About 3 minutes total.) When fully mixed, the batter will be glossy, smooth, and a bit loose.

5. Cover the bowl with plastic wrap and refrigerate for 30 minutes.

Make the cinnamon sugar

6. In a medium bowl, mix together the cinnamon and remaining 1/4 cup sugar.

Fry the sonhos

7. Fill a saucepan with the canola oil to a depth of 3 inches (8 cm). Heat to 300°F (150°C) over medium-low heat.

8. Using a 2-teaspoon cookie scoop or a rounded teaspoon measuring spoon, carefully drop a few globs of dough into the hot oil. Don't crowd the pan. These suckers really puff up!

9. Fry until the sonhos are golden, 6 to 8 minutes. They'll quickly float to the top so use a spoon to turn them through the cooking.

10. Transfer the sonhos to paper towels using a slotted spoon then toss them in the cinnamon-sugar. Repeat with the remaining dough.

11. Serve warm with honey, jam, or caramel.
Sonhos | Portuguese Doughnuts Recipe © David Leite. Photos © 2019 David Leite. All rights reserved. All recipes and photos used with permission of the publisher.
If you make this recipe, snap a photo and hashtag it #LeitesCulinaria. We'd love to see your creations on Instagram, Facebook, and Twitter.