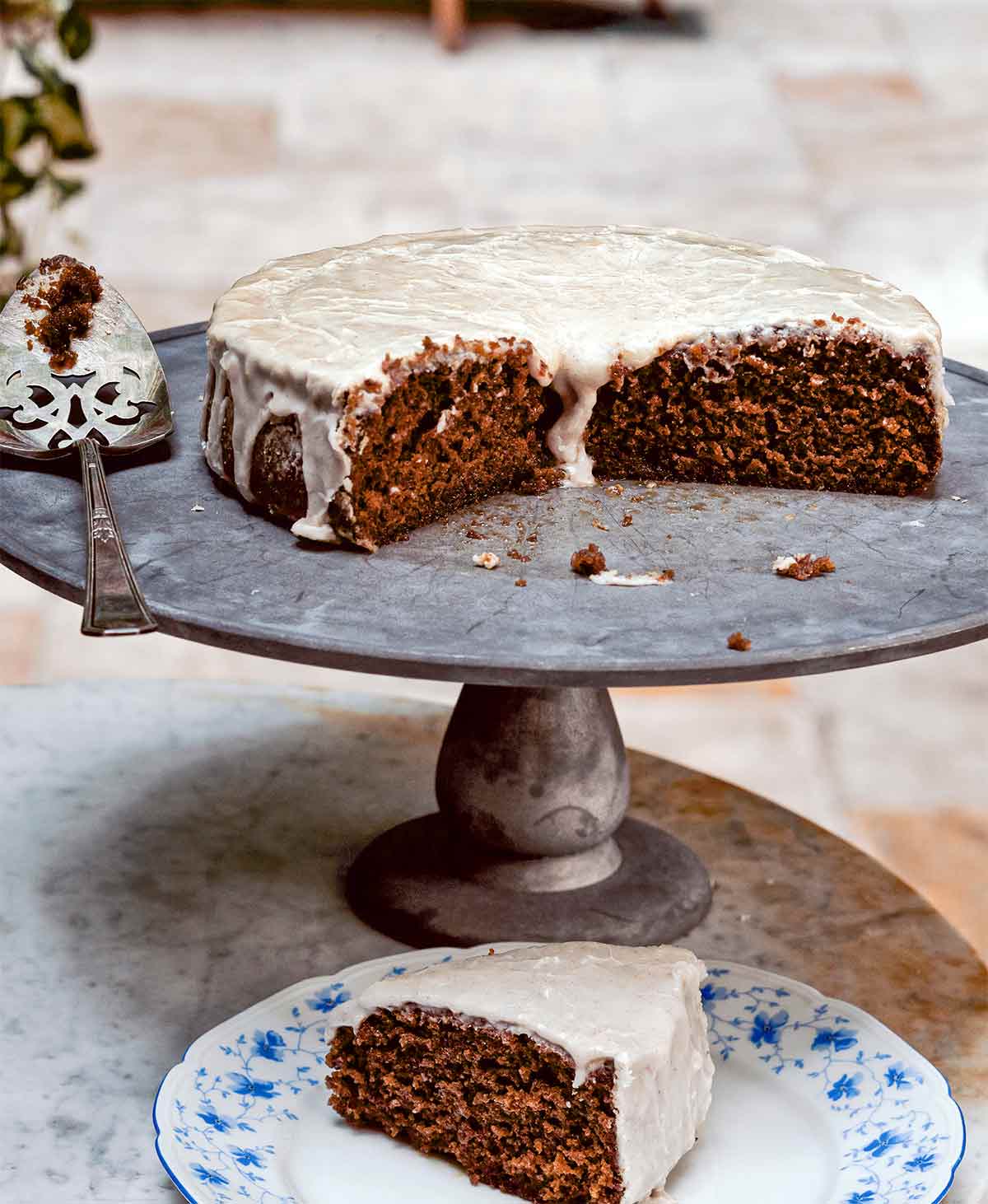 My life is all about banging things out, getting things done, moving fast—but sometimes a detour from the fast lane can be a good thing. Years ago, I was on my way home from a road trip to the Canadian Maritimes when I was forced off the highway by some epic construction. We ended up on a wandering road that took us through a charming series of dying industrial towns. There wasn't much to see…and definitely nothing to eat. But then, in Fall River, Massachusetts, right at the border of Rhode Island, we stumbled across culinary gold: an old gas station converted into a root beer stand. The owner, a retired A&W Root Beer guy, was behind the counter; all he served was root beer in frosted glasses. Our root beer came with a long lecture about chilling the glass, not the root beer itself (as that kills the taste). We sat at a broken-down old picnic table and sipped. I'm all about root beer, and that roadside glassful was the best I ever tasted.
This recipe is my stab at bringing that taste to cake—because the only thing better than root beer is root beer plus cake. There's a mad-scientist component to this recipe: when you whisk the baking soda into the molasses and root beer, there's going to be some crazy bubbling up going on, straight out of sci-fi. Don't worry: it's completely normal.
–Andrew Carmellini
*Where do I get sassafras?
This root beer cake contains sugar and spice and everything nice, yes, but it also has its share of sass—as in, sassafras. Sassafras is as essential to this cake as it is to root beer, lending its rich earthiness to each. If your local health food store (or witch doctor) doesn't keep a stash of the twiggy root on hand, you can find it fairly easily online at Kalustyan's in Manhattan as well as from other, less niche online purveyors such as (who else?) Amazon. And don't forget to wear your sassy pants when baking this sassafras cake.
Root Beer Cake
Root beer cake is like a regular spice cake but so much better. Root beer, ginger, star anise, cardamom, and actual sassafras lend it intrigue and warmth. If you've never had it before, it's time.
Ingredients
For the spice cake
Butter

,

for the pan

1 1/2

cups plus 1 tablespoon

all-purpose flour

One

(12-ounce) bottle

root beer

1/2

cup

molasses

1/2

teaspoon plus 1/8 teaspoon

baking soda

3/4

cup

dark brown sugar

1/4

cup plus 2 tablespoons

vegetable oil

3

tablespoons plus 1 teaspoon

granulated sugar

One

(1-inch) piece

ginger

,

peeled and grated on a microplane or on the finest side of a box grater (this should yield about 1 teaspoon)

2

teaspoons

vanilla extract

1

large

egg

1 3/4

teaspoons

baking powder

1 1/4

teaspoons

ground star anise

1 1/2

teaspoons

ground cardamom

1/2

whole

nutmeg

,

freshly grated, or 2 teaspoons finely ground nutmeg

Finely grated zest of 2 lemons

,

preferably organic

1

teaspoon

kosher salt

1/2

teaspoon

freshly ground black pepper
For the root beer glaze
3/4

cup

heavy cream

1

tablespoon

sassafras bark or 1/2 teaspoon sassafras extract

2

cups

confectioners' sugar

Pinch

ground star anise

,

(you may just have to grind your own from whole star anise)

Pinch

ground cardamom

1/4

teaspoon

kosher salt

1/4

whole

nutmeg

,

grated, or about 1 teaspoon ground nutmeg

Freshly grated zest of 1/2 lemon

,

preferably organic
Instructions
Make the spice cake
Preheat the oven to 350°F (176°C). Adjust the oven rack to the middle position.

Butter the bottom and sides of a 10-inch cake pan. Cut a piece of parchment paper so it fits snugly in the pan. Butter the parchment. Shake 1 tablespoon of the flour into the cake pan and tilt it around so it sticks to the buttered parchment. Tap out any excess flour that doesn't stick to the parchment or to the sides of the pan.

Pour the root beer and molasses into a deep pot and bring the mixture to a boil over high heat. (Make sure there's some meaningful space between the liquid and the top of the pot. You need those high sides because the baking soda will froth up quite a lot and you don't want it to spill over.)

Pull the pot off the heat and carefully whisk in the baking soda. Immediately place the pot in the fridge to cool down a little.

While the root beer mixture is cooling, whisk the dark brown sugar, vegetable oil, granulated sugar, ginger, and vanilla extract together in a large bowl. The mixture will seem a little chunky at this point. Crack the egg into the bowl and whisk well until a thick paste forms. (The egg is what makes everything come together smoothly.)

In a smaller bowl, combine the flour with the baking powder, star anise, and cardamom. Grate in the nutmeg and lemon zest, add the salt and pepper, and whisk until everything is thoroughly combined.

Take the root beer mixture out of the fridge. Pour 1/3 of the flour mixture into another large bowl. Pour in 1/3 of the root beer mixture and then 1/3 of the sugar paste. Slowly whisk everything together and then add another 1/3 of the flour, another 1/3 of the root beer, and so forth, until everything is combined. (The mixture doesn't need to be completely and smoothly combined until the last of the wet and dry mixtures are in the bowl.) You should have a very wet, almost liquid-like batter.

Pour the batter into the cake pan and place the pan on a rimmed baking sheet to catch any drips and splashes. Bake the cake for 45 minutes without opening the oven at all (the cake will sink if you disturb it while it's baking). Check to see if the cake is high and dark brown with a little bit of spring-back when you touch it (but not too much, as it's a very moist cake). If it's not quite ready, rotate the pan and put it back in the oven for another 5 minutes before checking it again. The whole baking process shouldn't take longer than 55 minutes, even in a slow oven.
Make the root beer glaze
While the cake is baking, in a small pot over medium-high heat, whisk the cream and sassafras and bring it to a boil. As soon as it bubbles, pull the mixture off the heat, pour it into a heatproof glass or ceramic container and place it in the fridge, uncovered, to cool for about 30 minutes. The sassafras flavor will steep into the cream and give it a nice root beer flavor.

Meanwhile, in a bowl, combine the confectioners' sugar, star anise, cardamom, and salt. Grate in the nutmeg and lemon zest, and whisk everything together.

Strain the cooled cream through a fine-mesh strainer into a small bowl. Discard the small bits of sassafras.

Gently whisk 1/2 cup of the cream into the spice mixture, holding back the last 2 tablespoons to see if you need it. If the mixture seems dry and is not coming together as a glaze, add more cream. Whisk the mixture until you have a shiny, thick liquid.
Finish the cake
Let the cake rest in the pan on a wire rack for about 5 minutes. Flip the cake out of the pan onto a cake stand or serving plate and let cool for at least 5 minutes.

Use a spoon to spread the glaze thickly on the sorta warm cake. The glaze will melt and drip down the sides as you slather it on. You can serve the cake as soon as it's cooled to room temperature—but like all spice cakes, it's even better the day after you make it. Store it loosely covered at room temperature. Originally published October 19, 2012.
Nutrition
Serving:
1
portion
Calories:
612
kcal
Carbohydrates:
112
g
Protein:
6
g
Fat:
16
g
Saturated Fat:
6
g
Polyunsaturated Fat:
5
g
Monounsaturated Fat:
4
g
Trans Fat:
0.05
g
Cholesterol:
48
mg
Sodium:
469
mg
Potassium:
529
mg
Fiber:
2
g
Sugar:
76
g
Vitamin A:
367
IU
Vitamin C:
2
mg
Calcium:
136
mg
Iron:
4
mg
Nutrition information is automatically calculated, so should only be used as an approximation.
Recipe © 2011 Andrew Carmellini. Photo © 2011 Quentin Bacon. All rights reserved.
---
Recipe Testers' Reviews
This is the most unique spice cake I've ever tried. The root beer cake has a full-bodied spice flavor without being overpowering. As I took my first bite, the aromas of root beer and licorice were immediate. While it took a bit of effort to put together, this cake is well worth it.
The instructions are clear and well written. I'd wait longer than 5 minutes after the cake comes out of the oven to pour the glaze on top, though. Much of my glaze pooled around the outside of the cake instead of the top. The glaze itself took about a minute to make.