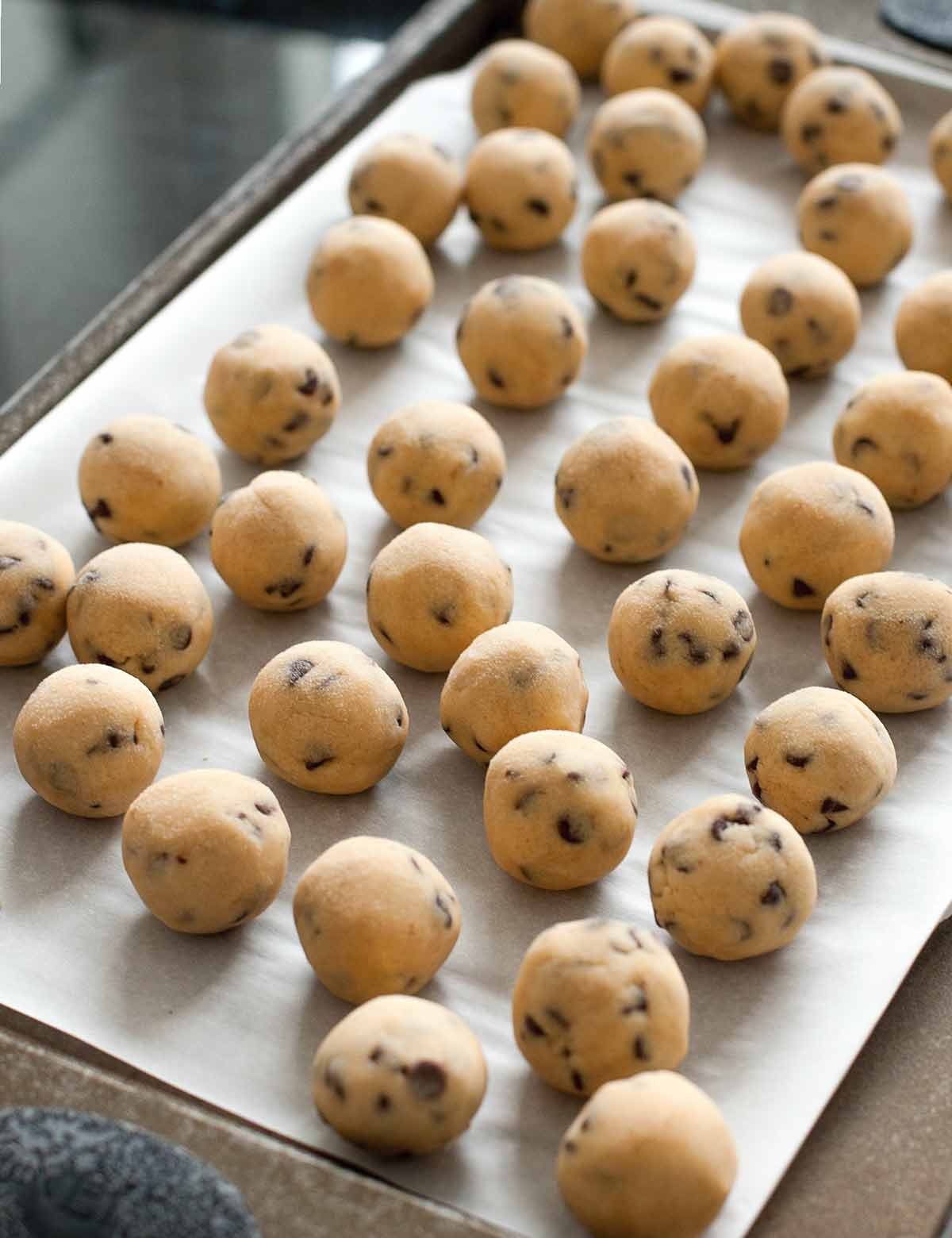 Let's talk frozen cookie dough for a moment. Sometimes what you need isn't another recipe, it's a strategy. This spectacularly practical frozen cookie dough trick enables you to have homemade cookies at practically a moment's notice. Magical, ain't it? Even better, it works with practically any cookie dough.
So on a desperate day, you can easily plop frozen blobs of cookie dough that you wisely made weeks ago in anticipation of a future craving on a baking sheet and have homemade chocolate chip cookies at a moment's notice. And, even more impressively, it allows you to make just a single cookie—should you be able to exhibit such restraint. Almost instant gratification.–David Leite
Frozen Chocolate Chip Cookie Dough
This frozen chocolate-chip cookie dough ensures you can have one or a dozen warm cookies whenever you like. The freezing only adds a few minutes to the original bake time, so it's almost instant gratification.
Instructions
Freeze the cookie dough
Shape the cookie dough into balls (sized per the cookie's recipe instructions) and arrange them on a parchment-lined baking sheet. Shimmy the baking sheet into your freezer and stash it there until the cookie dough is solid, about 1 hour.

Transfer the cookie dough balls to a resealable plastic freezer bag and seal tightly, removing as much excess air as you can manage. Label the bag with that particular cookie recipe's name as well as the specified oven temperature and baking time. Stash the bag of unbaked, unspeakable loveliness in the freezer for up to 1 month.

When the craving strikes, preheat the oven to the designated temperature and simply arrange as many or as few balls of frozen cookie dough as desired on a parchment-lined baking sheet. Bake according to the original recipe's instructions, adding 2 to 3 minutes to the baking time to allow for the cookie dough coming straight from the freezer.
Nutrition
Serving:
1
cookie
Calories:
165
kcal
Carbohydrates:
23
g
Protein:
2
g
Fat:
7
g
Saturated Fat:
2
g
Polyunsaturated Fat:
1
g
Monounsaturated Fat:
4
g
Cholesterol:
4
mg
Sodium:
110
mg
Potassium:
56
mg
Fiber:
0.3
g
Sugar:
14
g
Vitamin A:
14
IU
Calcium:
3
mg
Iron:
1
mg
Nutrition information is automatically calculated, so should only be used as an approximation.
Recipe © 2012 Lindsay Landis. Photo © 2012 Lindsay Landis. All rights reserved.
---
Recipe Testers' Reviews
Select a Tester
I was a cookie dough fiend in my younger years. Suffice it to say, as soon as my sis was old enough to hold a spoon, I taught her the magic of stirring together a bowl of cookie dough just to stash in the fridge. Between the two of us, it would last maaaaaaaaybe a couple days.
Anyways, this frozen cookie dough recipe or strategy or technique or trick or whatever you want to call it is what I would do with whatever dough managed to escape our fearless and scavenging dough-eating ways. It's easy as can be. I confess that not much cookie dough ever made its way to the oven, even after being frozen. (Ever chip a tooth gnawing frozen cookie dough? Been there, done that.) But the dough that did get baked turned out spectacularly—and with immeasurably less effort and time than stirring together an entire batch at the last moment.